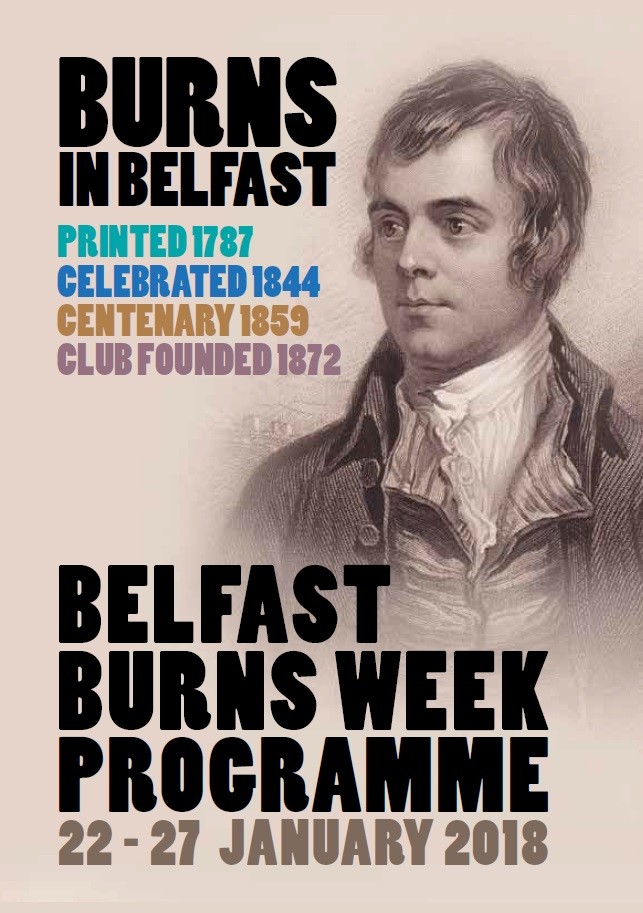 To celebrate the many links between Robert Burns, his family and Ulster from the late 1700s to today, the Ulster Scots Agency has programmed a series of events to coincide with the Bard's birthday.

Scotland's favourite son Robert 'Rabbie' Burns was known as the Ploughman Poet, the Bard of Ayrshire or simply The Bard. Born on 25 Jan, 1759, Burns celebrations have been held in his honour on this date for over 200 years.

Belfast Burns Week will take place from Mon 22 to Sat 27 Jan in various venues across the city and will feature drama, poetry, music, concerts and lectures.

On Wed 24 Jan at 1pm, Blue Badge Guide and historian Laura Spence will deliver a talk on the Life, Loves and Legacy of Robert Burns at the Discover Ulster Scots Centre. Laura will explore the loves and losses of Robert Burns and how they have influenced his works and image.

Various Burns Nights will be held across Belfast during the week, with a free community Burns Night at the Shankill Road's Spectrum Centre on Mon 22 Jan at 7pm. Education officer for the Ulster Scots Community Network Matthew Warwick will compere the evening with entertainment by Risin' Stour ceilidh band. Food will be provided and booking is essential.

Free tours of the Linen Hall Library's collection of Burns material, the world's largest outside Scotland, will be held on Wed 24 and Fri 26 Jan at 2pm. These tours will not only unlock the secrets of the library archives and collections, but also take visitors back through the early days of the great city of Belfast. Tours can be booked via www.linenhall.com.

Robert Burns Live performer Christopher Tait takes to the stage at the Spectrum Centre on Fri 26 Jan at 2pm to perform as the Bard himself. Christopher has enthralled audiences around the world with his performances of famous Burns poems; To a Mouse, To a Louse and Holy Willie's Prayer. Marvel at the power of Tam O' Shanter or the beauty of a Red, Red Rose.

Burns Weeks concludes with the annual Burns Concert on Sat 27 Jan at the Belfast Waterfront. Traditional music legends Phil Cunningham and Aly Bain will be leading the audience in a rousing concert of music, stories, dancing and piping alongside singer Robyn Stapleton, conductor John Logan, the Ulster Scots Agency Juvenile Pipe band and the Markethill Ulster Scots Dancers. Early booking is essential via www.waterfront.co.uk for this popular event.

For the full Belfast Burns Week line-up and tickets click www.ticketsource.co.uk/ulster-scots-agency.