DOWNLOAD YOUR FREE DUBROVNIK IN YOUR POCKET GUIDE HERE!

It's arguably in spring that Dubrovnik's charms are at their seductive best. The cityis sufficiently busy with tourists for everything to be up and running; all those cool bars and restaurants that take a well-deserved winter break tend to open their doors again by April, and are well into their stride come May. The streets are yet to be swamped by the summer crowds,however, allowing the locals the time and space to display that not-rushed-off-their-feet sense of hospitality and spontaneity that makes the Croatian coast that little bit more welcoming than some other places in the Med. The weather is usually reliable enough for al-fresco dining,and you probably won't be fighting fellow tourists for a table in quite the way you might be later in July or August. 
Indeed it's in the gloriously bright but mild weather that spring really comes into its own. It's the ideal season for exploring – not just all the nooks and crannies of the city itself, but also the lush gardens of Trsteno or the wild beauty of the Elafiti Islands. It's a great time for hiking, picnicking, cycling and kayakinginstead of simply lolling on the beach. And don't just take the cable car to the summit of Mount Srđ and come straight back down again; spend an hour or two strolling on the plateau behind the cable-car station, or head east to the village of Bosanka. High summer in Dubrovnik may be perfect for mid-day siestas and long sultry nights, but it's in spring that the yearning for adventure really takes flight.

Here's a sneak peek at our latest print magazine. For the full picture download your free pdf copy of our 68-page Spring 2019 issue here! 

Whilst you venture Dubrovnik streets, you might bump into Nikša Beloč, Head Bartender at The Imperial Bar & Lounge who will tell us a little about the Imperial Bar & Lounge and its offer.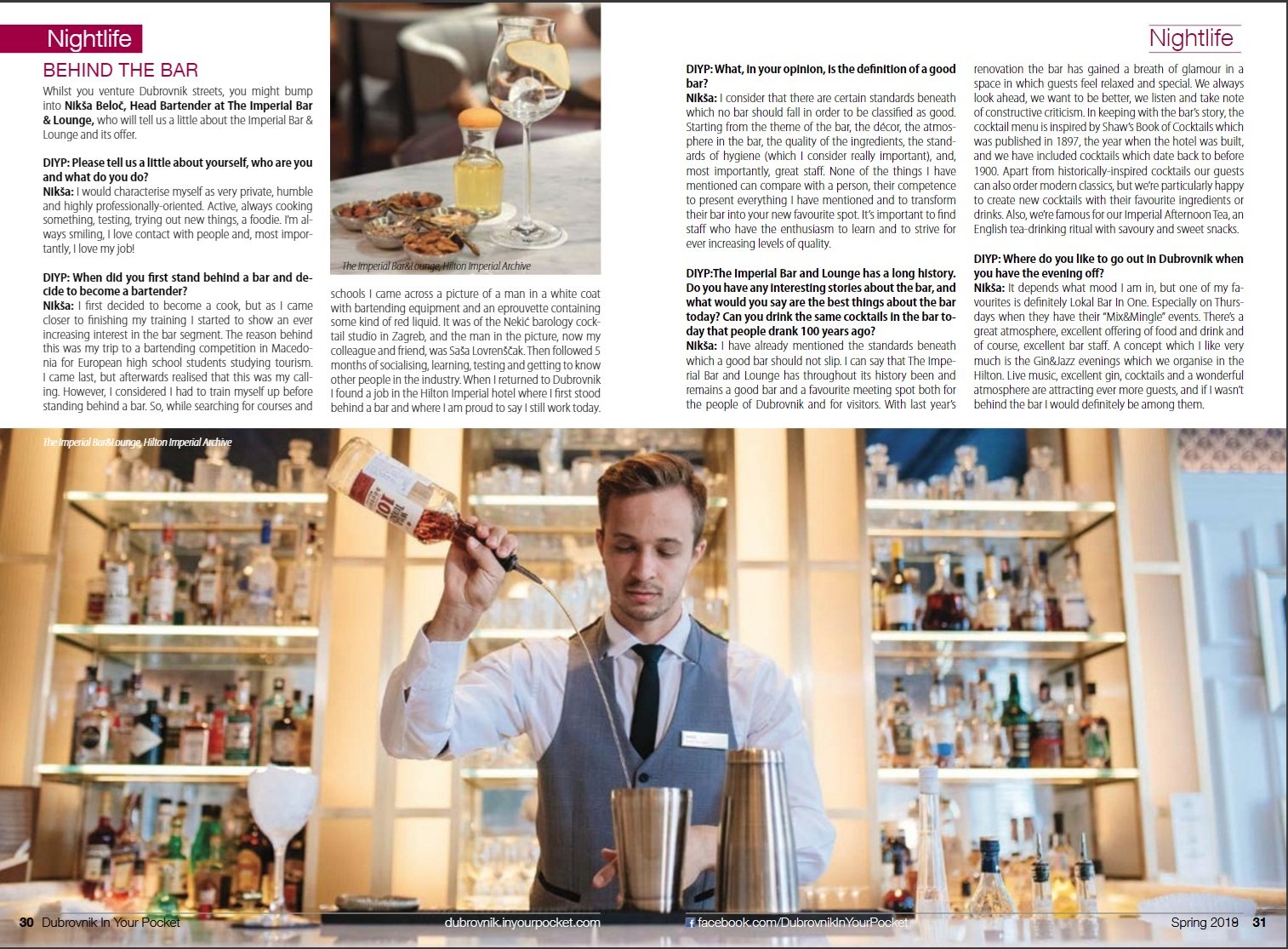 Top 10 Sights you shouldn't miss in Dubrovnik Surroundings!