Much like everywhere else in Poland, the highlight of the December period in Gdańsk, Sopot and Gdynia is, of course, Christmas! Like many other countries all over the world, Christmas Eve is the focal point of celebration. Though the following week of religious and observances climax in New Years Eve, which is celebrated enthusiastically, the Christmas buzz really begins at the start on Dec 1st with the opening of the Christmas Markets in Gdańsk Old Town. So how does it all look in 2020?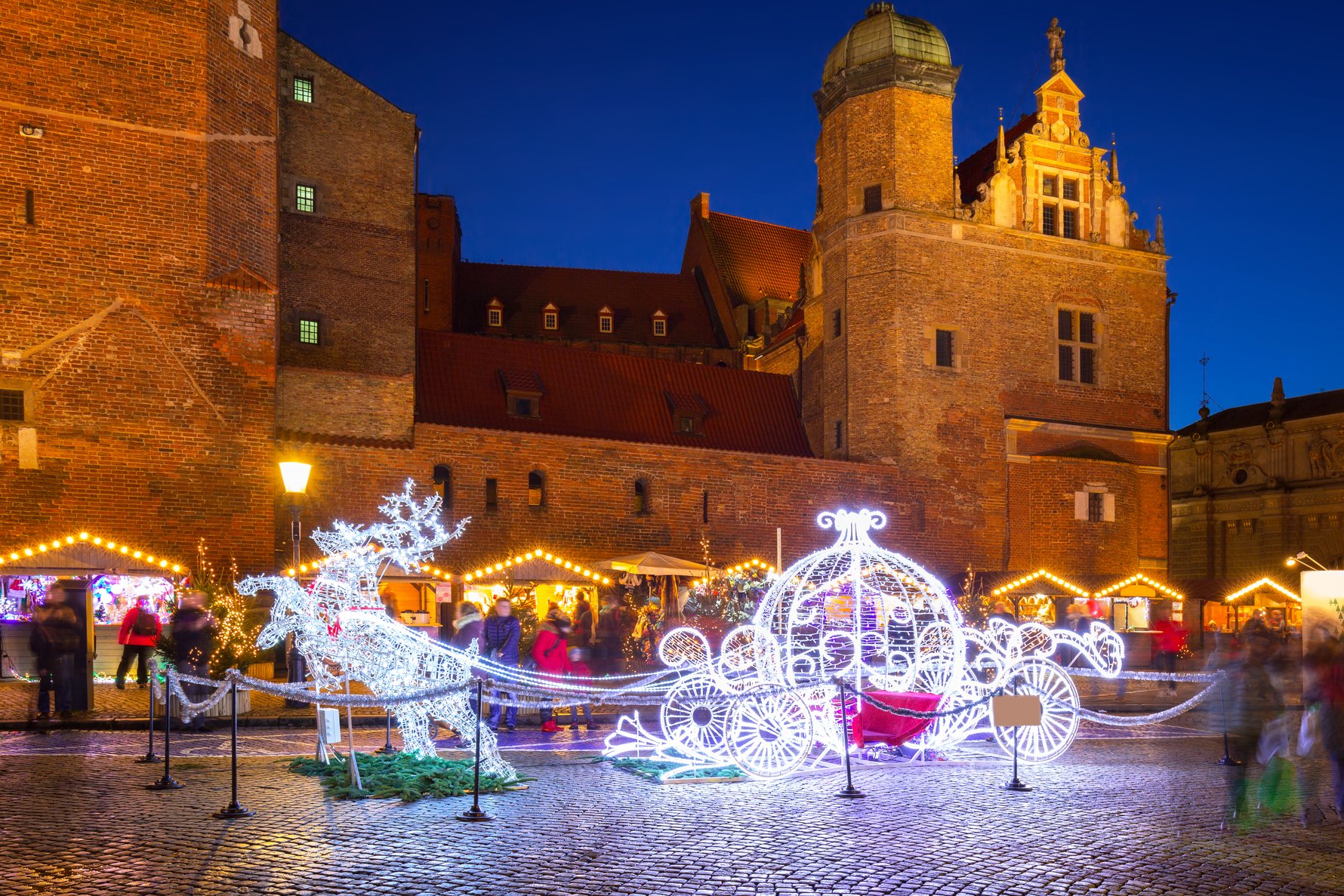 Christmas and New Year in Gdańsk: How does it look in 2020?
As expected, due to the Coronavirus Pandemic and various restrictions in place by the Polish Government, things look a little different in 2020. Firstly, the 2020 Gdańsk Christmas Markets will be online. The Christmas lights in Gdańsk, Sopot and Gdynia are going ahead, albeit reduced due to an expected drop in attendance and restrictions in crowd size. Lastly, New Years' Celebrations and Fireworks in Gdańsk will not be going ahead in 2020.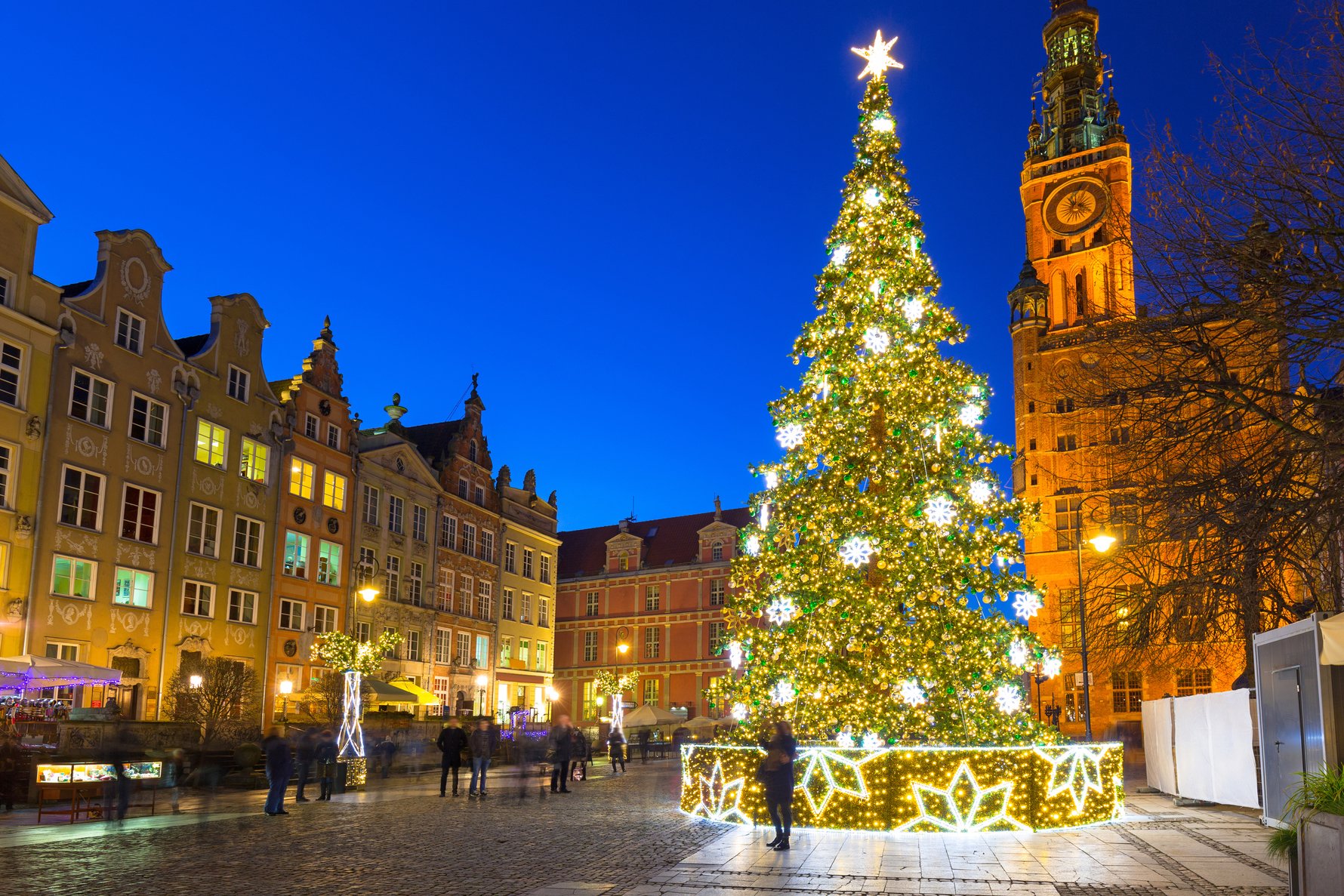 If you're visiting the Tri-city around this time and are unsure of what else is you can do in the cold weather, Check out '14 Things to do in Winter in and around Gdańsk'.
Traditional Polish Food and Celebrations in Gdansk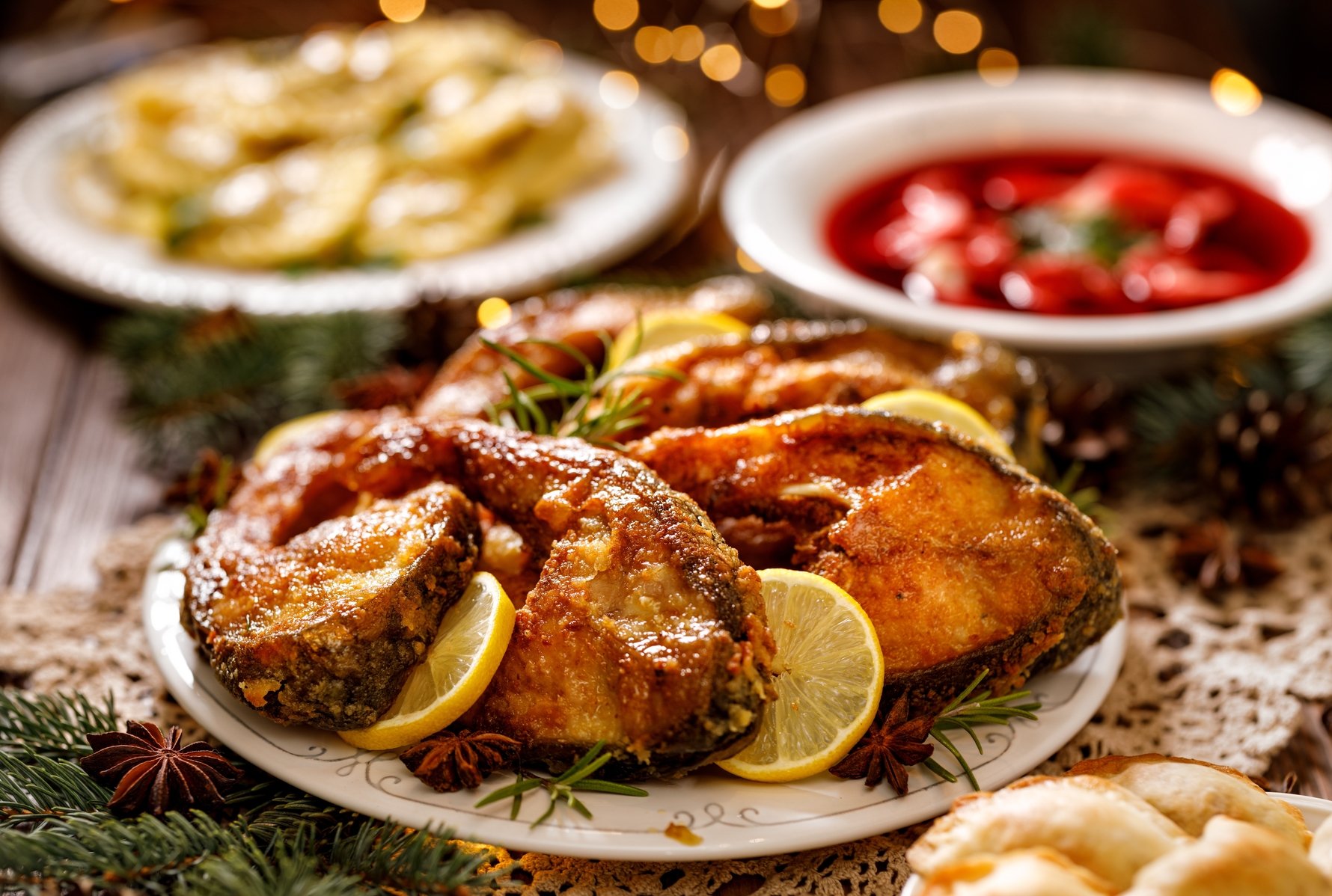 Not surprisingly, Poland celebrates Christmas Eve by eating! Wigilia, the feast of Christmas Eve, officially starts when the first star in the sky is spotted. Bad news if you don't like Polish cuisine: dinner consists of 12 courses – one for each apostle. Abstaining from meat consumption, with the exception of seafood, is a notably-Catholic observance at various times of the year and, for this reason, you'll see plenty of fish on the Wigilia menu as well as cabbage, mushrooms and dumplings. Fortunately, coastal Pomerania has access to wonderful Baltic fish, so there's no better place in Poland to celebrate Christmas! In Kashubian households, a traditional 'whitewashed' fish soup with sour cream and noodles is served instead of Barszcz (Beetroot Soup) and later a sweet birch soup from dried cherries, pears, apples and plums is served.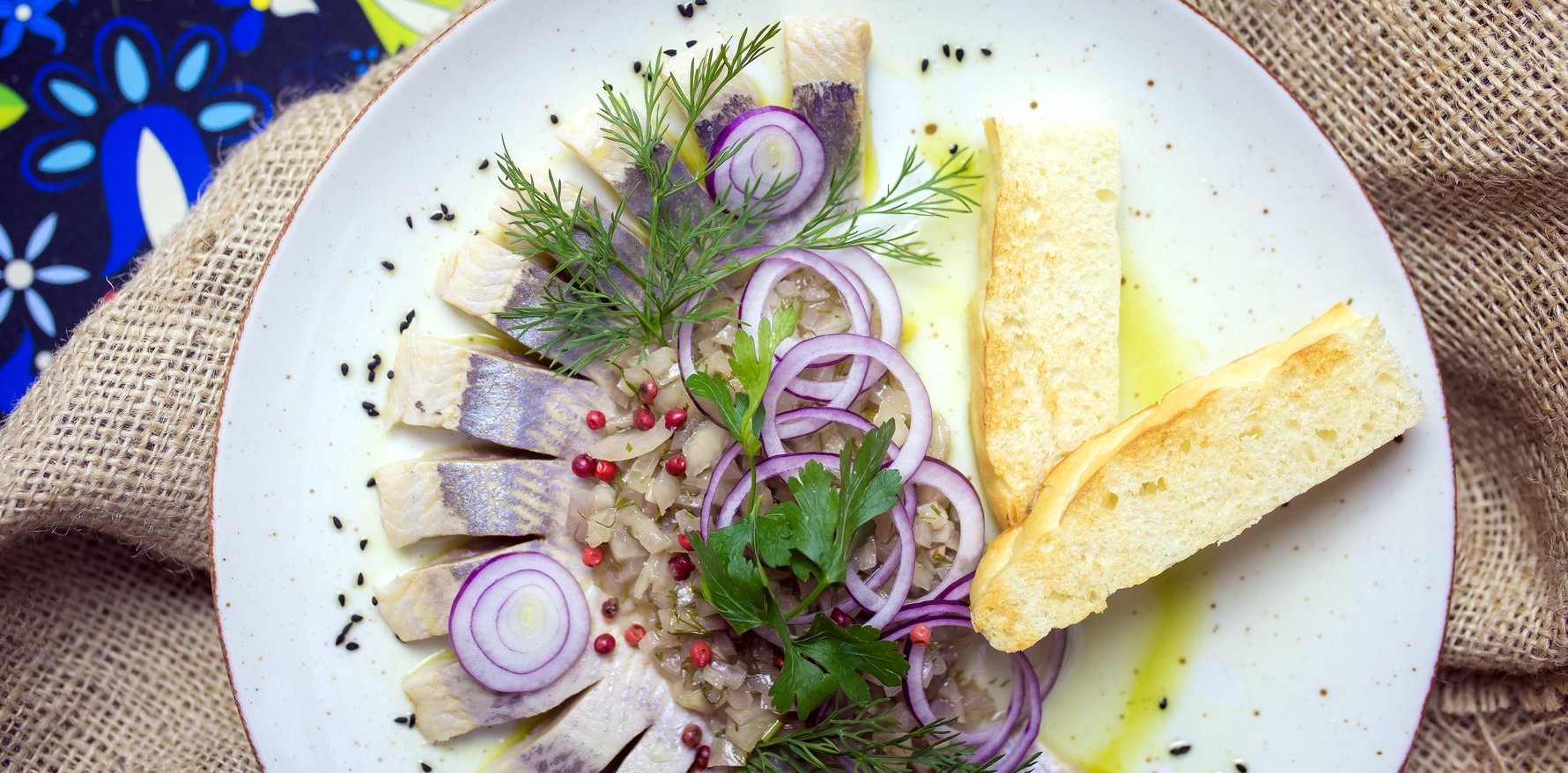 The more you eat, apparently, the more prosperous you'll be in the coming year. Depending on who you are with, this rule can also apply to the consumption of vodka, though more traditional households will frown on heavy drinking. Before dinner can begin the family shares the Christmas wafer. Each person breaks off a piece before sharing it with the others. It's an intimate moment, and one cherished by many Poles. The centerpiece of the feast is the carp; usually served cold the beastly fish is often kept swimming in the bathtub in the run-up to Wigilia. It's down to the head of the family to gut the fish, though nowadays enterprising carp salesmen enjoy a roaring trade slaughtering the fish on behalf of those not man enough to the task.
Unlike the west, where Christmas dinner is usually followed by a bottle of sherry and watching The Great Escape, Poles tend to head to the nearest church for midnight mass, known as 'Pasterka'.
 
New Years Eve in Gdańsk 2020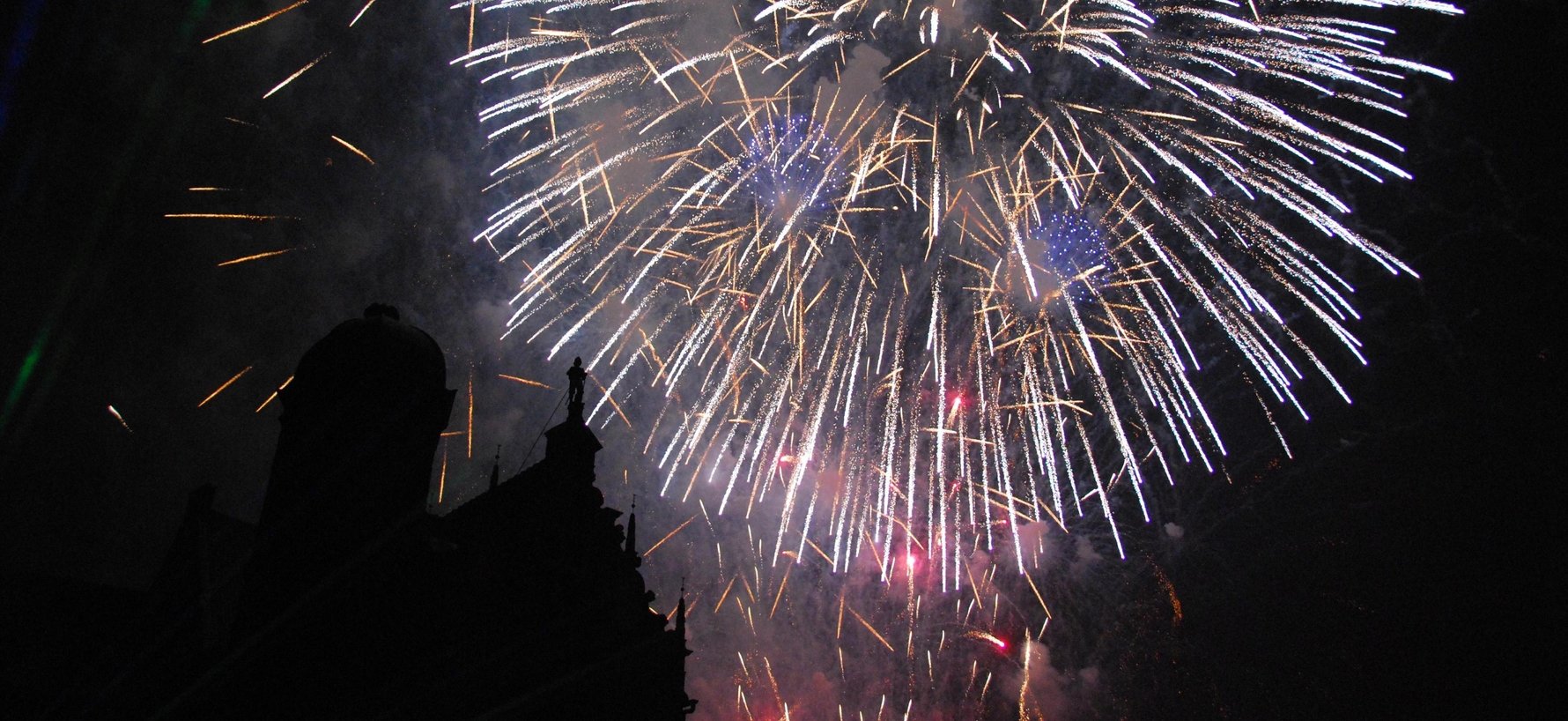 Traditionally, Poles hole up at house parties and then appear just before twelve absolutely slaughtered to celebrate. This is best witnessed in Sopot where thousands of natives descend on the beach and pier come midnight. A word of warning here, the beach quickly turns into some resembling a war zone as gangs of tanked up teenagers attempt to decapitate each other with fireworks. Stay away from anyone stumbling around with a bottle of vodka and a Chinese dragon and you should survive the night.

In Gdańsk, the main festivities are centred on ul. Długa and pl. Teatralna, while Skwer Kościuszki is where you'll find local Gdynians bearing booze and fireworks. Pub and club tickets tend to sell out a couple of weeks in advance, so check our 'Events' page for up-to-date listings closer to the time. Unfortunately, due to Coronavirus restrictions, fireworks will not be happening in 2020 Gdańsk New Years Eve celebrations.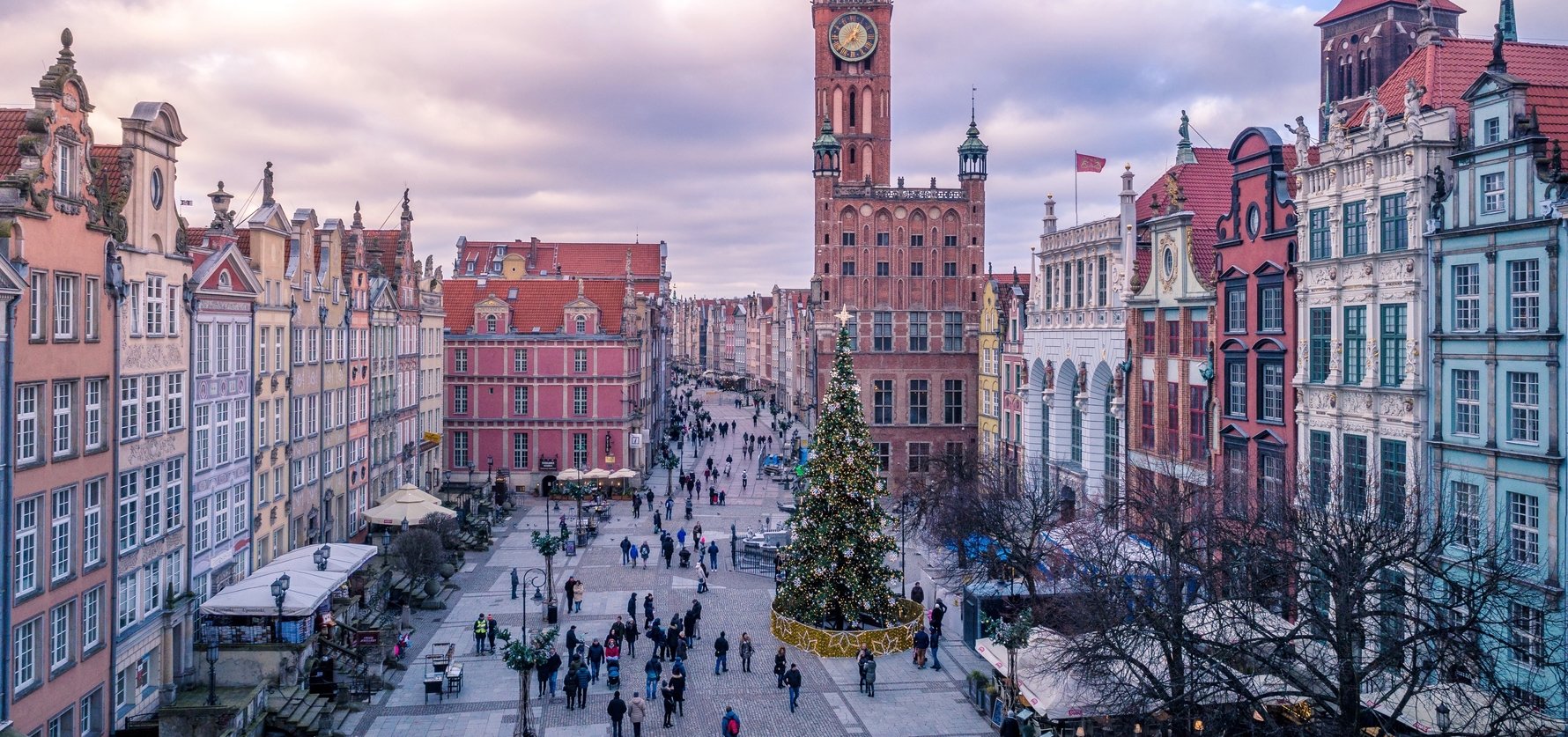 Tickets should cost no more than 100zł, and this usually wins you free alcohol for the night, though it is up to you if you think you can drink 100zł worth of vodka. Other popular options include hiring a boat to take you out into the Bay of Gdańsk, or renting a seaside villa. If you're here on holiday the chances are you've left your Speedo swimming trunks at home. Silly you. Every Sunday, 11:00 on the dot, a collection of hardcore fitness fanatics meet on Gdańsk's Jelitkowo beach for an icy winter dip, tenuously claiming this is good for mind, body and spirit. Formed in 1975 'The Walrus Club' numbers over 150 members, with the highlight of their year being the New Year's Day swim (13:00) and beachfront drink. New members are always welcome, just bring swimming trunks and nuts of steel. Again, due to Coronavirus restrictions, these official events for New Years' 2020 are likely to be cancelled!

Check out what's going on over Christmas and the New Year by taking a look at our 'What's On' chapter on the website and in the app!
Christmas Attractions in Gdańsk in 2020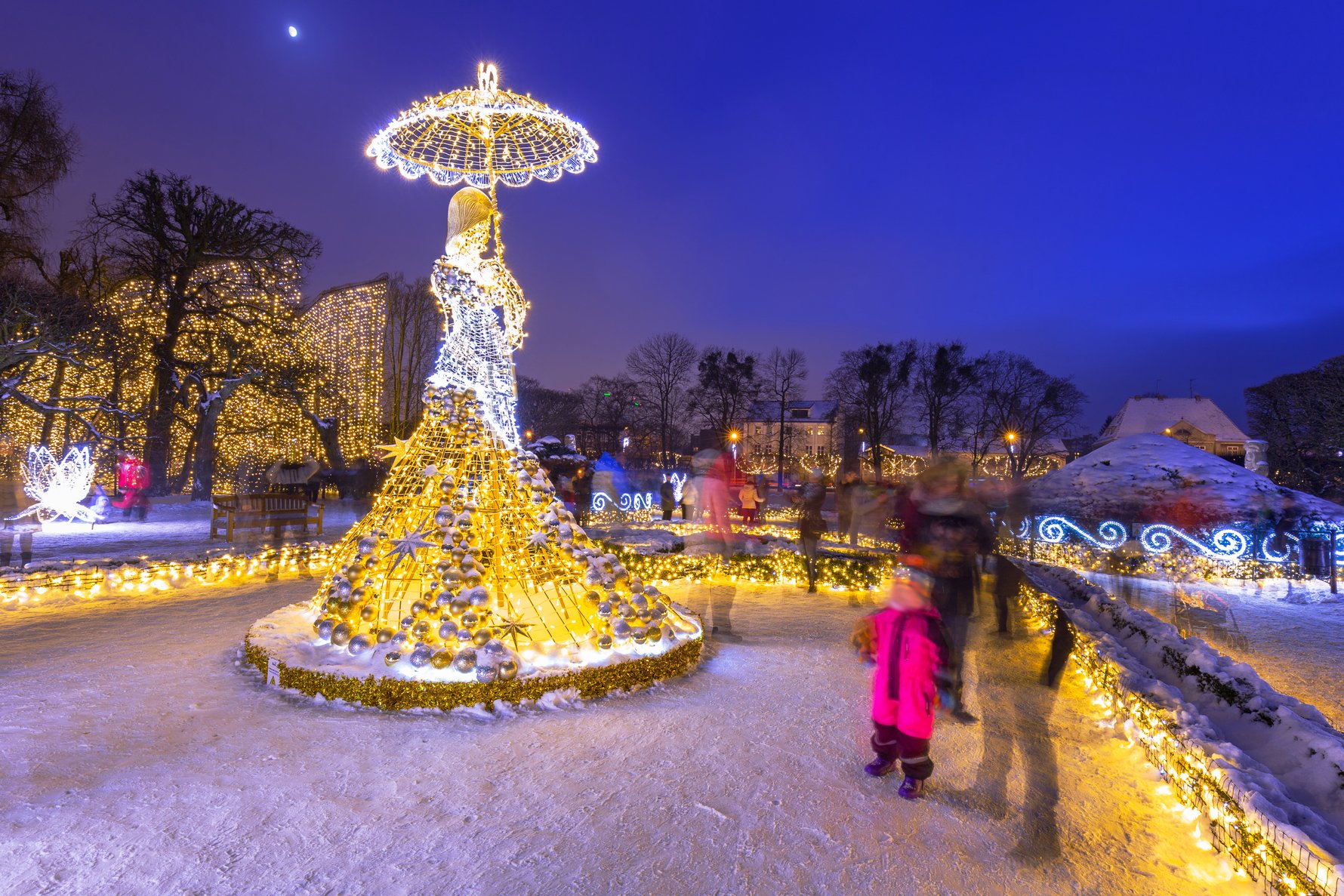 In Gdańsk, Sopot and Gdynia, you will find the centre of each city lit up from Mikołajki (St. Nicholas' Day, December 6th) onwards! Since 1st Dec 2020 until Feb 2nd 2021, the extremely popular Oliwa Park will be lit up from 4pm until 10pm every evening. However, due to reduced numbers and coronavirus restrictions, many of the displays have been moved to nearby Ronald Reagan Park. In Gdańsk, cruise around Gdańsk Old Town and be flawed by the set up, especially the centre piece of the big Christmas Tree on Długi Targ, whose current lighting set-up has reduced carbon emissions by 60% percent! In Sopot, Monciak will have it's own share of bling. In Gdynia, head on down Swiętojańska and Starowiejska streets as well as the Leisure Pier!