How many cases of Coronavirus (COVID-19) are there right now in Gdańsk?
The current rate of Coronavirus infections in Gdańsk and the surrounding voivodeship of Pomerania is between 401 and 695 new daily cases.

As of now, there are a reported 286,301 active cases of Coronavirus in the whole of Poland. There have been a total of 2,731,256 people infected in Poland since March 4 2020. 64,168 people have died from Coronavirus in Poland.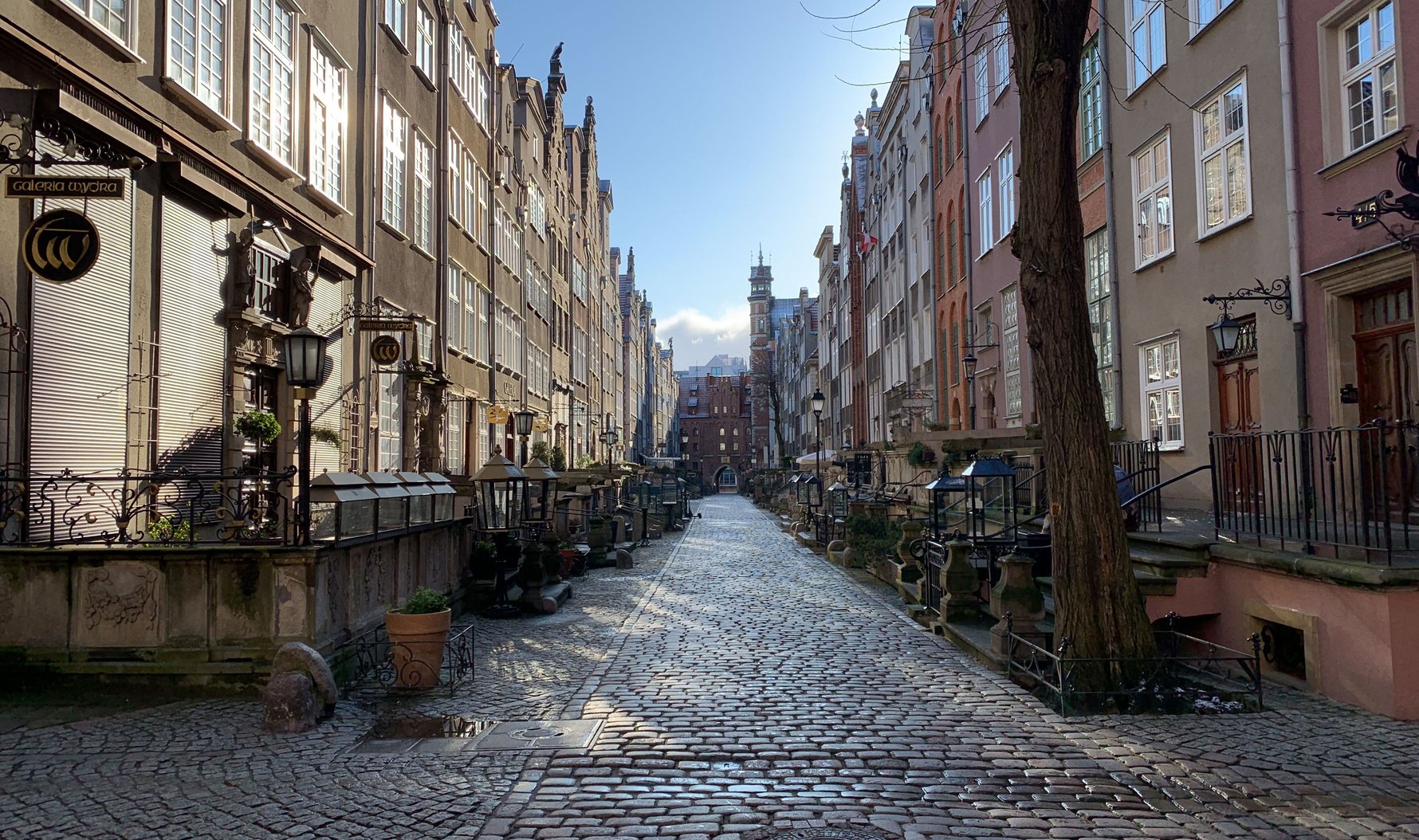 NOTE: Since 24 November 2020, the Polish Ministry of Health has changed the format of available information for current COVID-19 cases, focusing on daily new cases. For this reason, it is incredibly difficult to provide an accurate number for current COVID-19 cases per voivod. In addition, since mid-October 2020, the Polish Ministry of Health has purposefully been testing less (there is even less on weekends) to bring down their daily averages. For this reason, it is even more difficult to assess the rate of new Coronavirus cases in Poland.

The cities and their surrounding voivodships with the highest number of cases are the capital Warsaw (read more) followed by Katowice (read more).

Obviously, given the rapid exponential spread of the virus, the exact number of cases is difficult to calculate and constantly being updated. Check this live updated global map by John Hopkins University or follow the Polish Ministry of Health on Twitter @MZ_GOV_PL.

Read the latest on the Coronavirus in WARSAW.
Read the latest on the Coronavirus in KRAKÓW.
Read the latest on the Coronavirus in WROCŁAW.
Read the latest on the Coronavirus in POZNAŃ.
Read the latest on the Coronavirus in KATOWICE.
Read the latest on the Coronavirus in ŁÓDŹ.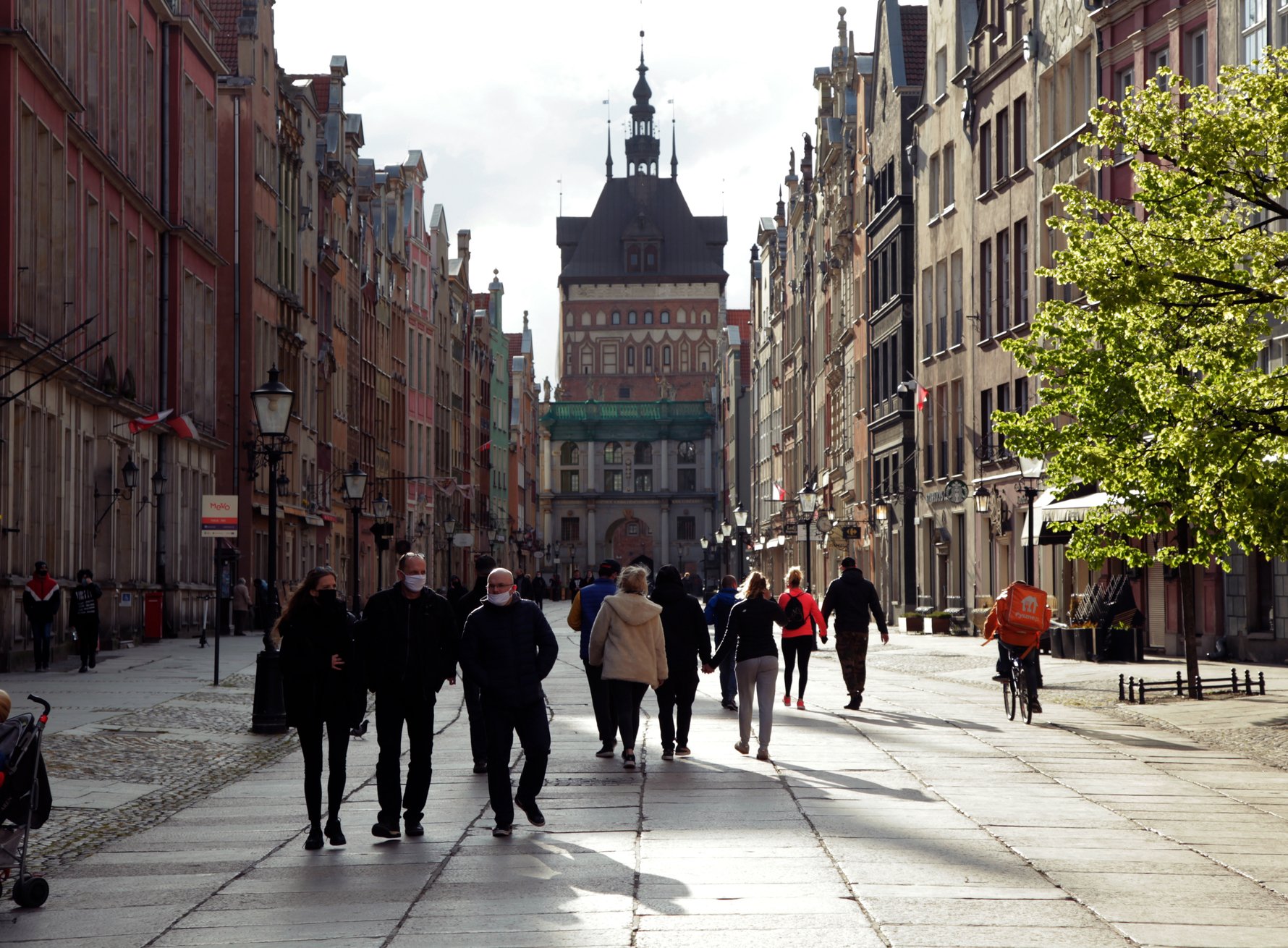 CURRENT SAFETY RULES (March 27 - 18 April):
New restrictions have been announced by the Polish Governemnt, which was recently extended from the original end date of April 9th, and is now in place until April 18th:
TYPE OF BUSINESS:
RESTRICTION DETAILS:
✅ Places of Religious Worship
Limit of 1 person per 20m²
✅ Retail Outlets, Markets, Post Offices
Limit of 1 person per 15m² in shops up to 100m²
Limit of 1 person per 20m² in shops over 100m²
❌ Trade
Shopping Centers and Malls (with some exceptions) are to be closed, as well as 'large format' furniture and construction
❌ Kindergartens and Nurseries
Closed, with the exception of childcare for parents working in medical and law enforcement professions
❌ Sport Facilities
Closed, except for limited use by sport professionals

New Lockdown in Pomerania March 13 - 20
From Monday March 15, primary school grades 1-3 will be able to operate in a mixed, i.e. hybrid mode, in Pomerania. Some students of a given school will be able to learn on site, and others remotely. School principals will decide over the next week to what extent students of the youngest grades will return to full-time education.

In addition, the following business activities must be suspended:

❌ Swimming pools (except for swimming pools in entities performing medical activity and for members of the national team)
❌ Saunas, solariums, Turkish baths, weight loss salons, casinos
❌ Hotels (exceptions include workers' hotels, as well as accommodation provided as part of business trips - the exact catalogue of exceptions along with the required confirmation of a business trip will be included in the regulation)
❌ Shopping malls - with the exception of, inter alia, grocery stores, pharmacies and drugstores, press salons, bookstores, pet stores and DIY stores. In shopping malls, they will still be able to operate, among others hairdressing, optical, banking, laundry services.
❌ Theaters, museums, art galleries (it is possible, however, to organize rehearsals and exercises, as well as online events)
❌ Cinemas (the ban on screening films also applies to cultural centers and centers)
❌ Ski slopes
❌ Fitness clubs and gyms
❌ Sports facilities (they can only operate for the needs of professional sports and without the participation of the public.
Read our list of Things To Do Safely In Gdańsk, Sopot and Gdynia during the Coronavirus Pandemic!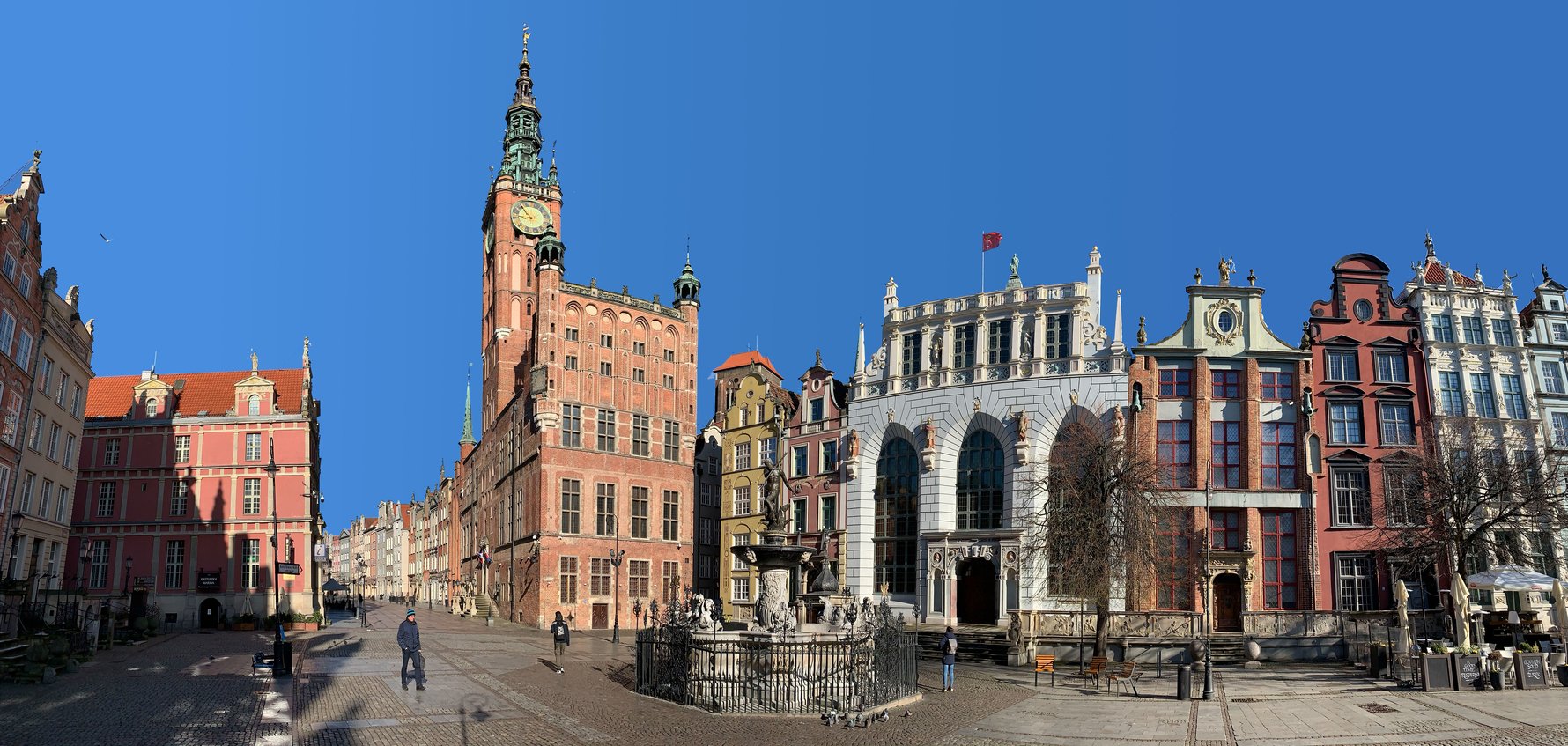 Before the first confirmed case of Coronavirus in Poland, authorities were not doing much aside from propagating the idea that Poland would not be as affected by the virus as other countries. When the outbreak began in China, a subtly patriotic narrative began to circulate regarding the bubonic plague, or 'Black Death,' and how it somehow affected Poland on a much smaller scale than the rest of Europe in the 14th century. [We did our own research. Read our article Did Poland really escape the Black Death?]
Would history now repeat itself 700 years later?

Sadly, no. Since the first case in Poland was officially announced on March 4 (it is speculated that the virus was in PL much earlier), the virus has spread rapidly, but authorities have been acting quickly to counteract it, taking what extreme measures that once seemed unimaginable.

Your best bet for the latest info on public safety is to follow the live information feeds from the City of Kraków online and the Polish Ministry of Health @MZ_GOV_PL on Twitter. Follow the hashtag #koronawiruswpolsce on social media for more updates.

We are diligently keeping this article updated as the situation with the Coronavirus in Kraków evolves. For more updates and interesting content, sign up for the Poland In Your Pocket NEWSLETTER - an easy way for you to support us during this trying time. Thanks!
What should I do if I'm in Gdańsk & I suspect I might have Coronavirus?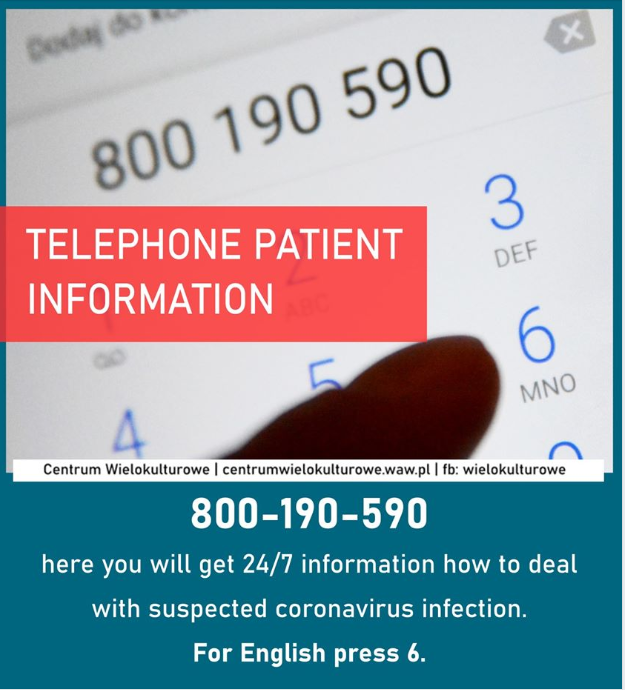 If you are in Poland and suspect that you may have been infected with Coronavirus, please call Centrum Wielokulturowe on 800-190-590 and press '6' to be assisted in English.
Coronavirus (COVID-19) symptoms include:
     • runny nose
     • sore throat
     • cough
     • fever
     • difficulty breathing (severe cases)

To prevent infection, the Polish Ministry of Health advises everyone to:
     • Wash your hands regularly with soap and water.
     • Cover your nose and mouth when coughing and sneezing.
     • Keep at least one-metre distance between yourself and others who are coughing and sneezing.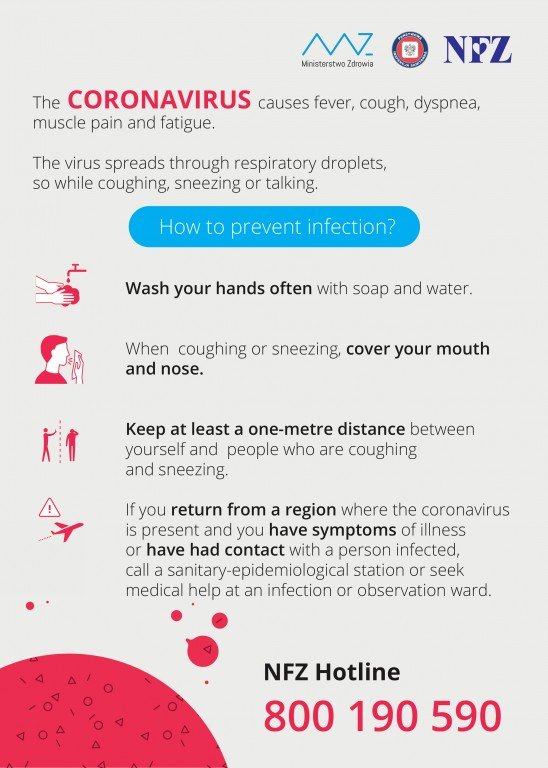 This page (in Polish) covers a list of Restaurants in GDAŃSK that are doing TAKEAWAY during this period.
This page (in Polish) covers a list of Restaurants in SOPOT that are doing TAKEAWAY during this period.