Whether you are looking for a show-stopping venue to host your end of year party, a one-of-a-kind space to host a product launch or corporate event or you are looking for an intimate and memorable space with an urban Joburg flavour, Braamfontein is a good place to look for a venue to host your next party.
UNTITLED BASEMENT
One floor below DJs Bradley Williams and Kenzhero's super-cool Braamfontein bar, eatery and art gallery, The Artivist, is the Untitled Basement, a glamorous and atmospheric club-like space that is often used for concerts. When there aren't live gigs happening here, this space is also available for private events. Given that the space is run by DJs and has a focus on live music, this is an ideal venue for a private party where you need an out-of-the-ordinary sound system.
7 Reserve St, Braamfontein, tel. +27 11 339 1640.
RANDLORDS
One of the city's best rooftop venues, the views of the downtown cityscape from the 22nd floor of Randlords are awe-inspiring. The huge open-air rooftop deck with its sweeping skyline views makes for the perfect photos meaning that this is an especially popular venue for weddings. Often used for club nights there's a good sound system and great lighting options to give your party the required festive and feel look once the evening kicks in. 
22nd floor, South Point Towers, 41 de Korte St, Braamfontein, tel. +27 11 489 1930, randlords.co.za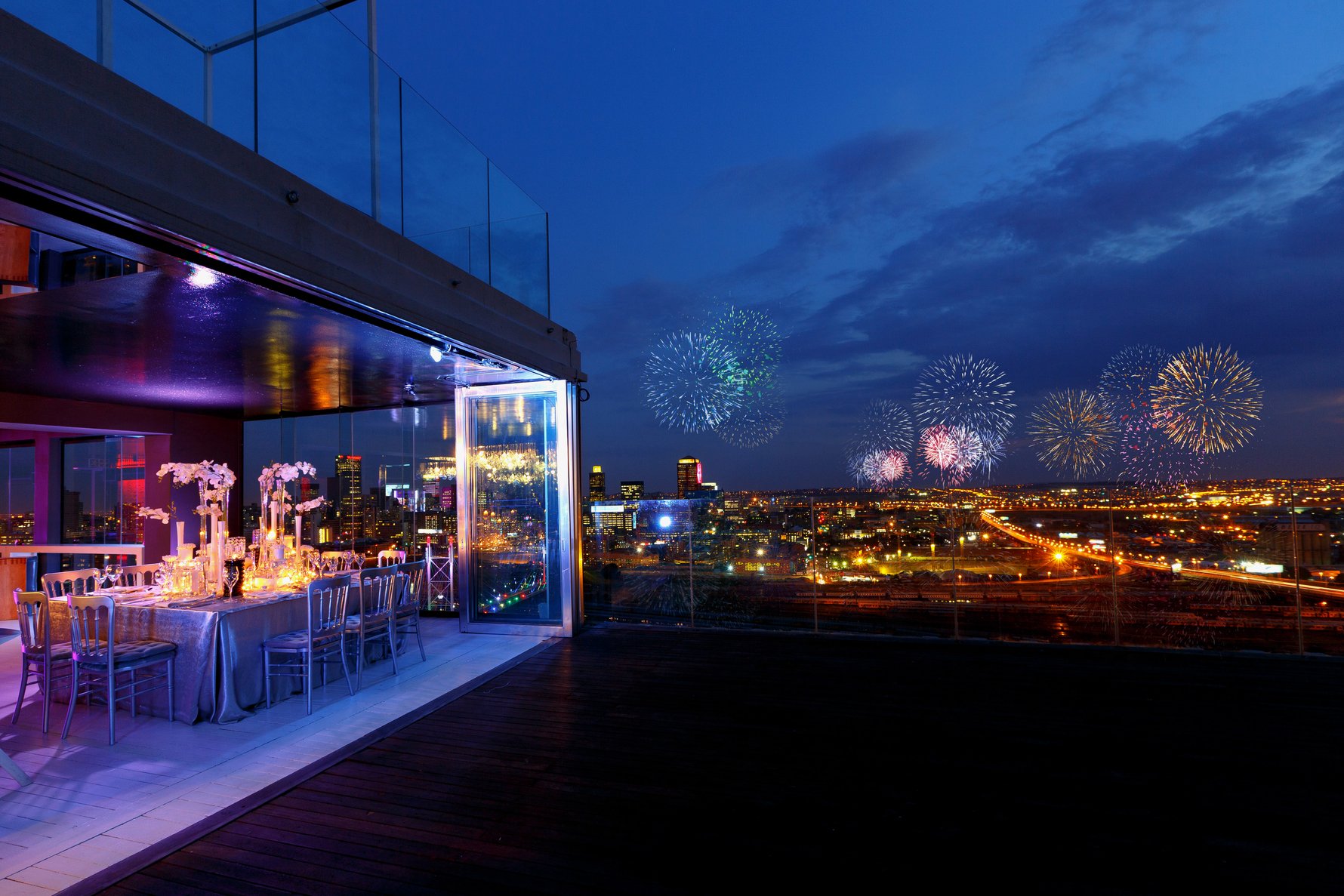 THE BANNISTER HOTEL
Maybe it's the abundant palms and succulents, or perhaps it's the whir of the ceiling fans and the fresh breeze wafting in through the wide-open windows, but there's something almost tropical about the atmosphere at this friendly and attractive bar located on the ground level of the Bannister Hotel. It's possible to book the whole upstairs bar-restaurant area if you are hosting a big event, although a more practical and personal space is the Bannister Basement which is usually used to host pop-up events such as gigs and comedy nights.
9 De Beer St, Braamfontein, tel. +27 11 403 6888, bannisterhotel.co.za.
CONSTITUTION HILL
The historic Constitution Hill complex, a former fortress and then prison which is now home to one of Joburg's best museums as well as the Constitutional Court, has numerous function spaces that are available for hire. Popular outdoor function spaces include the Slovo courtyard and the parade grounds located inside the colonial-era Old Fort part of Constitution Hill, while indoor venues include the Women's Jail Atrium and the Old Fort Atrium. From corporate events and exhibitions to parties, launches and even weddings, the Constitution Hill team has a lot of experience with hosting all kinds of events, transforming the space to suit every taste.
Cnr Joubert St and Kotze St, Braamfontein, tel. +27 11 381 3100, constitutionhill.org.za.
SHINE STUDIOS
Another sky-high venue with an awesome panoramic view of the downtown skyline, Shine Studios is the favoured venue for fashion events and photoshoots. In addition to two sound stages, favoured by film shoots and product launches, there's also the spectacular Glass Room with its floor to ceiling windows looking straight out over the railway tracks to the city centre, and the 654 squere meter Train Room on the next floor of the building which similarly presents birdseye views of Joburg's cityscape.
115 Smit St and Henri St, Braamfontein, tel. 0861 744 635, shinestudios.co.za