Every November, South Africa's leading fine art auction house Strauss & Co, closes out the year with a blockbuster live art auction in Joburg and this year's November live auction is certainly something to look forward to. Dedicated to modern, post-war and contemporary art, with a major focus on South African artists, there's a dazzling collection of more than 200 paintings going under the hammer.

Among the many works going on sale in the live auction on Monday November 11 there are some major stand-out museum-quality artworks that are well worth making the effort to see. Strauss & Co's pre-auction exhibitions are always an incredible chance to view a broad collection of artworks by leading artists before they disappear again into private collections.

Here are just seven of the biggest artworks to look at for at this November's pre-auction exhibition. The exhibition is open daily from 10:00 to 16:00 at the Strauss & Co gallery (89 Central Street, Houghton) from Wed Oct 30 to Sun Nov 10.
Wounded Buffalo by Lucas Sithole
The impressive Wounded Buffalo is described by the auction house as "a highmark of South African modernism". Commissioned in 1970 by Union Corporation Ltd (which later became part of the gold mining corporation Gencor), the 1.3metre tall sculpture of a stricken wounded buffalo down on its knees once stood in front of the mineworkers' recreation hall at Bracken Mines Ltd in Evander and when the mine was closed was sold to a private collector. It is a powerfully realistic and moving bronze sculpture created by one of South Africa's most significant black modernist artists that speaks to the indomitable spirit of the oppressed mineworkers and the struggles created by rapid urbanisation and rural economic deprivation. 
Estimate R1.5million to R2million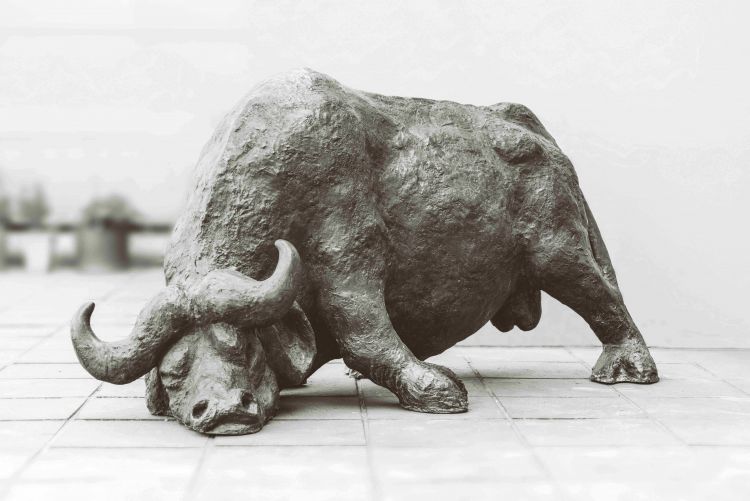 Marone, District Lydenburg by JH Pierneef
Painted in 1948, at a time when Pierneef's reputation was riding high following commissions by the SA Railways and Harbours department, this painting was painted for Pierneef's friends Dr and Mrs Roussouw while he was a guest on their farm near Lydenburg and it has since remained within the Roussouw family. At the centre of the vividly coloured, Eden-like scene, painted in oil on canvas stand two majestic pawpaw trees set against a crisp background of soaring mountains wrapped in clouds below which stretch green and gold farmlands of the Roussouw farm. 
Estimate R2million to R2million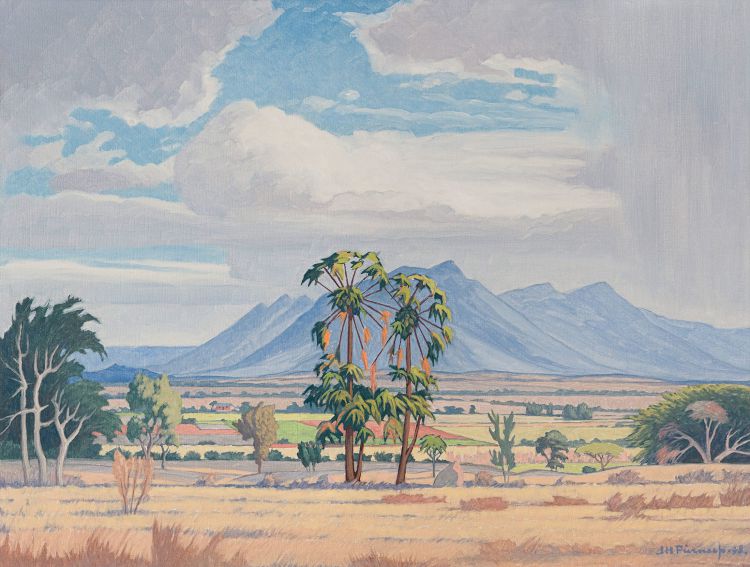 The Tropical Flower by Vladimir Tretchikoff 
 

A major determining factor in the value of artworks sold at auction is often their remarkable history and provenance and this is certainly the case with this beautiful painting by Vladimir Tretchikoff. Best known for his portrait Chinese Girl (also known as The Green Lady), one of the most popular art prints of all time, Tretchikoff's long and colourful life saw him spent part of his youth during World War II in the Far East. Tretchikoff was employed as a propaganda painter for the British in Singapore and ended up spending several months in Indonesia as a Prisoner of War. While his family safely were evacuated to South Africa, Tretchikoff was shipwrecked and was imprisoned on Java with other survivors.

After being released on parole, he spent the rest of the war in Jakarta where he met his lover and muse Lenka. The daughter of a Balinese woman and a Dutchman, Lenka (Leonora Moltema-Schmidt) encouraged Tretchikoff to continue to pursue a career in art and he painted many of his most famous paintings during their time together.

The 1945 painting The Tropical Flower bears a unique dedication to Lenka on the back "To Lenka, who was, to me, as this canna, the tropical flower". In 1946 Tretchikoff was successfully reunited with his family in South Africa while Lenka went to Singapore where she was closely involved in identifying Japanese war criminals. She later married and moved to The Netherlands were this painting held pride of place on her living room wall.
Estimate R1.7million to R1.9million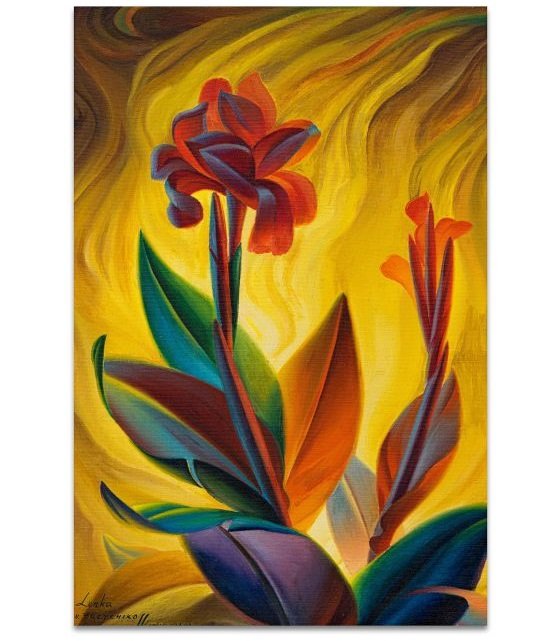 Icon Barbare (Adam) by Alexi Preller
This striking oil and gold leaf painting of the biblical Adam by one of South Africa's most influential 20th Century artists references both Christian religious iconography and ancient Greek and pagan symbolism. Filled with spiritual and mystical allusions, such as a symbolic third eye at the centre of the forehead, serpent-like bands across the torso and a Christ-like beard and crop of vivid sea-green that similarly reminds of growing vines, it is a startingly beautiful and luminescent painting that is filled with the mystery and mysticism that continue to make Preller such a compelling artist to this day.
Estimate R8.5million to R10million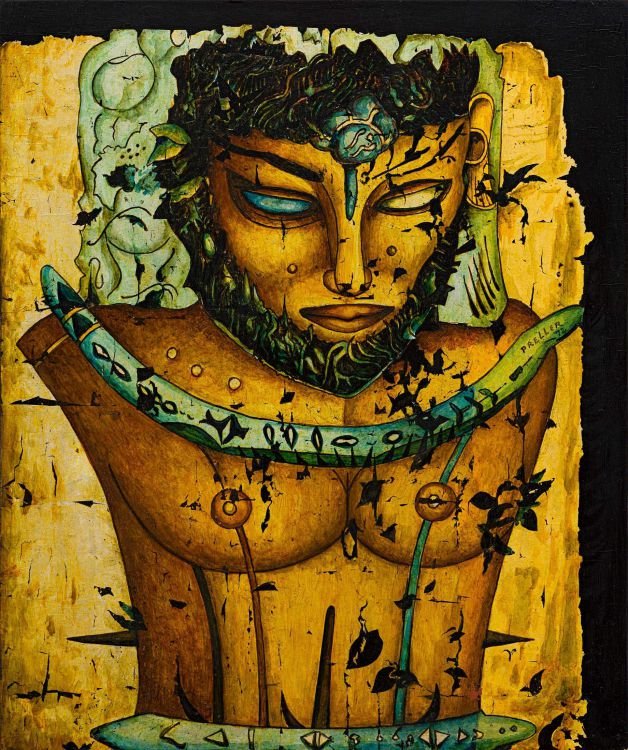 African Goat by Ezrom Legae
This delightful, diminutive 68cm high sculpture is one of the more playful sculptures produced by one of South Africa's most important sculptors, the late Ezrom Legae. Legae often depicted animals in his works, frequently using the images of chickens, horses or dogs as metaphors for the pain and suffering experienced at the hands of the apartheid regime. This sculpture was created in 1990 and is reminiscent of modernist masters such as Giacometti while also referencing the playfulness of Picasso's more life-like 1950 bronze She Goat.
Estimate R1million to R1.5million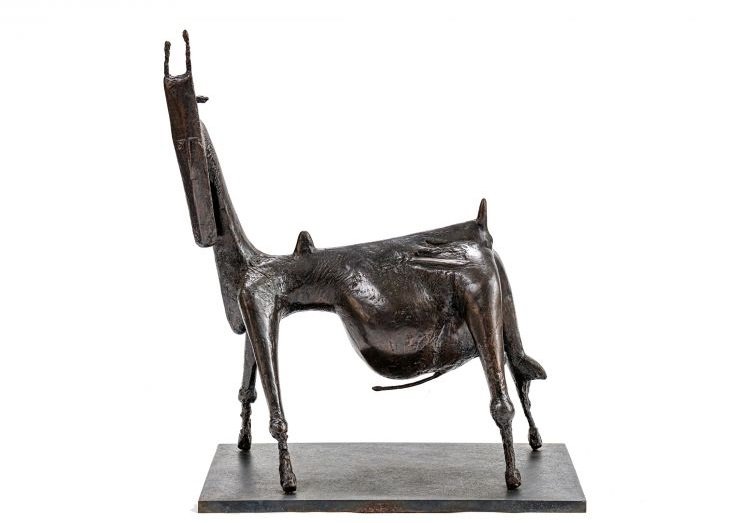 Act I Scene II by Penny Siopis
This extraordinarily brightly coloured and richly textured oil painting by one of South Africa's most prominent contemporary artists, Penny Siopis, was painted in 1986. It is part of a series of iconic paintings that she made in the early 1980s inspired by the 17th Century style of history painting and Dutch 'vanitas' still lifes. These paintings typically depicted grand dining halls and tables overloaded with fruit, flowers, cakes and bric-a-brac from her studio which she has described as "allegories of excess". 

The scene in this painting was staged in Siopis's studio and featured some of her students as well as the artist herself (the naked figure on the floor draped in a white sheet) and is filled with symbols of privilege and excess such as the richly textured French brocade curtain, taxidermied animals, classical statuettes and an almost psychedelically coloured cake, as well as some gruesome elements such as a ripped out heart and the skeleton of a bird, all of which reference the privileges, pretenses and excess of late-apartheid era South Africa as the country was on the brink of collapse. 
Estimate R2.8million to R3.5million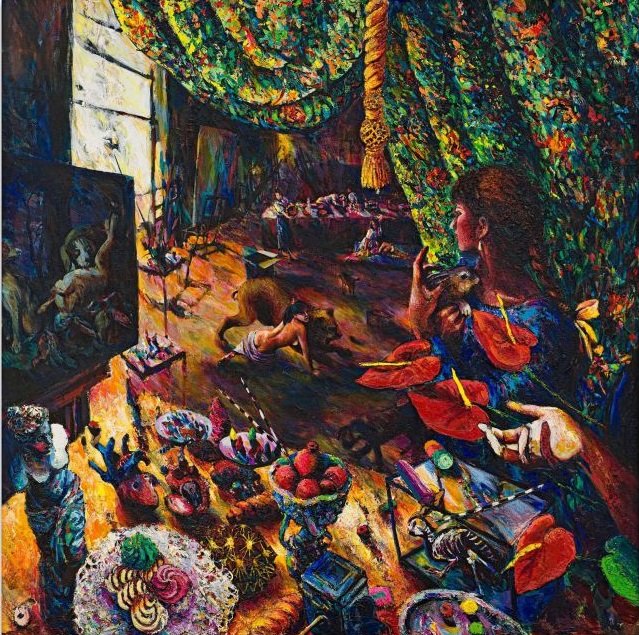 Iris by William Kentridge
Markedly different to much of Kentridge's body of work, which is typically monochramatic in palette, this colourful depiction of an iris by the world-famous Joburg-based contemporary artist, nevertheless is instantly recognisable as Kentridge's hand. The large-scale mixed media collage was created in 1991 using a collage technique which Kentridge still often uses today.

The image is essentially constructed from an arrangement of flat shapes torn out of paper that has been prepared in bold blue, green and purple pigments. After being collaged onto the grey paper background, like actors and props on a stage, Kentridge then drew over the flower, accentuating the finer details of the flower to capture its delicate movement. 
Estimate R3million to R5million