Coffee is not just a drink, it's a lifestyle and this city really knows a thing or two about making a decent brew. Rosebank is coffee central with almost a dozen different coffee shops and cafes scattered through this compact and easily walkable high-rise district. Here's our pick of our favourite Rosebank coffee stops.
Casquette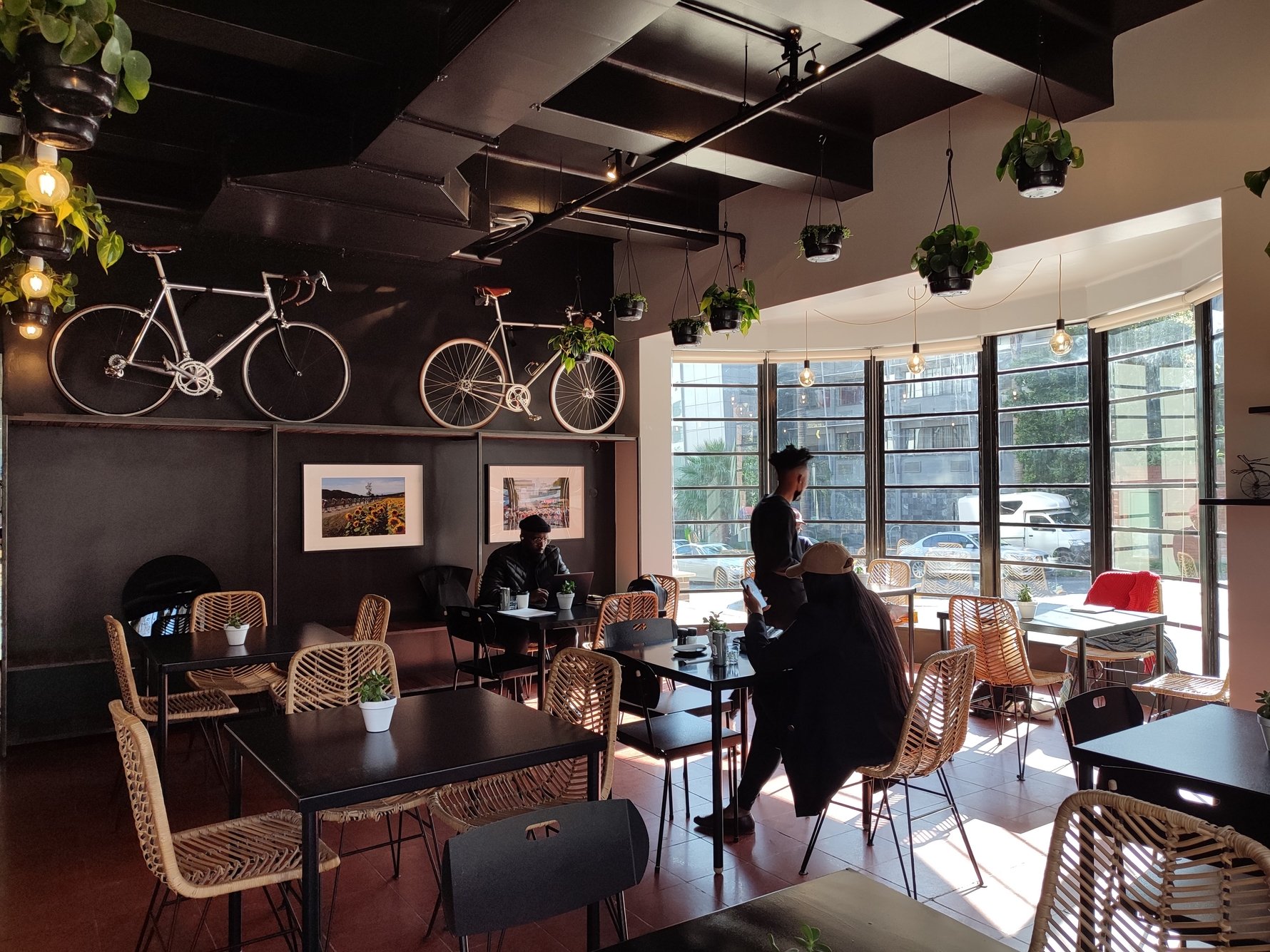 Taking over the distinctive corner space that was once Brik cafe at the old Rosebank Firestation building, this friendly cafe also doubles as a bike service shop. Of course it goes without saying that its a popular pitstop for those weekend cycling groups who like to rise with the sun to cycle around the city (the cafe opens at 06:00). The coffee is great, made with their own house blend of Central African and Central American arabica beans.
Where: 16 Baker St, Rosebank
Croft & Go
This small grab-and-go coffee bar opens out onto the pavement next door to Banele Khoza's BKhz art gallery at Keyes Art Mile. There are few tables inside and on the pavement to sit and enjoy your brew, a small selection of snacks including tasty croissants and muffins and the friendliest barista behind the bar.
Where: Keyes Art Mile, 19 Keyes Ave, Rosebank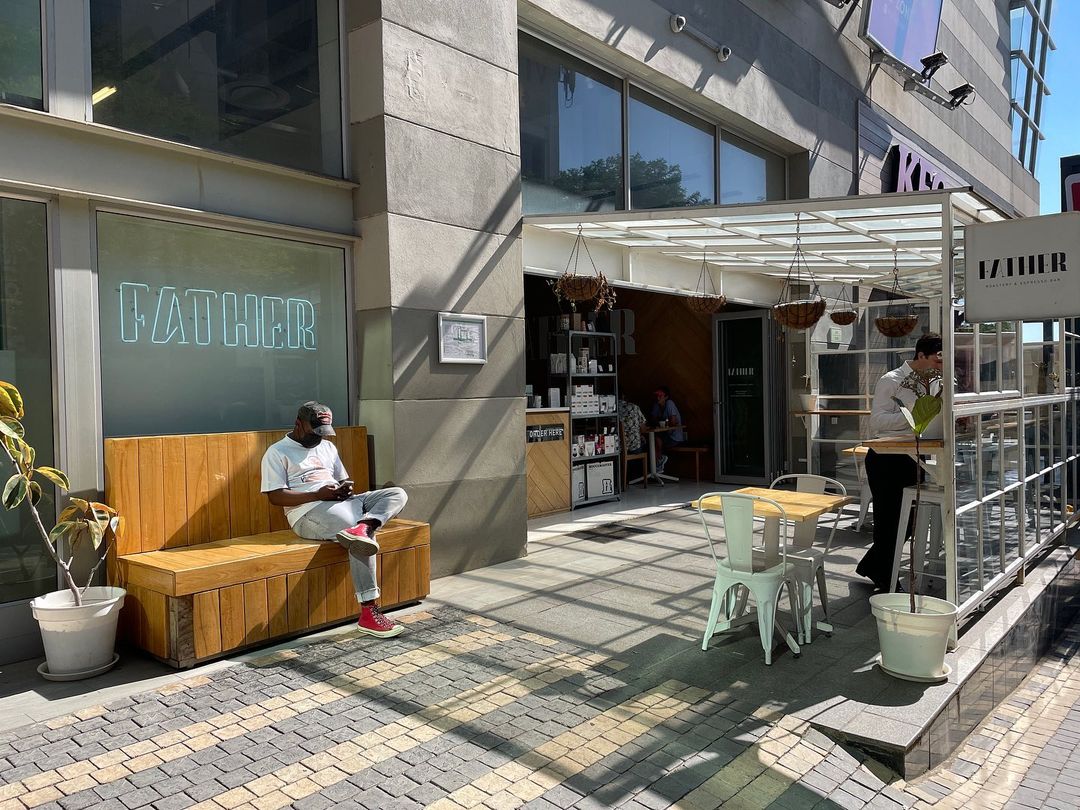 A blond-wood temple to aesthetics and font design. This hipster coffee shop has a great selection of smartly packaged blends to take home, ground to order in the shop. There's strong competition for the best flat white in Rosebank, but Father Coffee's might just be the finest. Their avocado on toast is damn fine too. For a fun timeout have a game of ping pong in their small table tennis hall in the back.
Where: The Zone@Rosebank, Tyrwhitt Ave (between the City Sightseeing bus ticket office and the Rosebank Gautrain station).
Iris Garden Patisserie
Opened in Autumn 2022, this cute Halaal cafe has really caught the imagination of the Insta generation with everyone rushing to take that perfect selfie with Iris Garden's latte art, preferably while seated at the cafe's cosy mezzanine level. In addition to good coffee there's also a super selection of loose leaf teas and some very good cakes. We especially recommend trying the famously decadent crepe cake – it's worth all the calories!
Where: The Zone@Rosebank (opposite Shelflife next to The Bank building), Rosebank
Motherland Coffee Company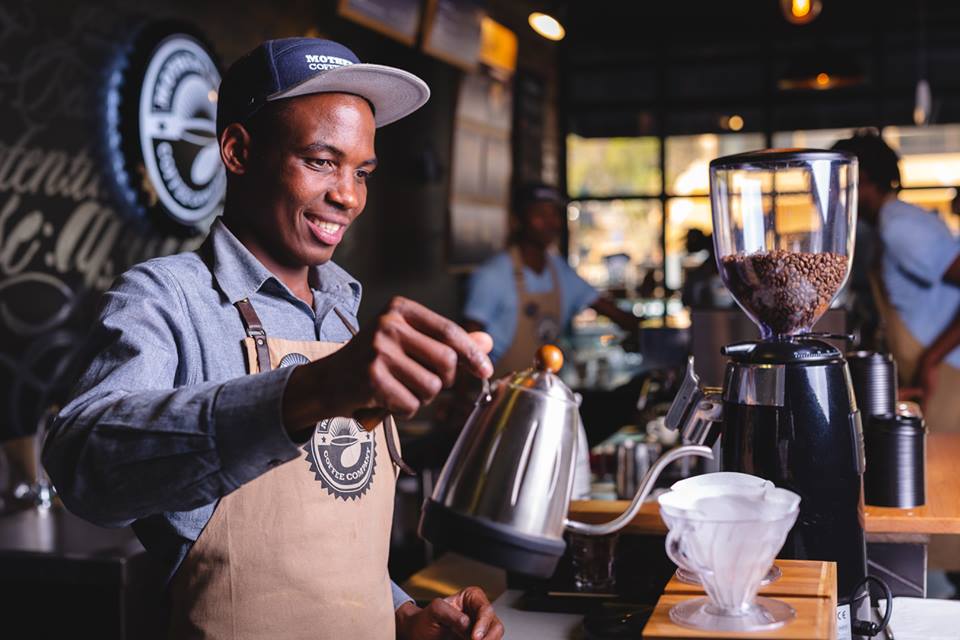 With more Macs on the tables than the local Apple stockist, this is a popular work and meeting spot – especially when load shedding hits. There are loads of plug points for charging your devices. The coffee, a blend of Ethiopian Sidamo and Rwandan Kivu beans, comes in extra large; the famous Mothercuppa. If you like a good iced coffee, the iced latte (made with ice blocks not blended) is very refreshing on a hot day. This Rosebank location is a little out of the way, located just off Bolton Road on Sturdee Avenue (opposite The Bolton apartment block).
Where: 1 Sturdee Ave, Rosebank.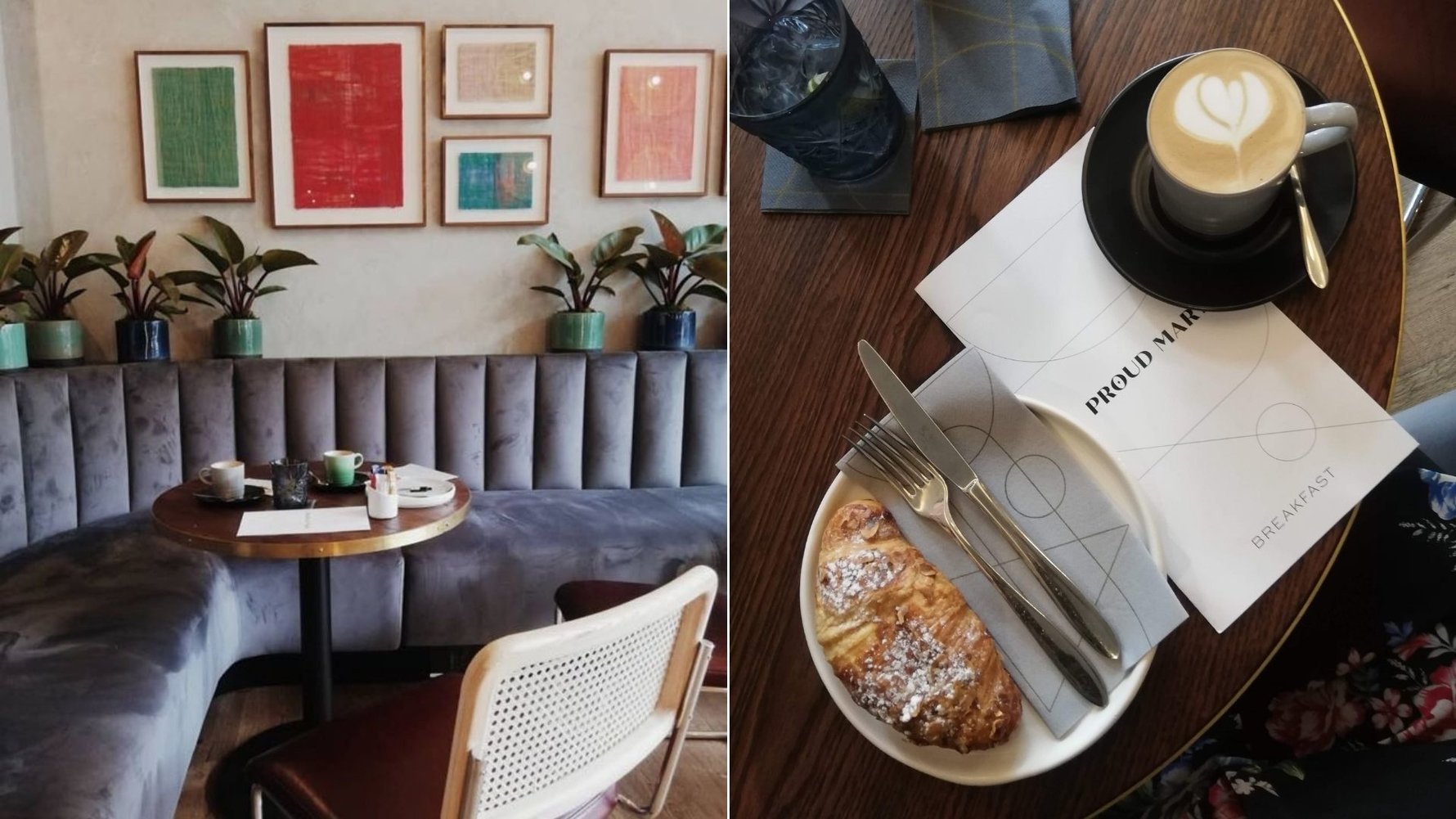 While this glam restaurant and wine bar (part of the chic voco Hotel The Bank) is somewhat of an unconventional spot for coffee and croissants, the restaurant's adjoining coffee and patisserie bar, Proud Coffee, has a great array of confectionaries, boasting everything from macaroons to freshly made cronuts and croissants. If you're in the mood for a modern take on a traditional bakery experience, or just need a good grab-and-go coffee, Proud Mary's coffee bar is fantastic. They make their coffee with Father Coffee beans and if you're in a hurry there's a grab-and-go bar facing onto the street.
Where: voco The Bank, cnr Cradock and Tyrwhitt Aves, Rosebank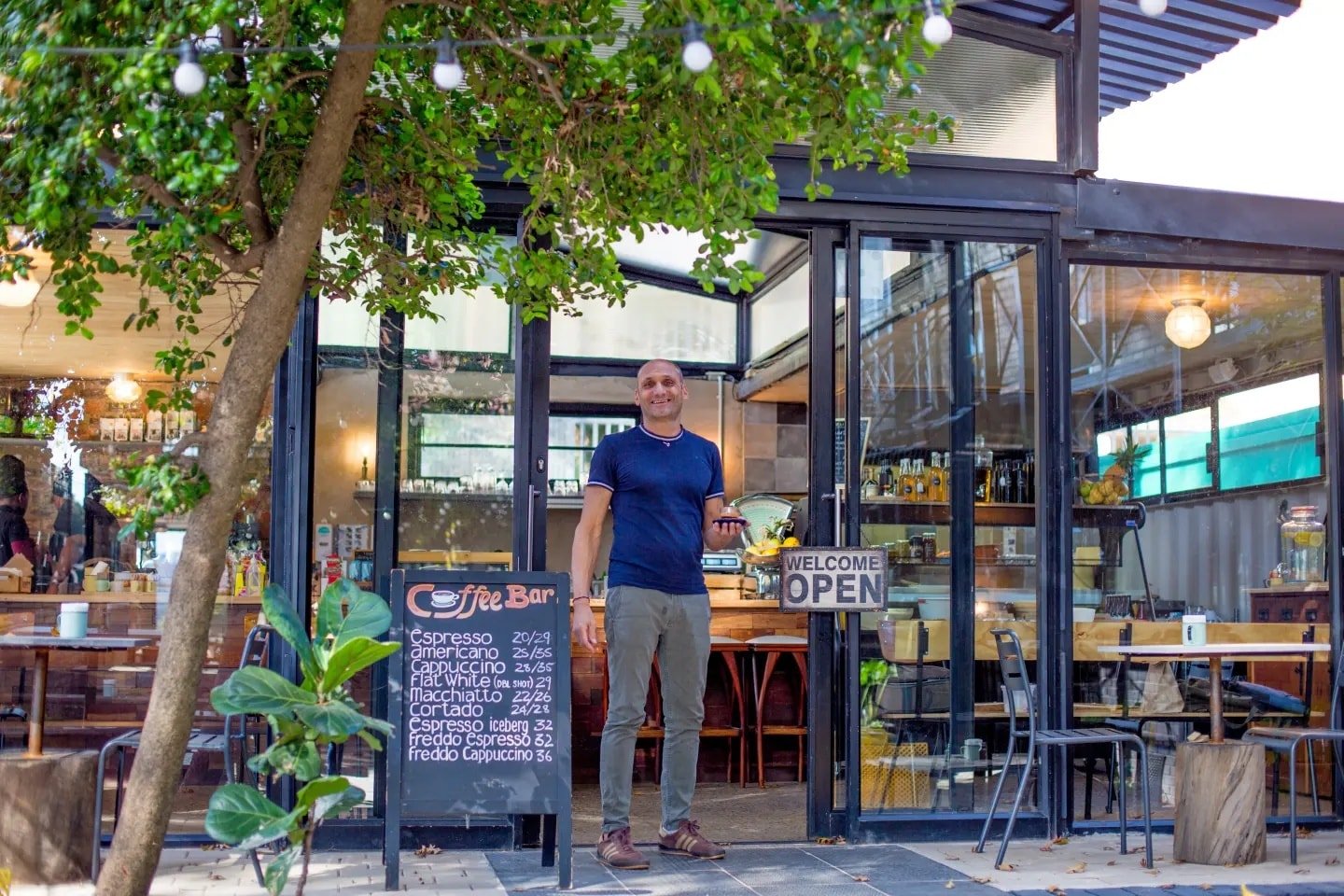 For an authentic Greek breakfast, Soul Souvlaki's courtyard coffee shop and deli makes for a great Rosebank stop. Try the breakfast pita and wash it down with an organic Fairtrade coffee or in warm weather a classic Greek Freddo. They've also got a great assortment of freshly-made pastries and Greek baklava plus a lovely tree-shaded courtyard and roof deck in which to enjoy your morning cuppa.
Where: 42 Bath Ave (cnr Baker St), Rosebank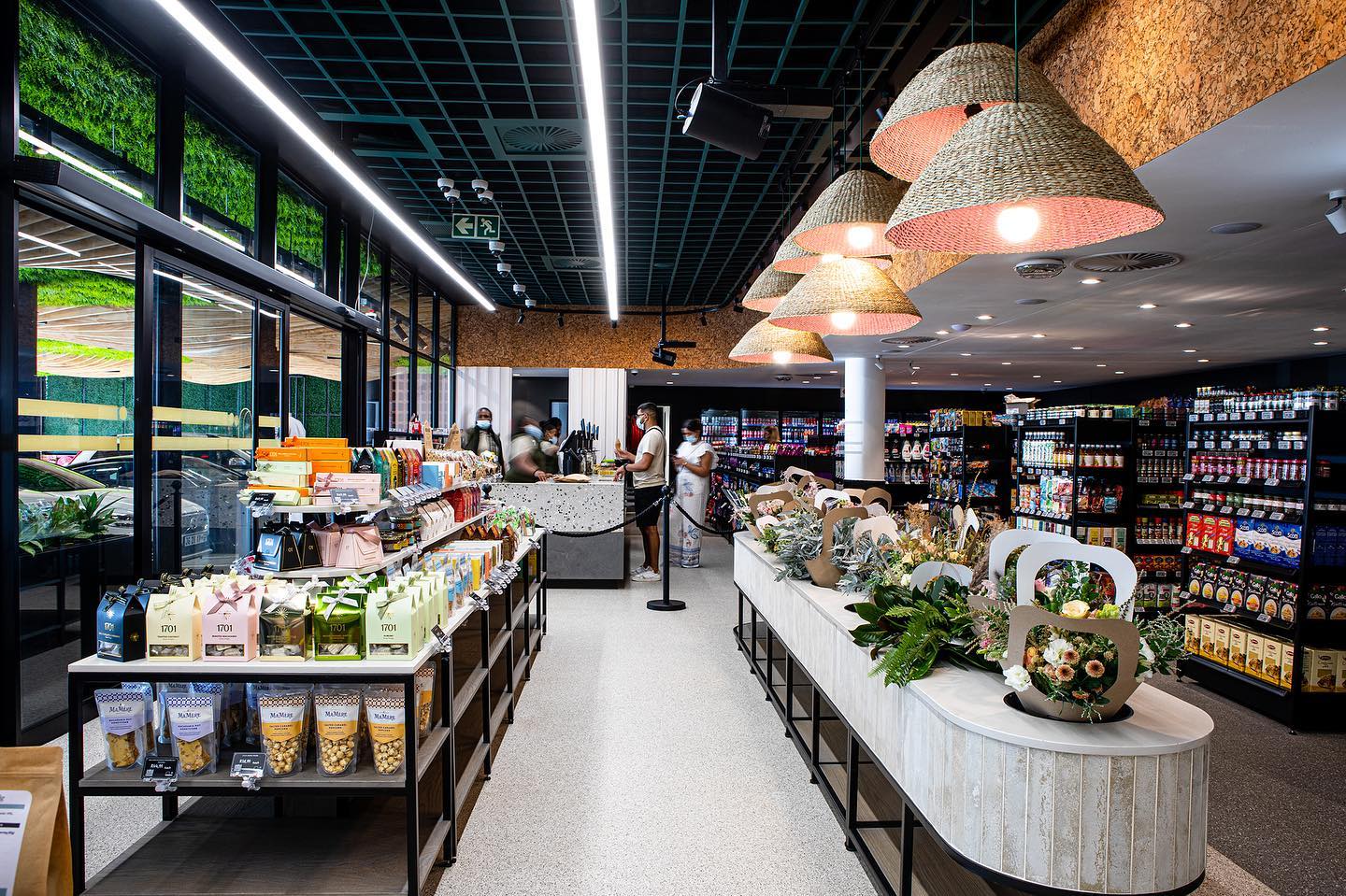 The perfect place for a drive-by coffee at any of the day. Launched in March 2022 by The Marble Group (who also own Marble, Saint and Zioux restaurants), Pantry by Marble, is an upmarket reinvention of a typical 24-hour petrol station convenience store. There's a mix of high-quality local brands, artisanal baked goods, boutique wines, everyday basics like toothpaste or washing powder, and those unusual treats you didn't know you needed until you saw them. The coffee is excellent and on busy days the petrol station forecourt practically looks like a Porsche showroom.
Where: Keyes Art Mile, cnr Jan Smuts Ave and Jellico Ave, Rosebank