As 2018 draws to an end, it's time to start making plans for office year-end festivities. If you're looking to revitalise the stodgy office party, we've got the guide to Joburg's coolest and most unusual year-end venues for hire.  From dinner at the top of one of Joburg's most iconic buildings to lunch in a converted prison, whether you're looking to host a relaxed and intimate evening, a fun and noisy party or a stylish gathering to toast your team for all their hard work, we've got the venue for you.
 
DLALA NJE 5101 BAR IN PONTE CITY
Dlala Nje (meaning 'Just Play' in isiZulu) is an innovative tour and events company based in Ponte City, Joburg's tallest residential building, and one of the inner-city skyline's most well-known landmarks. Dlala Nje's popular night tours of Hillbrow and neighbouring Yeoville are a culinary adventure, combining authentic community engagement, mouthwatering Cameroonian and Congolese food, and a nightcap at events space 5101 – a 51st floor Ponte City apartment and sundowners spot with breathtaking panoramic views of the city. For a truly unique end to your year, the team at Dlala Nje can also organise a one-of-a-kind evening of cultural immersion, pan-African culinary thrills and sundowners on top of Joburg.
ATMOSPHERE: edgy, panoramic views, pan-African cuisine
CAPACITY:  50-60 people 
PRICING: Venue hire from R5,000-R11,000. Rates exclude food and cocktails. 
For pricing and more information, contact Dlala Nje at +27-72-373-5136.
 
HYATT REGENCY
The premier hotel for Joburg's stylish denizens of business, the Hyatt Regency Hotel in Rosebank offers a handful of specialised options for a sophisticated end to the year. For an intimate gathering (5-35 people), consider a table and evening out at OneNineOne restaurant, known for its locally inspired, sustainable ingredients-driven menu. For larger groups, check out the Terrace Cigar and Wine bar's bespoke packages. Celebrate the team's hard work in the hotel's lush gardens, transformed into a European Christmas Market, complete with live cooking stations firing away with international dishes like Asian style shaved duck and an overflowing traditional Christmas pudding stand (80-250 people). Alternatively, indoor arrangements can be made for up to 350 guests.
ATMOSPHERE: sophisticated, international, business formal
CAPACITY: various options for groups of 5-35 people and 80-350 people
PRICING: A la carte dining at OneNineOne and Terrace packages from R450 per person to R760 per person.
For pricing and more information, contact The Hyatt Regency at +27-11-280-1234. 
 
CALEXICO VINYL LOUNGE AND BEER YARD
First and foremost a 'vinyl lounge' 44 Stanley's Calexico serves up an eclectic mix of Californian and Mexican-style dishes, décor and music. Request a special function menu with their popular nachos and quesadillas, as well as a glorious rotisserie chicken, and the Calexico team can also arrange performers from their line-up of much-loved vinyl DJs and alternative rock bands. The team behind Calexico are the same heroes who managed the Stanley Beer Yard – long known for its excellent craft beer selection – and they have made sure that beer fans still have plenty of choices, plus you get to enjoy colourful regional cocktails like the mojito, margarita, and cuba libre. 
ATMOSPHERE: relaxed, eclectic, live music 
CAPACITY: 230 people for a cocktail evening, 200 people seated.
PRICING: A la carte menu pricing, as well as bespoke packages
For pricing and more information, contact Calexico at info@calexico.co.za.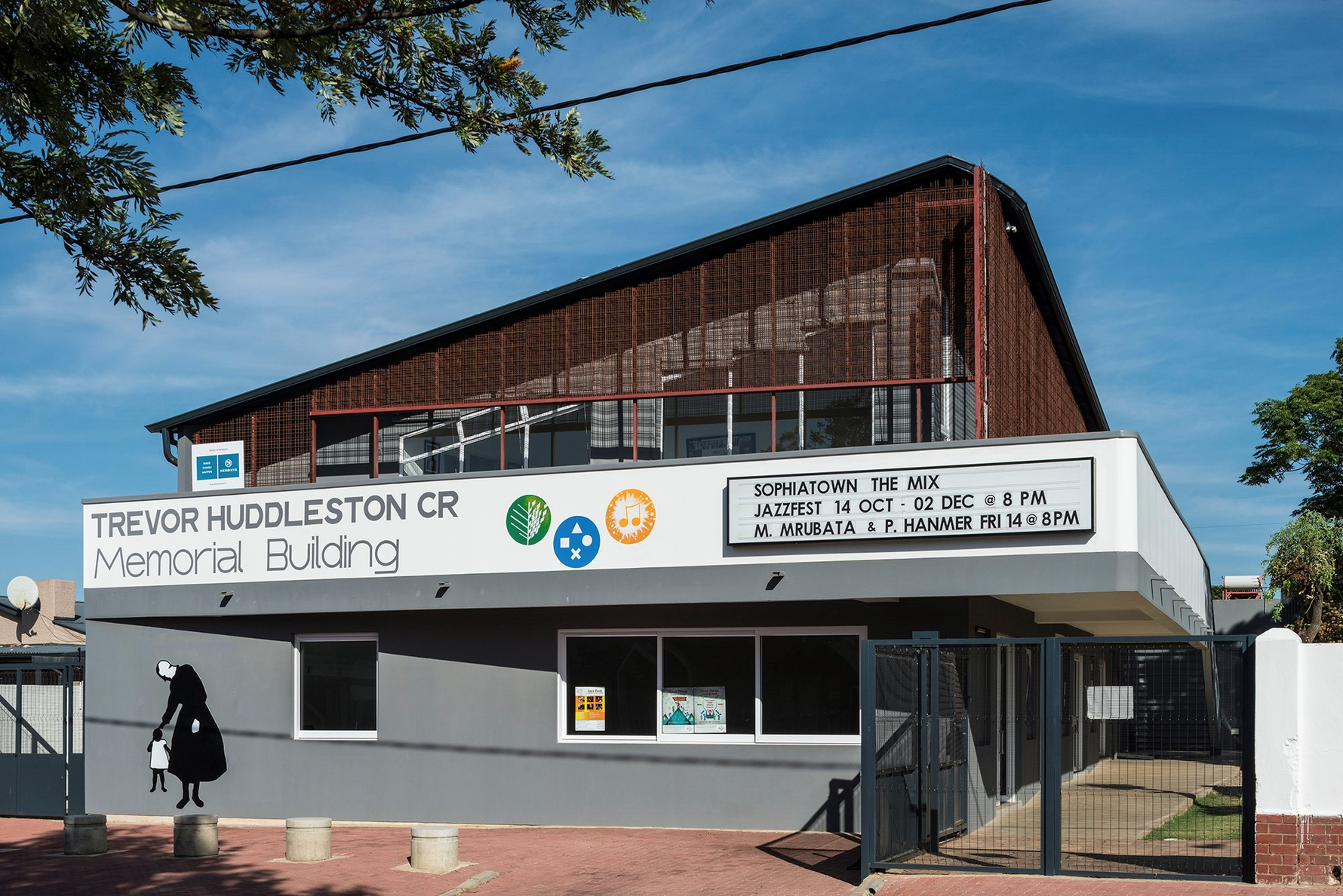 SOPHIATOWN THE MIX
Located just 5 minutes away from Auckland Park in the historic neighbourhood of Sophiatown (the 1950s home of South Africa's Drum generation of artists, poets, writers and musicians) is Sophiatown The Mix, a heritage centre and living museum to the birthplace of South African jazz. Featuring two eco-friendly, multi-purpose buildings and a sprawling garden, the intimate space also serves as the venue for the bi-monthly Sophiatown Jazz Encounters concerts and boasts great acoustics.
ATMOSPHERE: live music, historical significance, eco-friendly
CAPACITY: 40-200 people
PRICING: Packages from R550 per hour. 
For pricing and more information, contact Sophiatown TheMix at +27-11-673-1271/ 083 5507130 or rinkie@sophiatownthemix.com. 

 
THE ROVING BANTU KITCHEN
A 'centre for friendship and memory', the Roving Bantu Kitchen is also a restaurant, cafe and performance space. A bright little spot on a Brixton corner filled with quirky items of African memorabilia that speak to the jumbled narrative of history and memory in South Africa, the Roving Bantu is an afro-soul food kitchen and meeting place. The Roving Bantu stage attracts some of the best local talent and the family style menu is constantly changing and includes traditional favourites like mogodu, goat curry and slow-cooked pork heels with samp and beans.
ATMOSPHERE: live music, memorabilia, eclectic 
CAPACITY: 30-100 people
PRICING: Packages from R2,500, catering from R250 per head.
For pricing and more information, contact The Roving Bantu at +27-72-223-2648.
 
VICTORIA YARDS
Transformed from a derelict complex of sprawling industrial buildings into a vibrant community of makers and artists, Victoria Yards is Joburg's newest lifestyle, art and shopping destination. For an original office party, take over Victoria Yard's lush terraces or intimate, post-industrial indoor barns dotted with cozy fireplaces and rustic finishes with a series of custom packages.  Choose from diverse catering options from Victoria Yards' residents like craft brews from the Impi Brewing Co and Joburg's best fish and chips from The Fish and Chip Shop. 
ATMOSPHERE: post-industrial, relaxed, rustic
CAPACITY: Packages for groups from 12+ 
PRICING: Price available on request
For pricing and more information, contact Victoria Yards at +27-83-629-6892.
 
THE LUCKY BEAN
A Melville institution that has been catering to the laid-back residents of Melville for years, The Lucky Bean is a South African fusion bar and restaurant on the neighbourhood's high street, 7th Street.  Their year end packages include a South African-driven tasting menu of traditional treats such as melktert, ostrich bobotie spring roll and snoek and patat fishcake.  The bright and inviting downstairs lounge area spills out onto the street-side patio, perfect for people watching as you sip your way through their extensive regional wine list (and for dancing, once you've had a few!). 
ATMOSPHERE: relaxed, welcoming, South African cuisine
CAPACITY: 70-100 people 
PRICING: A la carte pricing, venue hire fee waived for parties over 30 people
For pricing and more information, contact The Lucky Bean at +27-82-902-4514.
 
CONSTITUTION HILL
A converted prison might seem an unusual venue for a year end party but Constitution Hill is not only one of Joburg's most important heritage sites, it is also a living museum that tells the story of South Africa's journey to democracy. The Constitution Hill complex is home to the country's Constitutional Court, the Old Fort, the Women's Gaol and the Number 4 prison block. Have a picnic on the Winnie Mandela and Fatima Meer lawns at the Women's Gaol or go for avant-garde edge in the Number 4 prison block. There are a variety of unusual spaces that can each be rented out in a place of unrivalled historical significance. 
ATMOSPHERE: historical significance, business formal, unusual 
CAPACITY: Packages for groups from 12+
PRICING: Packages from R2,000.   
For pricing and more information, contact Constitution Hill at venuehire@conhill.org.za.