How can I find accurate information about how South African health authorities are dealing with the Coronavirus?
First stop is sacoronavirus.co.za which is the Covid-19 Coronavirus South African Resource Portal. 

The exact number of cases globally is constantly being updated. Check this live updated global map by John Hopkins University to see the rate of new reported cases worldwide and check out the WHO's daily situation reports on Coronavirus here.

The South African health minister Dr Zweli Mkhize is providing regular updates on the situation and how South Africa is dealing with this. You can follow all these latest updates on his Twitter page here. 

As of midnight March 26 the country enters a 21-day lockdown period with stringent measures implemented that will be enforced to limit the spread of the virus. 

The Twitter account of the NICD (the National Institute for Communicable Diseases), who are working 24/7 to test for potential cases and carry out contact tracking, is also an excellent source of up-to-date information on the Coronavirus situation and how it affects South Africa. Follow them on Twitter here and find their report updates on the latest cases and where they have been tracked from at their website here.

Useful numbers 
If you are worried that you have contracted the virus you can contact the dedicated 24-hour Coronavirus hotline on 0800 029 999.

You can also join the free Whatsapp messaging service that  provides useful advice about symptoms, travel restrictions, testing and treatment as well as the latest developments. Add the number 060 012 3456 on whatsapp and send a message saying 'hi' to be connected.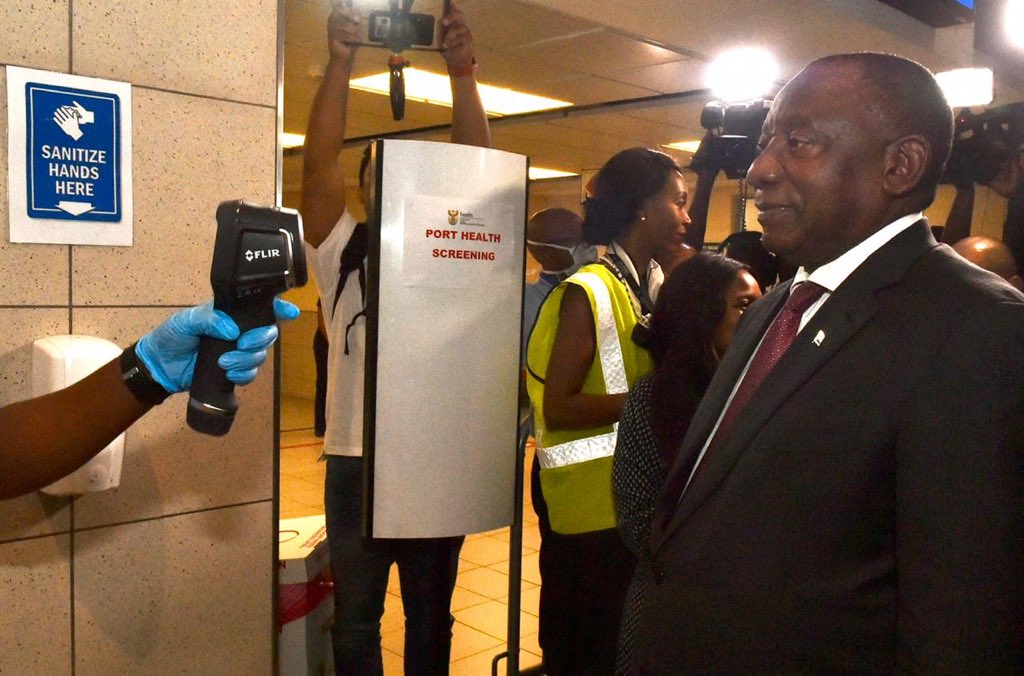 Lockdown – 21 Days from midnight on March 26, 2020 
People have been advised to stay at home throughout this period.
The only exceptions to movement from home are:
shopping for essential goods and medicines
collecting a social grant
seeking emergency life-saving or chronic medical attention
performing essential services. Health workers, those working in essential shops, those involved in essential maintenance such as infrastructural repair, essential agricultural workers and security staff are allowed to continue to go to work. The army has been deployed to ensure that these restrictions are adhered to.

The 21-day lockdown essentially means you must stay home for the entire 21 days. You are allowed only to leave your home to get food at supermarkets or grocery stores, to visit pharmacies or carry out any essential medical appointments. This means you also may not have any visitors.

Restaurants, bars, cafes and takeaways will not be open during the 21-day lockdown. You can only buy food at supermarkets or grocery stores to prepare at home. 
How are South Africans reacting to Coronavirus?
As elsewhere in the world there is both an element of panic and one of weariness. While there are some maintaining this is 'just the flu' there are others who have been stockpiling Dettol like it's the end of the world. There has also been a lot of talk since the crisis began that developing parts of the world, especially the African continent, would be harder pressed to cope with a major outbreak which has been keeping the South African populace extra alert about preventing the spread of germs. Among African countries South Africa and Egypt are considered the best prepared to handle major pandemics, although as elsewhere in the world there are legitimate worries about how the virus could affect the poor, those living in poorly resourced rural areas and those with chronic illnesses and compromised immune systems. 

On the evening of Sunday March 15 the President, Cyril Ramaphosa, made an announcement on TV detailing new measures being put into force on account of the crisis, which he declared was now a national disaster. Despite the severity of the many restrictive measures announced, his calm, collected, clear and stern address was widely praised and accepted as a necessary step in fighting the spread of the pandemic. His second announcement on March 23, which detailed the impending nationwide lockdown was similarly met with wide praise.

Many South Africans have also taken to heart the President's call for unity: "We must appreciate the extent of the threat that this disease presents, we must accept the anxiety that it causes, but we cannot allow ourselves to be overwhelmed by fear and panic.

Although we may be limiting physical contact, this epidemic has the potential to bring us closer together. We are responding as a united nation to a common threat. This national emergency demands cooperation, collaboration and common action. More than that, it requires solidarity, understanding and compassion. Those who have resources, those who are healthy, need to assist those who are in need and who are vulnerable."
 
How to protect yourself and others from Coronavirus
Most people who become infected with Coronavirus experience mild illness and recover, but it can be more severe for others. Take care of your health and protect others by doing the following:

Washing your hands with soap and water or using alcohol-based hand rub and sanitisers kills viruses that may be on your hands. If washing with soap and water, wash vigorously for at least 20 seconds. This is also just basic hygiene and something you should be doing anyway, Coronavirus or no!

Maintain at least one-metre distance between yourself and anyone who is coughing or sneezing. Similarly practice good respiratory hygiene yourself by covering your mouth and nose with your bent elbow or a tissue when you cough or sneeze. Then dispose of the used tissue immediately. Again, basic hygiene people!

If you have fever, a cough and difficulty breathing, seek medical care early. Stay home if you feel unwell and contact your travel or medical insurance about what steps you should take and where to go. Calling in advance will allow your health care provider to quickly direct you to the right health facility. This will also protect you and help prevent the spread of viruses and other infections.