How can I find accurate information about how South African health authorities are dealing with the Coronavirus?
First stop is sacoronavirus.co.za which is the Covid-19 Coronavirus South African Resource Portal. 

The exact number of cases globally is constantly being updated. Check this live updated global map by John Hopkins University to see the rate of new reported cases worldwide and check out the WHO's daily situation reports on Coronavirus here.

The South African health minister Dr Zweli Mkhize is providing regular updates on the situation and how South Africa is dealing with this. You can follow all these latest updates on his Twitter page here. 

As of midnight March 26 the country entered a 21-day lockdown period with stringent measures implemented that will be enforced to limit the spread of the virus. On Thursday April 9 the lockdown was extended to 35 days.

On Friday May 1 South Africa enters into a 'Level 4' lockdown. Restrictions at Level 4 are similar to those at the full lockdown of Level 4 with some rules relaxed. South Africa can go both up and down levels depending on how much the virus seems to be spreading.

The Twitter account of the NICD (the National Institute for Communicable Diseases), who are working 24/7 to test for potential cases and carry out contact tracking, is also an excellent source of up-to-date information on the Coronavirus situation and how it affects South Africa. Follow them on Twitter here and find their report updates on the latest cases and where they have been tracked from at their website here.

Useful numbers 
If you are worried that you have contracted the virus you can contact the dedicated 24-hour Coronavirus hotline on 0800 029 999.

You can also join the free Whatsapp messaging service that  provides useful advice about symptoms, travel restrictions, testing and treatment as well as the latest developments. Add the number 060 012 3456 on whatsapp and send a message saying 'hi' to be connected. 

Corona Fighter symptoms tracker
An online app has been launched for those who worry they might have Coronavirus symptoms but haven't been tested yet. Sign in to access the online symptom tracker at www.testforcovid.co.za.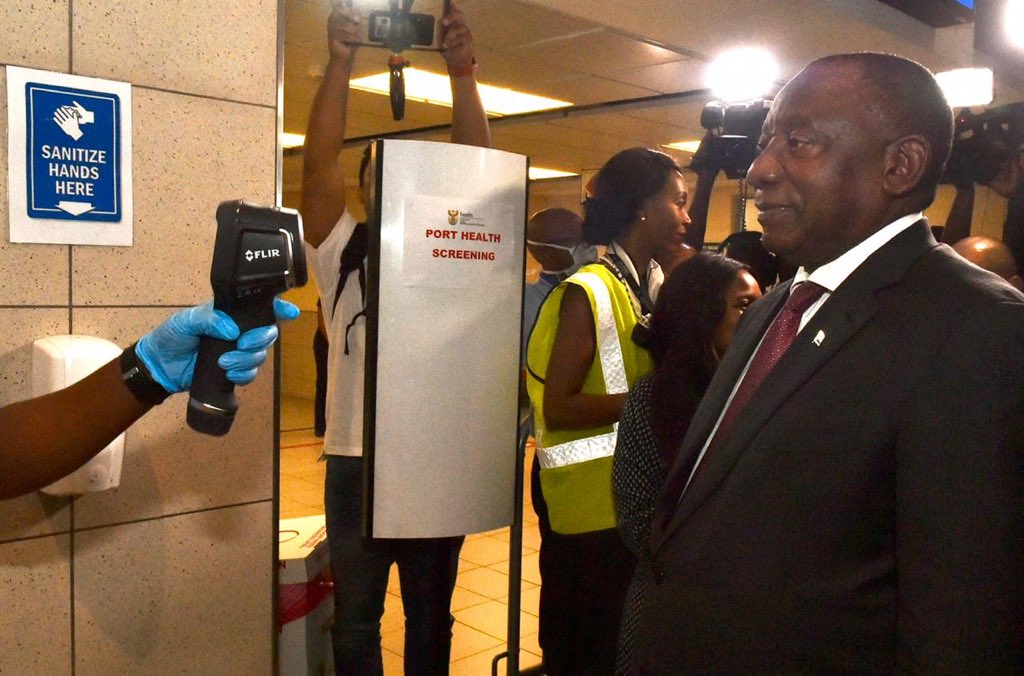 How South Africa's lockdown Levels work
There are five Levels to South Africa's lockdown.

At LEVEL 5 the only exceptions to movement from home are:

– Shopping for essential goods and medicines
– Collecting a social grant
– Seeking emergency life-saving or chronic medical attention
– Performing essential services. Health workers, those working in essential shops, those involved in essential maintenance such as infrastructural repair, essential agricultural workers and security staff are allowed to continue to go to work. The army has been deployed to ensure that these restrictions are adhered to.

The lockdown essentially means you must stay inside your home only unless it is absolutely necessary to go outside. This means you also may not have any visitors. Restaurants, bars, cafes and takeaways are not open during Level 5. The sale of tobacco products and alcohol is prohibited.  

At LEVEL 4 some businesses reopen and there is some easing of restrictions:

– Hot food is available by delivery only from restaurants and cafes (no eat in and no takeaway). Check out local delivery apps Mr D, OrderIn and UberEats to see who is delivering near you. 
– Winter clothing, bedding, heating devices and educational books will be on sale.
– No alcohol or tobacco products will be sold during Level 4. 
– It is mandatory to wear cloth masks when out in public and maintain social distancing.
– Local and inter-provincial travel is banned.
– Gatherings such as religious services, concerts, theatre and cinema remain banned.
– A nationwide curfew is in force from 20:00 until 05:00. Only essential workers on their way to or from work may be outside of their home during these hours.  
– You may leave your home between 06:00 and 09:00 for a form of daily exercise. Parks and nature reserves remain closed.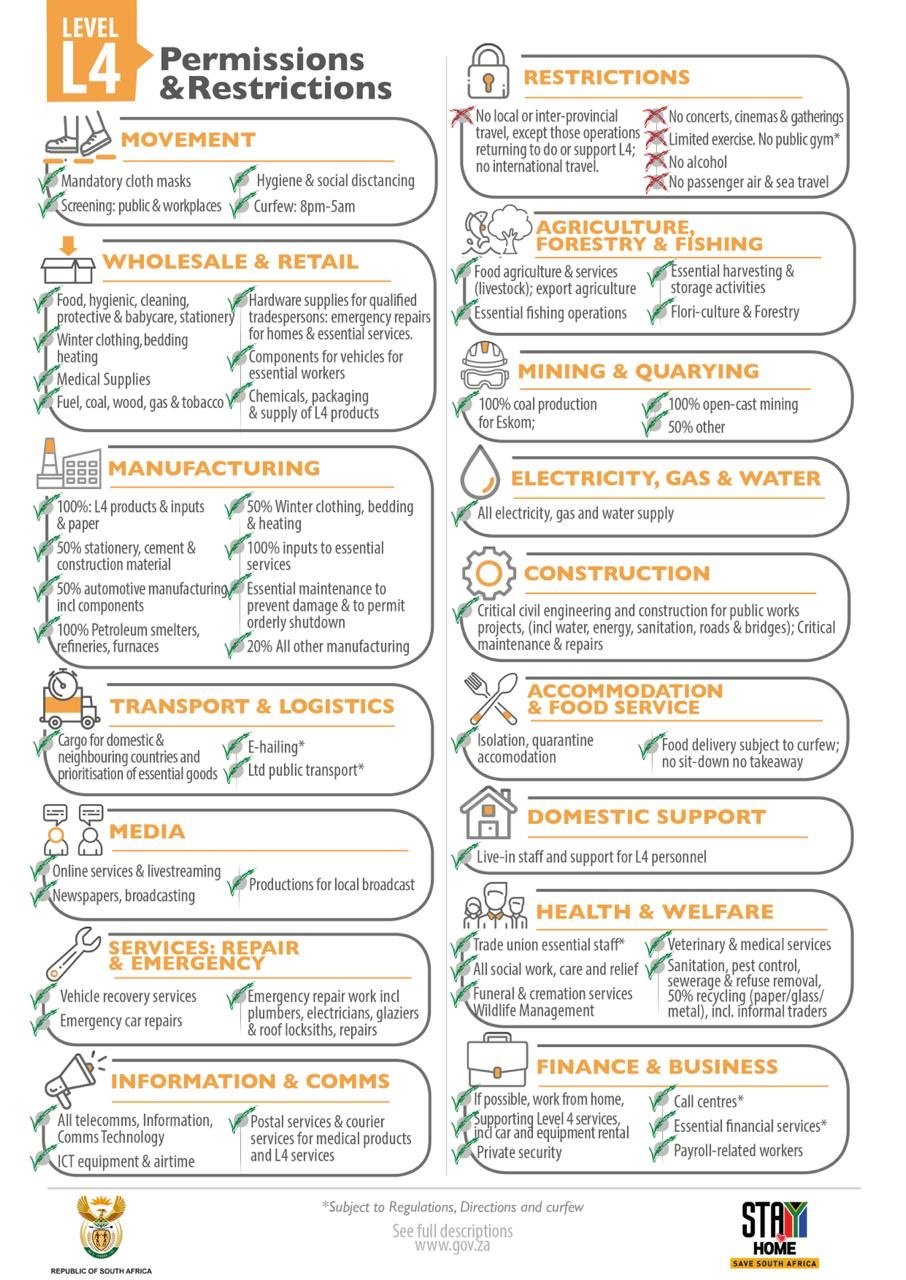 At LEVEL 3 (from June 1) more areas of the South African economy will open and resources will be focused on targeted interventions to curb any outbreaks of the virus in confirmed hotspot areas:

– Restaurants will be allowed to operate takeaway, delivery and drive-thru services only (no sit-in dining service is allowed). 
– All retail stores will be open
– Alcohol will be sold under strict restrictions on certain days
– The sale of cigarettes and tobacco products remains banned
– Cinemas, theatre, museums, entertainment venues and gyms remain closed
– Hotels and other accommodation may open for business travel purposes only
– Conferences and other large events and gatherings are banned
– All borders remain closed except for the repatriation of citizens and the movement of goods
– People can leave home to attend school
– Outdoor exercise is allowed at any time of day and there is no curfew in place
– Offices can open with measures in place for regular sanitization and screening for symptoms. Employers should help those with underlying health conditions or over the age of 60 to work from home
How to protect yourself and others from Coronavirus
Most people who become infected with Coronavirus experience mild illness and recover, but it can be more severe for others. Take care of your health and protect others by doing the following:

Washing your hands with soap and water or using alcohol-based hand rub and sanitisers kills viruses that may be on your hands. If washing with soap and water, wash vigorously for at least 20 seconds. This is also just basic hygiene and something you should be doing anyway, Coronavirus or no!

Maintain at least one-metre distance between yourself and anyone who is coughing or sneezing. Similarly practice good respiratory hygiene yourself by covering your mouth and nose with your bent elbow or a tissue when you cough or sneeze. Then dispose of the used tissue immediately. Again, basic hygiene people!

It is now mandatory that people wear cloth masks when in public to prevent themselves from possibly spreading the virus to others. It is noted that the wearing of cloth masks is a preventative measure rather than a protective one. Cloth masks have now been added to the essential products list and clothing manufacturers have reopened in order to especially produce masks for public sale. The relatively low stock of medical-grade N95 and surgical masks are being reserved especially for healthworkers who are at the greatest risk of catching the Coronavirus. 

If you have fever, a cough or difficulty breathing, seek medical care early. Stay home if you feel unwell and contact your travel or medical insurance about what steps you should take and where to go. Calling in advance will allow your health care provider to quickly direct you to the right health facility. This will also protect you and help prevent the spread of viruses and other infections.

Across Johannesburg there are now numerous drop-in and drive-through testing centres where you can be pay to be tested if you think you are suffering symptoms or have been in contact with somebody who has the virus, including at some branches of Dischem pharmacies and at the Wanderers Rugby Club in Illovo. State hospitals and medical clinics are also offering free testing for those who are showing symptoms of the virus. The country has significantly increased its team of healthworkers who are actively carrying out door-to-door screenings in communities to identify cases who may need to be tested and to continue extensive contact tracing.