South Africa's national response to the Covid-19 pandemic and its rules regarding lockdown restrictions have a 'phased approach'  responsive to numbers of new infections. Key to the battle, of course, is the behaviour of the South African public. As has been stressed again and again, the fight against this pandemic comes down to how we all as individuals behave. Wear a mask, wash your hands regularly, spend time outside your home in well-ventilated areas and avoid crowded places and gatherings. And of course, now they are available, get vaccinated!

UPDATE October 1, 2021: South Africa has moved from Level 2 to lockdown Level 1. The main changes to lockdown restrictions are:
– The curfew is now 24:00–04:00 (all non-essential venues must close by 23:00 to allow employees time to get home before the curfew).
– Alcohol sales are permitted from licenced retailers during non-curfew hours, on-site consumption of alcohol at licenced restaurants is allowed daily until 23:00.
– Gatherings are allowed, including religious services, political events and social gatherings, with a maximum of 750 people indoors and 2,000 people outdoors. All Covid-19 protocols must be observed and gathering sizes are based on no more than 50% of the venue's capacity may be used if the venue is smaller. 
– Funerals and cremations are limited to 100 mourners with strict social distancing in place. Night vigils and after-funeral gatherings are not allowed.
See sacoronavirus.co.za for all the latest updates. 

INTERNATIONAL TRAVEL RESTRICTIONS: Note that due to concerns over coronavirus variants many countries have placed restrictions on travellers coming from South Africa. The Skyscanner website has an incredibly detailed and constantly updated interactive worldwide guide detailing all restrictions applying between countries. Check it out here. To get into South Africa you must show proof of a negative PCR test taken up to 72hours before your departure.
Are Joburg's parks open?
Yes, Joburg's parks nature reserves and botanical gardens are all open to the public, as well as private parks and reserves. 
Are swimming pools and gyms open?
Yes, under the latest restrictions Joburg's public swimming pools, gyms and fitness centres are allowed to open. Joburg's open-air public swimming pool season officially opens on October 1, 2021.
What is the curfew now?
Only essential workers or those undergoing a medical or security emergency may be outside their homes between the hours of 24:00 and 04:00. Note that if you are on the streets after curfew you are liable to be detained or fined if you cannot prove reasonable purpose. To abide by the curfew all non-essential venues (such as shops, restaurants) are required to close by 23:00 in order to allow staff and patrons adequate time to return home.
Are any other establishments are closed?
All non-essential establishments such as restaurants, taverns, bars and fitness centres, cinemas and theatres, museums and galleries, libraries, entertainment venues and conferencing facilities are allowed to open to the public granted they adhere to the indicated limit on capacity (750 indoors, 2,000 outdoors). These establishments will need to close by 23:00 to allow employees and patrons travel time before the curfew.
Can I travel to other provinces? 
Yes. Inter-provincial leisure and busines travel is permitted, subject to curfew times. You do not need to show any documentation to travel to another province.
Can I visit a restaurant?
Yes. Restaurants and cafes are now allowed to open for sit-in diners, based on a maximum of 750 patrons indoors or 2,000 outdoors, or 50% of the normal capacity for small venues. Note that many restaurants have changed their operating hours in light of recent restrictions, so call ahead first to check they are operating.
There have been a lot of bans – is alcohol on sale?
Ye. The sale of alcohol both for onsite and off-site consumption is permitted lockdown Level 1 within curfew hours.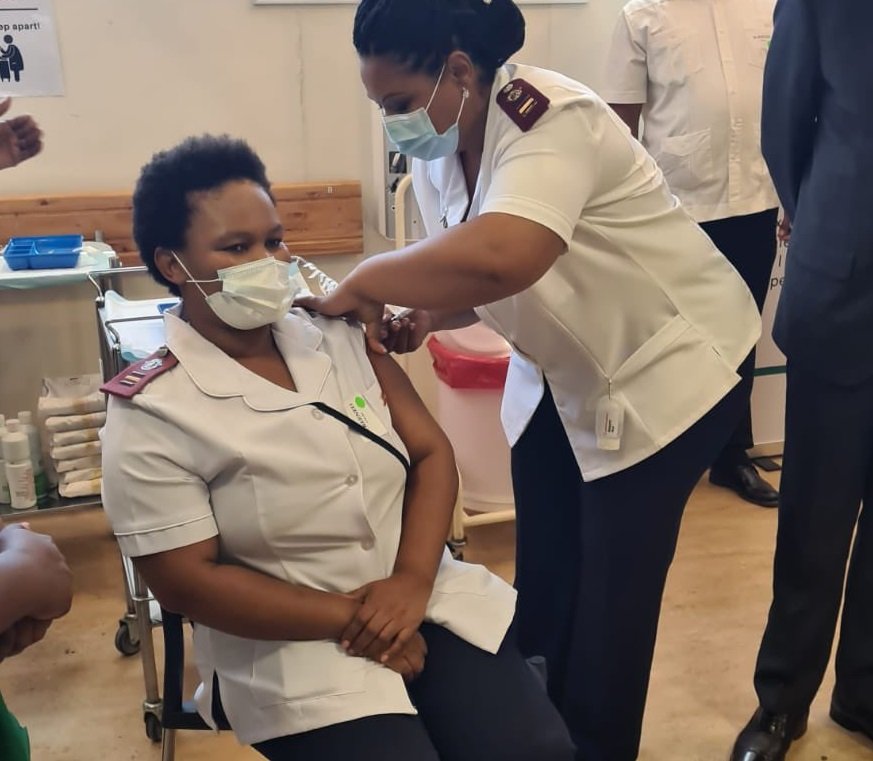 Are South Africans being vaccinated? What is the strategy?
Yes. The first South African, Zoliswa Gidi-Dyosi a nurse in Cape Town, was vaccinated on February 17, 2021 as part of Phase 1 of the vaccination roll out. South Africa is vaccinating the population in three phases, aiming to vaccinate 70% of the population by the end of 2021. 

As of June 28, it was announced that vaccinations registration would open for the 50 to 59 age group on July 1, 2021 with vaccinations starting from July 15.  From August 1 those aged 35 to 49 became eligible to receive a vaccine and from September 1 those aged above 18 became eligible. South Africans are encouraged to first register for their free vaccine online at vaccine.enroll.health.gov.za.

South Africa has made deals directly with pharmaceutical companies Pfizer and Johnson & Johnson for its vaccines. Due to the difficulties of storage, broadly speaking Pfizer vaccines are being used in urban areas and Johnson & Johnson in rural areas. 

Find more about South Africa's vaccination strategy and how it will be rolled out on the official NICD website at nicd.ac.za/covid-19-vaccine-rollout-strategy-faq/. You can also follow the progress of the vaccinations on Bloomberg's Covid Vaccine Tracker.

To encourage more rapid take-up of the vaccines, South Africa allows unregistered walk-ins for those who are eligible to be vaccinated.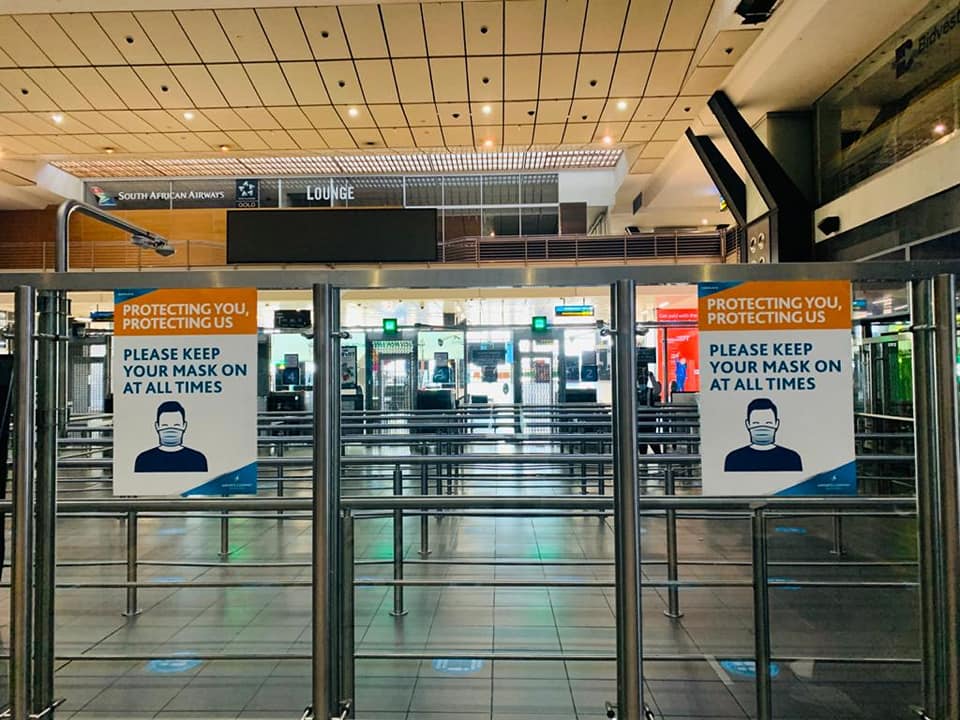 I am taking a flight – what's the situation with the airports?
In light of the dangers of Covid-19 the airport experience has changed considerably. Only those who are taking a flight are now allowed to enter the terminal. At the entrance you will be screened and asked to show proof of your flight. You are required to wear your mask at all times inside the airport and during the flight. Read more about what to expect at the airport here. 

Five South African airports are now open for international flights: King Shaka airport in Durban, OR Tambo International and Lanseria airports in Joburg, Cape Town International Airport and Kruger Mpumalanga airport. Note that some countries currently have restrictions in place or travellers coming from South Africa. Make sure you check the travel requirements and restrictions before you travel.
I need a Covid-19 test in advance of my travels – how do I do this?
You do not need a Covid test to leave South Africa (unless required by another country that you are travelling to), but you are required to show one when entering, so make sure you have factored this into your travel plans. Tests need to be taken within 72 hours and results must be negative. Tests must be a throat or nose (PCR) test taken at a legal and legitimate testing centre. Rapid antibody tests, antigen tests or 'rapid flow' tests are not eligible. Your test results should ideally be original paper copies. If you have been given a coronavirus vaccine you still need to also show proof of a negative Covid-19 test to enter South Africa.

Private testing laboratories Pathcare, Ampath and Lancet all offer services for travellers and have numerous branches across Joburg. It is advisable to take your test within good time to ensure you have results before flying and to limit your activity and contact with others before travelling to minimise your exposure to the virus. When you go for the test make sure to inform the staff that you require the test for travel purposes so that they can prepare the relevant certificates for you when you receive your results.
How can I find accurate information about Covid-19 and how South African health authorities are dealing with the Coronavirus?
First stop is sacoronavirus.co.za which is the Covid-19 Coronavirus South African Resource Portal. 

The exact number of cases globally is constantly being updated. Check this live updated global map by John Hopkins University to see the rate of new reported cases and check out the WHO's daily situation reports on Coronavirus here.

The Twitter account of the NICD (the National Institute for Communicable Diseases) is also an excellent source of up-to-date information on the Coronavirus and how it affects South Africa. Follow them on Twitter here and find their report updates on the latest cases and where they have been tracked from at their website here.

Useful numbers 
If you are worried that you have contracted the virus you can contact the dedicated 24-hour Coronavirus hotline on 0800 029 999. You can also join the government's free Whatsapp messaging service. The whatsapp channel provides useful advice about symptoms, travel restrictions, testing and treatment as well as the latest on current restrictions. Add the number 060 012 3456 on whatsapp and send a message saying 'hi' to be connected.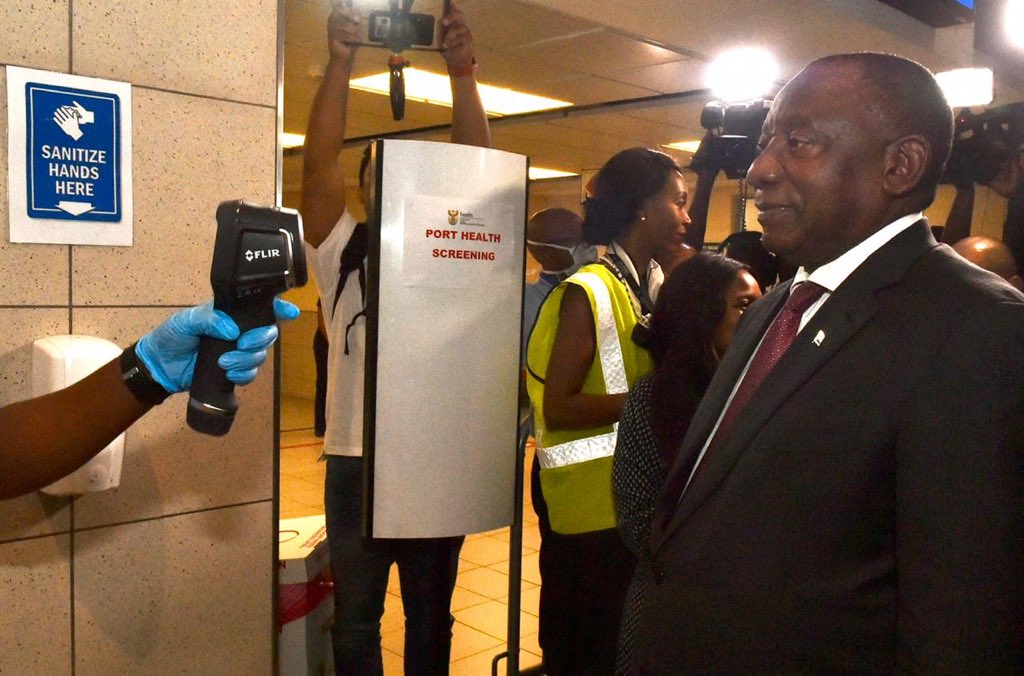 How to protect yourself and others from Coronavirus
Most people who become infected with Coronavirus experience mild illness and recover, but it can be more severe for others. You can take care of yourself and protect others by doing the following:

Washing your hands with soap and water or using alcohol-based hand rub and sanitisers kills viruses that may be on your hands. If washing with soap and water, wash vigorously for at least 20 seconds.

Maintain a two-metre distance between yourself and anyone who is coughing or sneezing. Similarly practice good respiratory hygiene yourself by covering your mouth and nose with your bent elbow or a tissue when you cough or sneeze. Then dispose of the used tissue immediately. Most stores, banks and other places where you will need to queue usually have spaces marked on the floor to show the distance required between you and the next person in the queue. Stick to these space markings, there is no need to overcrowd people in queues.

Follow the Three Cs. Avoid Closed spaces, Crowded spaces and Close contact with people from outside your household.

It is now mandatory that people wear cloth masks when in public to prevent themselves from possibly spreading the virus to others. It is noted that the wearing of cloth masks is a preventative measure rather than a protective one. Masks, whether colourful cloth masks or medical-grade N95 masks are widely available in all shops. 

If you have fever, a cough or difficulty breathing, seek medical care early. Stay home if you feel unwell and contact your travel or medical insurance about what steps you should take and where to go. Calling in advance will allow your health care provider to quickly direct you to the right health facility. This will also protect you and help prevent the spread of viruses and other infections.

Testing Across Joburg there are now numerous drop-in and drive-through testing centres where you can pay to be tested if you think you are suffering symptoms or have been in contact with somebody who has the virus, including at many branches of Dischem pharmacies. State hospitals and clinics are also offering free testing for those who are showing symptoms of the virus. Private testing laboratories Pathcare, Ampath and Lancet all offer quick testing. PCR testing at private facilities costs from R850 and you will usually receive your result the next day.
Download the official COVID Alert South Africa
South Africa has its own official Covid-19 alert app. The app is free and works via bluetooth meaning it does not require any data or wifi to work. The app will alert you if you have been in contact with someone for a prolonged period of time by using this bluetooth technology. The app does not store or require any of your personal data and you will not be told who is the infected person you were in contact with. The app will simply alert you to the place and time when you may have been exposed to the coronavirus. Similarly, you can use the app to alert others that you have tested positive for the virus and it will send out an alert to any app users who were in the same place at the same time as you.

The COVID Alert South Africa app is available for free in the Play Store and iStore. Travellers to South Africa from overseas will be asked to download this app on arrival in the country.