Johannesburg In Your Pocket celebrated its fifth birthday earlier this year and with the arrival of spring comes our 17th issue. Much has changed since we first set out to give Africa's most visited city a much-needed insider's guide. The Sandton and Rosebank cityscapes have been transformed, revitalised downtown districts such as Maboneng and Braamfontein have continued to go from strength to strength and Soweto has become as much of a cultural destination as it is an historic giant.  

To roll with the changes in 2019 we launched our new In Your Pocket mini-guides series to Joburg's most-visited neighbourhoods Sandton, Rosebank and the Johannesburg City and Melville. We hope to launch a mini-guide for Soweto too. In the latest issue of our print magazine we have brought all these key neighbourhoods together into a comprehensive guide to help visitors navigate this sprawling city and its many distinctive neighbourhoods.

The latest issue of our print magazine is an annual guide (September 2019–August 2020) which also features a month-by-month calendar of all the major events to look out for on the Joburg cultural landscape, as well as the ultimate guide to 25 essential Joburg experiences, from cycling tours and day trips to art galleries, museums, graffiti walks and aerial adventures, that every Joburg visitor needs to try. 

Enjoy our new look city guide, a refreshed, lighter and always handy companion to the City of Gold. It's packed full of reasons to enjoy your time in Joburg, and if you are a visitor, to extend your stay.

Here's a sneak peek at our latest print magazine. Download your free pdf copy here!

DON'T MISS A THING WITH OUR JOBURG EVENTS CALENDAR
Festivals, concerts, art fairs, festive markets, auctions, film, theatre and food and wine expos - check out our month-by-month guide to the year's biggest events.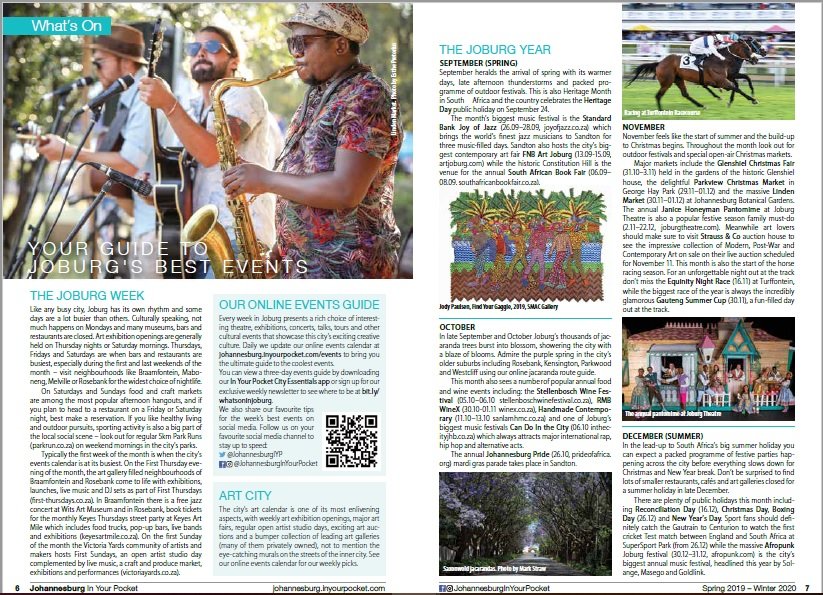 TICK OFF OUR 25 ESSENTIAL JOBURG SIGHTSEEING EXPERIENCES
Become your own tour guide with our bumper line-up of 25 things every Joburg visitor should see and experience.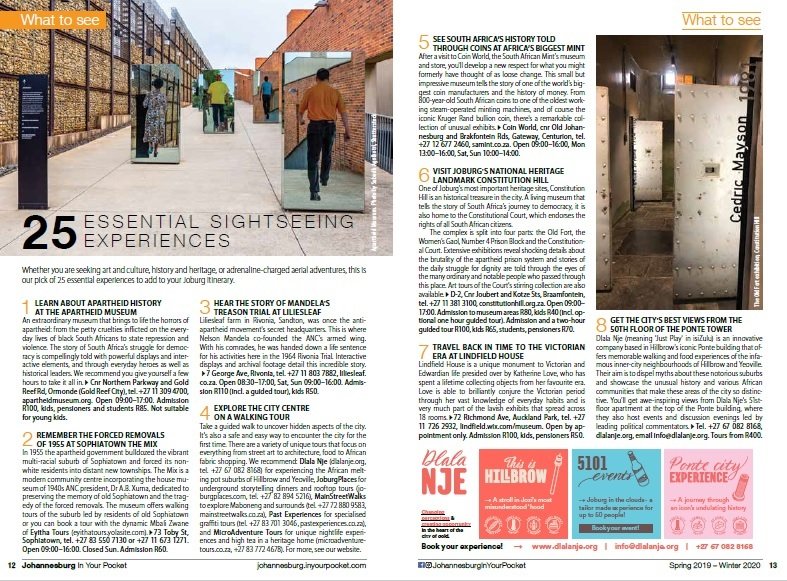 EXPLORE JOBURG WITH OUR GUIDE TO THE BEST NEIGHBOURHOODS FOR VISITORS
From Sandton to Soweto, Maboneng to Melville, the historic City Centre to the leafy Parks suburbs, explore Joburg's most interesting neighbourhoods.