We're all missing our families during lockdown and replacing hanging out in person with the same old Zoom chats on repeat isn't helping. In fact the very peculiar nature of our current isolation has meant that we are even starting to become isolated from the families that we do actually live with.

As teenagers dive deeper into their phones and parents zone out in front of Netflix for the 100th day running, making the most of family time and finding excuses to be fully present and hanging out together is getting more challenging. 

If like us you were starting to run out of ideas for how to make virtual socialising fun and novel again, then we definitely recommend giving ImmersiveXP's new Departure Lounge Adventures Detour a spin. ImmersiveXP is a company that create fun, unique and challenging experiences for families and companies, designed to draw people into new imaginative worlds and encourage creative thinking and problem-solving. Essentially it is a cross between a puzzle-filled Escape Room challenge and the TV game show The Amazing Race.

In lockdown the ImmersiveXP team have worked hard to work out how to bring this fun, energetic and inherently non-social distanced experience into our current social distancing digital reality. The result is the Departure Lounge Adventures Detour. It's fun, a little bit silly, gets your brain thinking in creative ways and all you need is your laptop!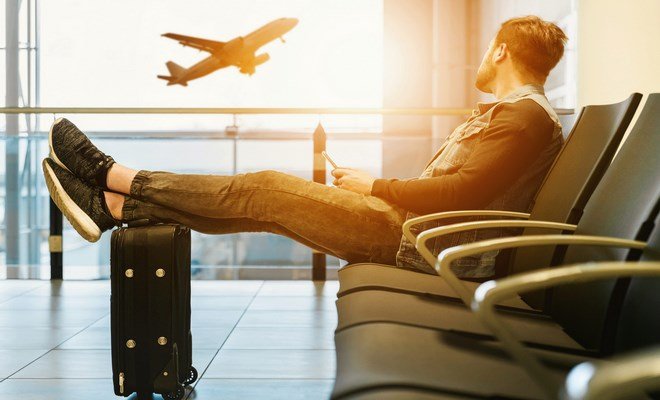 How it works
After signing up for the experience, we received our Departure Lounge tickets by email (the fact that they looked like an aeroplane ticket was an especially nice touch) detailing everything we needed to know about the evening's adventure. Happily there is zero complicated equipment required - you simply need decent wifi, a laptop with access to Zoom, a phone with whatsapp and a pen and paper. 

We would also recommend that all your team members bring a sense of humour - you really need to be prepared to make a fool of yourself during this game. 

Once all of the evening's other teams were logged in and visible on Zoom, it was time to depart for an amazing race around the world which become increasingly elaborate as our journey continued.

The trip started out in Antarctica with some imaginative selfies and fiendish picture riddles and before we knew it we were debating a Trump press conference and directing our own German Europop music video. If you have never made your own tik tok before, this game is definitely a gateway drug!  

The experience lasts about 2.5 hours  (including a half time break for snacks) and there are more than a dozen challenges to complete along the way. You will need to send proof that you have completed each challenge within your time limit by sending your videos and selfies to the hosts on whatsapp, so be prepared to take a lot of pictures of yourself looking somewhat ridiculous while doing amusing activities. 

The Zoom format of the experience definitely lends itself to booking in to take the Adventure Detour with a couple of other households who you have been missing during lockdown. As we didn't know any of the other teams on our experience we didn't feel especially competitive, but we can wholly imagine that the chance to race against the cousins and in-laws could make this an extra competitive evening.

All in all, we can safely say we laughed more consistently than we had in a while (we were fortunate to have some very witty competitors playing against us!) and embarking on this online adventure game together helped us to enjoy one of the first evenings in quite a while where the dreaded Coronavirus at last ceased to come up in conversation at all.
How to book and upcoming dates
Tickets cost R200 per team and can be booked on Computicket. You need at least two people in your team to play, and the game can easily be enjoyed by a team as large as six players.  The Departures Lounge Adventures Detour is running throughout June and July. Book your tickets online here. 

The next detour experiences are happening on the following dates:
Sun June 14 at 14:00
Fri June 19 at 19:00
Sat June 27 at 19:00
Sun July 5 at 14:00
Fri July 10 at 19:00
Sat July 18 at 19:00
Sun July 26 at 14:00

*Johannesburg In Your Pocket received complimentary tickets for this experience. Opinion expressed in this review are our own