The return of Level 4 restrictions (meaning sit-down restaurant dining is not permitted) is an incredibly challenging time for restaurants in South Africa. But we all know that when times are tricky, South Africans always find a way ...

Enter the roadhouse restaurant experience. You get to be out of your house, socialise from the distance of your car and you can keep supporting local restaurants and their waitstaff in their hour of need. Roadhouses are by no means a new concept in Joburg. Many of Joburg's favourite roadhouses (mostly concentrated in the East Rand) have been around for decades and come complete with glorious retro neon signage to prove it. 

However, the new pop-up roadhouses proliferating around the city in response to the latest coronavirus restrictions have an edge on the classic roadhouse experience, in that they do not only offer hot dogs, burgers and humongous milkshakes, but a variety of specialties ranging from healthy salads to spaghetti bolognese. 

Here's a look at some Joburg 'roadhouses' to check out this month 
Molly Malones in Fourways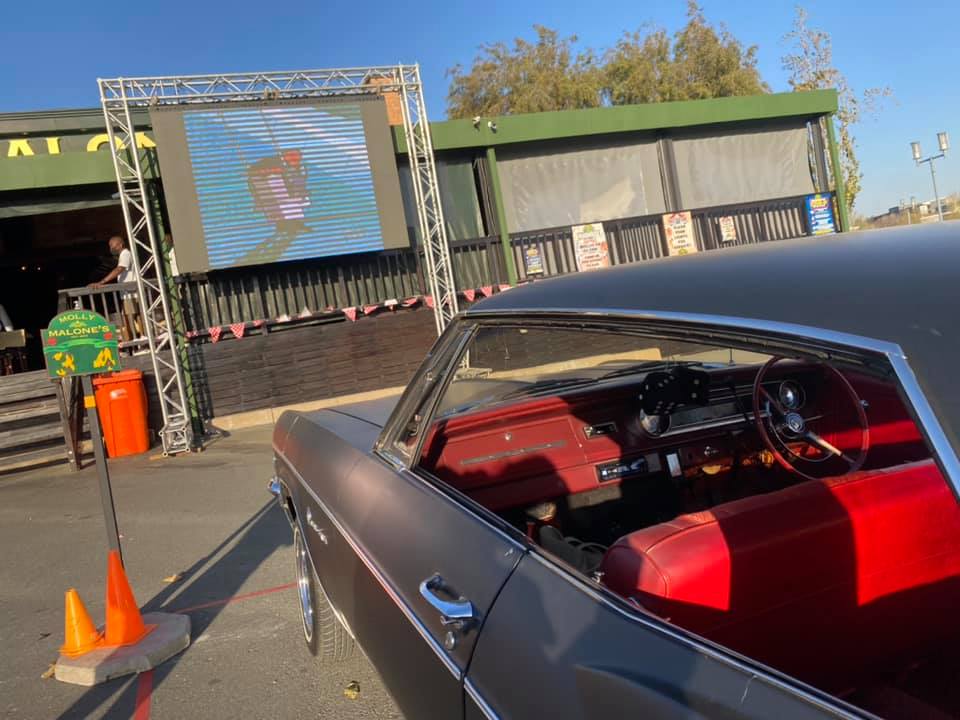 The full roadhouse experience (launched during the first lockdown in 2020) is back at Molly Malones Irish Pub at Pineslopes Centre in Fourways. There's a full 'table service' with waitstaff bringing your meals down to the car and if you're missing the experience of watching sports live with a crowd, or just don't have access to SuperSport at home, you'll be happy to know you can book a parking spot to watch all the Lions Tour matches live (honking every time the Springboks score is of course all part of the fun) on their big screen in the car park. On not sporting days the big screen also shows movies too.
Where: Pineslopes Shopping Centre, Fourways. It is recommended to book in advance if you want to watch the big screen as space is limited. You can find the movie and spots screening schedule here and book your place online for R40.
Drive-in movies and dinner at Malagueta in Edenvale
Mediterranean restaurant Malagueta on Main Road in Edenvale has transformed itself for Level 4 into a drive-in cinema where you can enjoy dinner in your car and watch movies on the big screen. Screenings kick off at 18:00 and the programme is focused on family favourites while the menu is a mix of pizza and pasta dishes. 
Where: 2 Main Rd, Edenvale. The drive-in operates on a first come first basis so arrive in good time - space in the car park is limited. Call +27 11 609 4910 to find out what's playing and when. 
Kota Joe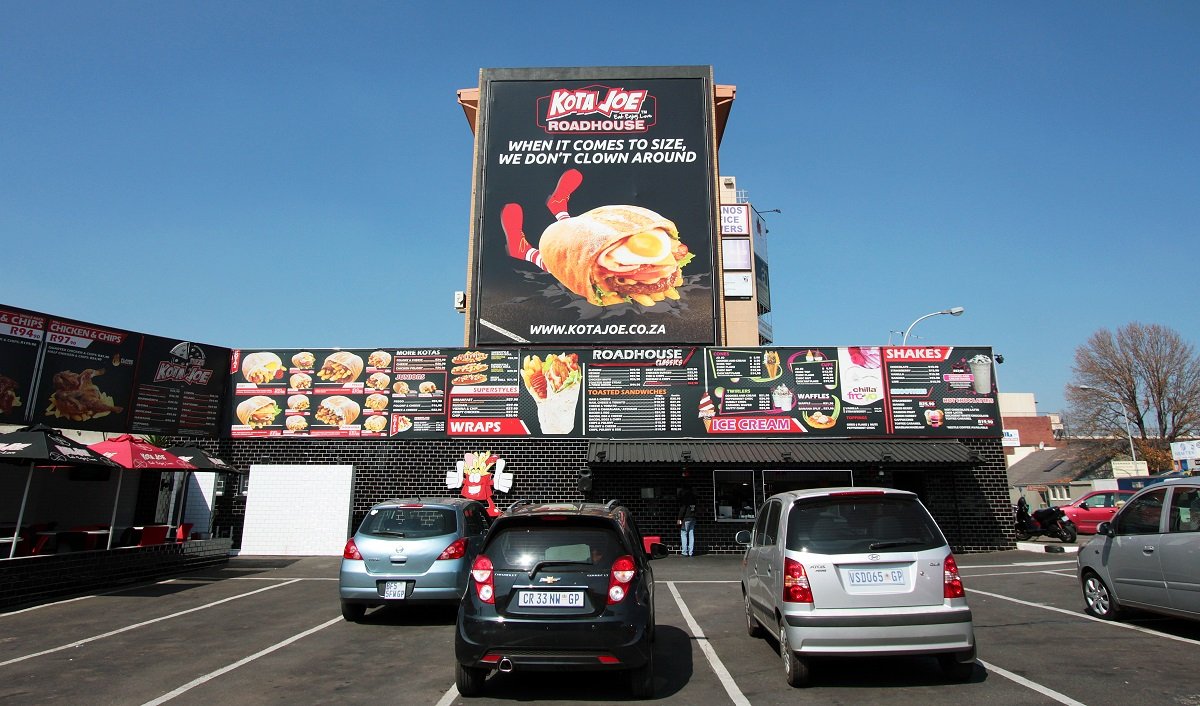 Started in 2011, Kota Joe is a popular East Rand roadhouse chain specialising in kotas (a hollowed-out loaf of bread filled with savoury foods like beef, chips, polony, and cheese). In addition to kotas they also serve other fast food favourites such as pizzas and burgers and for dessert loads of ice-cream varieties as well as the intriguing "waffle on a stick". Kota Joe's atmosphere is its best asset. Large stereo speakers play catchy rock and pop music and the Boksburg location has big-screen TVs.
Where: Kota Joe has roadhouses in Boksburg, Edenvale, Alberton and in Wonderboom in Pretoria, kotajoe.co.za
Fresh Earth and Junction on the Spruit at Delta Central
The Delta Central complex next to Braamfontein Spruit on Conrad Drive in Blairgowrie has thoroughly transformed this corner of the suburbs into a cool spot with an eclectic selection of restaurants and bars. In addition to call and collect takeaways from all restaurants, you can also enjoy a roadhouse experience in the car park courtesy of the Fresh Earth and Junction on the Spruit cafes. Drive up to Fresh Earth and honk if you're hungry and a waiter will come down with the menus so you can enjoy your food at the wheel, roadhouse style. Just across the car park the Junction on the Spruit cafe is also operating a full roadhouse offering with the same service. Honk for a waiter and enjoy lunch in the car.
Where: Delta Central, cnr Hillcrest Ave and Conrad Dr, Blairgowrie
Disoufeng Pub and Restaurant Soweto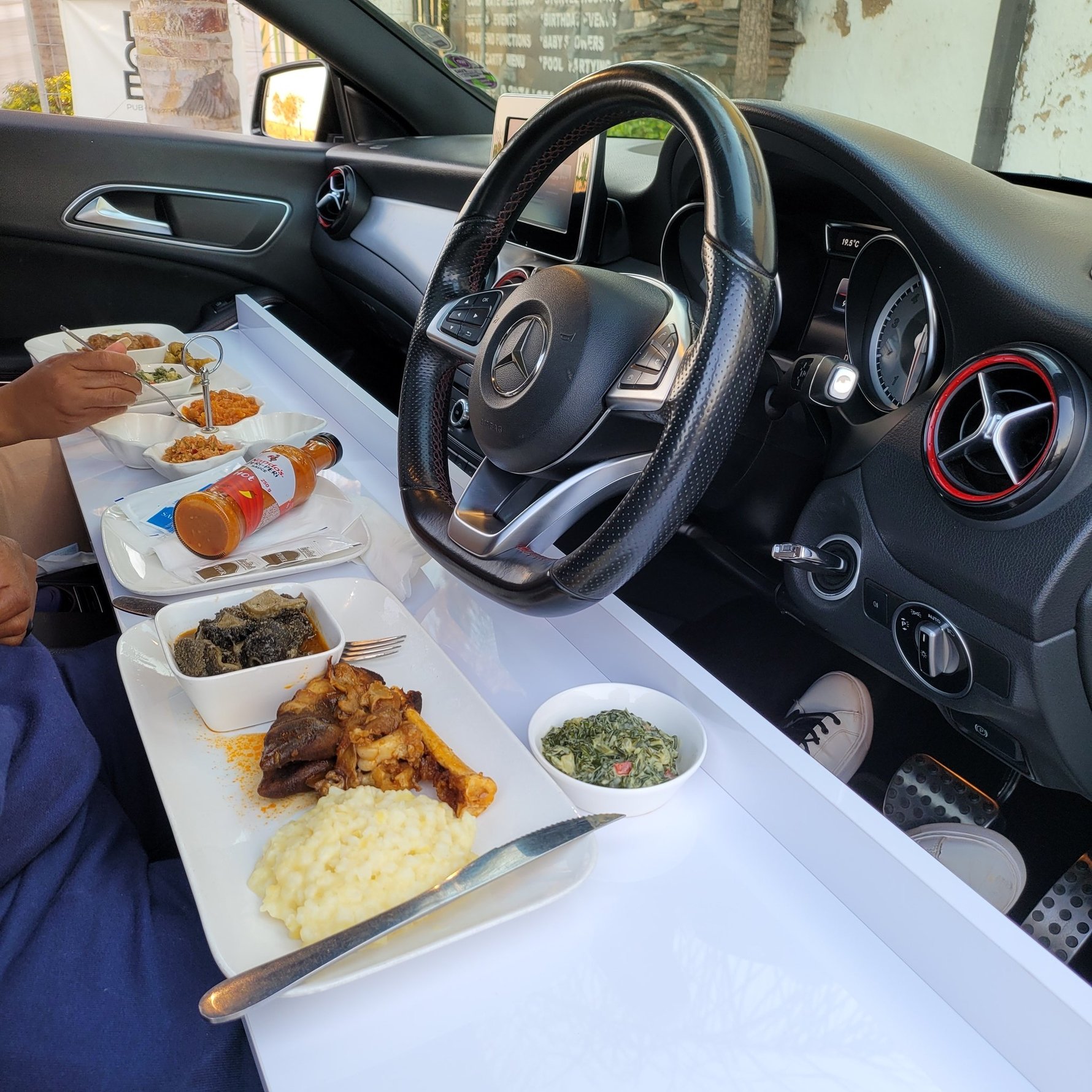 Disoufeng in Meadowlands Soweto, known for its Mogodu Mondays specials and late-night weekend parties, has launched a roadhouse offering while the third wave makes sitting in and socialising impossible. The roadhouse experience operates at lunchtimes and on the menu are all the usual Soweto favourites including mogodu, chicken feet and chilli ox liver with pap. What's more they also have a hair salon on site doing haircuts too. 
Where: 3166 Shinkhova St, Meadowlands Zone 10, Soweto. Call +27 61 370 6102 or +27 76 520 2074 to enquire about opening hours and order takeaways and find out more online here. 
Roadhouses of Gauteng
If you are looking for the classic old school roadhouse experience, complete with glorious oversized neon signage and distinctive mid-20th Century architecture, then we recommend following Joburg blogger 2Summers' (aka Heather Mason) Roadhouses of Gauteng series for inspiration. In this unique series Heather travels across the province in search of the finest old school roadhouses. Favourites include The Fireplace Roadhouse (founded in 1958) in Boksburg which has its own cinema screens and over in Randfontein on the West Rand the quirky Uncle Harry's Roadhouse (founded in 1974).