South Africa's national response to the Covid-19 pandemic and its rules regarding lockdown restrictions have a 'phased approach' which aim to allow the country to slowly and safely emerge from lockdown while also helping the economy to continue to function.  

There are five levels to South Africa's lockdown. 

At the strictest level of lockdown - LEVEL 5 - all non-essential activity outside the home is banned. This means you may only leave your home for medical treatment, to shop for essential groceries and to perform essential services. Outdoor exercise is prohibited, as is hot food sales, alcohol and cigarettes

At LEVEL 4 more of the economy opens with strict measures still in force. Restaurants and cafes are allowed to offer hot food delivery services, shops may open to sell winter clothing, books, bedding and stationery. The sale of alcohol and cigarettes remains banned.  A nationwide curfew is in force from 20:00 until 05:00. You may leave your home between 06:00 and 09:00 for a form of daily exercise. Parks and nature reserves remain closed.

At LEVEL 3 yet more businesses may reopen as the country takes a risk-adjusted strategy to re-opening the economy. On June 17 the South African Presidency announced further lifting of restrictions to try and help South Africa's tens of thousands of small business owners survive this crisis. The new regulations have been referred to as 'Advanced Level 3'.
What is allowed at ADVANCED LEVEL 3?
– Restaurants are allowed to operate takeaway, collection and drive-through services as well as allow sit-in dining service with strict social distancing protocols in place 
– All retail stores will be allowed to open
– Small conferences and business meetings may take place under strict guidelines
– Cinemas and theatres will be allowed to operate under strict protocols 
– Casinos will be allowed to reopen under strict new protocols
– Non-professional non-contact sports will be allowed again. Contact sports, such as rugby, may only be practiced by professionals 
– Hairdressers, barbershops and beauty salons will be allowed to operate with safety protocols in place
– Alcohol will be sold from 09:00 to 17:00 Monday to Thursday. Taverns and bars will be allowed to operate as bottle shops selling alcohol strictly for consumption at home. The same hours apply for delivery of any alcohol you order online. *NOTE as of July 13, the sale of alcohol has again been banned, this includes delivery and transportation of any pre-purchased alcohol!
– Religious services will be allowed to be carried out at religious institutions with up to 50 people in attendance
– Hotels and other accommodation may open for business and leisure travel. You may only travel to other provinces for purposes of business travel, leisure travel is allowed only within your province. 
– People can leave home to attend school or other educational classes
– Domestic air travel is permitted, as long as it is for the purpose of business
– Outdoor exercise is allowed between 06:00 and 21:00
– Offices can open with measures in place for regular sanitization and screening for symptoms. Employers should help those with underlying health conditions or over the age of 60 to work from home
– Hiking is allowed within private reserves as is self-guided excursions through private game reserves, and walking tours or guided game drives with a professional independent tour guide
– As of July 15 municipal parks and nature reserves will be reopened for exercise purposes
Moving to 'Advanced Level 3'
As the financial status of small businesses in South Africa steadily worsens, on June 17 the South African Presidency announced further lifting of restrictions to try and help South Africa's tens of thousands of small business owners survive this crisis.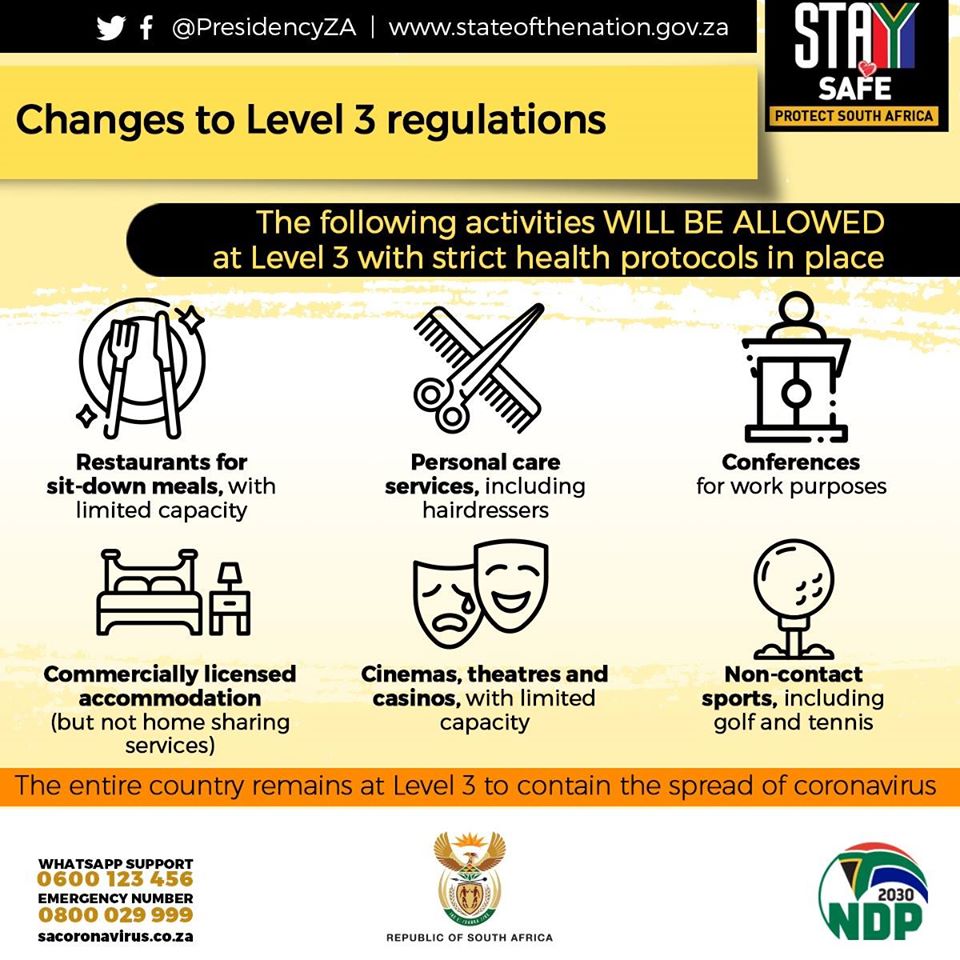 What is still banned at Advanced Level 3
– Bars and nightclubs remain closed
– The sale and transportation of alcohol is banned again (as of July 13)
– No mention has been made of any changes to the nationwide ban on tobacco products
– South Africa's borders remain closed to travellers except for the needs of repatriation
Stay safe, protect yourself and others
Whether we are in Level 5 or Level 1 of our response to this pandemic, the biggest defence against the spread of the Coronavirus starts with our own actions. Wear a mask whenever you are out in public, practice social distancing by staying at least 1.5metres apart from anybody who does not live in your home and avoid handshakes and hugs. Keep washing your hands as often as possible and make use of sanitisers when entering and exiting shops and businesses. Practice good coughing and sneezing hygiene and if you are feeling ill, stay at home!