David Krut Bookstore is South Africa's leading art bookshop with an eclectic range of art book titles from South Africa and the rest of the world including art publications and beautiful children's books published by TATE Gallery London. Among their large selection of children's books are books in a variety of African languages and the biggest collection of art activity books to keep the family busy.

Here they've guided us through the best art book and activity titles for all the family. If you're hoping to encourage your children's creativity or develop your own artistic prowess during lockdown, there is no better place to start.

David Krut Bookstore is operating during lockdown Level 4 by appointment. To arrange a visit call +27 11 880 5648/ 4242, browse their online bookstore at davidkrutbookstores.com. Address: 151 Jan Smuts Ave, Parkwood.
Books for the Under 5s
100 Colouring Book - written by Dominika Lipniewska; Tate Publishing
There are literally hundreds of objects to colour, decorate, trace and count in the 100 Colouring Book and hours of fun to be had in the process. Choose from 100 quirky characters; 100 beasts and birds; 100 buildings old and new; 100 ways to get around; 100 things to eat; 100 insects; 100 plants or 100 household objects. Every single object is different and all they need is some creative flair to bring them to life.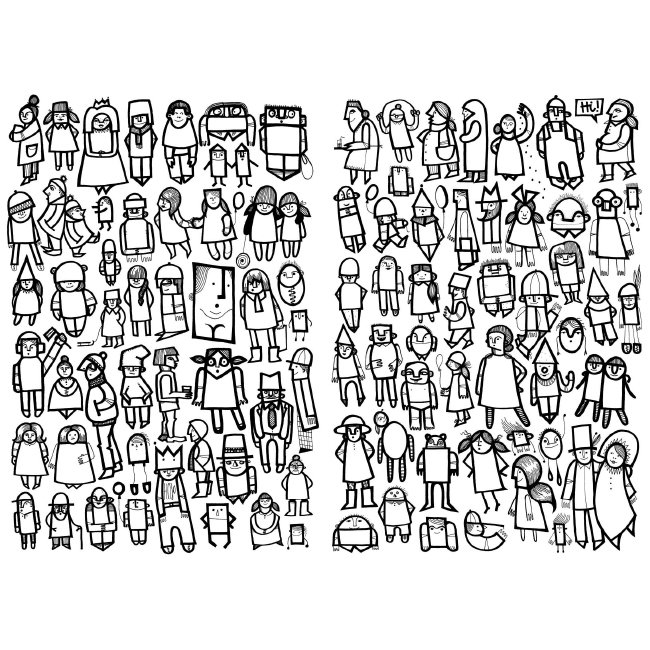 What Happens When... - written by Delphine Chedru; Tate Publishing 
What happens to all the things that just disappear? The balloon that floats off into the sky, the sock that slides behind the radiator, the bucket swallowed by ocean waves, or even our shadows when the sun goes down? In her unique style, bestselling graphic designer Delphine Chedru encourages the early reader to imagine what happens to all sorts of things that have disappeared out of sight. Provoking joyful curiosity, each page opens out in a gatefold to reveal one of a myriad of possibilities –  limited only by the imagination.
Books for the Under 10s
The Scribble Book - written by Hervé Tullet; Tate Publishing 
A humorous, enchanting book that draws out children's inner artists. Feed scribbles to a hungry monster. Scribble water to put out a fire. Scribble flames bursting from a volcano. Scribble spaghetti for lunch! The Scribble Book does away with the traditional rules of preschool colouring books, encouraging children to unlock their creativity and experiment for themselves by just picking up a crayon and scribbling.

Gradually, as the book unfolds, the scribbles evolve into puzzles to be solved and finally into genuine drawings. Full of wit and humour, irreverent and enchanting, The Scribble Book is destined to become the latest success from the colourful mind of Hervé Tullet.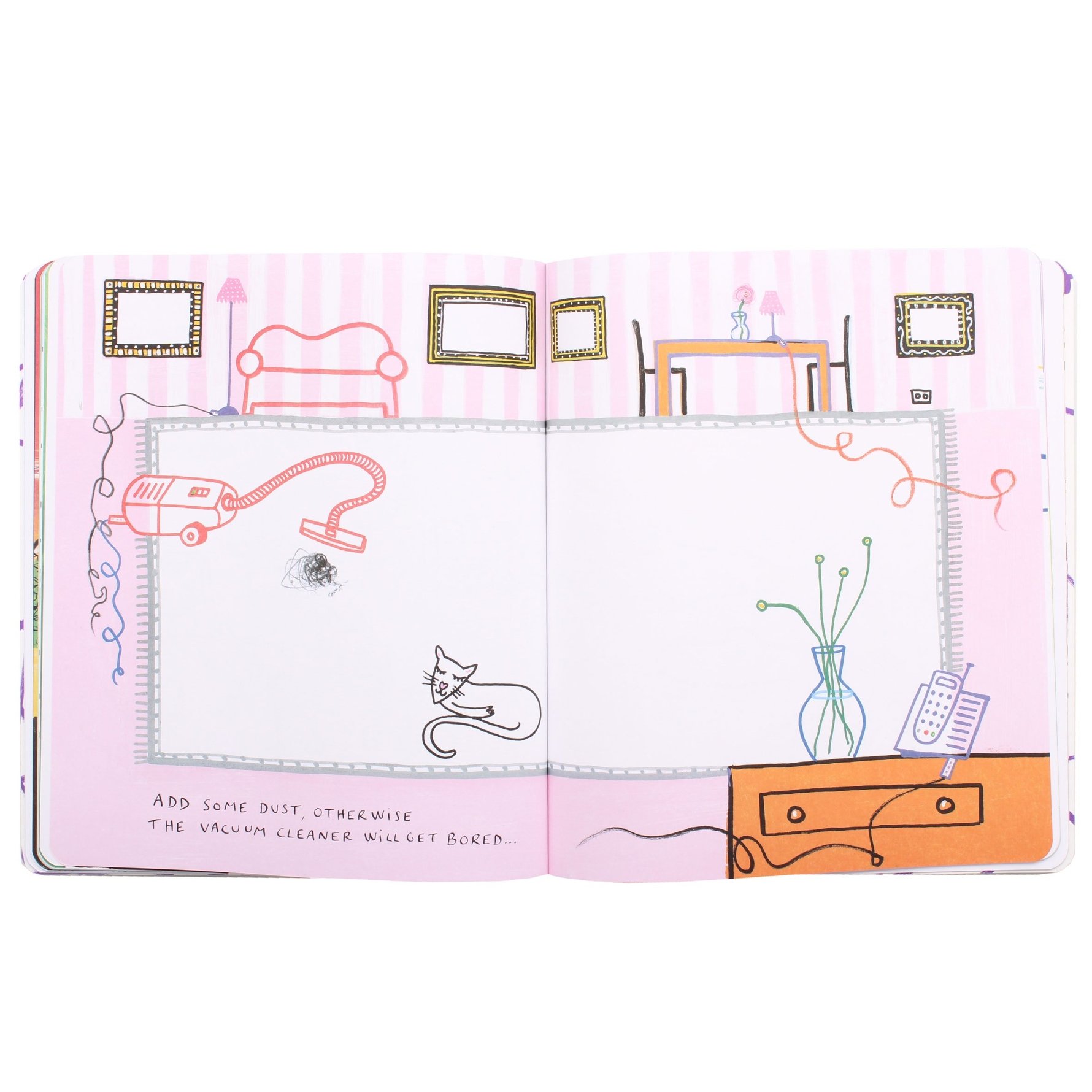 The Little Factory of Illustration - written by Florie Saint-Val; tate Publishing
This unusual activity book invites children to join the Artful Sketcher on an exclusive tour of one of the most creative factories ever built: the Little Factory of Illustration. The factory is full of eccentric artists who just love making pictures, plus some oddball animals and astonishing machines.

From the get-go, young artists can doodle; explore collage, pattern-making, and sculpture; learn about composition; or simply draw alongside the Little Factory's resident team of artists. And if that's not enough, there's a pocket in the back of the book filled with weird and wonderful games, including the pieces to make a palindrome mobile. Children will be delighted to find that at the end of their factory tour they are given their very own office and their first solo exhibition!

Exploring art techniques, geometry, and game-playing simultaneously, this clever, funny book is perfect for budding artists.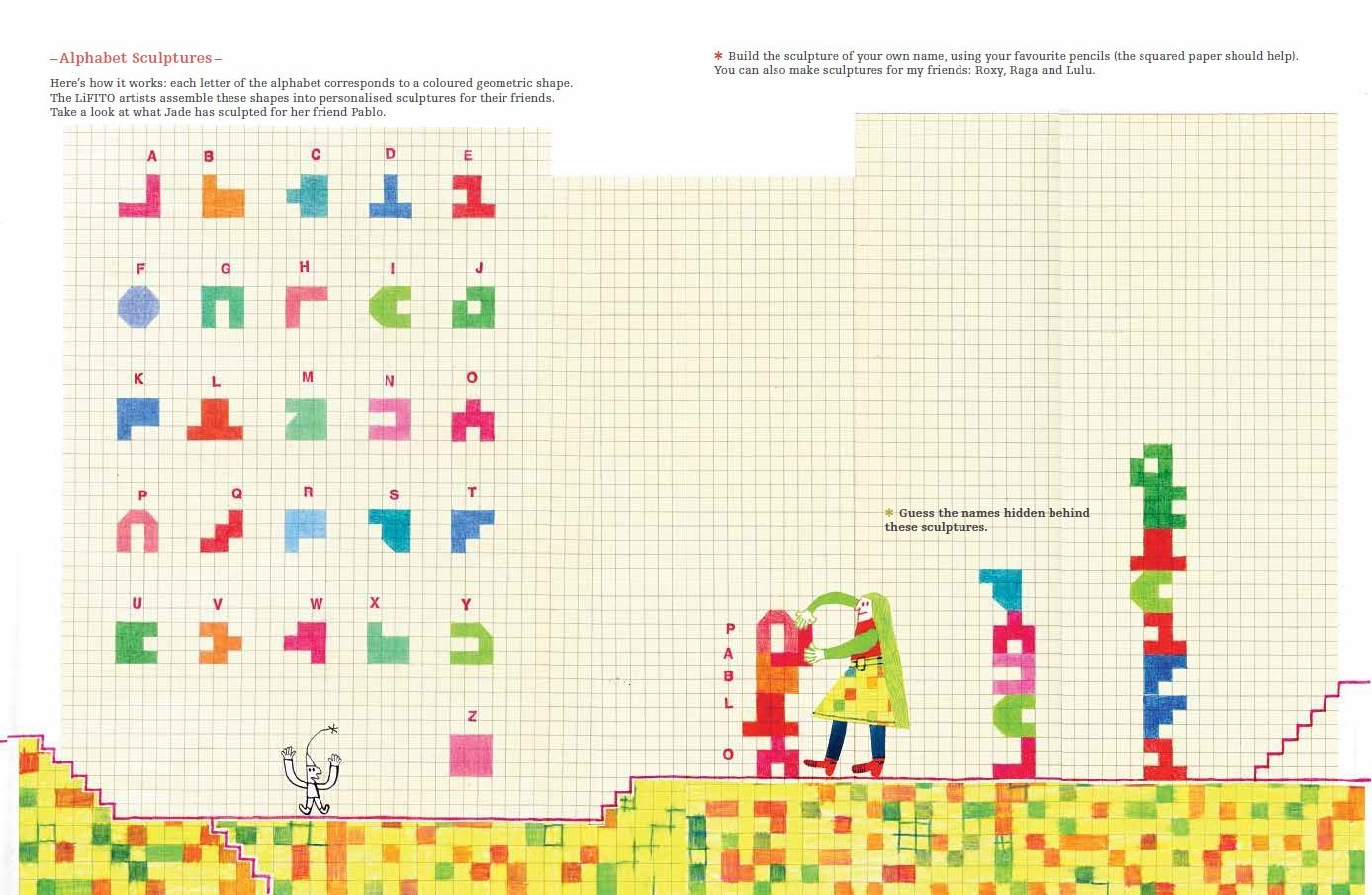 Books for young teens

Robin Rhode Paries Pictus
Robin Rhode's Paries Pictus: Activity Book supplements the site-specific wall drawing intervention of the same title on view at Lehmann Maupin's 201 Chrystie Street space from January 10 – March 16, 2013. For this exhibition, Rhode applied twenty-one vinyl graphics to the gallery walls and invited a group of first graders to participate in an educational wall drawing experience. Working closely with groups of two, Rhode instructed the children to colour in the geometric designs using the oversized oil pastels and graphite crayons included in the exhibition.

Many of Rhode's geometric shapes and activities from the exhibition, such as Connect the Dots, are replicated in the Paries Pictus Activity Book for art enthusiasts of all ages to enjoy.

Pierre-Auguste Renoir Colouring Book - Prestel Publishing
This delightful colouring book introduces children to one of the world's most celebrated artists, Pierre-Auguste Renoir. The French artist was a leading figure in the development of the Impressionist style. Most often focusing on people, his paintings are notable for their vibrant light and saturated colour. In characteristic Impressionist style, Renoir created the details of a scene through light touches of colour. The warm colours of Renoir's style made his paintings some of the most well-known and frequently reproduced works in the history of art.

Brimming with beautiful illustrations of Renoir's masterpieces, this engaging activity book will inspire learning and creativity in children, and will encourage young readers to make their own Renoir-like creations.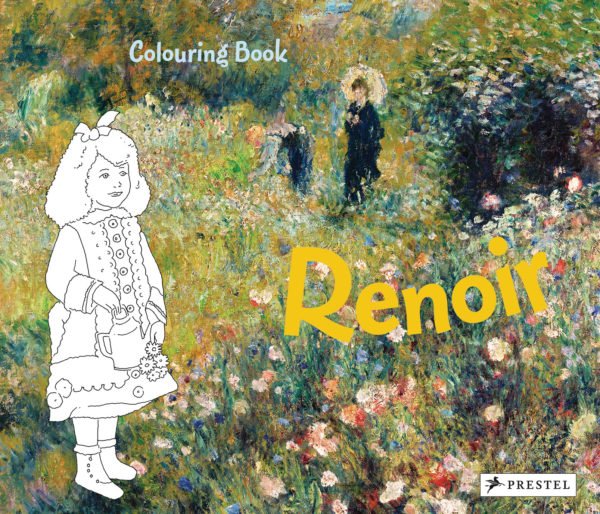 Art in a Box - Tate Publishing
Art in a Box is an ideal way of introducing children to the world of art and encouraging them to use their own artistic creativity. Ideal for children's entertainment at home or as a resource for teachers in the classroom, 'Art in a Box' contains twenty A5 cards each depicting a work from Tate's collection, with a range of related art activities detailed on the reverse including painting, collage, textile, photography and sculpture.

Sarah is an artist, a teacher and an educational consultant and is a visiting lecturer at Goldsmith's College and the Institute of Education. Drawing on her extensive experience in the classroom she has developed 'Art in a Box' as a tool to inspire children about art and to get them making their own

Each card features a full colour image of an artwork with activity notes on the back. The notes encourage children to notice details about the artwork, and then gives them clear instructions on how to make their own work of art in a similar vein. Artists featured include Picasso, Hepworth, Ofili, Moore, Klee, Pollock, Blake and Gilbert & George
Contains: 20 colour a5 cards, glossary of key terms, practical tips, colour wheel.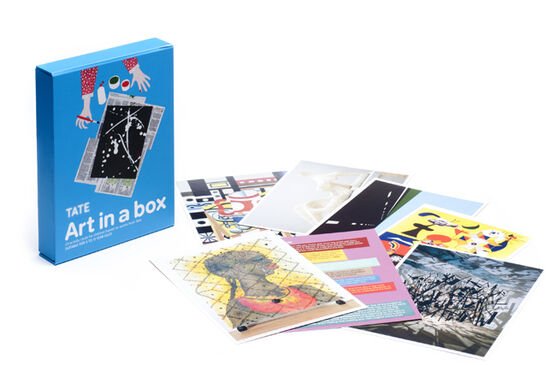 Books for Teens
My Monster Bubble Writer Book - written by Linda Scott; Lawrence King Publishing 
My Monster Bubble Writer Book is an activity book to inspire and encourage creativity with both words and drawing. It teaches children how to create cool hand lettering, using their imaginations to invent crazy alphabets – from monster-inspired scripts to patchwork letters. There are loads of fun things to make, like posters and cards. Kids can use bubble writing to write letters and play games, create their own comics and do lots of other cool stuff. Along the way, members of the Bubble Writer Gang appear to show their own special monster alphabets and offer tips and hints throughout the book, including how to invent monster characters. It is monstrously good fun!

How to Draw & Paint: Drawing 1 - written by Michael Butkus; Walter Foster Publishing
In this book, Mike Butkus offers the perfect introduction to the exciting world of drawing! Inside Drawing 1, you will find an array of beautiful drawings that will inspire you to explore the medium further. The author covers a wide range of the most popular subjects as he introduces a number of basic art concepts and drawing techniques. You'll learn about creating basic face and figure proportions, developing realistic textures, adding depth and distance to landscapes, and more. You also will learn about the tools and materials you will need to get started drawing your own favourite subjects. After this introduction, you'll be ready for Drawing 2, where you will find step-by-step demonstrations to help you further your drawing skills.
Books for Adults
Secret Garden: An Inky Treasure Hunt and Colouring Book 
This beautiful and interactive colouring book features delicate and highly detailed pen-and-ink illustrations—all waiting to be brought to life with colour. As added entertainment, tiny garden creatures are hidden on the pages, waiting to be found, and a key and index are included in the back. The book's cover and jacket are also colourable.

Enchanted Forest: An Inky Quest & Colouring Book written by Johanna Basford; Lawrence King Publishing 
This stunning new colouring book by Johanna Basford takes readers on a inky quest through an enchanted forest to discover what lies in the castle at its heart. As well as drawings to complete, colour and embellish, there are hidden objects to be found along the way including wild flowers, animals and birds, gems, lanterns, keys and treasure chests. Beginning at the entrance to the forest, the journey progresses through woodland, rocky caves and tree-lined mazes, over streams and a waterfall, across the treetops, to finally reach the castle.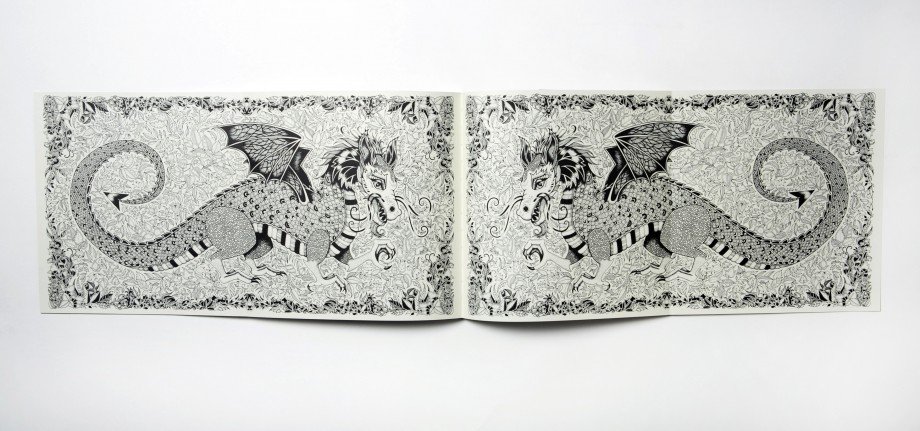 Drawing People: The Human Figure in Contemporary Art - written by Roger Malbert; Published by Thames & Hudson
The act of drawing has long been considered the foundation of an artistic education, and the life class essential to the formation of an artist's style and technique. Yet in the contemporary art world drawing is increasingly regarded as a medium in its own right, and the figure as a subject for on-going exploration well beyond the sketchbook. Drawing People is a thoughtful and beautifully illustrated survey of the most compelling and inventive drawings of the human form being produced today. An introduction places the medium of drawing in its historical context, discussing its intersection with photography, painting, collage and illustration.

Five chapters: Body, Self, Personal Lives, Social Reality and Fictions include short introductions outlining each theme, followed by commentaries on individual artists exploring their style, ideas and techniques, accompanied by finely reproduced images of their recent work.