Ingeniously transformed from a sprawling historic light industrial complex of buildings into an ever-growing network of small businesses and workshops linked by verdant pathways planted with herbs, vegetables and fruit trees, Victoria Yards is a home for artists. Launched in early 2018 in the eastern suburb of Lorentzville (opposite the headquarters of Nandos) the area is fast becoming one of Joburg's most vibrant artistic communities with more than a dozen artist studios based here, as well as a craft brewery, art galleries, artisanal workshops and boutiques.

On the first Sunday of every month Victoria Yards hosts its First Sundays event when more than a dozen artists open their studios to the public. The ethos behind this meet-the-makers day is 'Open Studio Vibes' with visitors encouraged to wander around, explore the space and strike up conversation with the creative minds who are transforming this exciting neighbourhood. If you are heading to the next edition of First Sundays, here are just some of our favourite artists to look out for.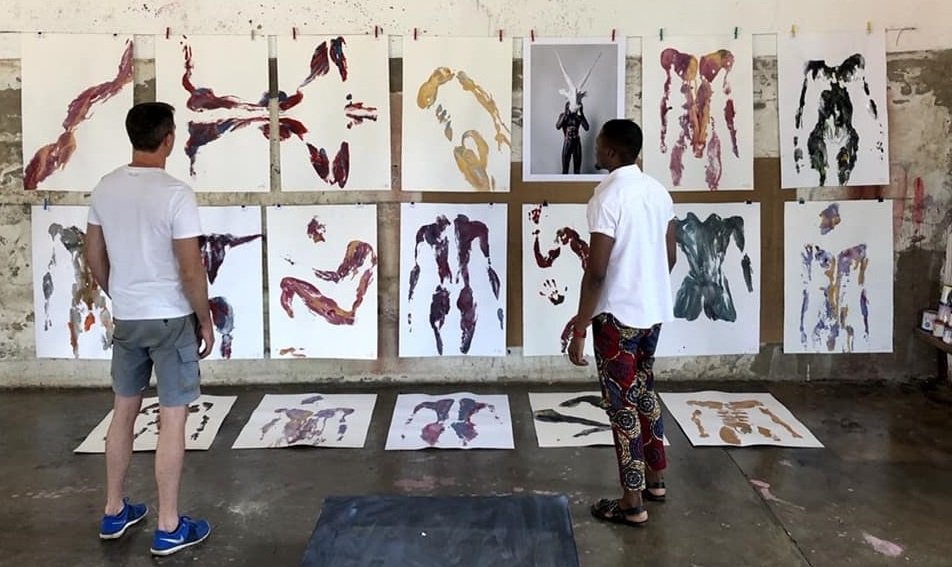 James Delaney
Working in a variety of mediums including screenprints, photography and recently sculpture, James Delaney's art connects the viewer to the city that we often miss, the empty silent streets that greet those who rise with the sun, the skyline that can only be viewed from above and the tiny details of every day beauty such as the designs seen on manhole covers and doorways. Recently Delaney has become best known for his work to revive the once neglected park The Wilds (which borders the suburbs of Houghton and Killarney) and from his Victoria Yards studio he has been working on designs for large steel sculptures of African wildlife which he has helped install in the park.

Thenjiwe Nkosi and Simone Marie Farah 
Concerned with the effects of memory and the misrepresentation of history on contemporary society, Thenjiwe Nkosi's distinctive portraits, compiled in neutral shades, depict forgotten personalities from the past as well as celebrated struggle icons. Also in the same building Simone Marie Farah is an abstract painter working in oils, whose fantastically textured canvases are a riot of colour. 

Through The Lens Collective
Led by photographer Michelle Loukidis, Through the Lens is an educational workspace that includes a studio, darkroom and a gallery space that aims to help upcoming photographers refine their practice, develop their narrative skills and exhibit and sell their work directly to the public.

Ayanda Mabulu
Ayanda Mabulu is without a doubt one of South Africa's most provocative and controversial artists. Intensely critical of the South African socio-political landscape, Mabulu's graphic paintings explore themes of power and privilege and he is utterly fearless when it comes to ruffling feathers and causing offence. In his most recent controversial work the artist depicted Nelson Mandela as a Nazi (painted onto a flag from the Third Reich) while in the past he's also painted some extraordinarily graphic sexual scenes of former President Jacob Zuma. As in his paintings, in person Mabulu doesn't mince his words and on a visit to his studio he'll give you a fierce tongue-lashing if you try to take photos - you have been warned!   

Danger Gevaar Ingozi print workshop
This print workshop and artist collective focuses particularly on linocut relief printing. Founded by artists Chad Cordeiro, Nathaniel Sheppard and Sbongiseni Khulu along with business partner Anaz Mia, Danger Gevaar Ingozi seeks to carve out a new space for printmakers in the South African art world that is open to all ideas, no matter how unusual. On open days the printing press is often in action, presenting a unique opportunity to see how linocut prints are made.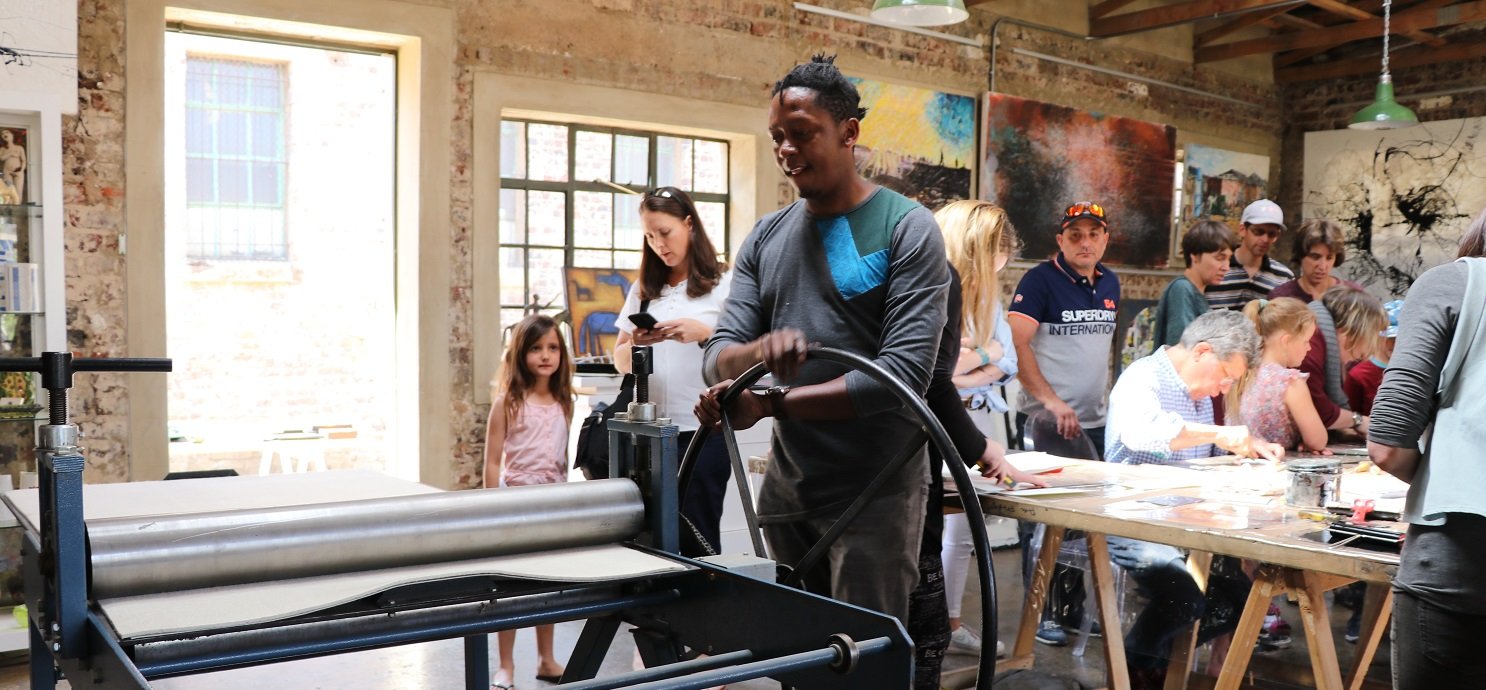 Roger Ballen
One of South Africa's most influential art photographers, over the past few year's Roger Ballen's work has evolved from simple photography to film installations, stage productions and famously directing a music video for South African rap group Die Antwoord. Ballen's distinctive 'documentary fiction' style is stark and challenging, filled with strange, disturbing and unforgettable imagery and looking out from the windows of his studio are some of the props that frequently feature in his scenes such as masks and birds. 

Blessing Ngobeni
One of Joburg's most exciting young artists, the internationally collected Blessing Ngobeni is represented by Everard Read gallery and his bold and distinctive works now command six figure sums. Ngoebni's art is intensely political with his richly detailed, surreal and often shocking paintings, exploring deep and often uncomfortable questions about the achievements and failures of South Africa's young democracy. Largely working in paint and collage, Ngobeni has also recently started working with sculpture, installation and film.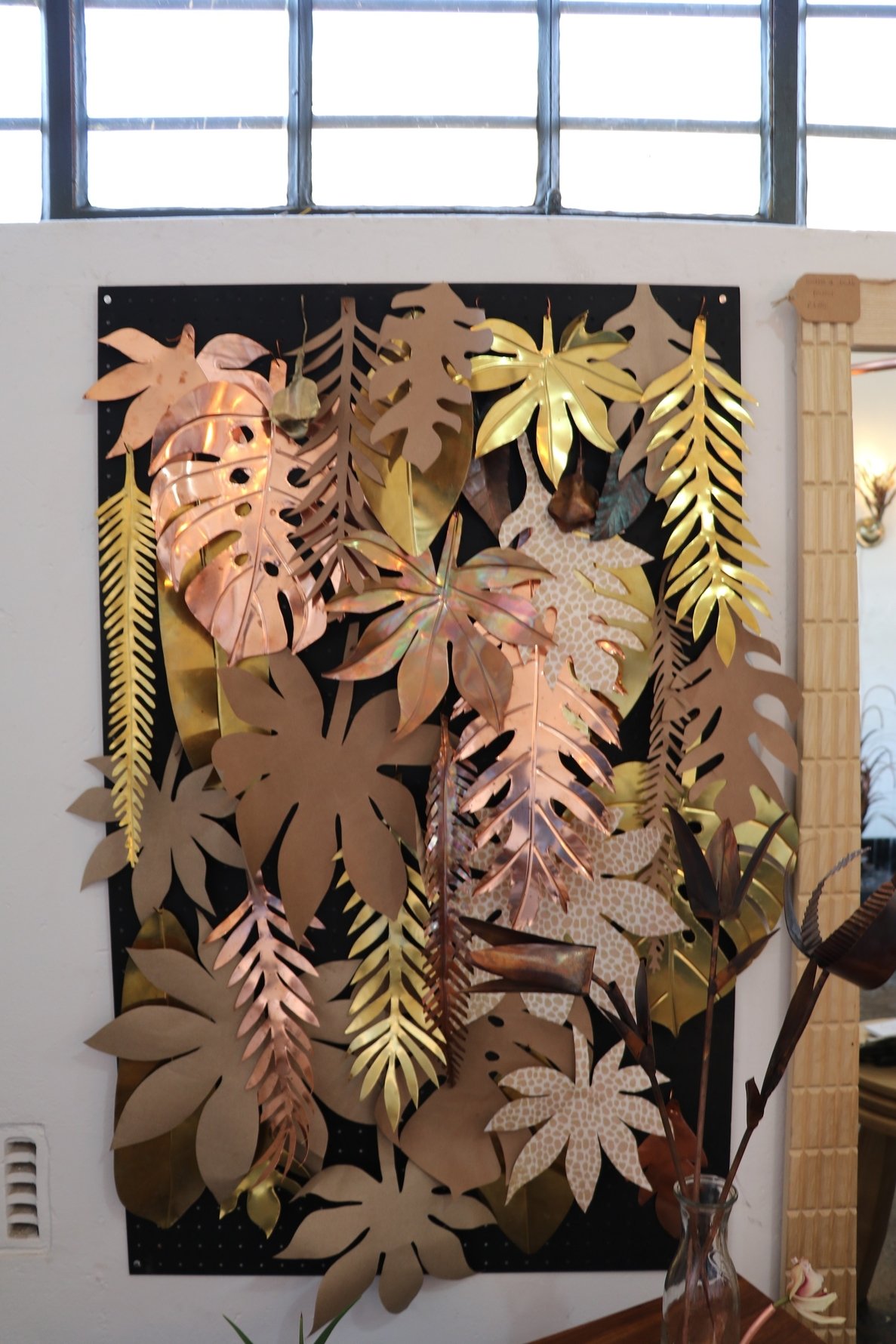 Copper art by Sarah Cronin
Sarah Cronin's instantly recognisable sculptural water features are inspired by indigenous African flora such as aloes and proteas as well as statement copper light fittings. Each piece is made from pure copper or brass which is hand beaten and rolled into shape in her Victoria Yards studio. Outside her studio you can admire one of her smaller water features and see first hand how the water helps these sculptural creations to continually evolve through unique discolouration.

Madi a Thava Craft Art Centre
The Madi a Thavha Craft Art Centre supports a host of talented artists from rural Limpopo who are skilled in traditional Venda crafts including pottery and wood sculpture. The craft art centre is part of the Madi a Thavha Mountain Lodge, a sustainable tourism initiative in northern Limpopo that aims to create meaningful employment and participation in the tourism economy for disadvantaged communities by offering its guests a host of unique experiences that highlight the natural beauty and unique traditions of the Venda region.

Justice Mukheli
Self-taught photographer and filmmaker Justice Mukheli is one third of the iconic Soweto photography collective I See a Different You, who create extraordinary high fashion photographs of African and South African township life often not seen. In his documentary work Mukheli likes to focus on storytelling, using his lens to ingeniously capture the emotions - angry, determined, joyful or sad - of his subjects, while his fashion and media photography has seen him shooting for major names like Diesel, Levis and Adidas. 

Victoria Yards is located at 16 Viljoen St, Lorentzville. Open studio days happen on the first Sunday of every month when there's also live music, a fresh produce market, food stalls and a food and craft market.