South African food holds an unusual position in Joburg as far as restaurants go. Classic traditional dishes like mogodu (tripe), cow heels, chicken feet or dombolo (steamed bread) are often seen as things to be made at home or best enjoyed by taking a long trip out to a local restaurant or street-side stall in Soweto. Rarely do these dishes find their way onto the menus of upmarket restaurants in Joburg's suburbs and often when they do it is partnered with a pan-African experience that directly targets tourists, and not locals.

Slowly but surely this trend is starting to shift with some Joburg chefs striving to present traditional South African tastes and dishes in a new light, emphasising regional variations, patient cooking methods and beautiful plating. We welcome the change, and its authenticity.

One such chef is Absalom Kotsokoane who heads up the kitchen at Moeng restaurant in Rosebank, a man with an uncanny talent for surprising his diners with a refined and delicate take on traditional cuisine. Moeng, of which he is a co-founder, opened in the Oxford Parks development along Oxford Road, but you can read more about that below. Let's talk about the food. 

The restaurant's name Moeng means 'visitor' or 'guest in Tswana, with the full name being Moeng – Goroga re ja ka wena, which co-owner Keitumetse Molatlhegi explains relates the spirit of hospitality in the Tswana culture, of offering a visitor the best of everything when you invite them to eat at your home. The menu seems almost pub-like at a glance, with little description or hint of the clever plating and presentation of the dishes here. The team says that the menu is also likely to change as the restaurant develops its offerings and adds more regional dishes from  South African provinces Limpopo and KwaZulu Natal, to north of the border Zimbabwe.

When asked about the menu, Absalom explains with a grin that his deceptively simple-looking menu is something he finds a fun part of his work in the kitchen, playfully remaking things that people think they know, and possibly have low expectations of, and then giving the dish a whole new lease on life. He is passionate about presentation and carefully handling traditional dishes to elevate what many often think of as 'ordinary' into something special.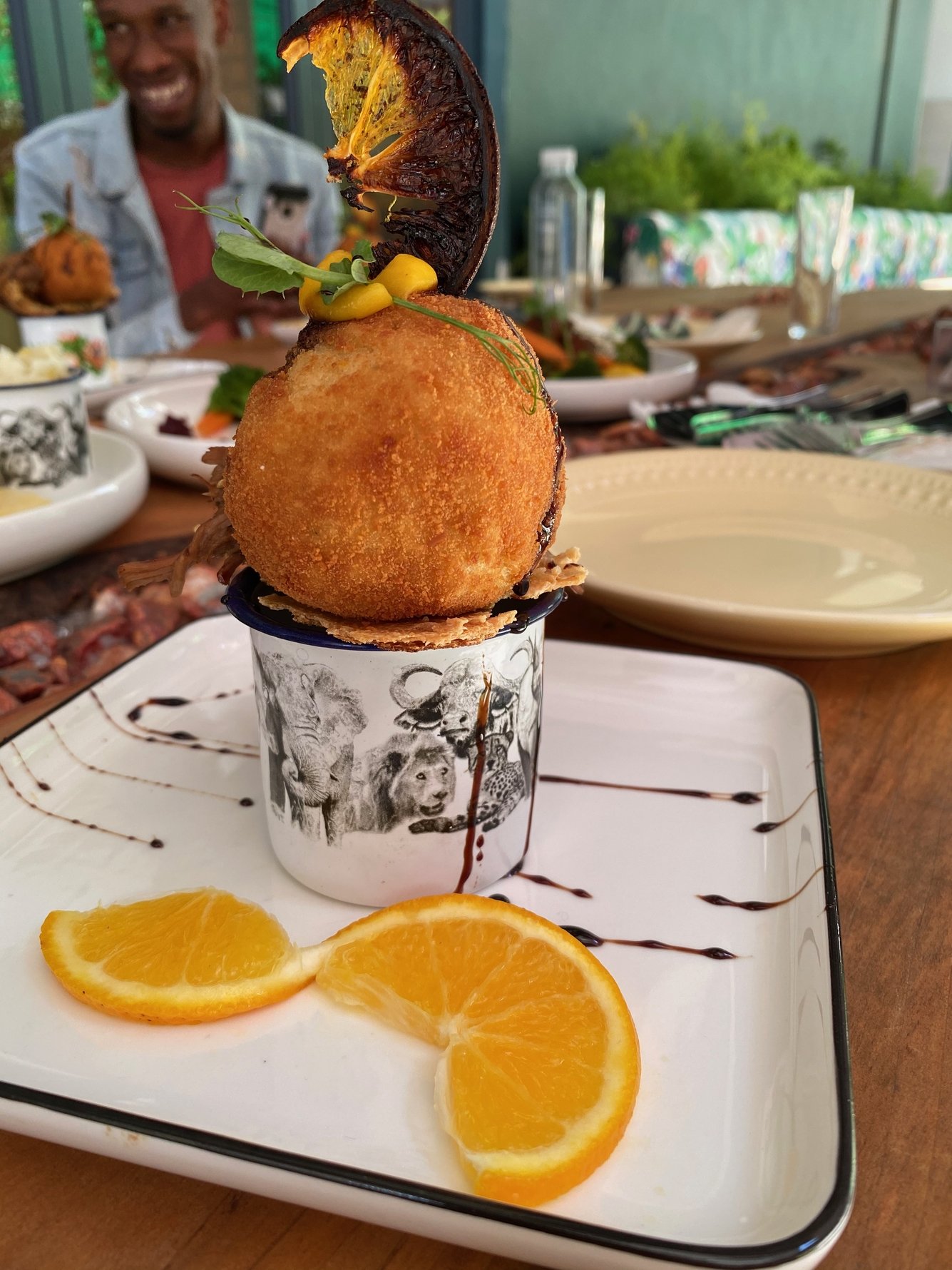 We started out with a dish simply labelled 'tshotlo / pulled beef' with pap, a menu description which did little justice to the wondrous little marvel. Instead of a plain white dollop on the side of a plate, this pap came gently encased in a light coating of breadcrumbs, resembling an arancini ball. Neither a 'stiff' pap nor a crumbly 'krummel' pap it was incredibly light and fluffy. A revelation.

Below this most perfect pap was a beautifully tender helping of carefully seasoned pulled beef (rump) and a wonderfully simple and balanced tomato relish. Topping it off was a crisp and crunchy slither of pap crust (yes you can eat it!). A standout dish that set the scene for more happy surprises to come.

We tried the chicken giblets, super slow cooked to be tender with just the right bite and the mogodu (tripe). Those who often lament South African mogodu for being too greasy and fatty, will be delighted to find Absalom is a patient man who spends hours cooking then cooling the meat, releasing it from its cloying fat before getting it gently back on the stove again.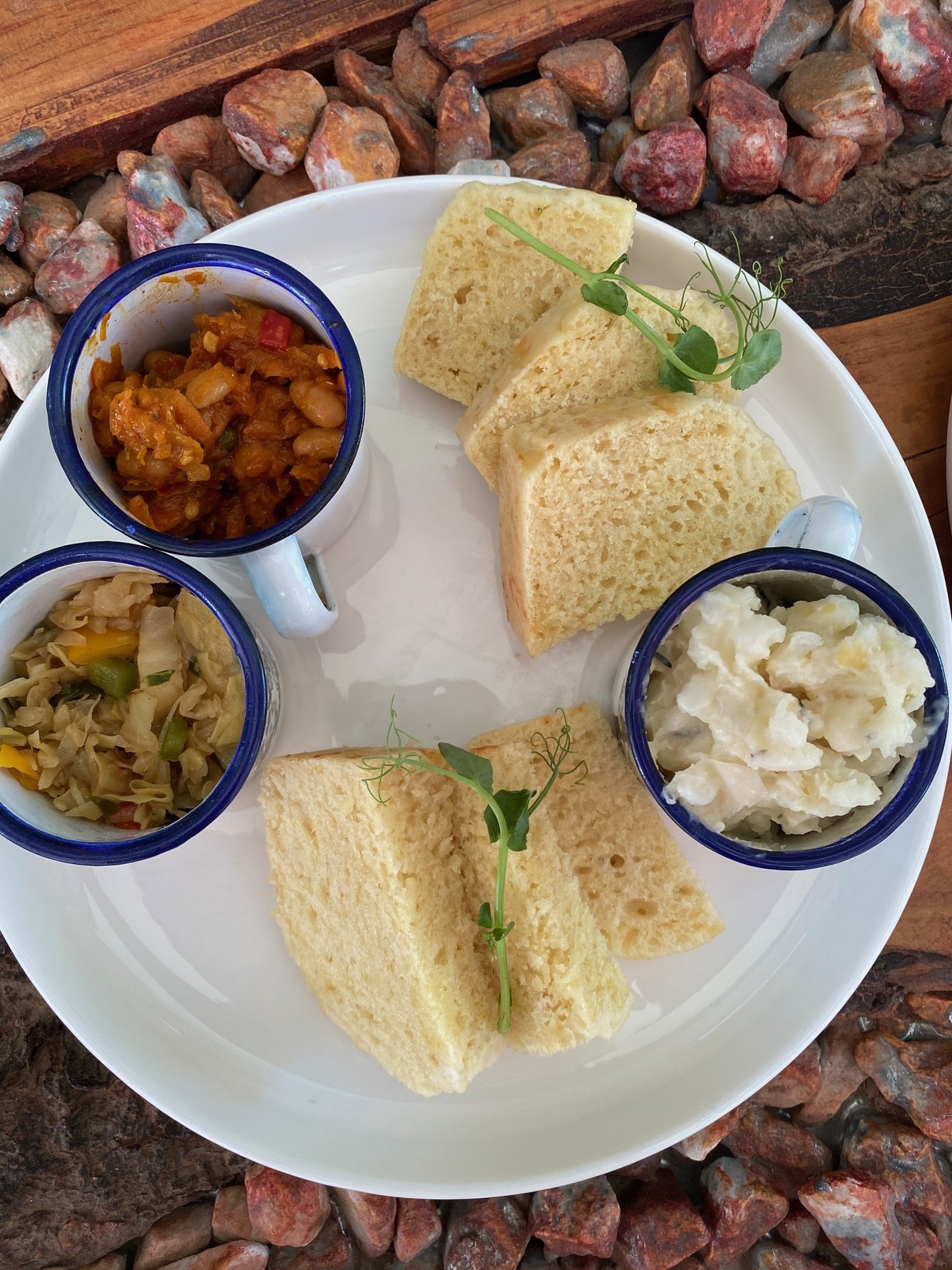 If you aren't so much of a nose-to-tail kind of eater, Moeng offers some more standard, broad appeal, dishes such as lamb shank, grilled pangasius fish and a variety of stuffed 'rondelini' (essentially giant ravioli pasta parcels).

Absalom is also a great baker and we loved his steamed bread served with a excellent medley of chakalaka, samp and beans and cabbage. For a light dessert we washed down some super sweet homemade ginger beer, with his fluffy scones, lightly flavoured with the chef's favourite ingredient, orange. We made a note to return for these.      

The restaurant is bright and breezy both inside and out, with outdoor seating at two long tables in the Oxford Parks' central piazza and inside plenty of smaller, discreet dining areas as well as private dining on the mezzanine floor. There's a bar and lounge-like seating, and a glass wine cellar. When we visited the bar staff were busy at work experimenting with new cocktails. If you like watching chefs at work you can opt to sit at the kitchen bar counter.

Moeng stands out for its genuine reverence of local food and ingredients, a passion for highlighting regional cuisines and understanding the influence of South Africa's neighbours on our food, and an unusual and playful take on presentation that is so refreshing. We enjoyed every flavoursome dish we tried. 

WHERE TO FIND IT
The restaurant itself, located in Rosebank's new Oxford Parks precinct, is somewhat tricky to find, although when construction on the surrounding buildings is finally complete and the area opens out more directly to the streets it will all make a lot more sense. If you are coming on foot from Rosebank go up the mosaic steps at the corner of Oxford and Jellicoe and follow the piazza type walkway that leads behind the building which faces onto Oxford Road. The address reads Oxford Road, but the entrance is actually in the back.  

If you are arriving by car be patient and persevere! From Oxford Road turn into Eastwood Road, the entrance to the car park will be directly on your left. To gain entry into the building above from the underground car park press the bell icon and the up arrow to summon the lift. When the lift arrives get out at 'G' and go straight ahead via the glass doors, the restaurant will be right in front of you between The Greenhouse bar and the Doubleshot Coffee. If arriving by Uber walk stop on Oxford Road and walk behind The Greenhouse restaurant, Moeng's neighbour. 

*Johannesburg In Your Pocket visited by invitation of the restaurant. Views expressed in this review are our own.