Russell Kaplan Auctioneers' auctions are legendary affairs that unwind from a Wednesday to a Saturday just about every six weeks. In light of the nationwide lockdown the latest Russell Kaplan live art and antiques auction will be happening online on Sat Apr 25 (antiques, furniture and collectables) and Sun Apr 26 (fine art) with the auction open to pre-bids from Sat Apr 18!

Online registration on the new look Russell Kaplan Auctioneers website is super simple and ahead of the socially distanced live auction on April 25 and 26 you can browse all items on sale and place pre-bids for your favourite lots at bidlive.rkauctioneers.co.za.

You can also request further images of any items you might be interested in and consult directly with the Russell Kaplan team by emailing rka@global.co.za or alexander@rkauctioneers.co.za or send a whatsapp to +27 83 675 8468 to find out more.
Russell Kaplan April art and antiques auction highlights
Highlights of the innovative new online auction include an array of beautiful ceramic and silver antique tea sets, bold costume jewellery and vintage accessories, whimsical decorative ceramics by South Africa's famous Ardmore studio, delicate Venetian glassware, Victorian, Edwardian and Modernist furniture, eye-cathing vintage travelling trunks and chests, Persian carpets and extravagant chandeliers.

Among the hundreds of interesting artworks including in the sale are some stand out works by major artists such as Robert Hodgins, Walter Battiss, Norman Catherine, Deborah Bell, Sam Nhlengethwa, Zanele Muholi and John Muafengejo. With more than 900 lots to bid on there's something for everyone and reserve estimates start from as low as R1,000.

You can view the whole auction, register, enter pre-bids and join in the live auction at their super easy to use new interactive online auction page bidlive.rkauctioneers.co.za.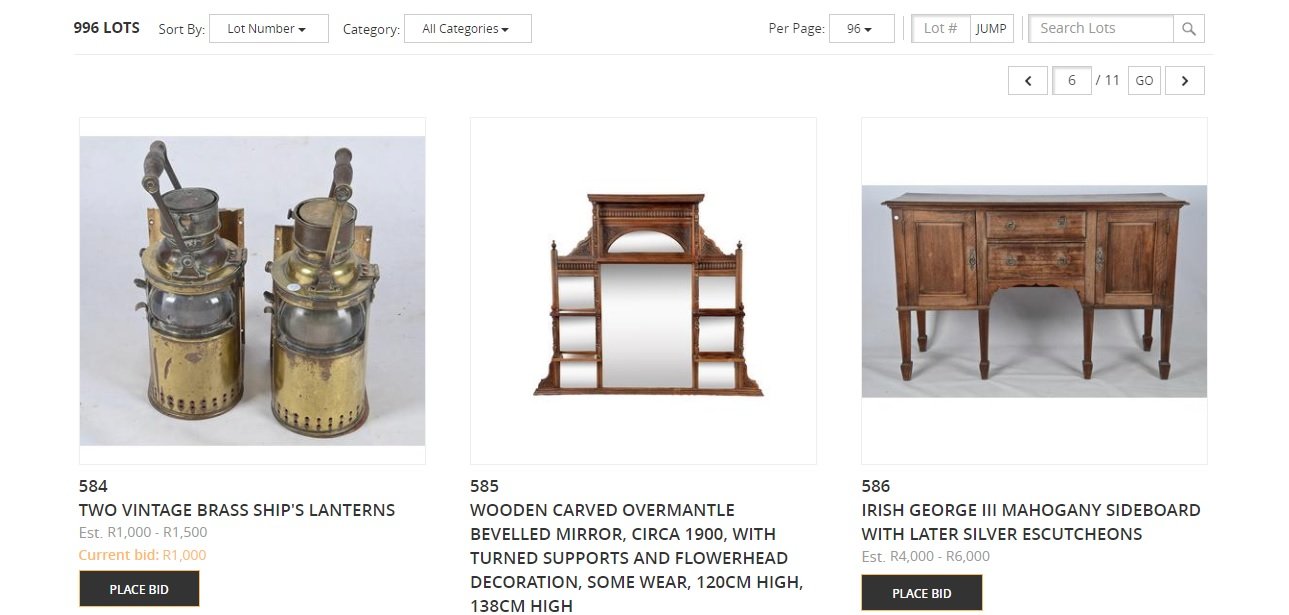 Auction times
While you can already put in pre-bids now, live auctions open as follows:
Saturday 25th April at 9:00
Session one: Jewellery, Silver, Glassware, Ceramics, Collectables, Furniture, Carpets and Light Fittings.

Sunday 26th at 10:00
Session two: Art and Art Reference Books