The third mini-guide in our new series of guides to Johannesburg's major neighbourhoods – Sandton In Your Pocket – is now out!

You'll know Sandton Central by its profusion of gleaming towers, traffic and more traffic, swanky stores and top hotels.
In a short space of time Sandton Central has remade itself into a global business capital. Just 50 years ago what is now the Sandton Central Business District was little more than rolling farmland dotted with tea houses and a polo club. Nowadays it is South Africa's economic hub and the location for many of Africa's biggest company's headquarters. 

A shopping mecca with the city's biggest mall, there's also a huge selection of restaurants and bars, a direct Gautrain rail link to OR Tambo International Airport and plenty of upmarket hotels from which to choose. The huge interlinked Sandton City and Nelson Mandela Square malls form the district's unofficial centre with the Nelson Mandela statue on the square being one of the biggest tourist drawcards.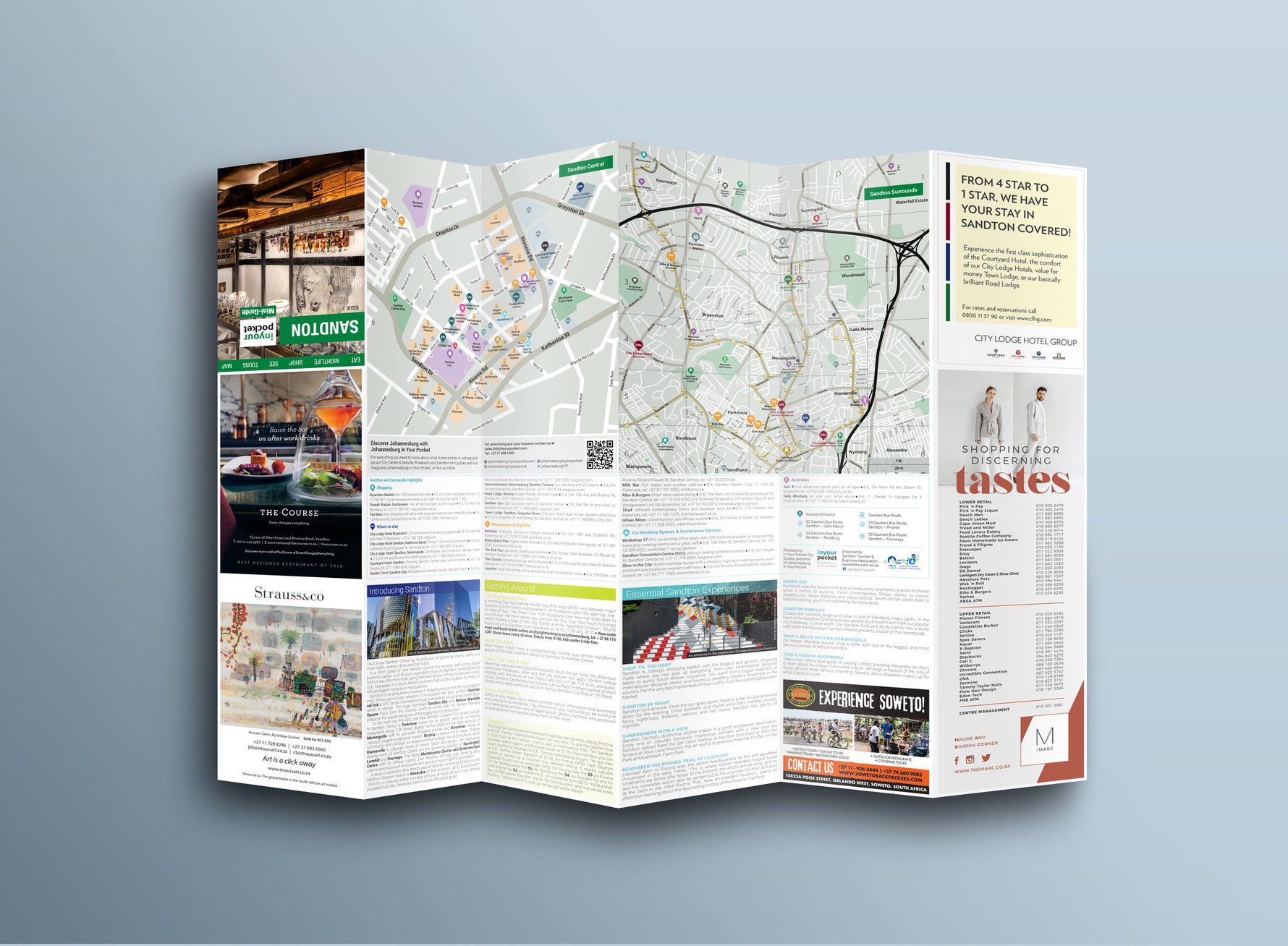 Our new Sandton In Your Pocket Mini-Guide is a handy pocket-sized guide to everything you need to know about making the most of Sandton, filled with our recommendations of the best places to eat, drink, shop and hang out. From halal fine dining and contemporary African cuisine, to bookshops, rooftop bars, cocktails, theatre, boutique wine bars, markets and luxury shopping, our Sandton mini-guide is here to help Joburg visitors make the best of a visit to Africa's richest square mile.

Packed with our recommendations of the best places to go, Sandton In Your Pocket also includes a handy walkable map of the Sandton Central precinct and a larger map detailing the many attractions found in the neighbouring Sandton suburbs from Sandhurst to Fourways and Bryanston to Rivonia. 

The free Sandton In Your Pocket Mini-Guide is available from September 13 at more than 30 hotels and guesthouses, in and around Sandton and at the Sandton Gautrain Station, the Joburg Tourism Visitor's Centre at Nelson Mandela Square and Park Station, OR Tambo International Airport and Lanseria Airport. Take a look at the Sandton In Your Pocket mini-guide online at our issuu page.

Also look out for our Rosebank and Johannesburg City & Melville mini-guides and our popular 40-page essential visitors guide Johannesburg In Your Pocket (download a free pdf copy here).