Where to start collecting South African abstract art?
Few major South African art institutions have embraced the new digital art world as comprehensively and successfully as fine art auction house Strauss & Co, who host a regular programme of week-long online-only art auctions via their website straussart.co.za/straussonline where you can browse and bid for a remarkable variety of artworks by famous and lesser-known artists.

The latest Strauss & Co online-only auction opens Monday February 15 to Monday February 22. 

For anyone looking to start collecting art or grow a collection it couldn't be easier. There's always something different to be discovered at a Strauss & Co auction whatever your budget or tastes. With the assistance of Dr Alastair Meredith, a fine art specialist at the auction house, we take a look at some of the finest abstract works on sale in this auction to understand what makes them so compelling. The works here have estimates ranging from R4,000 to R12,000 making them highly accessible.
Douglas Portway: Abstract Composition in Blue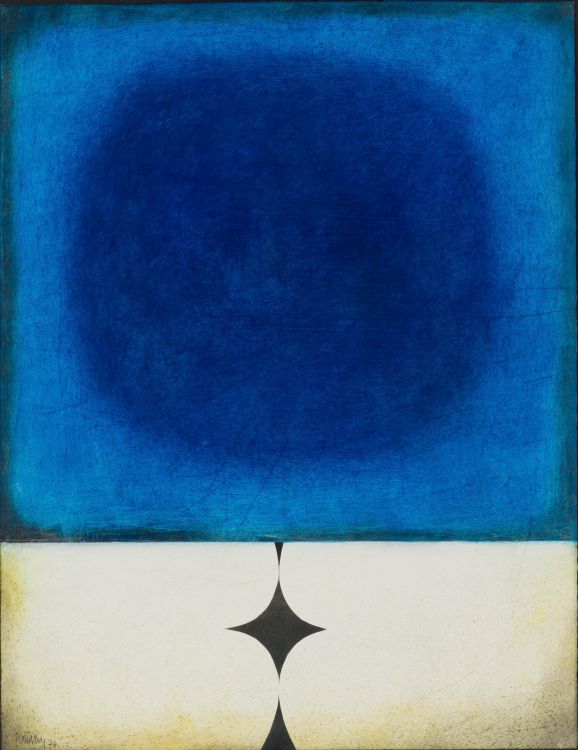 Born in Johannesburg in 1922, Douglas Portway is considered to be one of South Africa's finest abstract painters. In 1959 he moved to Ibiza before settling in the coastal village of St Ives in Cornwall, England in 1967. Interested in Zen Buddhism his gentle abstract works display what Strauss & Co art specialist Dr Alastair Meredith describes as 'a quiet stillness'. The gentle shimmering use of colours and shapes has been likened to the work of Mark Rothko.

Size: 66 by 51cm excluding frame; 99 by 82.5 by 3cm including frame
Estimate: From R12,000
View the work and place a bid online here.
Lionel Abrams: Abstract Compositions, ten



Produced in the 1970s this collection of ten abstract screenprints hint at landscapes, organic matter and the subterranean, each within a distinctive complementary colour palette. Each of the ten screenprints measures 46 by 58cm and all ten prints are being sold together as one collection.

Estimate: R5,500
View the work and place a bid online here.
Kenneth Bakker: Abstract Composition with Red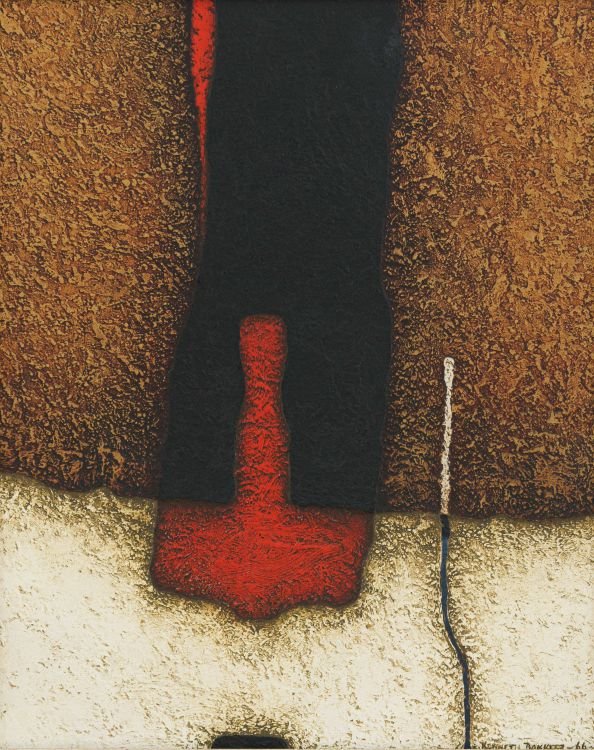 This wonderfully textured abstract composition was created in 1966 by Kenneth Bakker. Bakker studied under South African artist Erik Laubscher who influenced his style immensely. What is perhaps most distinctive about Bakker's body of works has been his inventive use of a variety of materials, from perspex and steel to wood, and the textured nature of his abstracted compositions are always a defining feature.

Size: 50 by 40cm excluding frame; 76 by 66.5 by 6cm including frame
Estimate: R4,000
View the work and place a bid online here.
Arthur Edward Cantrell: Abstract Composition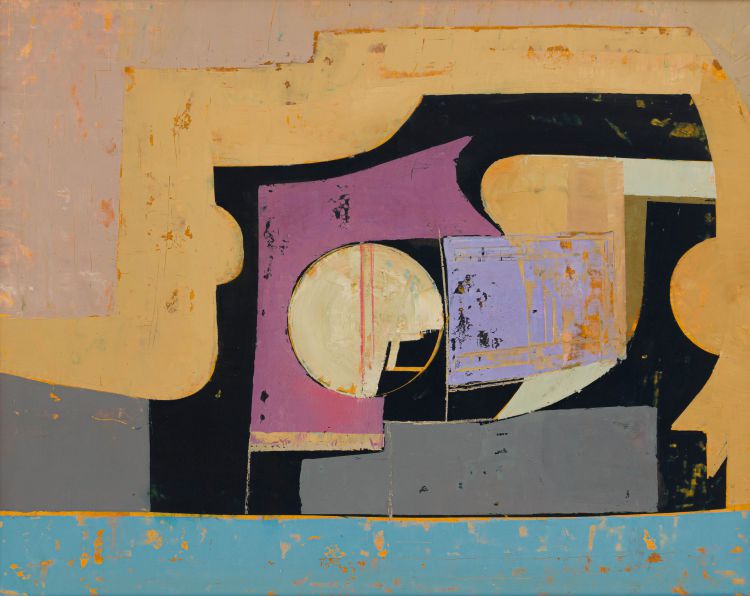 This study in the way geometric shapes relate to one another, plays with depth, perspective and clashing colours, masterfully holding together a variety of contrasting elements. Still relatively unknown among collectors, Cantrell's works tend to be much more moderately priced than other more famous South African artists, making him particularly attractive to first-time buyers. Contemporary artist Nandipha Mntambo also touted this as one of her favourite works from the auction in her curated collection of auction highlights (see Mntambo's picks here).

Size: 50 by 62cm excluding frame; 72 by 84 by 4cm including frame
Estimate: R7,000
View the work and place a bid online here.
Derek Leigh: Study for the Judgement of Paris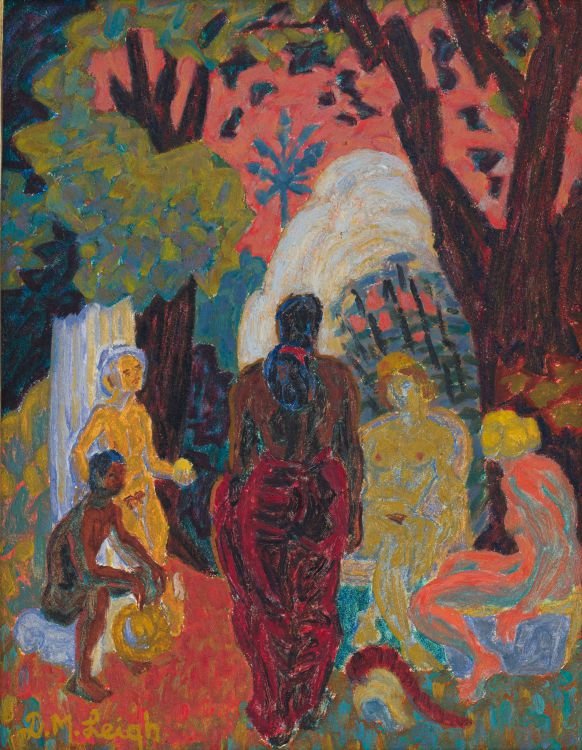 This figurative work has many abstracted elements and is one of the major highlights of this Strauss & Co auction. Trained under British modernist Jack Heath in the 1950s, Leigh later moved to Paris where he was influenced especially by Cubism and Fauvism. Despite his brilliance, Leigh's work has often been underappreciated over the years making the appearance of one of his works at a sale such as this particularly exciting. The painting depicts an early scene from the mythological stories of the Trojan Wars, where Paris is invited to judge a beauty contest between the goddesses Hera, Aphrodite and Athena.

Size: 42 by 33cm excluding frame; 51 by 42 by 3.5cm including frame
Estimate: R8,000
View the work and place a bid online here.
 
How to bid at Strauss & Co's Online Auctions
Register online through the "Register to Bid" link and complete the short form. This can be done from the moment the sale opens. You can browse the online auction by lot, department or artist, with a filter option allowing you to also search for items based on price or keyword.

Clicking on "Submit your Bid" brings up the bidding popup window, which features a "submit "button that allows you to accept the next bid value. Up to the last hour of the auction, if you have an active bid you will receive an email and an SMS when you are outbid on a lot. Successful buyers will receive an email after the sale has closed, detailing purchased lots and check-out procedures.