One of Joburg's greatest regeneration stories, Maboneng was originally a gritty industrial warehouse and factory district with the somewhat forgettable name of City and Suburban. The neighbourhood's remaking began in 2009 with the launch of the pioneering development Arts On Main (straddling Fox and Main Streets) which is home to a number of artist studios including William Kentridge's groundbreaking Centre for the Less Good Idea. In 2011 the weekly Market On Main launched and has been the heartbeat of Sundays in Maboneng ever since. Fast forward to today and what is now known as the Maboneng Precinct has spread out across a dozen adjacent blocks and has been frequently touted in the international press as "one of Africa's coolest neighbourhoods". 

With Market On Main in full swing, Sundays in Maboneng are always the liveliest. Here's our essential tips for spending time there.

HAVE LUNCH AT MARKET ON MAIN 
Market On Main (open every Sunday from 10:00-15:00) still stands at the centre of this growing precinct and remains its distinctive heartbeat taking over the entire Arts on Main block every Sunday. The building's lower level is transformed into a bustling street food market, a perfect destination for a casual brunch in the city. Take your pick from stalls selling everything from authentic paella and Chinese dim sum to Afro-fusion sushi and delicate pastries made by budding chefs from the nearby Johannesburg Culinary and Pastry School. 

SHOPPING AT ARTS ON MAIN
Every Sunday Market On Main (besides for dates in late December and early January) on the upper floor of the Arts On Main building is devoted to vintage shopping with dozens of vendors selling everything from punk leather jackets to cute dresses and colourful accessories. It's also where you'll find Joburg's coolest T-shirt brand Love Jozi (co-owners of the market with iconic fashion label Black Coffee) and get to buy their signature Joburg skyline keyracks, coat racks and other must-have gifts or accessories.

There are also a number of cool brands and boutiques who have permanent stores at Arts on Main that you will definitely want to shop at while you there. Check Hello Africa Market Place for a beautiful range of afro-centric gifts including stylish ceramics, linens and other homeware plus great hats and handbags. Innovative photography studio iwasshot in joburg :) stocks the coolest Joburg-themed gifts and souvenirs. Stop in at hip Asian skater brand Interfool Supply for a super stylish range of daily travel gear including backpacks and laptop bags or the eclectic Nickel, a browser's delight for South African designed ceramics, clothing and handmade jewellery.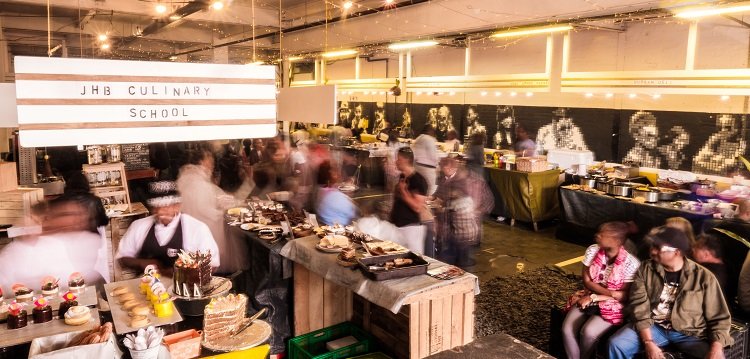 EXPLORE THE STREET MARKET OUTSIDE ARTS ON MAIN
Spilling out of the Arts On Main building every Sunday and running in tandem to the Market on Main is a bustling market that takes over an entire block of Fox Street. Here you'll find an eclectic selection of stalls selling everything from second-hand books and African fabrics, to handmade curios and other souvenirs. 

WATCH A MOVIE AT THE BIOSCOPE 
Movie buffs should stick around to watch the latest African arthouse films and documentaries at Joburg's only independent cinema The Bioscope. On Sundays there are usually three screenings to choose from. After the film head to the adjoining Chalkboard Cafe bar for a craft beer. The pizza here is also top-notch.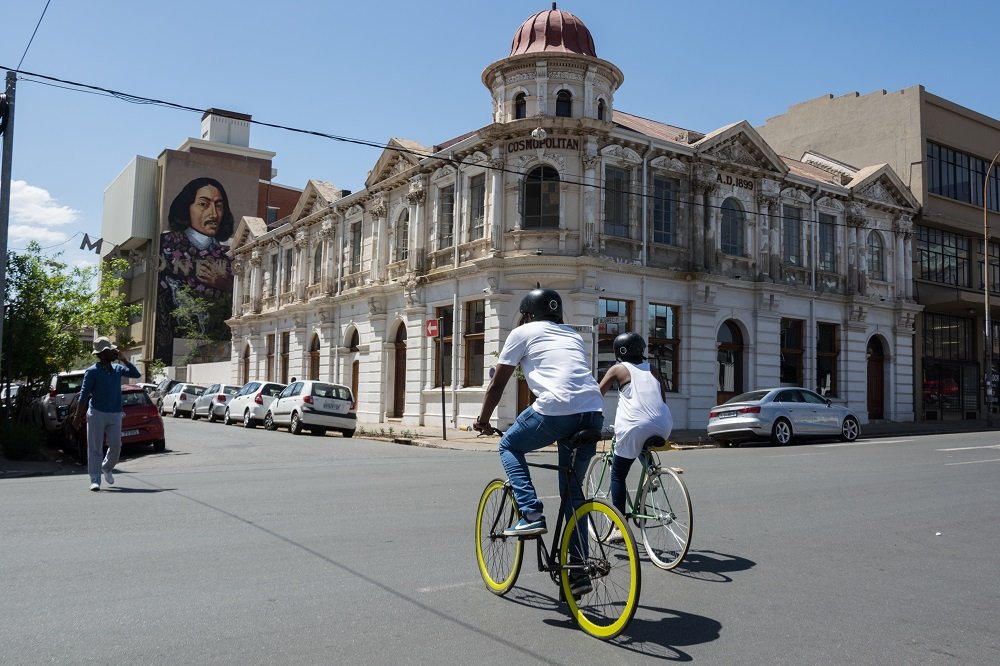 TAKE A TOUR OF MABONENG 
If you are feeling energetic don't miss out on MainStreetWalks' East City Cycle tour of the area (you can book your spot at Maboneng's popular backpackers Curiocity). With the noble aim of encouraging people to rediscover the city in unusual ways, MainStreetWalks also has a host of other interesting Maboneng tours that you can join including street art walks of the surrounding neighbourhoods, and the weekly rooftop Picnic in the Sky tour where you stock up your picnic basket with goodies from Market on Main.

SUNDOWNERS AT THE BAR
With Monday meaning work for many, the party ends relatively early on Sundays but not without a sundowners session. One of the most popular long-running Sunday parties in Maboneng happens at rooftop bar Living Room, while for a more low-key end to the day, streetside café-bars like Love Revo, Café Bertrand and Pata Pata are all good choices.