Market on Main returns to the city this month, popping up on Fox Street in the new Jewel City precinct on Sunday October 25, November 1 and November 8. The new location is just three blocks walk along a newly pedestrianised section of Fox Street from the original venue at Arts on Main and with a lot of exciting new tour experiences and social bike rides now exploring the area, as well as new hangouts and regular events to check out, Sundays in Maboneng are most definitely back!

This colourful corner of the city is really coming alive again this summer, so head down to town, grab lunch at Market on Main and get exploring some new corners of the neighbourhood.

Here are some ideas for how to make the most of a sunny Sunday in Maboneng.
Market on Main at Jewel City
Start at Market on Main's pop-up at 230 Fox Street in Jewel City, open on Sundays from 10:00. There's guarded parking in the market building (and space for bikes), or park on the street in Maboneng and explore the new pedestrianised section of Jewel City where there are loads of incredible murals that nobody can resist photographing. As well as delicious food and drink from the many vendors, including Market on Main regulars and new favourites like The Roving Bantu Kitchen, there's also a cool selection of clothing and accessories and a super easy-going and friendly atmosphere. Find out more about what's happening at Market on Main at Jewel City here.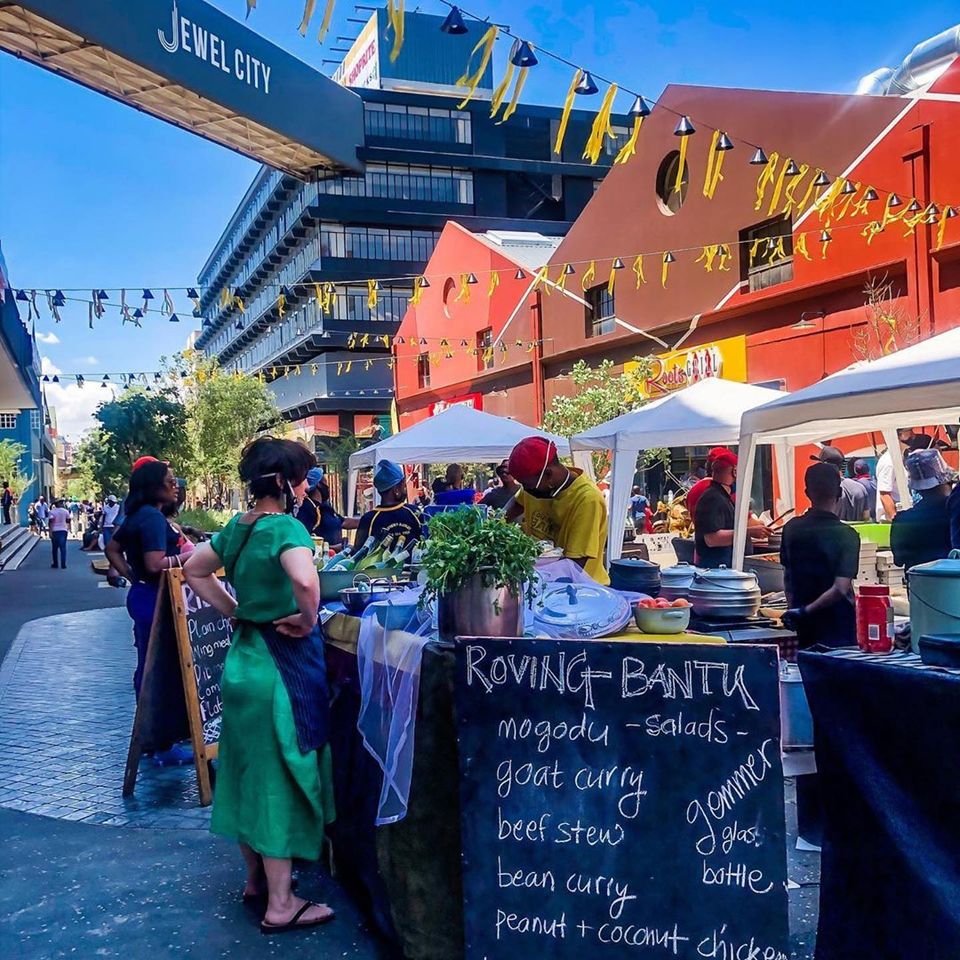 Picnics in the Sky
An inner-city picnic with a difference. Hosted by Maboneng-based walking tour guides MainStreetWalks, the morning starts with a visit to Market on Main where you'll be handed a picnic basket to fill up with treats from the food stalls. With you basket stocked you'll be whisked away to the 50th floor of the Carlton Centre, where picnic blankets await with the most incredible view of the city skyline from 222 metres above the city streets.

The Picnic in the Sky tour experience happens every Sunday from 11:00-13:30 and costs R350. Booking is essential, book your tour online here.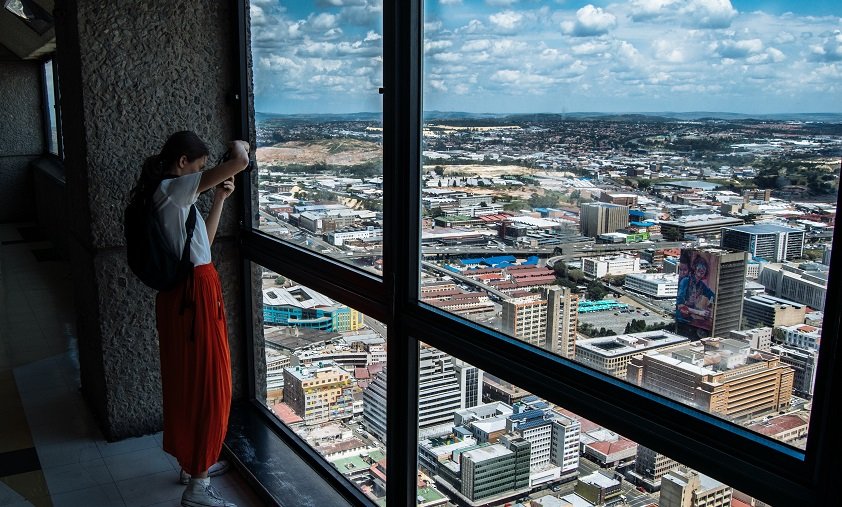 Cycling the city with Maboneng City Riders
Maboneng City Riders are a cycling crew based at the Love Revo cafe-bar on Fox Street. You can join the cyclists on their Sunday rides from Love Revo, from where you can also rent bikes. Love Revo also offers a one hour guided 'selfie ride' through the area stopping for photos at all the most colourful murals (R50 for a one-hour bike hire). Find Love Revo here. 

If you have your own bike Maboneng is very bike-friendly with plenty of places to park, outside Love Revo at the eastern edge of Maboneng and loads of bicycle parking inside the new Market on Main at 230 Fox Street in the Jewel City precinct in the west.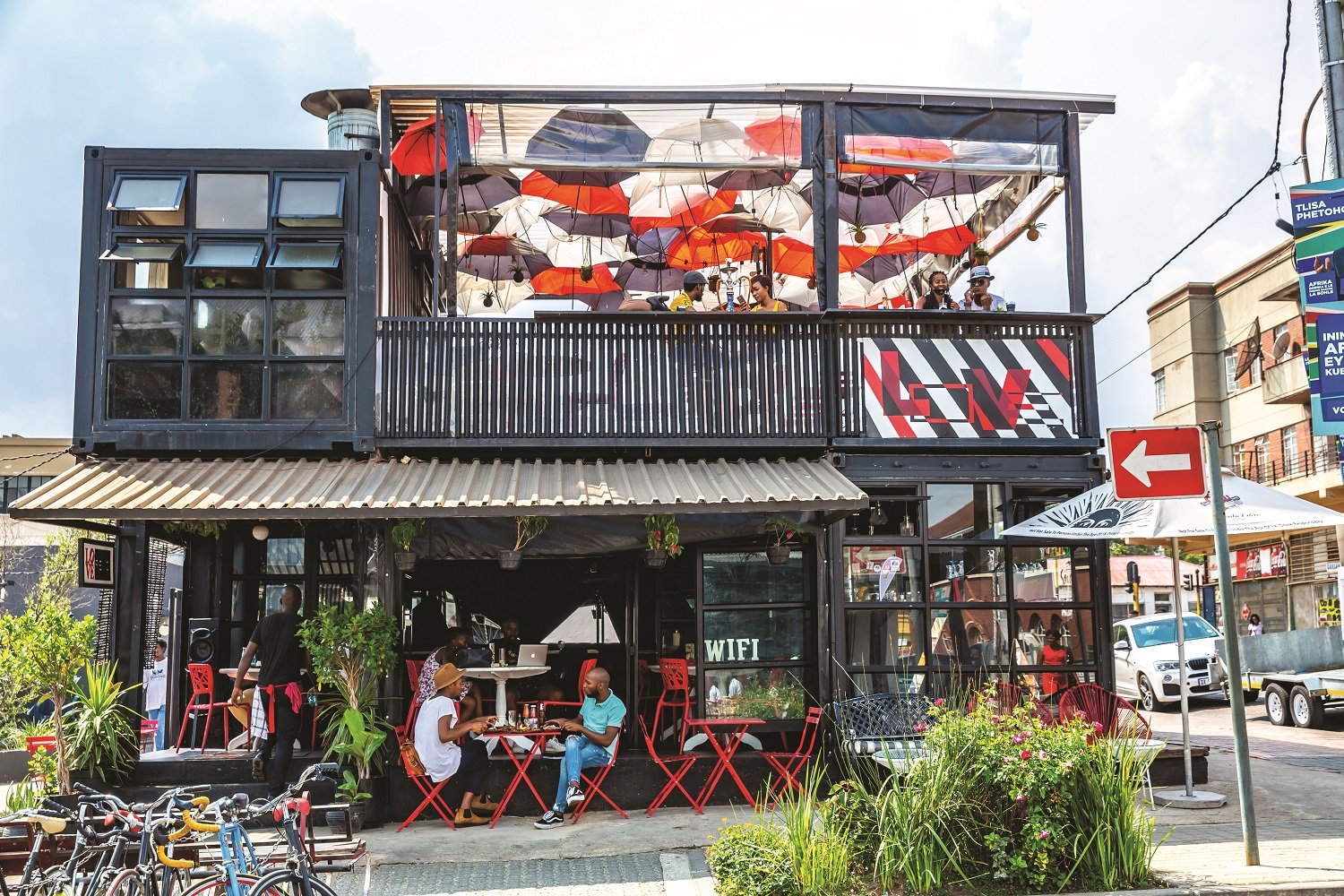 The Gathering sundowner rooftop parties at Hallmark Hotel
999 (Triple Nine) is the spectacular rooftop venue on top of the landmark Hallmark Hotel in New Doornfontein (neighbouring Maboneng). If you haven't yet seen the jaw-dropping panoramic views of the city from this rooftop bar and restaurant, you are missing out. We think this might just be the best roof terrace in the city (and yes, it's even better than Randlords which always seems to top these lists!).

On Sundays 999 hosts The Gathering, a chilled Sunday afternoon sundowner session with DJs on the decks from 14:00 (cover charge R100). Find 999 here.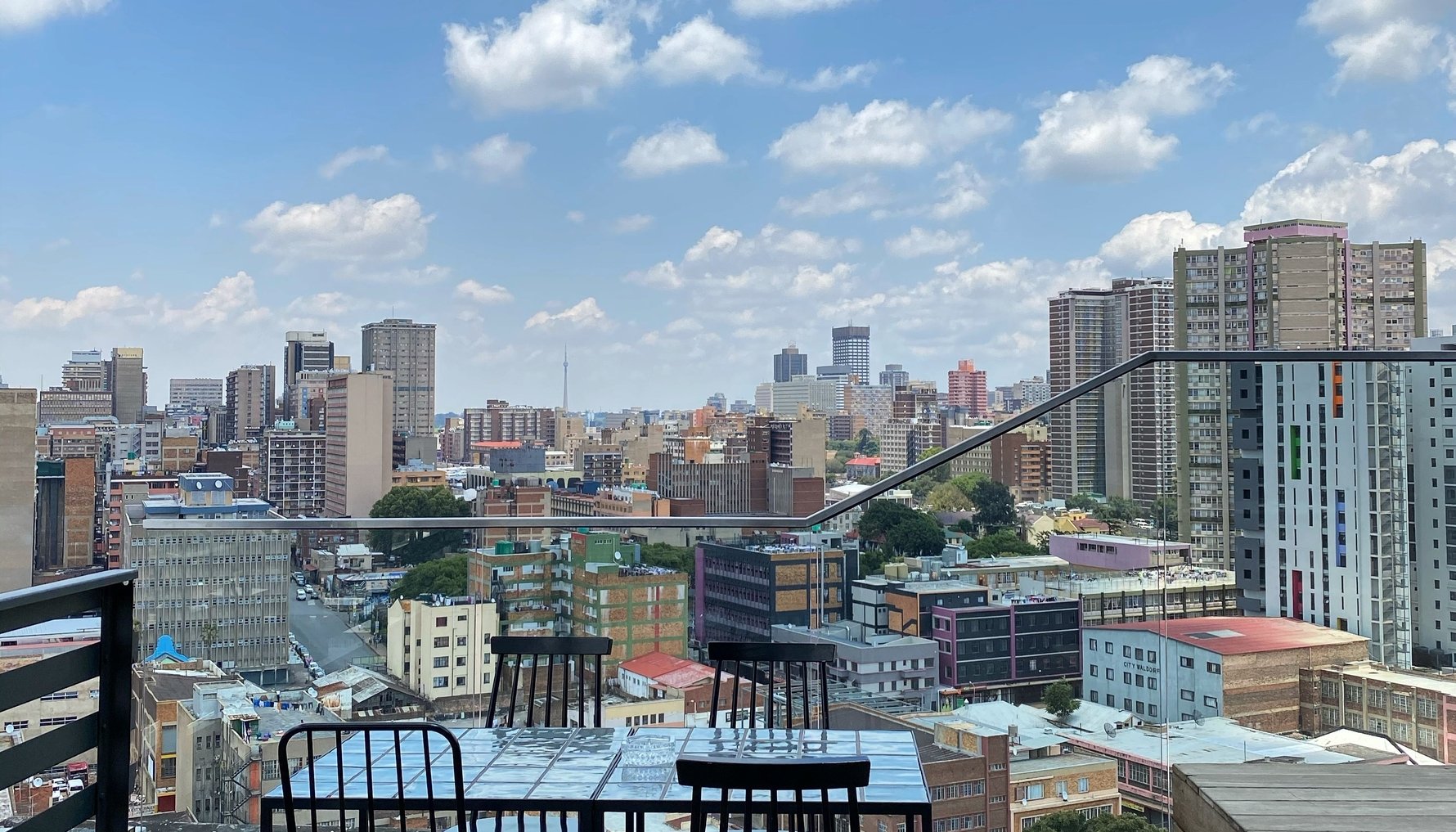 Rooftop salsa at Arts on Main
Salsa dancing fans gather on most Sundays at a spacious first-floor rooftop in the leafy courtyard of the Arts On Main building for an informal, fun and friendly salsa dancing party that has been hosted in Maboneng weekly for years. The crowd is super-friendly and welcoming and you can also now get a free dance class at the party too.

The next Rooftop salsa party is happening on Sunday November 1, from 14:00–19:00, entrance R100. Find Arts on Main here.
Skateboard the city with City Skate tours
One of the most fun ways to explore the city is on a skateboard tour with Maboneng-based skateboarding and tour guide Ayanda. The tour starts off at Curiocity backpackers, rolling down the hill along Fox Street and through the new pedestrianised section of Jewel City towards the most historic sections of the Main Street Mining District.

Find out more and book a tour here.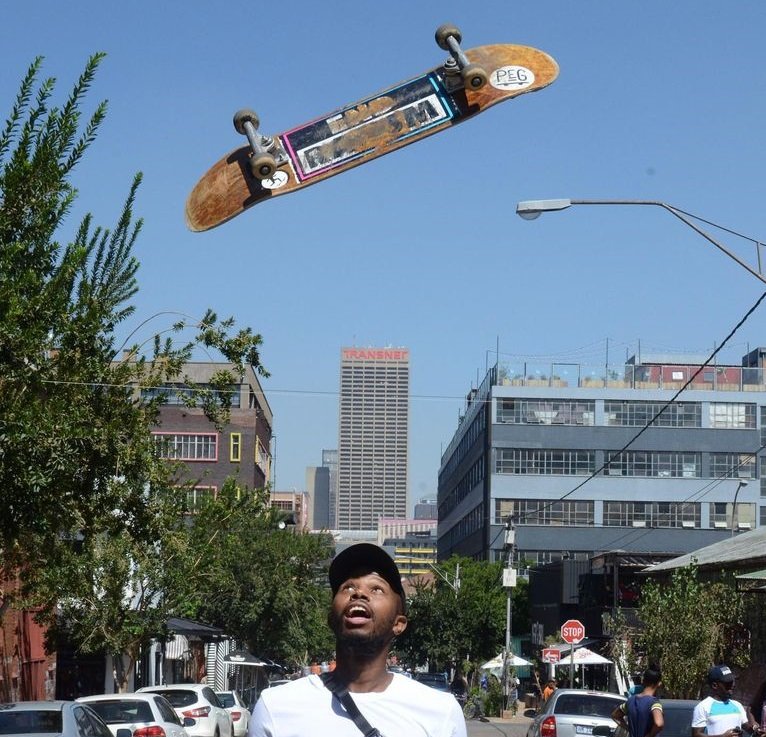 Contemporary art and a poolside courtyard at The Anthill
Maboneng's newest art-focused destination is The Anthill, a visionary collection of interesting, artistic spaces that has taken over what was once MOAD (Museum Of African Design). On Sundays we recommend dropping in to grab a coffee and then explore the latest exhibition at the building's contemporary art gallery, Gallery Fanon. If you are looking for a chilled escape from the busy-ness of the streets of Maboneng, ask for directions through the building to the wonderful hidden courtyard Eden Poolside, a sunny, secret cafe-bar with a small splash pool surrounded by pool loungers. Read our review of The Anthill here.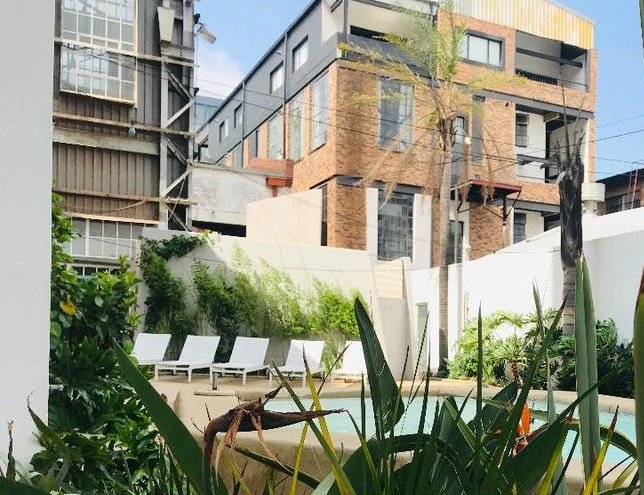 Vinyl DJs and cafe culture at Bertrand Cafe
Much of Maboneng's special vibe lies in its colourful street life and an especially great place to soak in that uniquely Maboneng buzz is from one of the many pavement cafes on Fox Street. At the top of the street on the corner of Albrecht Street (opposite Love Revo) the bohemian French-Congolese Bertrand Cafe is a favourite. The cafe's street terrace is gently buzzing on Sundays with a chilled atmosphere complemented by vinyl DJ sets and occasional live jazz. Find Bertrand Cafe here.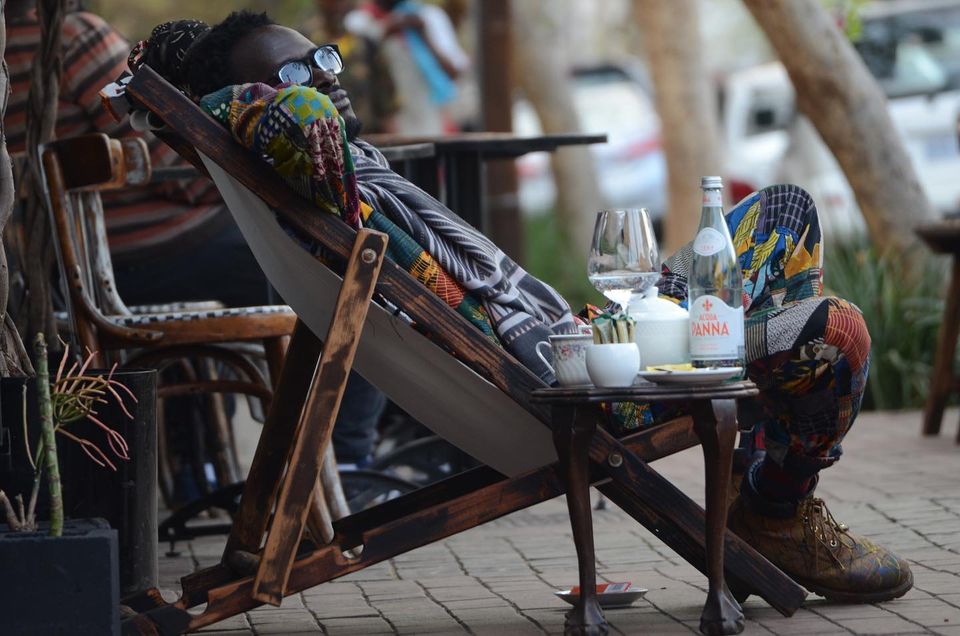 Social Distance Sunsets at the Living Room
The Sunday afternoon sundowner parties on the rooftop at the Living Room cafe-bar have long been among the coolest get-togethers in Maboneng. A little garden in the sky with a fantastic urban view, this is an intimate space to enjoy the sunset with the best urban backdrop and cool DJs on the decks.

Open from 10:00-22:00, there is a cover charge of R100 for the Sunday afternoon Social Distance sunsets party. Note that to ensure social distancing, numbers are limited, you can book your entrance online in advance. Find Living Room here.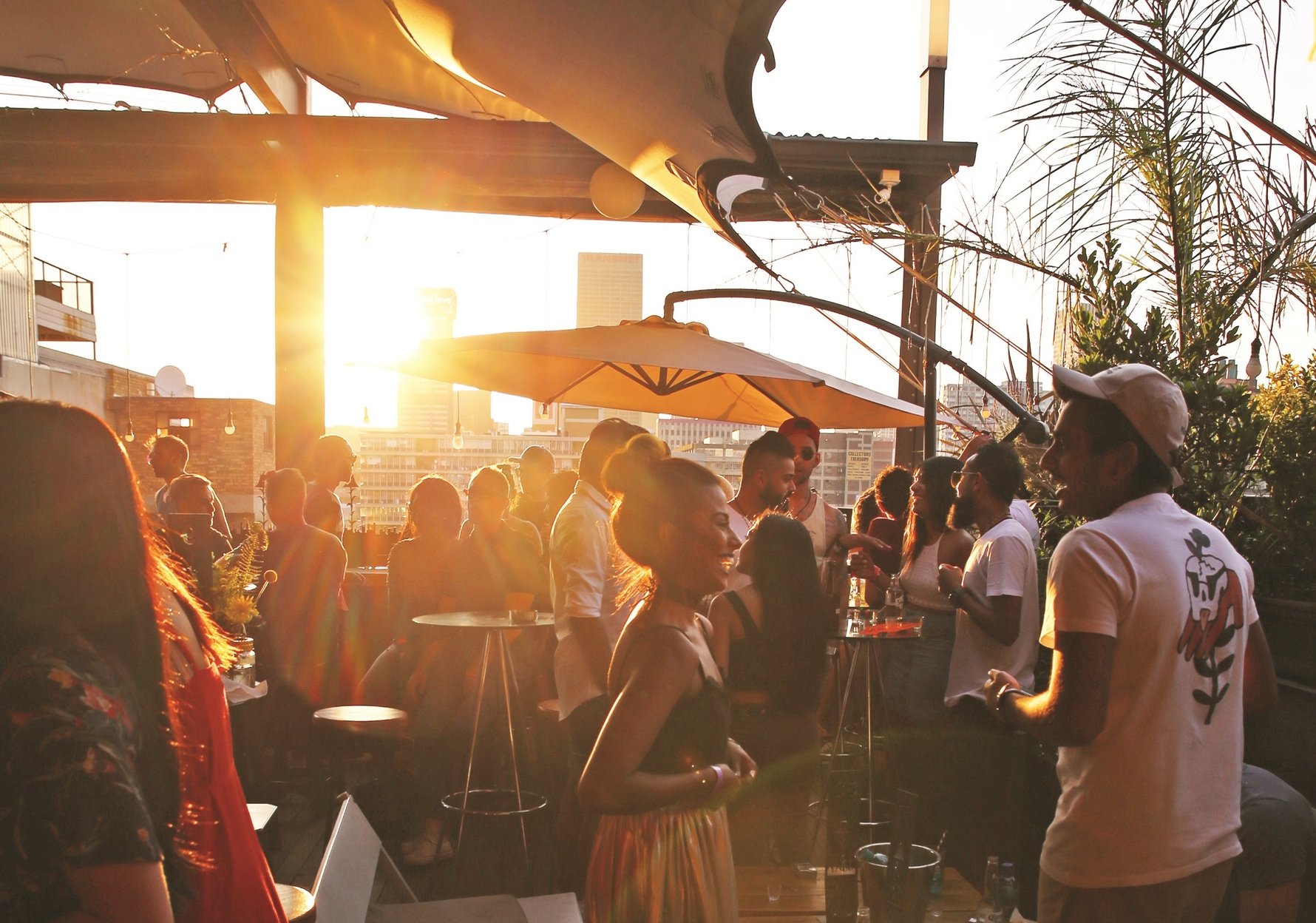 Exploring Maboneng's street art
Maboneng and the adjoining Jewel City are both characterised by their colourful murals and public art installations that add character to literally every street corner. With the extension of the neighbourhood into the six new city blocks that form the Jewel City precinct, the area now has one of the greatest concentrations of street art anywhere in South Africa.

For an in-depth exploration of Maboneng's incredible murals and more insights into the artists who created them, book to join one of the graffiti walking tours led by local street art specialists Past Experiences. Find out more and book a Past Experiences tour here.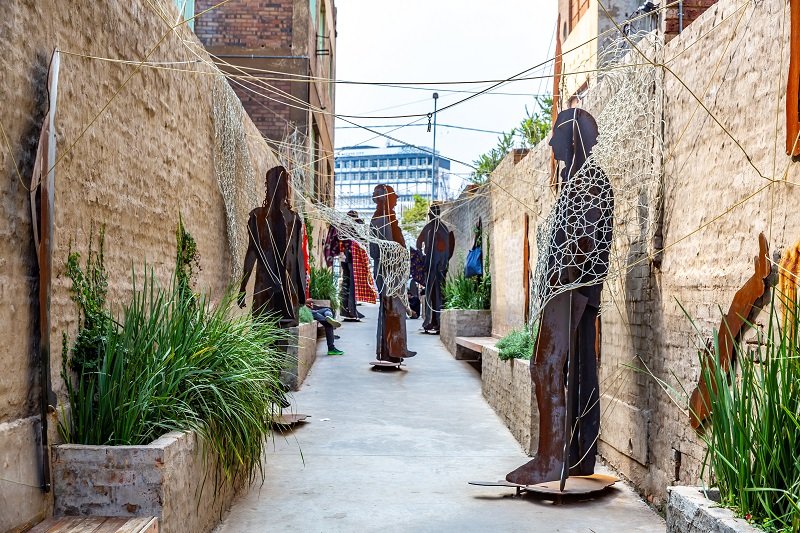 A private tour with JoburgPlaces
Book a private tour on a Sunday with JoburgPlaces whose East Town tour starts at Gandhi Square and walks east towards Towers Main, Jewel City ending up in the hustle and bustle of Maboneng taking in the unusual and turbulent history of the city's development over the past 130 years along the way. Tours last 3 and a half hours and cost a minimum of R1000 for up to 2 guests and R500 per additional guest. Find out more and book here.