The annual Turbine Art Fair (TAF) is back for 2021 in a new hybrid format. The ninth edition of the fair takes place from September 30 to October 3, bringing to Joburg an outstanding collection of art from galleries, artist collectives and studios from across the country.

Always one of the most exciting elements of the fair are TAF's special projects exhibitions. These bring together brand new works by emerging artists from across South Africa, ensuring that TAF retains its position as a place to discover and support the working of lesser-known and upcoming artists. Top of our list of special projects that we are looking forward to at TAF 2021 is the TAF Unearthed showcase, an initiative that provides space for emerging artists to create and exhibit new works especially for the fair. Tickets for Turbine Art Fair 2021 are now on sale, buy yours online at turbineartfair.co.za.

We met with this year's ten TAF Unearthed artists to find out more about their work.
Angel-Ho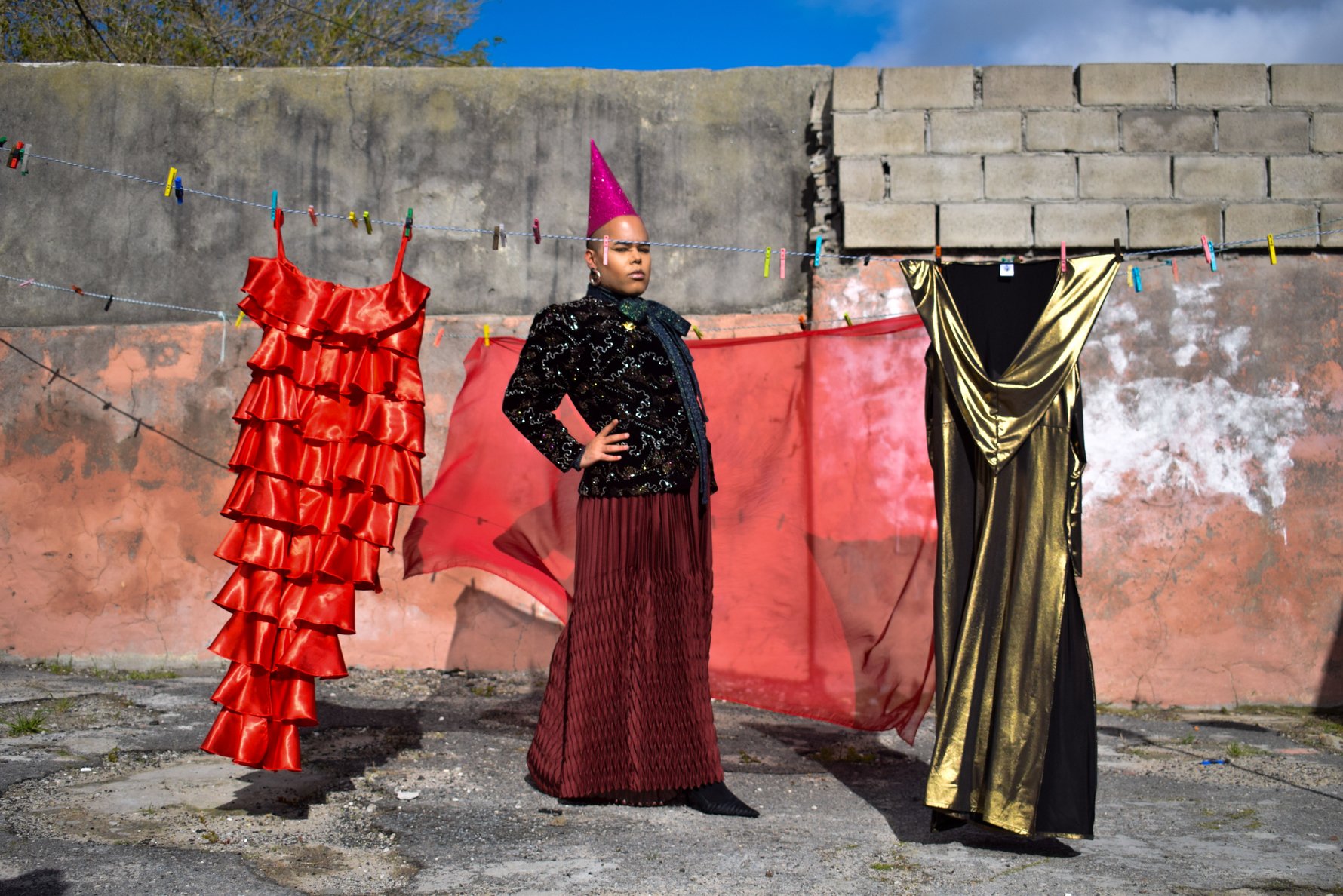 Angel-Ho is a musician and creative director from Cape Town who places contemporary social issues in performance, drag, and a digital space, deconstructing the powers of oppression. Or as Angelo-Ho describes it "diving into the fantasy of reality of being a feminine gender non-conforming queer African body with the capacity to critique the history we create as a society". Angel-Ho's work is dynamic, genre-bending and instantly captivating stuff that mixes music, performance and digital imagery to find new ways of reproaching notions of identity, heritage and the self.
Ayesha Mukadam
Based in Cape Town, Ayesha Mukadam is an artist who uses food and performance to create social impact. She describes herself as "obsessed with the tapestry of the African landscape" and firmly believes that "if art is social, let's make the invisible visible". Her latest works have strong connections to heritage, memory and storytelling as well as issues of food security, such as her major 2020 installation A Seat at the Table hosted at the Rupert Museum in Stellenbosch. In this installation the artist staged a social food experiment, encouraging strangers to take a seat at the table inside the gallery and break bread with one another.  
Fumani Khumalo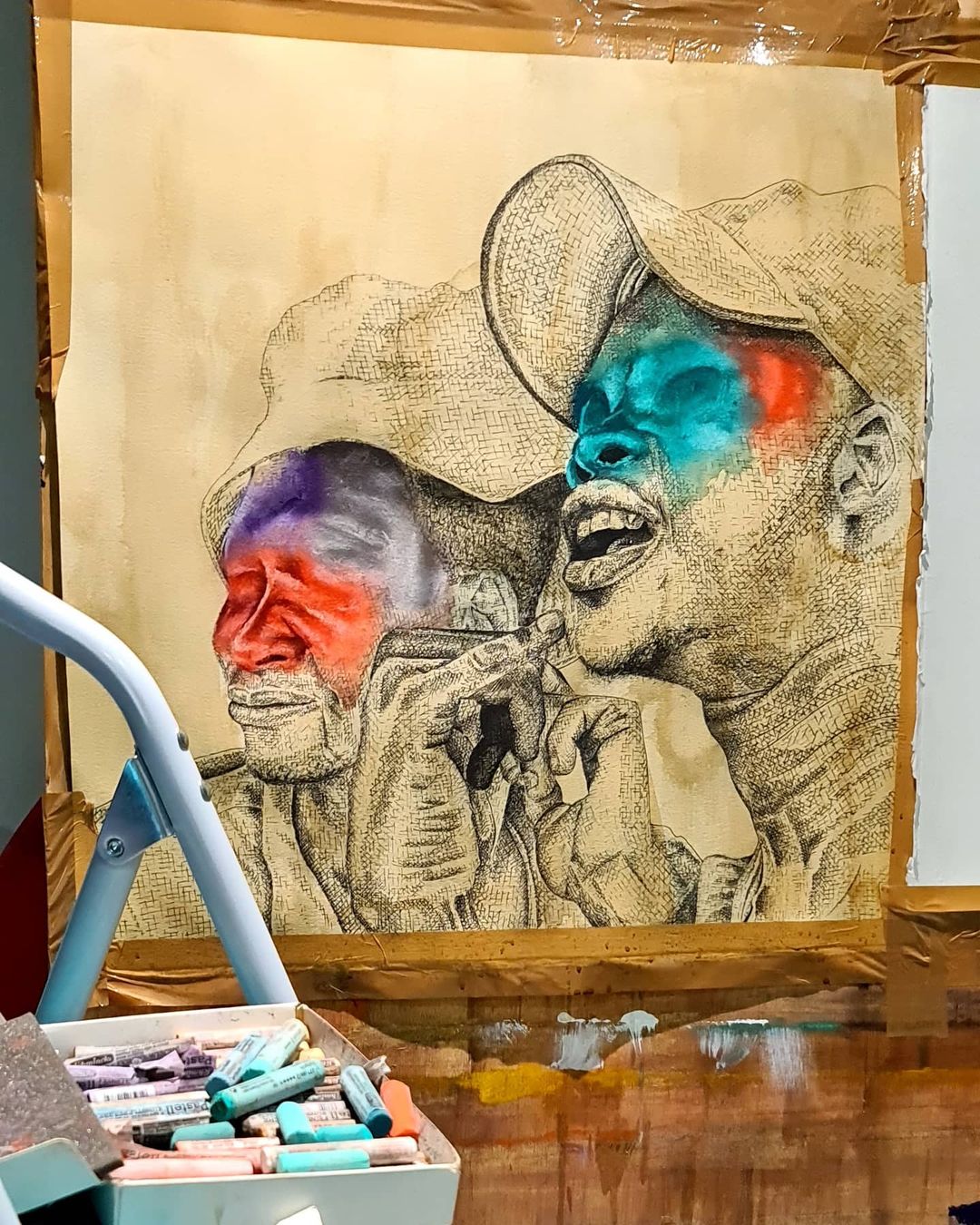 Pretoria-born, Joburg-based, Fumani Khumalo started his art journey graffiting the walls of his eager neighbours in Soshanguve and honed his talent through experimentation with illustration and art direction. In his distinctive and vividly coloured portraits he seeks to preserve ideas, knowledge and oral histories through imagery. Combining the ancient and the contemporary, through his granular life-like use of pastel and cross hatching ink on stained paper, he sees creativity as an act of cultural preservation and an expression of how language shapes our thoughts, feelings, ideas and the world around us.
Imaan Latif
Imaan Latif is a Queer Muslim, Kundalini yoga teacher, spiritual scientist, experience curator and social architect. Also known as Sovereign Shakti, she is a fine arts student as well as a teacher working in a range of interconnected spheres, all focused on developing and decolonising notions of identity and exploring physical and spiritual notions of light and shadow.
Isabeau Sophia Joubert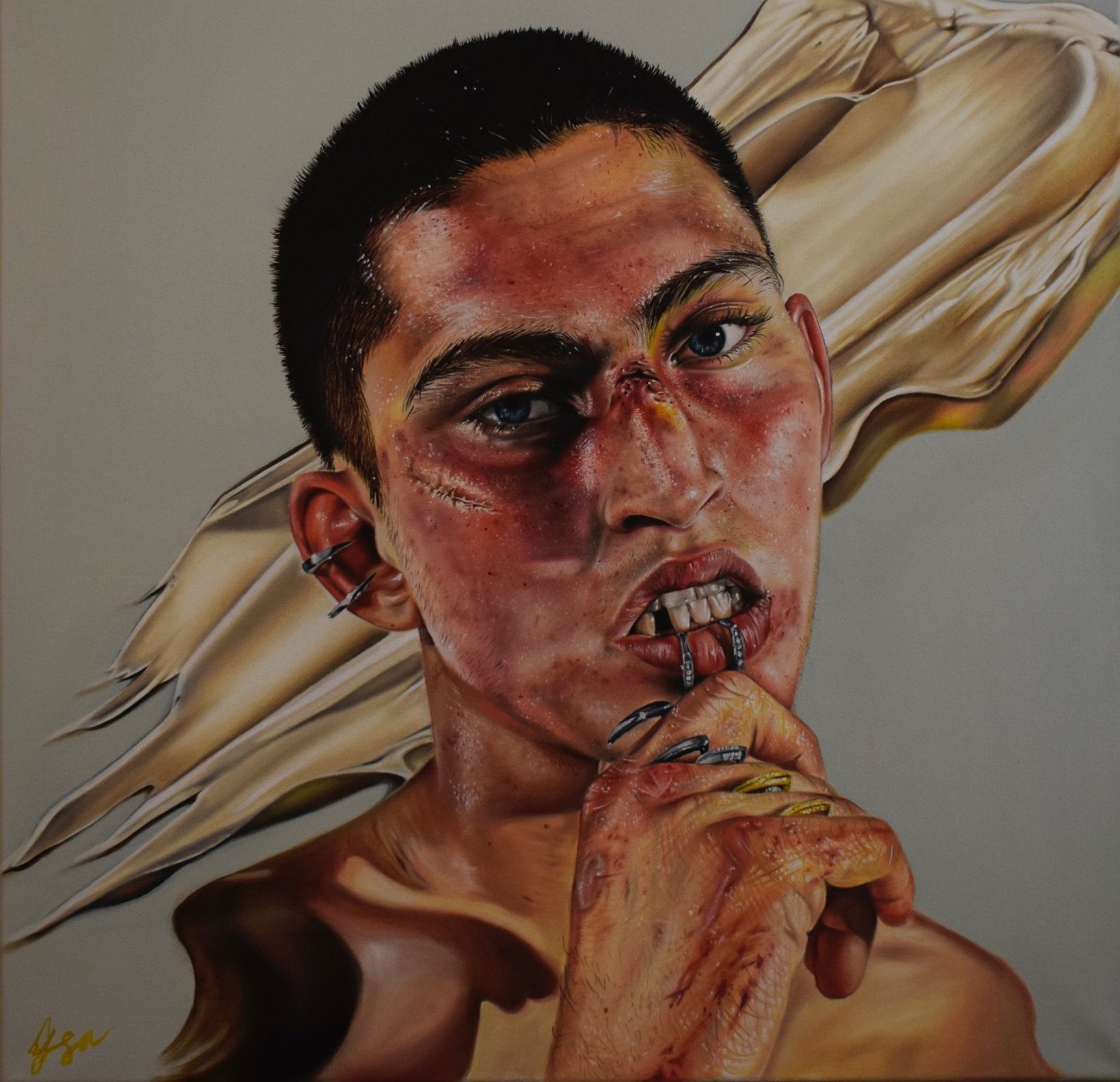 Employing realisim as a form of escapism in her distinctive, surreal paintings, Isabeau uses art to "create my own reality unbound by the laws of nature". Having been raised in a diplomatic family who were often on the move, Isabeau has lived in five different countries, a life that she admits was filled with "instability and unpredictability". Now based again at home in South Africa, she has always found art as a stable factor and a form of catharism, particularly during the pandemic when a life that was full of movement and change, suddenly stilled.
James Thomas (aka Hond011)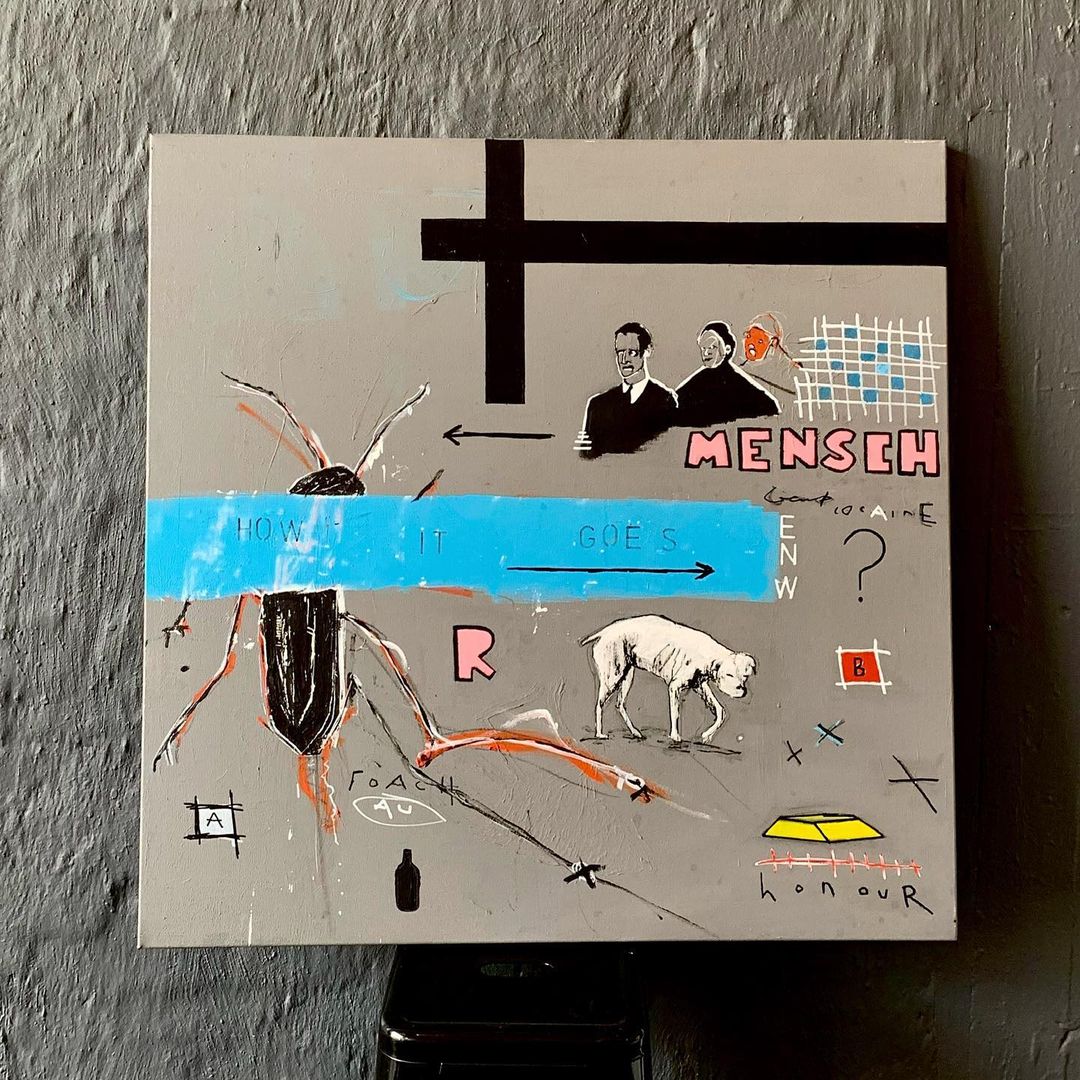 As a skateboarder since the age of 11 and later a bartender at various downtown hotspots, 24-year old Joburg artist James Thomas has spent intimate time on Joburg's inner-city streets. It is an experience that has given him a unique perspective on the visual, socio-political, and ambient landscape of the city that is vividly, and sometimes violently depicted in his confrontational artworks. His work seeks to be "a reflection of us, here and now", the glory of Joburg's organised chaos left on canvas. "Broken fingernails, bloody noses. Joy and resistance. Substance and politics. If one is to talk about Johannesburg. If one is to talkabout South Africa. It must be from the asphalt to the marbled foyer. I stick the needle in and draw out her story". 
Jennifer Zaharieva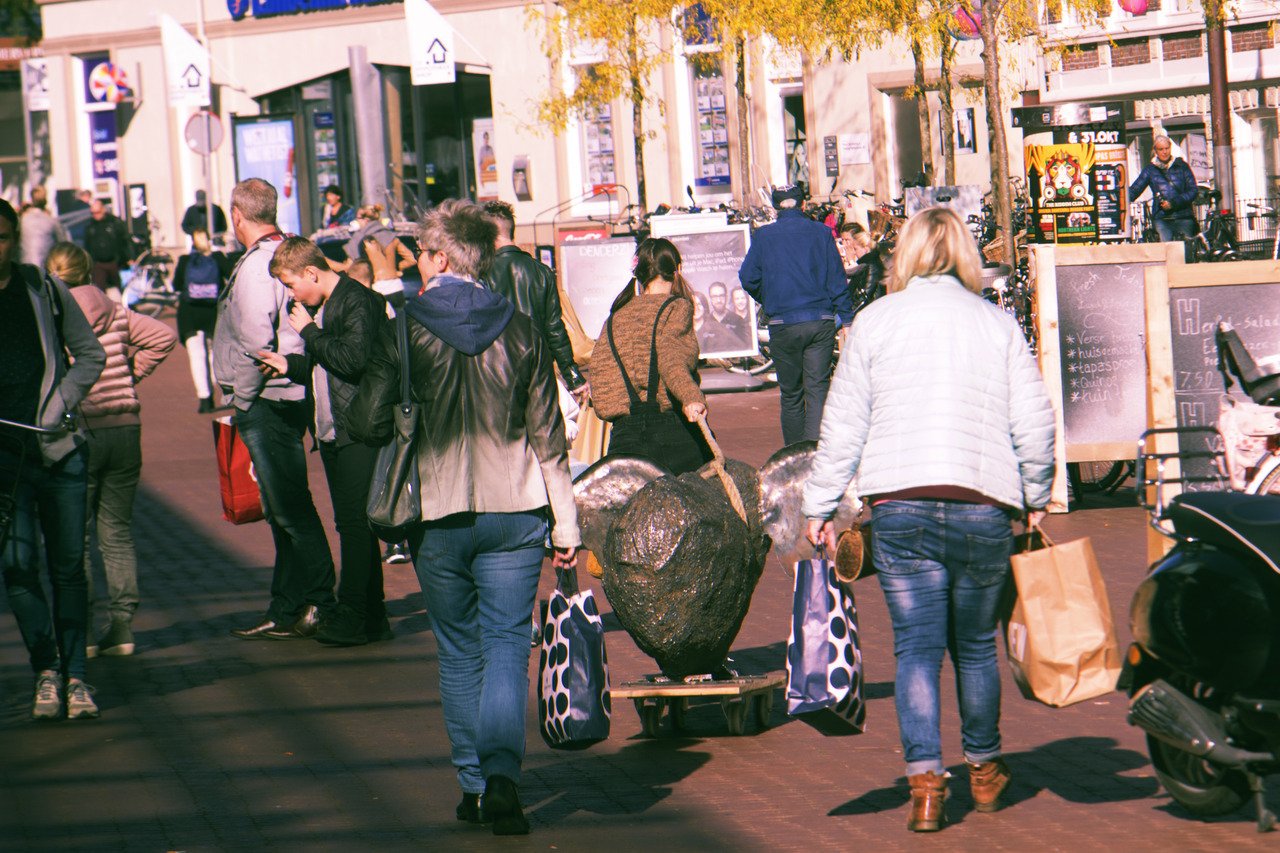 A powerfully autobiographical artist, Zaharieva is not afraid to expose the pains and vulnerabilities of her inner life, particularly her childhood fears and traumas. Her fearless approach is often moving and discomforting, bringing many layers of emotional depth to the experience of her art. Her choice of mediums is as broad as her subject matters are deep and include photography, installation, painting, performance and film.  "You never know what life will give you, in the same way I never know what artwork will intuitively speak through me. I just pick up the medium that feels right in the moment and I start". 
Navel Seakamela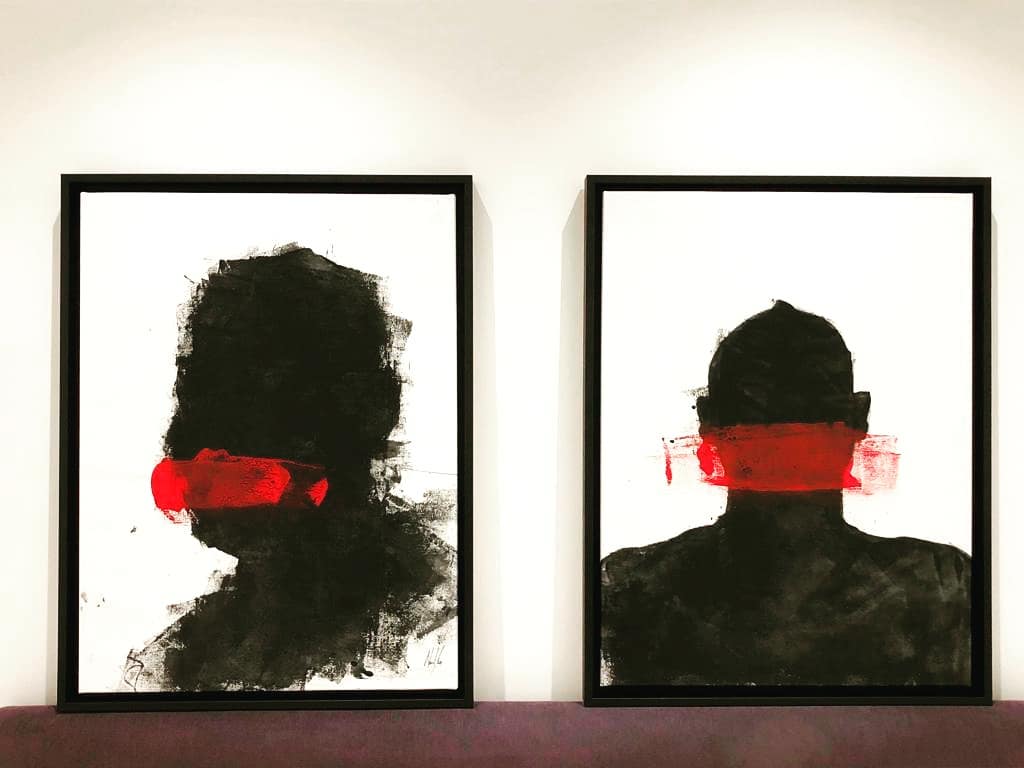 In his engrossing, large-scale 'ambient' portraits, Seakamela investigates the constant push and pull between consumer society, identity and gender norms in South Africa. Looking at notions of blackness, disenfranchisement and marginalisation, he also examines his own sense of self from both an aesthetic and conceptual viewpoint in his vividly coloured painting. 
Sizani Baloyi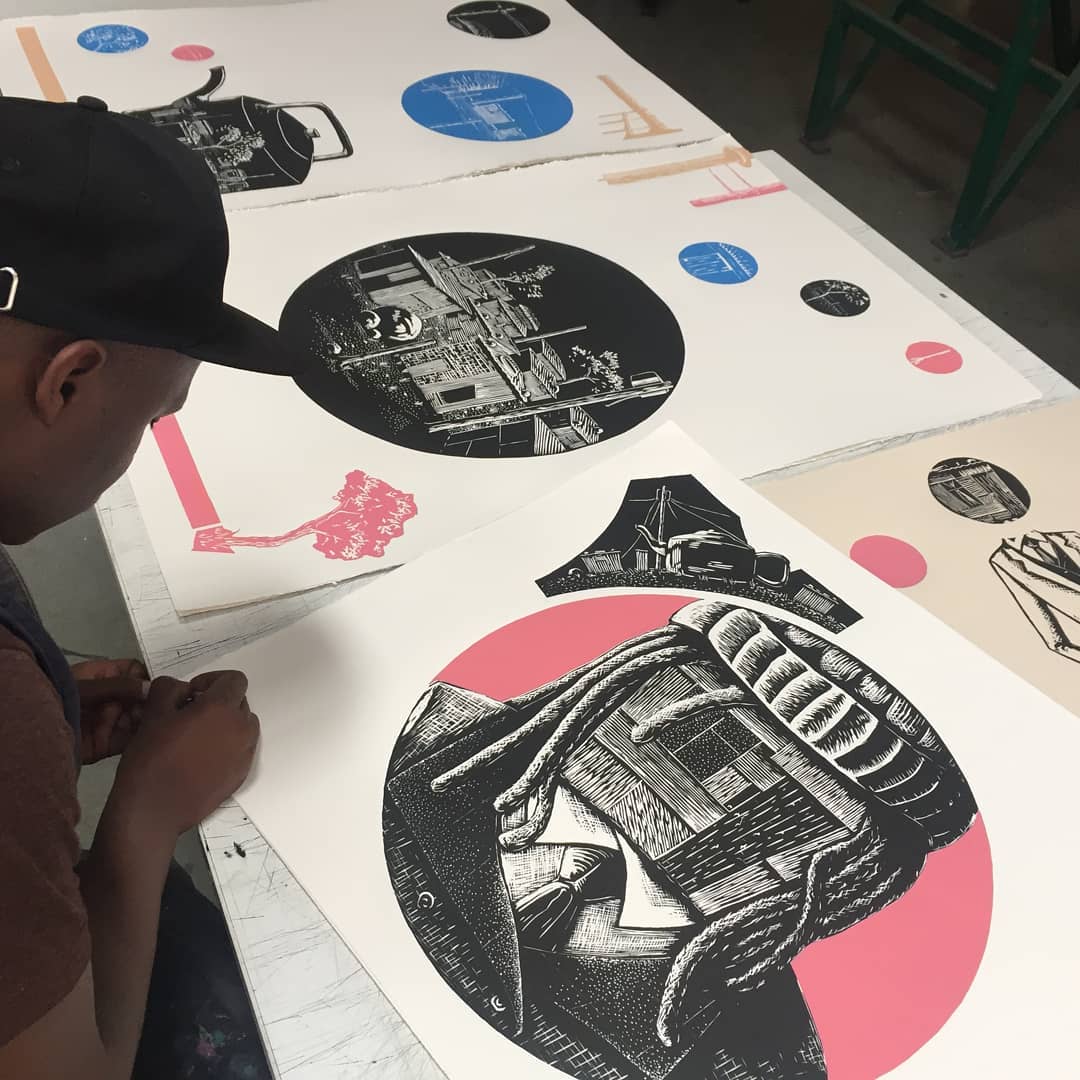 Born in 1994 in Giyani Limpopo, Sizani Baloyi is a young Soweto-based artist and graduate of the acclaimed printmaking studio Artist Proof Studios. Raised in a squatter camp, in his distinctive print works and drawings he tells a story of hope and the power of dreams, mixing imagery from his life and home to bring a new dignity to the popular imagination of squatter camp life. His engaging and unique works reinforce his beliefs that one should not be limited by their background or place of settlement, depicting the challenges, variety of structures and the beautiful and often unnoticed elements of squatter camp life that powerfully connect with the human instinct for a place to call home.
Tshepo Moloi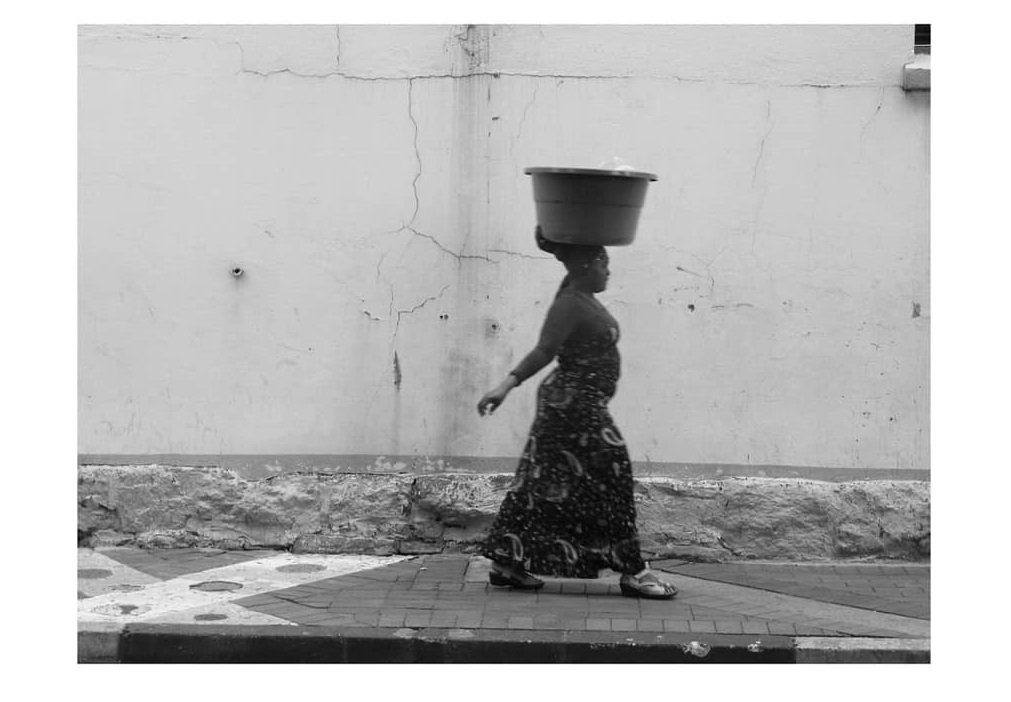 Joburg-based documentary and street photographer Tshepo Moloi is an artist dedicated to capturing the story of Joburg's communities and using the camera lens to bridge the gap between the seen and unseen. In his images he challenges audiences to look closer, ask questions and examine the images they see as well as themselves through the process of looking. In particular he brings notions of the spiritual and its relationship to the physical into his imagery. "I think existence is equated to the spiritual, that part that we mostly neglect because of external influences. We are spirits, and spirits are us" he says of his quest to match the seen and unseen through his camera lens.
Tickets for TAF 2021
Tickets for TAF 2021 are now on sale. The night before the official public opening you can buy tickets for the VIP preview and if you can't make it to the event in person you can also buy a VIP online preview ticket. Keeping to their commitment to making the art fair an inclusive space, at this year fair there's also special discounted access for students too. Buy your tickets online here.

VIP Hybrid Preview tickets (Sep 30 at 10 Fricker Rd, Illovo) cost R250
VIP Online Preview tickets (Sep 30) cost R200
General Access tickets (for access to the fair in Illovo from Oct 1–3) cost R150
Student Access tickets (for access to the fair in Illovo on Oct 1) cost R60