With its cool urban venue and bustling atmosphere, Maboneng's Market on Main, held every Sunday at the landmark Arts on Main building, is one of the most fun places to get lunch in the city on a Sunday. From Chinese yum cha to Nigerian jollof rice, Durban-style bunny chows and cheeky alcoholic ice-creams, here's our guide to Market on Main's most delicious eats.

Dishes by Deola
Your mouth might be on fire after you try Deola's Nigerian pepper soup, but the severe heat of the chilli is the mark of true authenticity when it comes to 'Naija' cuisine. Nigerian cook Deola prepares a new menu of traditional Nigerian favourites each week for the market, although all-time classics like jollof rice and egusi soup are always on the menu. 

Boozy Ice Cream
This fun dessert stand encourages you to 'lick responsibly' from its selection of homemade alcoholic ice creams. Flavours include tequila orange cinnamon, chilli chocolate vodka, and Jozi gin marmalade.

Santana Gourmet
A downtown Joburg maket favourite serving up spicy Portuguese pregos at Neighbourgoods market in Braamfontein on Saturdays and at Market On Main every Sunday.  Choose from spicy Portuguese chicken or beef served in a wrap with homemade prego sauce or for a snack nibble on some deep fried rissoles.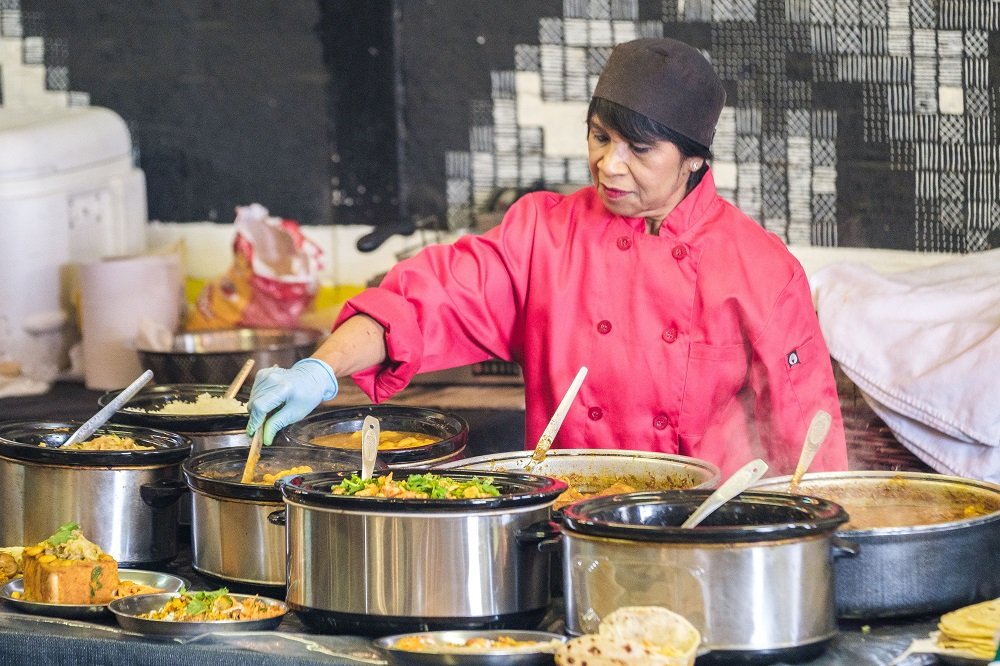 Durban Deli
Nothing soaks up a hangover quite like a good Durban curry. This family-run stall serves the day's best freshly made curries in a variety of forms; as a bunny chow (inside a quarter loaf of bread), in a roti roll or simply on a plate with curry and rice. The combo platters are great for sharing, while there are few more filling lunches on offer at the market than Durban Deli's chicken biryani.

Abu Asa Libnan
Abu Asa's beautifully presented stall, with the sauces and salads all neatly arranged in traditional brass pots, promises authentic hunger-busting Lebanese shwarmas. Choose from chicken, lamb, haloumi or falafel and then load up your wrap with homemade tzatziki, hummus, tahini, fried aubergines and salad.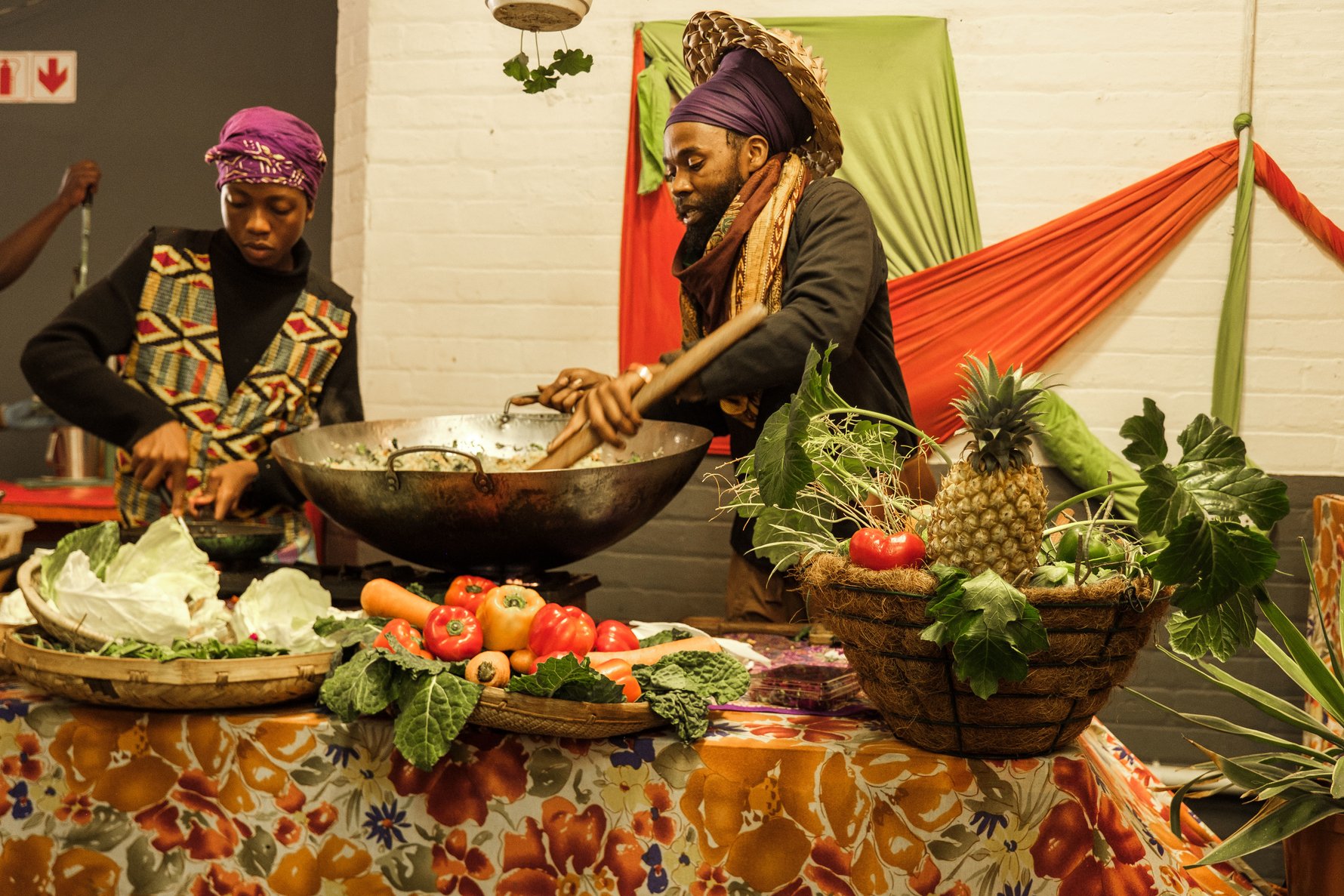 Exotically Divine
Popular with vegetarians and vegans, you can't miss this colourful stall with its brightly patterned table cloths, eye-catching display of fresh veg and laidback Rastafarian chefs dolling out super-healthy African vegetarian cuisine. Exotically Divine are firm believers in the power of 'Ital' the plant-based, all-natural diet followed by adherents of the Rastafarian religion. The menu includes the signature exotic stir fry, coconut fried rice and cassava chips, all served in a 100% recyclable cabbage leaf bowl.

Kitoko Kitchen
Specialising in traditional Congolese and Zambian cuisine, Kay and Heritier's superb central African catering company has a stall at the market every week where they serve up immensely flavoursome dishes that taste like the best of homemade. Once you've tried Kitoko Kitchen's signature fried karapauw fish meal you'll be planning every week around how to next get your fix of super spicy 'pil-pil' relish, moreish fried plantains, delicious cassava leaves with beans and traditional fried whole fish.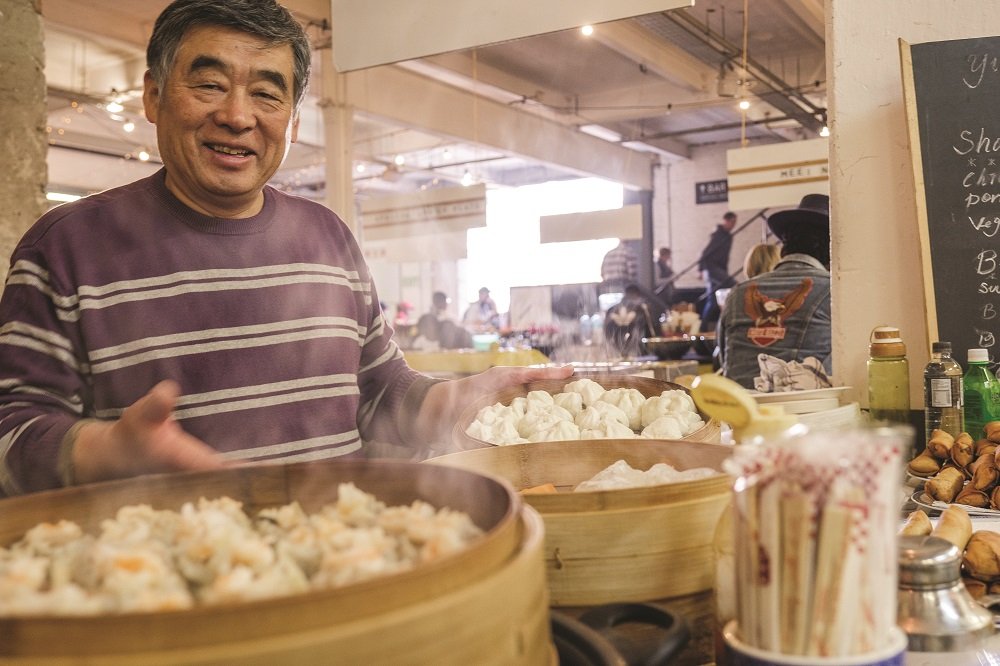 Li Kitchen
Named for the family matriarch Mama Li, the Yi Song family's yum cha stall is one of the longest running at the market, known for their consistently excellent dim sum that come with classic fillings like pork, prawn or chicken as well as more unusual contemporary twists like roasted butternut and spinach and feta. Dumplings come in various different shapes and sizes and there's usually a selection of steamed buns and baos and deep-fried spring rolls too, reflecting the wide variety of styles that one traditionally finds at a typical Chinese yum cha brunch.

Gala's vegan bakery
You wouldn't know from the look or the taste of Gala's enticing bakes that everything on the table is vegan. From vegan brownies to carrot cake, brownies, red velvet cupcakes and the most amazing gingerbread macadamia chocolate cake, there's not an ounce of butter, milk, egg or honey in sight. Even the most hardcore dairy lovers will be fooled.

Contessa La Cucina
A beautiful display of freshly-made Mediterranean meze, salads and tapas all made with locally sourced, environmentally-friendly and preservative-free ingredients. Contessa La Cucina operates its own deli in Bedfordview and as the name suggests there's an emphasis on Italian tastes. If you are looking for something filling try one of their pastries, or for a bar snack to go with your craft beer pick up a bowl of olives.