As of July 13 South Africa is now in lockdown prohibition, Part Two. You are allowed to drink alcohol at home (if you are lucky enough to have stockpiled an immense supply of beers and wine beforehand) but the sale of all alcohol products is prohibited for the time being. This also includes the delivery and transport of alcohol too, so be wary of any 'buy a Coca-Cola and get a free brandy' offers you might see around the place!

During the first round of lockdown prohibition, many South Africans took to brewing their own 'beers' including alcoholic ginger beer and pineapple beer. We too become temporarily obsessed with perfecting the mildly alcoholic pineapple brew (find our recipe here if you would like to try your hand) and had great success with making our own wild fermented alcoholic ginger beer by following craft brewer Tsikwe Molobye's recipe from his excellent ebook Lockdown Dranks.

This time around while the industry has had some time to pivot and adjust there are lots of new non-alcoholic drinks on the market to give you that all-important end-of-the-day tipple that you might be craving, without the alcohol content. 

Here's a look at some of the best non-alcoholic beers and mocktails currently on the market and where to find them in Joburg.
NON-ALCOHOLIC BEERS AND CIDERS
Heineken 0
Leader of the pack when it comes to mass-marketed non-alcoholic beers, Heineken 0 most closely resembles its alcoholic version and for a zero alcohol beer is surprisingly easy to drink with little of that strangely sweet after taste. You can find Heineken 0 on sale at all major supermarkets and at some petrol stations including BP.
Devil's Peak Hero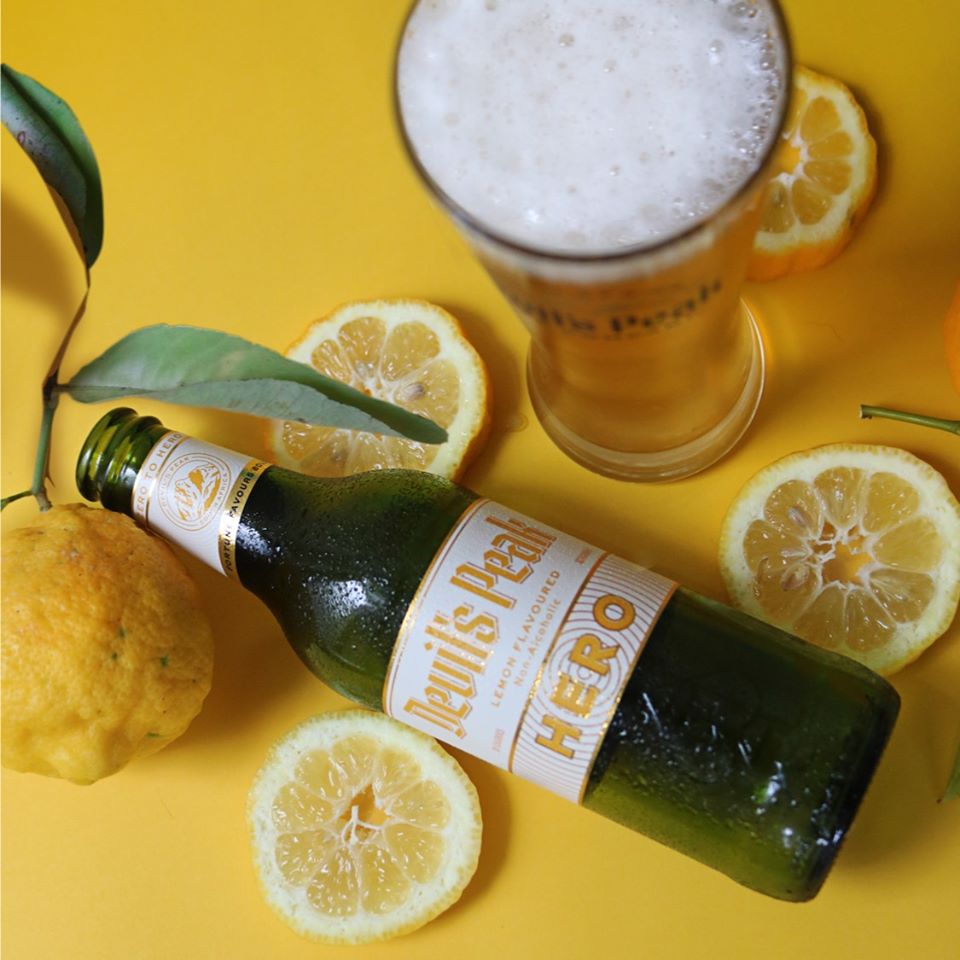 Made by one of South Africa's most successful craft beer breweries Devil's Peak, the zero-alcohol Hero range has been one of the great craft brewing successes of the past few months and is now on sale at Woolworths. Being a craft product it does have a deeper, more sophisticated beery taste than its commercial rivals and by buying it you also have the satisfaction of knowing that you are supporting South Africa's struggling craft beer industry. In addition to the 'original' flavour there are also now lemon and citrus flavoured options and a grapefruit version is also on the way.
Bavaria
Worth mentioning purely due to its ubiquitous nature. Bavaria, made by Dutch mega brewer Bavaria, is everywhere and all the major supermarkets are now selling this zero alcohol label as well as corner shops and even delis. We've found the lack-lustre carbonation and strange aftertaste make this a one beer per session kind of drink (if it's a particularly tough day at the home office we'd even just skip it entirely). That said it is still worth having on hand when your beer cravings are too strong to handle and your next batch of pineapple beer won't be ready for another three days. There's a 'classic' variety as well as fruit flavoured beers if that is your kind of thing (some people say the fruit flavours help mask the unusual after taste).
Little Wolf Virgin Nectar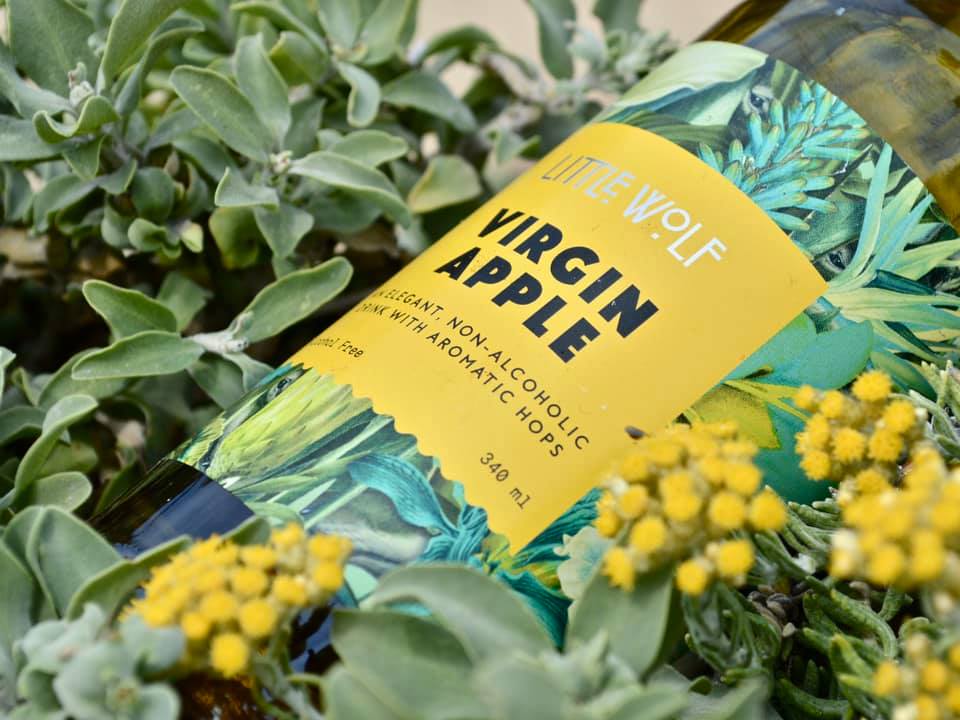 A tasty virgin apple cider with a mildly hoppy aftertaste made by South Africa's Little Wolf craft brewery. While it's certainly not cider, it still makes a great thirst quencher and if you happen to have some rum stashed away it is said that it mixes very nicely as a rum cocktail! Order it online via littlewolf.co.za and find it on sale at select Woolworths.
Savana Lemon
Launched in 2019, the first non-alcoholic cider to enter the South African market has really come into its own during lockdown. Pleasantly refreshing, it's a very drinkable zero alcohol alternative, although we recommend drinking it with reasonable speed as it seems to lose carbonation relatively quickly. Available at all good supermarkets and some petrol stations.
ZERO ALCOHOL G&Ts AND MIXOLOGIST MADE MOCKTAILS
Cordials and drinking vinegars by Julian Short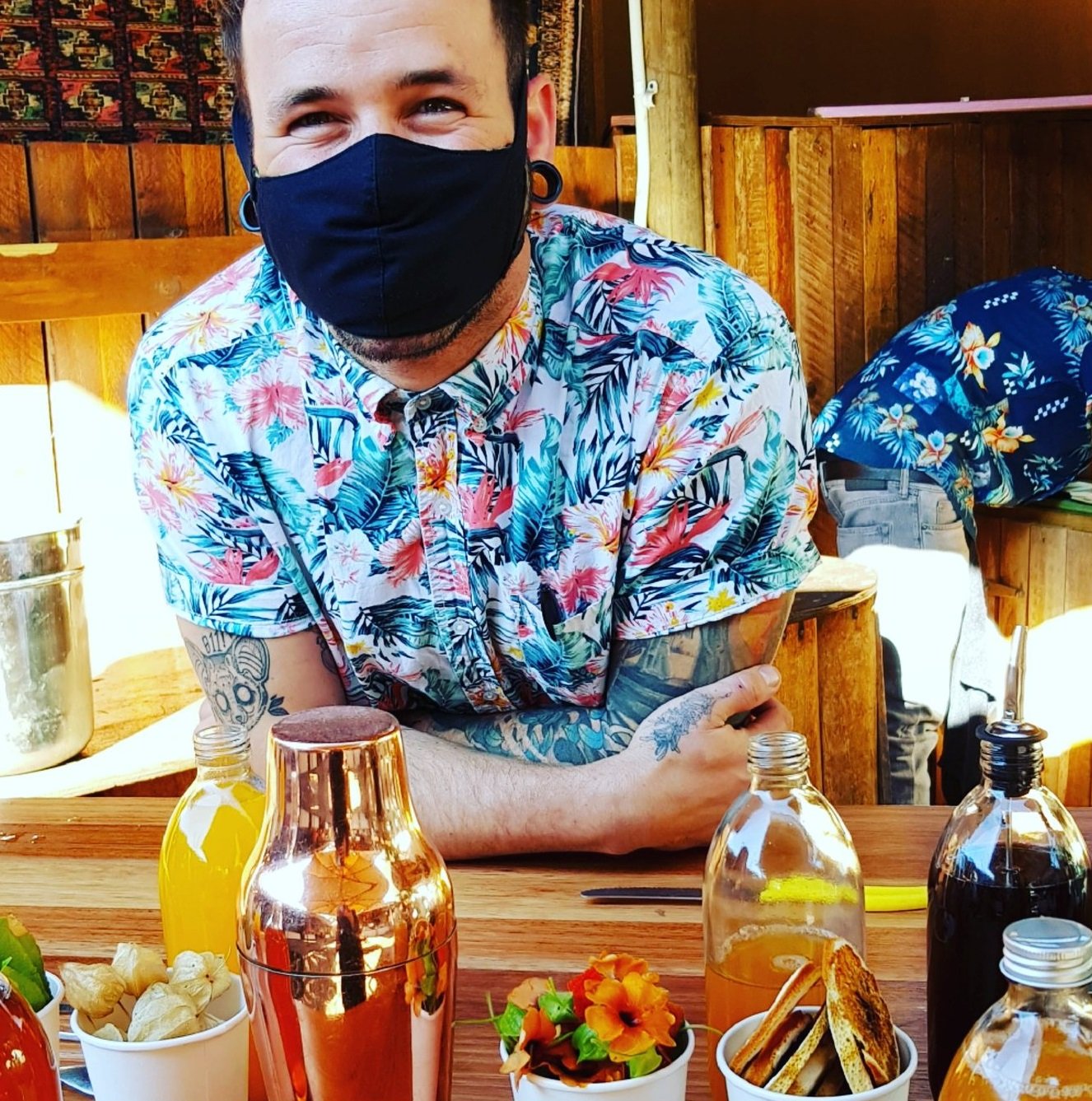 One of South Africa's top mixologists Julian Short (of Sin+Tax fame) has been busy during lockdown experimenting with low alcohol drinks and handcrafted organic cordials, and he even has a zero alcohol spirit in the pipeline too. His finely crafted cordials and drinking vinegars are made using ingredients sourced from local organic farmers, including pomegranate, granadilla, gooseberry and tea. Like many mixologists Julian believes that the enduring experience of social distancing and prohibition is changing the tastes and drinking habits of regular bar-goers and he foresees a future where mixologist crafted low and zero alcoholic drinks will become a norm on bar menus, as well as in drinks cabinets at home. Julian's cordials are delicious enjoyed as mocktails or you can mix them into an alcoholic cocktail at home with any available spirits, such as gin or vodka, that you might have to hand.

You can find Julian Short serving his fantastic new range of cordials and drinking vinegars, available by the glass and as bottles to take home, every Saturday at Bryanston Market (open 09:00 to 15:00, find Bryanston Market at 40 Culross Rd, Bryanston).
The Duchess
Launched in Cape Town in 2016, the original pioneer of the bottled mocktail, The Duchess, is still one of the best zero alcohol G&Ts on the market. Crafted using re-distilled juniper berries, complimented by aromatic layers of local botanicals, this is a satisfying and sophisticated drink that really does go down very well at the end of a just-another-day-in-a-pandemic. There are three varieties: The Botanical, The Floral and a herby version called The Greenery. The Duchess is now widely available nationwide (look out for it at Woolworths) and can also be ordered online from Yuppiechef. 
Just Short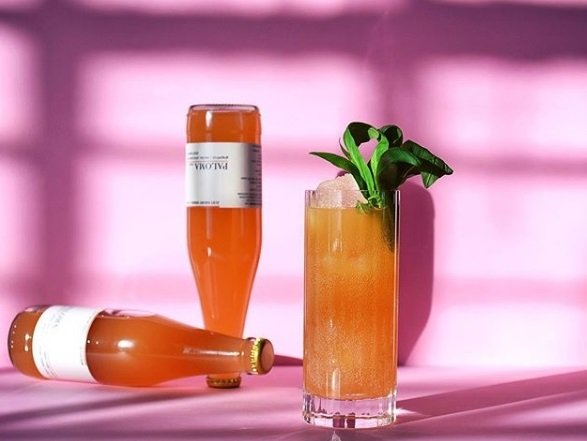 As the nation's cocktail bars remain out of bounds for the foreseeable future the mixology team from Molecular Bars, who can usually be found designing cocktail menus and launching pop-ups for some of South Africa's biggest brands, stepped back into the lab to conjure up the ingenious new Just Short series of mixers. The series was designed for people to add their own spirits at home and make a cocktail, but just short of some vodka we've tried the series straight as a mocktail and their concoctions are delicious! 

There are six Just Short mixes, favourites include: the East Asian-inspired Komodo flavoured with granadilla, pickled ginger, coriander, sugar and citrus and the zesty Paloma with grapefruit, vanilla, celery and pink peppercorn flavours. Order the Just Short series online at www.molecularbars.co.za
Ginifer Sober
Jacqueline and Jaco Grobler's Sandton distillery produces a steadily growing range of craft spirits that includes Angel Heart, a sweet and spicy liqueur and the Ginifer and Westcliff gin ranges. During lockdown the pair have worked to perfect an intriguing new non-alcoholic craft gin the Ginifer Sober.

This craft 'gin' is essentially a traditional botanical mix of juniper berries, coriander seeds, orris root, angelica root, black peppercorns and garden mint, enhanced with lime leaves or hibiscus tea, that is then soaked overnight and slowly distilled to produce a drink that can be enjoyed in usual gin measurements but which is entirely free of alcohol. There are two varieties; the Ginifer Sober Dry and Ginifer Sober Hibiscus. Order a bottle online via ginifer.co.za
CBD INFUSED DRINKS
Alcohol may be off the menu, but CBD infused products are certainly not and a number of new CBD-infused drinks have entered the market that are worth a try if you are partial to the occasional zol. It goes without saying that as with alcoholic drinks, CBD-infused drinks are intended for adults only!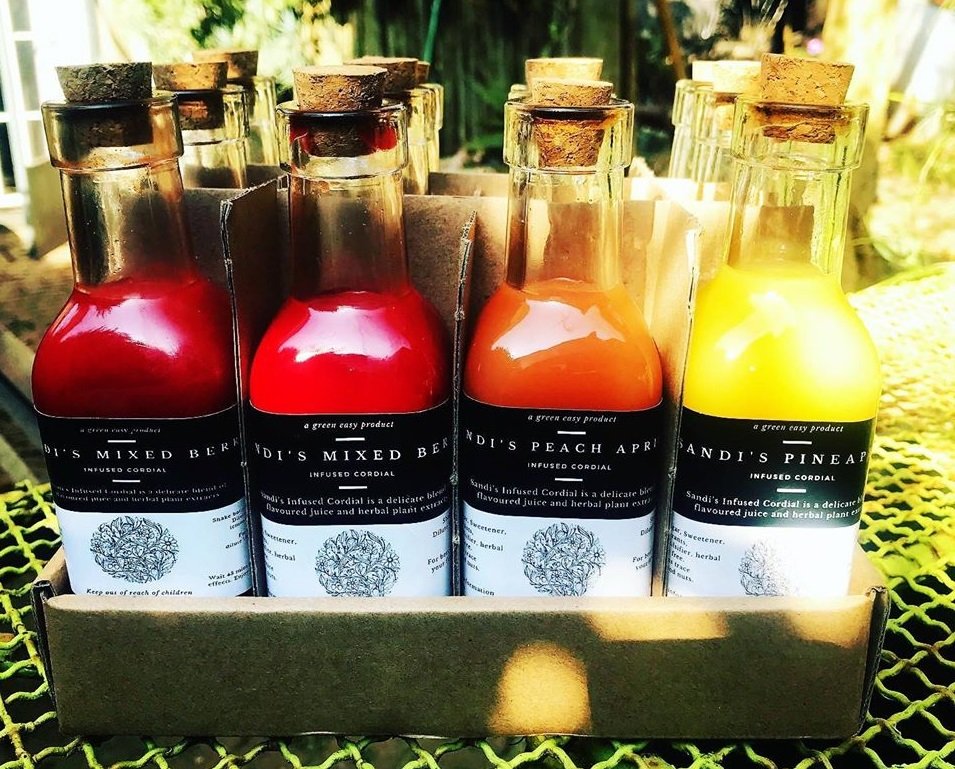 Sandi's Infused Cordials
Sold via online CBD product retailers Green Easy, you can also pick up these cordials at a number of local small businesses including The Roving Bantu Kitchen in Brixton. The cordial comes in five flavours; mixed berry, peach apricot, mango apple, granadilla and pineapple and is designed to be mixed with sparkling water or soda water to make a CBD-infused cocktail. This one will get you high! It is recommended to mix one part of the cordial with ten parts mixer of your choice. Infrequent cannabis users should stick to having half a glass of the mixed drink while regular consumers will find one full glass should be equal to a good spliff. You should wait about 45 minutes to an hour to feel the effects. 
Dope
Launched in 2019 Dope is a light, naturally-flavored sparkling water that is infused with a 6mg dose of hemp extract. You won't be high as a kite after a 330ml can, though we can say we found this drink both refreshing and relaxing after another long day of lockdown. Plus there's the added bonus of this being essentially flavoured water, adding to your daily required water intake with zero calories. There are three flavours to choose from; pineapple, grapefruit and watermelon. You can buy Dope online from yuppiechef or find them on UberEats.