Launched in Johannesburg in September 2019 by the non-profit Rupert Art Foundation, the tagline of  The Social Impact Arts Prize is "in search of world changing ideas". 

Established in 1984 The Rupert Foundation is the creation of the Rupert family, and supports a number of non-profit cultural organisations, including the Stellenbosch-based Rupert Museum which was started by the late Anton and Huberte Rupert in the 1940s. A prominent businessman, community leader, philanthropist and conservationist, Anton Rupert has left a deep and lasting family legacy. The museum showcases the family's unique private art collection and has undergone a recent renovation, underpinned by the idea of creating a "Museum Without Walls". 

The concept of The Social Impact Arts Prize follows from this boundary-breaking thinking and seeks to award an approach to the arts that creates a direct and measurable effect on individuals and communities. This is about encouraging the use of creativity to tackle social injustices, says The Social Impact Arts Prize Executive Chairwoman, Hanneli Rupert.

The work will need to be realised as a site-specific arts-based activity, project or programme, in and around the town of Graaff-Reinet and the Valley of Desolation in the Eastern Cape, South Africa. Graaff-Reinet was the birthplace of Anton Rupert. So, in essence the award will fund the implementation of a world-changing idea submitted for entry as a project concept, with a project plan, production timeline, and estimated budget.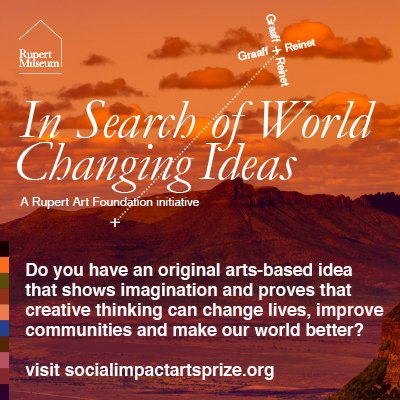 The award marks a refreshing shift to broaden inclusivity, as so much emphasis on the arts is placed on South Africa's major cities, rather than seeking to create an impact on communities who have fewer resources and where access is circumscribed by geography.

"It's incredibly exciting to operate in a time where the arts can be developed as instruments of change" says Director, Roelof van Wyk. "Imagining new ways of integrating art, society and the environment are being explored. We believe that a prize of this type will draw attention towards arts practices which can point towards societal change,"

So unlike many established art competitions that focus specifically on fine art or a singular artist, this innovative new prize seeks to reward arts-based projects and programmes that work in or across the spheres of education, employment, community, environment, technology and the arts.

The award seeks to frame art practices through a different lens by looking at the role they can play within a community, and is open to work by individuals and collectives across the disciplines of art, architecture, engineering, landscaping and environmentalism. The aim is to motivate ideas that can be a catalyst for change and inspiration. 

The Social Impact Arts Award is looking for groundbreaking ideas from creative individuals who have experience of managing a project, a team, and delivering on a plan, from concept to finished work. It encourages collaborations, collectives and partnerships in pursuit of this goal. 

Process for entry:
– Open from September 11, 2019: The call for entries
– To participate you need to register on www.socialimpactartsprize.org, and receive an entry number
– The closing date for registrations is December 1, 2019, and for submissions December 15, 2019
– Your entry will need to be uploaded online as a written proposal, photographs, sketches, a film or animation (or a combination of these formats) so that it can be viewed by the panel of international judges.
– The shortlist will be announced at The Rupert Museum in February 2020. 
 
A funded implementation phase for the project/s will follow. 

Visit www.socialimpactartsprize.com for all the details on the categories, criteria and submission requirements and to register to submit a proposal for the prize.