South Africa's national response to the Covid-19 pandemic and its rules regarding lockdown restrictions have a phased, risk-adjusted approach that aims to allow the country to slowly and safely emerge from lockdown while continuing to ease the burden on the country's health system. On September 16, 2020 the President Cyril Ramaphosa announced that South Africa would move down to a 'Level 1 lockdown' the lowest level of alert in the country.

Under Level 1 a curfew remains in place (from midnight until 4am) and restrictions on events are widened (based on 50% capacity venues may host up to 250 people for indoor gatherings and 500 people for outdoor gatherings).

Crucially for travellers on October 1, South Africa's international borders reopen for both business and leisure travel.

Which international borders are open?
Travellers arriving by air will only be allowed to arrive at King Shaka airport in Durban, OR Tambo International in Joburg or at Cape Town International Airport. Travellers using land borders will find that only 18 of South Africa's 53 land borders are operational (the same border posts which have been partially open for freight travel etc during lockdown). Generally speaking the larger and busier border posts which have more sophisticated facilities for screening etc are those which are open. Please note that all sea port borders are now open.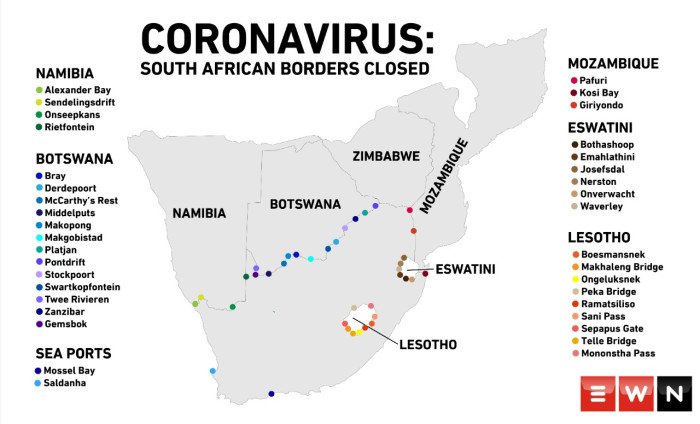 Do I need to have a test for Covid-19?
Yes. International travellers to South Africa will be required to present a negative test result for Covid-19 (a PCR test conducted within 72 hours prior to arrival). The test must be conducted by a certified medical practitioner and must have the name and signature of the person who conducted the test. You will need to present the test result at the border when you arrive for the mandatory temperature screening and to fill in standard contact tracing forms.  Those travellers unable to produce a negative Covid-19 test result on arrival will be required to quarantine at their own cost.

What if I get Covid-19 on holiday in South Africa?
On arrival travellers will need to provide proof of accommodation addresses that they will be staying at during their trip. If a person contracts Covid-19 while in South Africa they will need to isolate in South Africa for ten days at their own cost. Travel insurance will be mandatory for all travellers. 

What are 'high' risk and 'low' risk countries?
The government's list of 'high risk' countries will be reviewed every two weeks. The level of risk is based on the current rate of Covid-19 infections and deaths in a country. Those with a very high rate compared to South Africa are deemed 'high risk'. Leisure travel from high-risk countries is currently banned, although people from such countries are allowed to travel for the purposes of business, repatriation etc. To facilitate increased free movement across the continent, travellers from SADC and neighbourhing African countries are allowed to visit South Africa (subject to providing relevant documentation), although it should be noted that the borders of some African countries still remained closed for travel. South Africans are free to travel abroad to visit any country which currently allows South Africans to travel there. 

'Low risk' countries are those with a lower rate of infection and death toll than South Africa. If the passport of a traveller indicates that they have spent 10 days or more in a low-risk country before departure for South Africa, they will be considered as arriving from a low risk country.

Here is the list of 'High Risk' countries for whom leisure travel to South Africa is currently banned as of October 1, 2020. Note that the list of banned countries will be reviewed every two weeks.

High Risk Countries: Asia
Maldives
Nepal
India

High Risk Countries Middle East:
Bahrain
Iran
Iraq
Israel
Jordan
Kuwait
Lebanon
Oman
Palestine
Qatar
United Arab Emirates

High Risk countries: Europe
Albania
Armenia
Austria
Belgium
Bosnia and Herzegovina
Croatia
Czech Republic
Denmark
France
Georgia
Greece
Hungary
Iceland
Ireland
Luxembourg
Malta
Moldova
Montenegro
Netherlands
North Macedonia
Portugal
Romania
Russia
Slovakia
Switzerland
Ukraine
United Kingdom

High Risk countries: North and South America
​​​​​Argentina
Bolivia
Brazil
Chile
Columbia
Costa Rica
Ecuador
Guatemala
Guyana
Honduras
Jamaica
Mexico
Panama
Paraguay
Peru
Puerto Rico
Suriname
USA
Venezuela