From the exterior, SA Culinary Club, one of Joburg's most original fine dining destinations, doesn't give much away. Hidden at the end of the upper level of Bryanston's unremarkable Hobart Grove shopping centre, it's a relatively small and unassuming location to find a restaurant run by one of South Africa's most exciting young culinary stars, thirty-something Wandile Mabaso who boasts Michelin-star experience. 

From Wednesday to Sunday the SA Culinary Club opens its doors for a multi-course fine dining experiences (bookings only) under a variety of themes. We visited on a Friday night for the popular Cook & Dine Experience, joining a full house of 25 diners to enjoy a multi-course menu and live music in Mabaso's open kitchen, and to have fun plating up one of the dishes ourselves.

Joining us at our table while his guests slowly filtered in, Mabaso explained that he is still effectively building the restaurant. "I started in March (2018) and have funded this whole place myself. The first month I paid for the chairs, then the next month I was getting the fridges, after that the light fittings. Patience is a big part of who I am. It took me ten years to train to be where I am now, so I've been prepared to slowly build this up."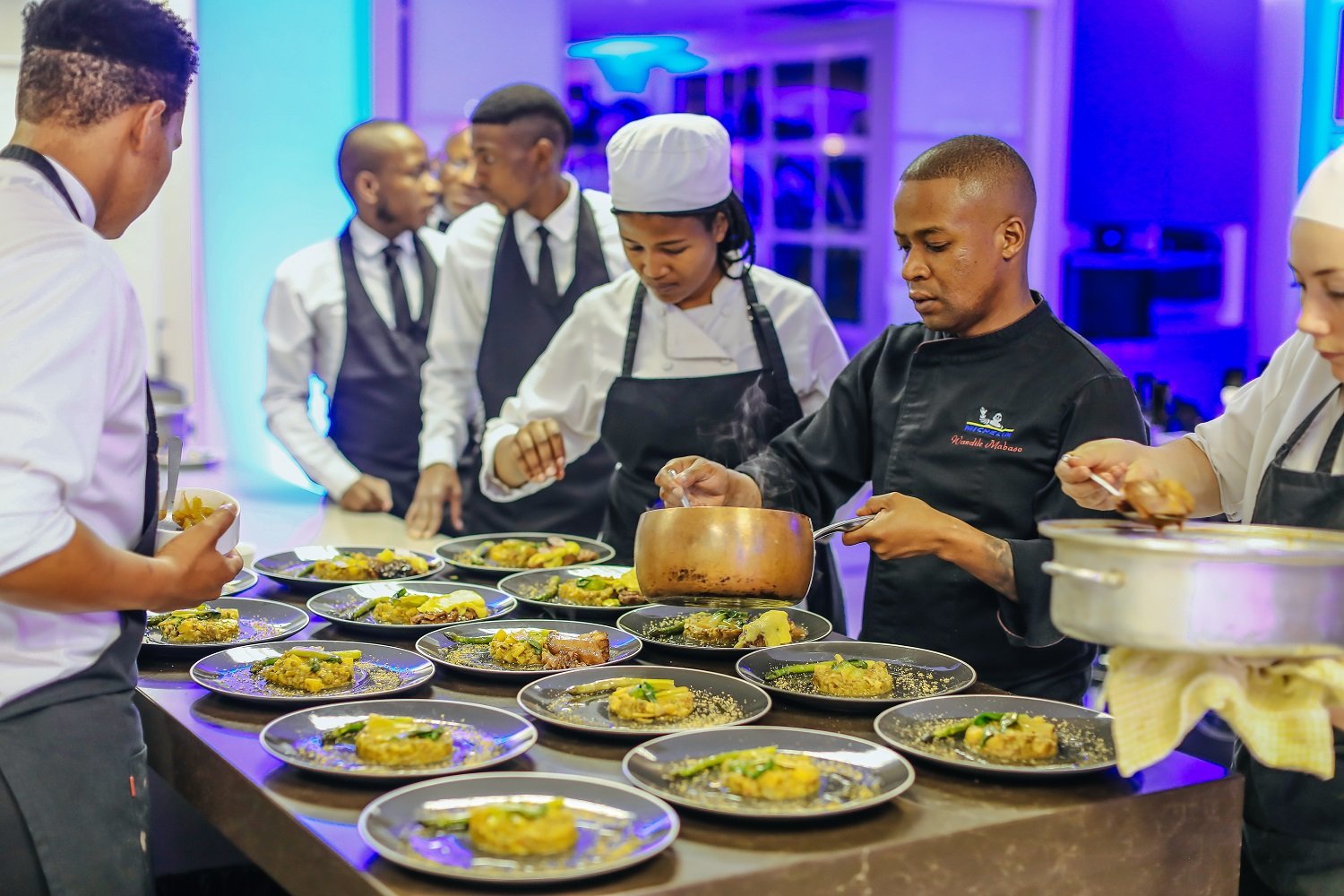 It's unlike the norm to which he has been accustomed. During the past few years Mabaso has been a part of the world's "temples of gastronomy" in Paris and New York, including most recently Alain Ducasse's two Michelin-starred Le Meurice.

"You walk in and the waiters are in Armani suits, the plates cost more than this entire meal, the best glasses, the best cutlery... I want to keep those standards here, but it won't be stuffy" he adds. At SA Culinary Club the dining room adjoins the kitchen and you can happily go and spy on what the chefs are doing. "I'm not trying to hide anything, I don't want to keep secrets from the diners" he explains, pointing towards the work station where his chefs are busy plating our first dish.

Hand in hand with the Soweto-born chef's patience comes his overarching passion for the art of food. "I've been cooking since I was ten. Before I even knew that cooking could be a career, I was obsessed with food. Not so much a big eater but I was always intrigued about how dishes are made. The older I've gotten the more passionate I've become". 

Determined to learn to be a chef, after leaving hotel school in South Africa, Mabaso chanced upon an opportunity to work at a restaurant in Miami, before moving on to try his luck in the notoriously fierce kitchens of New York's top restaurants.

"My first kitchen in New York was a really hard core place. Tough, difficult and abusive. The kind of place where if I'd say 'hey I'm Wandile Mabaso from South Africa' I'd just get 'Get outta here! You guys got stoves in Africa?'. I took a lot of that kind of stuff. But at the same time, being from South Africa made me stand out. I was always that guy who could pick stuff up quickly, who had a good work ethic and was really serious about learning. Standing out is also a good thing, opportunities come easier".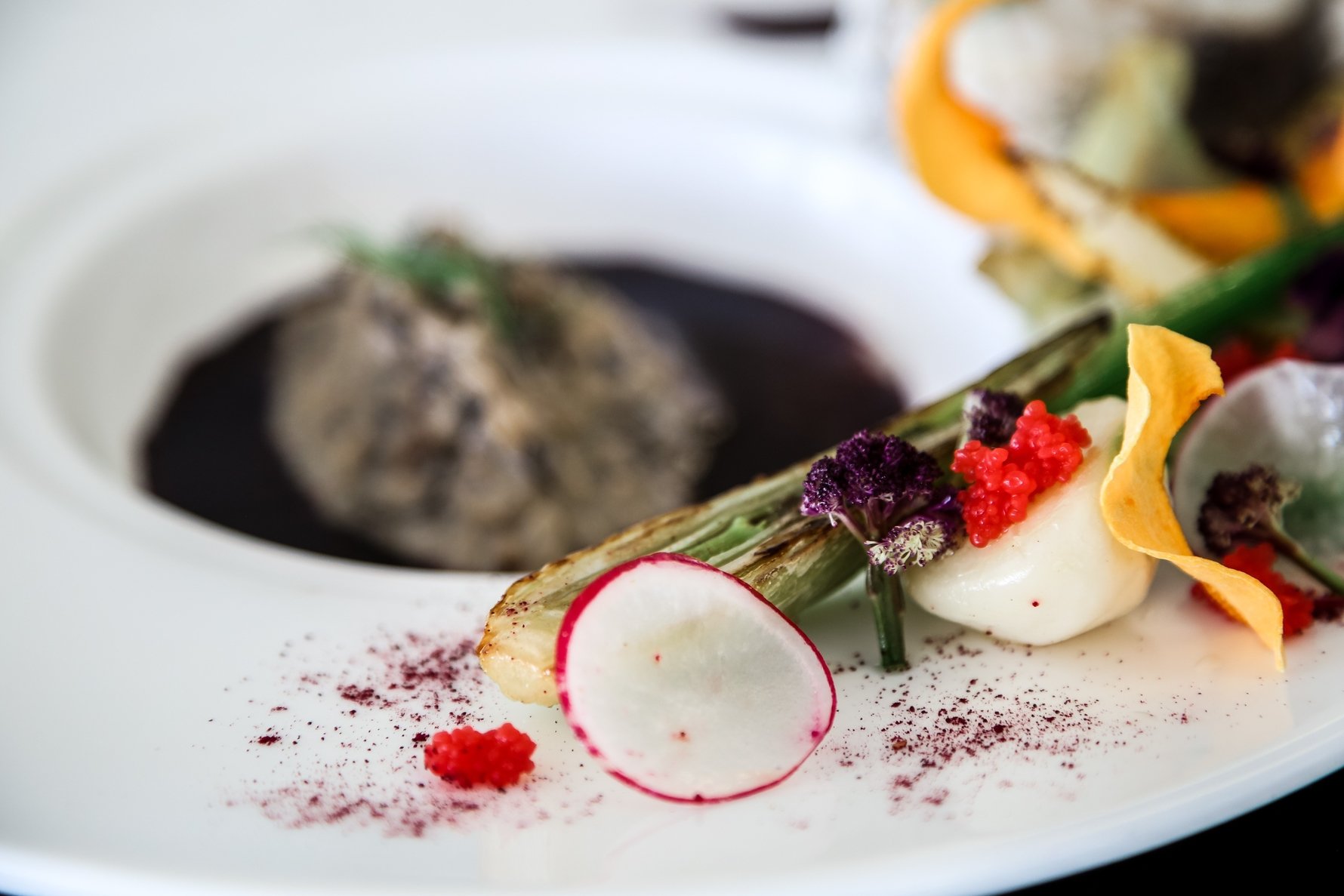 As our first dish arrives Mabaso explains how the excitement of working in kitchens with chefs from all over the world, including a stint at a French-Korean fusion restaurant (that's Brooklyn for you!), has given him an endless source of ideas about using different flavours, how to experiment and adjust dishes to find the right kind of perfection. 

On our beautifully arranged plate there's the melt-in-your-mouth chicken liver parfait (a South African influence he points out) cooked in chipotle (a nod to the Latin American chefs he's worked with), dainty lozenges of dumpling made from beetroot bread and a salsa verde with Korean cumin, garnished with a touch of lemon confit and an elegantly balanced swirl of red wine and chicken sauce finished with the faintest hint of 100% dark chocolate.

Obsessive about experimenting and fostering his own creativity after so many years of following the script in the kitchens of other chefs, Mabaso now endeavours to never serve the same dish more than three times "I have to do a lot of research. I go to markets at least once a week – unusual ones – where I can find stuff that you won't get anywhere else. Then sometimes I find something amazing, and my whole menu changes". 

He's fanatical about sourcing the very best quality ingredients.Our next course is a dish of sous vide sea bream, the fish  supplied by Abalobi, an NPO that has pioneered a 'hook to cook' network to allow chefs to buy directly from small-scale fishermen. Each fish has its own QR code that when scanned reveals who caught it, where, and even the boat they used (the fish we we tucked into was from Wilfred John 'Wilow' Poggenpoel's wooden 'bakkie' named after his daughter Nadine in Lambert's Bay).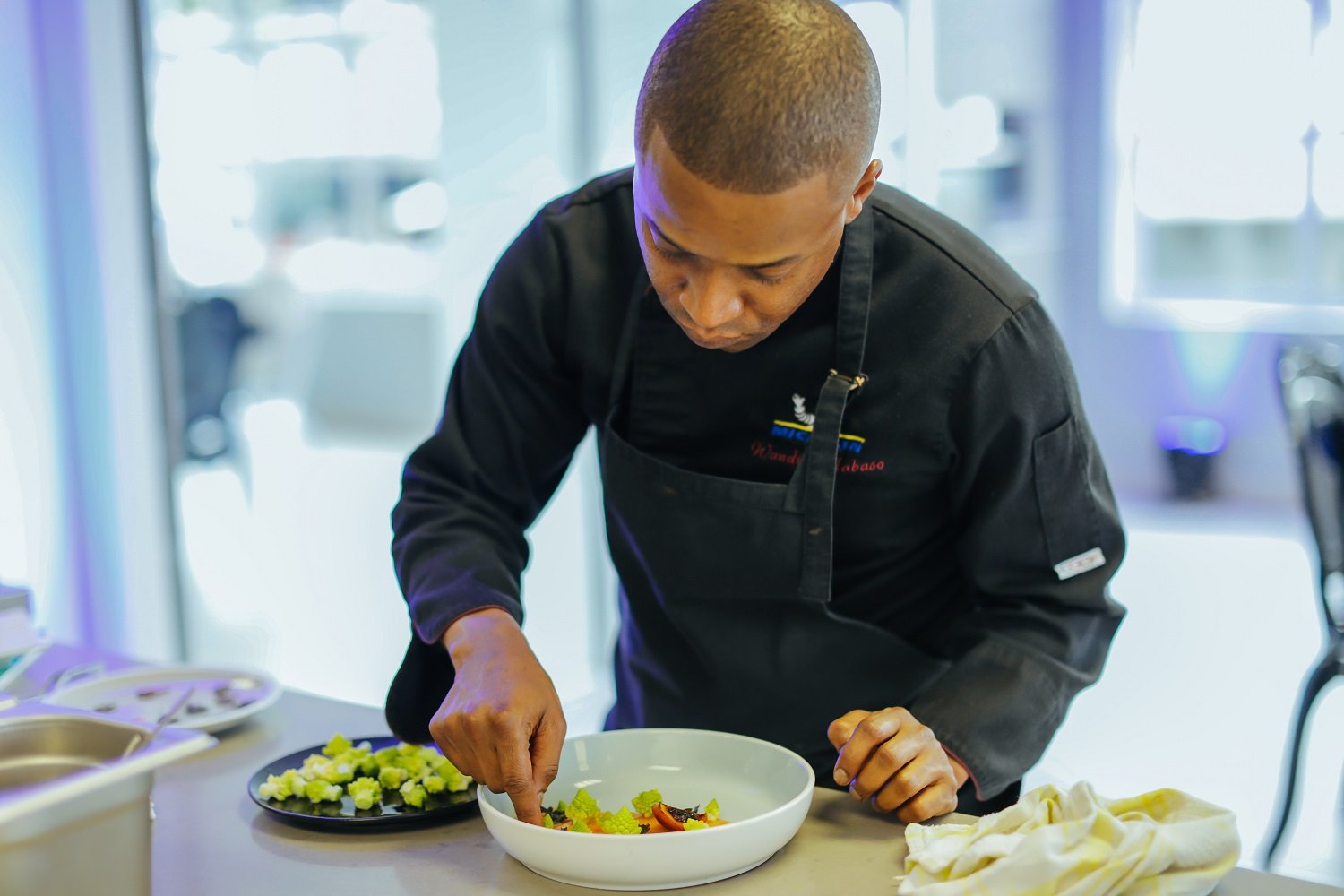 Invigorated by the live music and the opportunity to try our hands at rolling quenelles and plating with oh-so haute flourish in the kitchen (messy but fun), as our next courses arrive, this time prepped by the professionals again, the small dining room is positively bubbling with the chatter of guests having a good time and cracking open new bottles of wine (SA Culinary Club currently has no liquor licence and encourages guests to bring their own wines).

Mabaso leaves it to his pastry chef to take over the introduction of the final dish, a whimsical take on a cheesecake that looks remarkably like a fresh peach. This budding young pastry chef, with the help of a bursary which Mabaso founded, will shortly be leaving for Paris to learn from the best patissiers in the world. The bursary is a part of Mabaso's recognition that as a fine dining black South African chef with extensive Michelin star experience, he is a trailblazer and currently one-of-a-kind. "Part of what I want to do is to also inspire people. I want to be someone that a young black chef can look up to". 

By mixing local influences and modern European techniques with hyper-seasonal ingredients and a fair bit of experimentation, Mabaso's approach to the kitchen aims to shake up what South African diners look for on the menu.  "I've been out of the country for ten years and now I'm back what I am trying to do is revolutionise a lot of things. If we want our (South African) cuisine to be recognised globally, we need to start trying something different, stop replicating trends and create our own".  

"It's not just about the technique and what it looks like, there's art in food. What I love to do is to create food that makes you feel something. Food that speaks to the soul".

The SA Culinary Club is located at the Hobart Grove, Hobart Rd, Bryanston. To book call +27 82 818 2338 or email info@saculinaryclub.com.