A luxurious multi-course dinner for two, or what about an indulgent couples spa session? You can't go wrong with the classics to enjoy Valentine's Day with your special someone. For those looking for a more unique way to celebrate love from quirky movie screenings to dining on top of one of the city skyline's tallest buildings we have you covered too.

Here's our comprehensive guide on where to celebrate Valentine's Day 2019 in Johannesburg.
ROMANTIC FINE DINING SPECIALS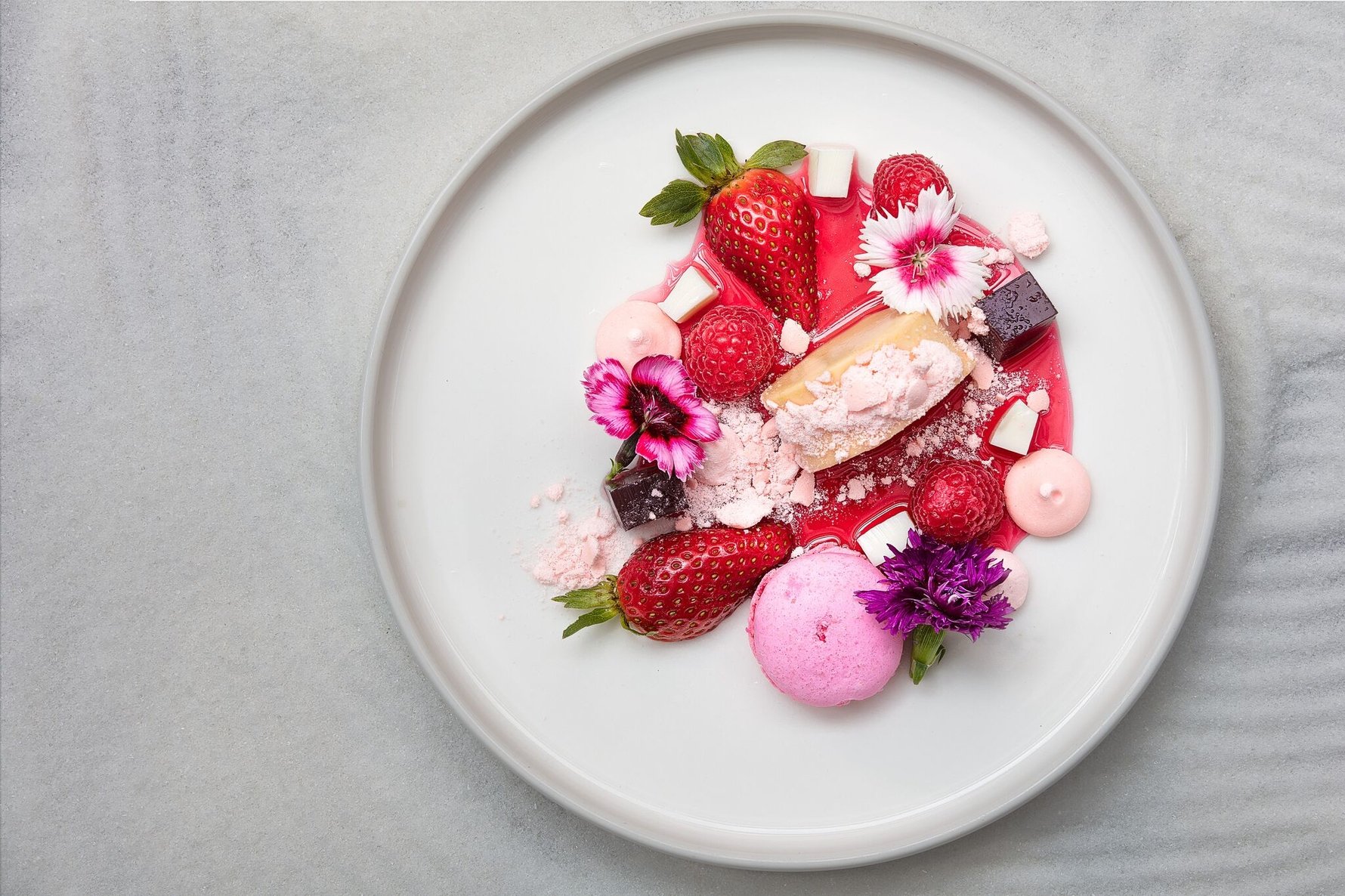 Thu Feb 14
Six-course Valentine's dinner at the Hyatt Regency's OneNINEOne restaurant
Treat your loved one to exclusive fine dining at the contemporary OneNineOne restaurant at the Hyatt Regency in Rosebank. The specially crafted six-course Valentine's dinner menu is inspired by the stages of love, from the first date (fresh raw oysters) to happily-ever-after (indulgent dark chocolate). With its open kitchen and cool face brick interiors, and with chef Xavier Francis at the helm pioneering fresh, locally sourced and seasonal ingredients, OneNineOne makes for a sophisticated and modern evening out. See the full Valentine's menu here.
Dinner costs R1300 per couple. Make your booking online or call +27 11 280 1188.

Thu Feb 14
Valentine's Dinner at The Course
Treat bae to a leisurely three-course Valentine's dinner, set to a playlist of love classics, at The Course in Sandton this Valentine's Day. Starting off with one of the restaurant's most popular speciality cocktails The Amethyst (Stretton's Triple Berry Gin, berry purée and litchi essence with a splash of lemon), starters include Spanish chorizo served on a bed of romesco sauce and accompanied by oven-roasted tomato and crispy roasted potato wedges. For mains choices include butternut panzerotti topped with a walnut crumble, mustard and maple glazed salmon with a citrus coucous, beef fillet or peri peri chicken. End off the meal on a sweet note with mini tiramisu cakes served with seasonal berries, coffee macaroons, nougat and candied edible flowers or a strawberry swirl cheesecake with champagne cream. 
The Valentine's dinner costs R850 per couple. To book contact reservations@thecourse.co.za or call +27 10 442 5967.

Thu Feb 14
Evening of romance at Emoyeni Estate
Enjoy a unique dining experience in one of Joburg's most characteristic heritage buildings, the Emoyeni Estate in Parktown. Built in 1905 by the same design minds behind the beautiful Rand Club and Corner House buildings in the City Centre, Emoyeni is a lavish Edwardian estate adorned with grand Tuscan colonnades and Palladian windows that open out onto sweeping panoramic views of the leafy northern suburbs. This Valentine's Day Emoyeni hosts an intimate dining experience that starts with a cocktail upon arrival, followed by four courses (paired with a tasting glass of wine) including roasted tomato soup topped with delicate truffle foam, and for dessert champagne jellies and coconut and rum sorbet atop a strawberry panna cotta.
Dinner costs R590 per person. Booking is essential. To book contact +27 11 544 6900.

Thu Feb 14 
Indulgent seven-course Valentine's dinner at The Bull Run restaurant
For an upmarket Valentines Day date in Sandton Central, head to the recently renovated The Bull Run and indulge in the steakhouse's mouthwatering seven-course Valentine's dinner, designed with discerning foodies in mind. Upon arrival you'll be greeted with bubbles, fresh strawberries and a palate cleansing lemon sorbet. Main dishes on the set menu include wild mushroom gnocchi with nut brown butter and jalapeno, and feta fillet wrapped in prosciutto ham. To end off the meal, there's a mix of both savoury and sweet with a wild berry creme brulee, a cheeseboard paired with nuts and dried fruit, and for that final romantic touch, chocolate truffles served with 1920 Brandy, all to be enjoyed in the restaurant's elegant setting of dark leather and bronze furnishings.
Dinner costs R495 per person. To book contact +27 11 884 1400 or email info@thebullrun.co.za.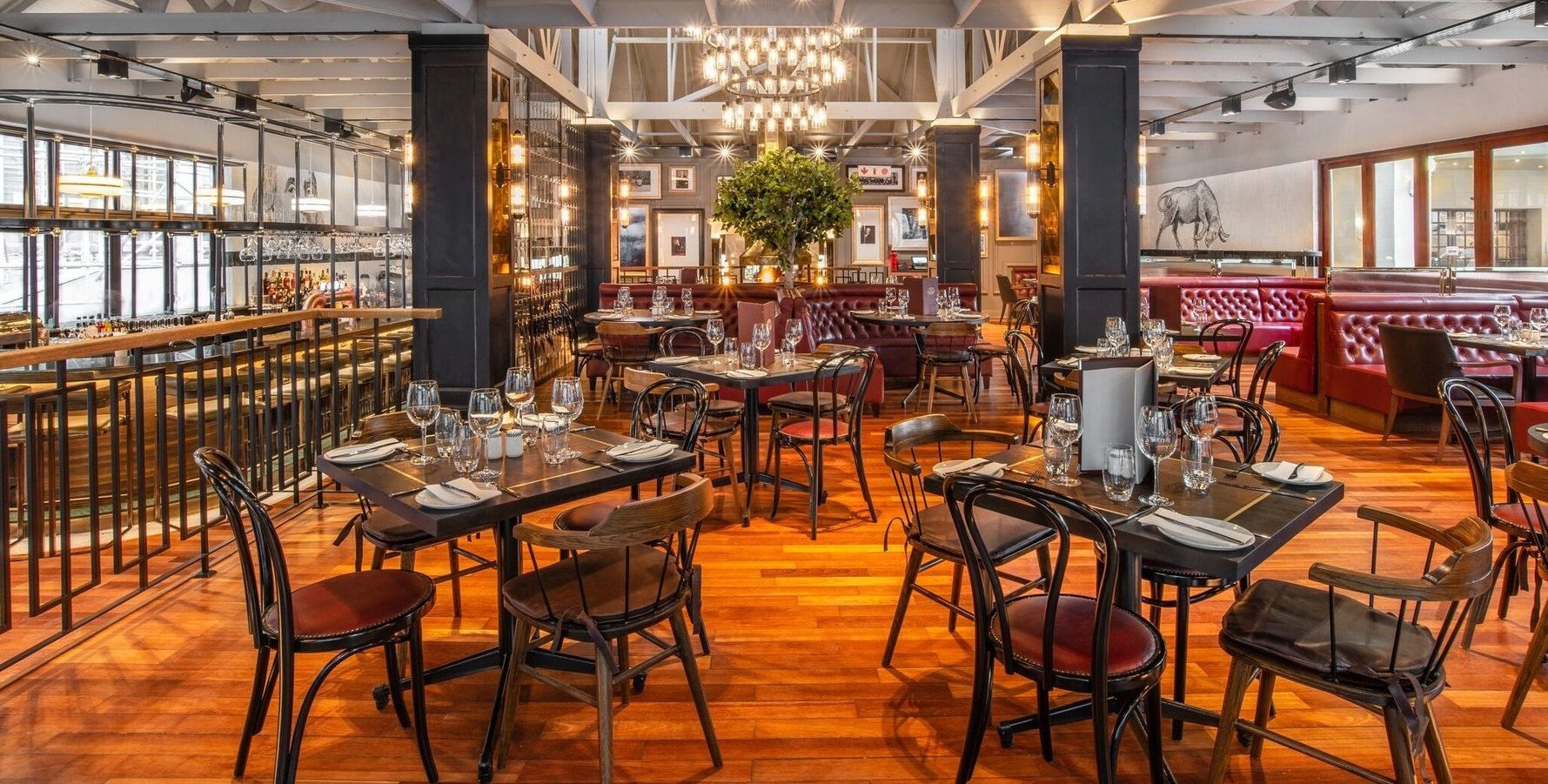 Thu Feb 14 from 17:00
Valentine's dinner atop Ponte City hosted by Dlala Nje
For an only-in-Joburg kind of Valentine's date, pull up a seat at 5101, a quirky events space on the top floor of the sky-high Ponte City building, run by community tour company Dlala Nje. Throughout the year Dlala Nje offers immersive tours of neighbouring Hillbrow and Yeoville. For Valentine's Day, Dlala Nje brings the the tastes of the community to you, providing a three-course spread of pan-African cuisine from local suppliers, including Ethiopian starters, Cameroonian-style grilled fish with vetkoek balls and a surprise dessert. You can enjoy this delicious feast while taking in the awesome view of the city skyline and listen to the sounds of SammySax playing smooth jazz on the saxophone. After the meal, you will descend into the inner 'core' of the tube-shaped Ponte tower for a secret movie screening, in a setting unlike any 'theatre' you've experienced before!
The dinner costs R550 per person. Space is limited to 30 people, so reserve your spot early. Make your booking here. 

Thu Feb 14 
Special Valentine's Menu at Amuse-Bouche Food & WIne
Amuse-Bouche at Morningside's Fairlawns Boutique Hotel & Spa is a refined and peaceful hideaway located an easy few minutes drive from Sandton Central. With its harlequin-patterned tiles, wall of mirrors and sedate chandeliers, Amuse-Bouche makes for a seductive and playful Valentine's Day date night setting. On offer on 14 Feb is a special six course menu with wine pairing that opens with a starter of scorched fig with truffle-whipped goat's cheese, moves into a choice of mains between veg and beef, and closes with an extravagent chocolate dome to share.  
The dinner costs R950 per person. Booking is essential. To book contact +27 11 808 7300 or email reservations3@fairlawns.co.za. 

Sat Feb 16
Valentine's Beer and Food Pairing at SAB World of Beer
Indulge in a five-course beer and food pairing at SAB World of Beer, accompanied by a live band. Start the meal off with smoked salmon rosettes on bruschetta, paired with Flying Fish Lemon, while mains include fillets of beef on creamy mashed potato with a pink peppercorn sauce and pearled vegetable and crispy pancetta, paired with Stella Artois. End your beer-themed Valentine's dinner on a sweet note with decadent chocolate brownies, espresso anglaise, berry coulis, vanilla ice-cream and phyllo pastry paired with Castle Milk Stout and Cream Ale.  
Dinner R500 per person, book here. 
MOVIE NIGHTS AND MUSIC IN THE PARK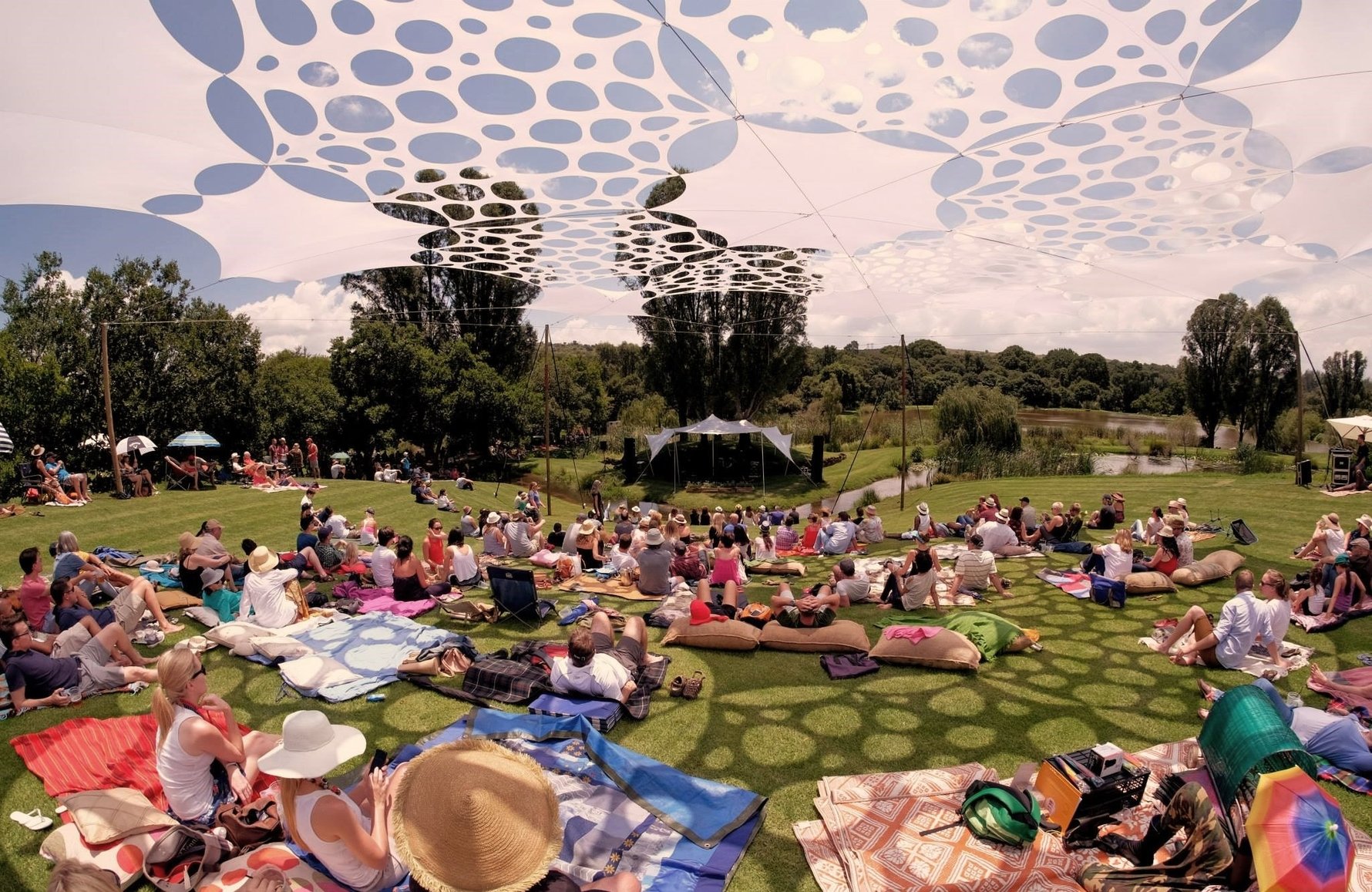 Thu Feb 14 at 20:00
Special Valentine's Day screening of True Romance at The Bioscope
The Valentine's Day screening of Tony Scott's cult classic is an annual tradition at The Bioscope independent cinema in Maboneng. Scripted by Quentin Tarrantino and starring Patricia Arquette as a prostitute and Christian Slater as the lonely Elvis obsessive she falls in love with, True Romance is certainly not your typical romantic film. For an alternative Valentine's date night out, book tickets to The Bioscope.
Tickets R50. Book your tickets online here.

Thu Feb 14 at 18:30
Moonlit Open Air Cinema Valentine's Edition at Emmarentia Dam
Moonlit Open Air Cinema and The Bioscope present a special screening of the flirty and fun classic Dirty Dancing at an outdoor pop-up cinema at the Emmarentia Dam Rose Gardens. As the stars begin to sparkle in the night sky on 14 February, unfurl your picnic blanket and unpack your basket of snacks on the garden lawns, and settle in with your partner (or a gang of friends) while you have the time of your life with an evening of dancing, romance and youthful rebellion on screen. Upon arrival, you receive a complimentary glass of sparkling wine and there will also be a fully stocked bar, food traders and an oyster bar open on site throughout the night. Parking available at the Thomas Bowler lot.
Tickets cost R50-R100 (kids under 3 free). Buy tickets online here.

Sat Feb 16 at 10:00 
Poetry & Jazz Concert at Nirox Sculpture Park
On the Saturday after Valentine's Day, Nirox Sculpture Park presents a romantic poetry and jazz concert. Set across 15 hectares within the extensive Cradle of Humankind nature reserve, the Nirox Sculpture Park is comprised of sprawling lawns, several meandering waterways and a contemporary art and sculpture exhibition. At just under an hour's drive from the City Centre, Nirox is the ideal setting for a romantic afternoon in the countryside. The lineup for the concert includes some of South Africa's finest poets and jazz musicians, including Lebo Mashile, Thandi Ntuli,Itai Hakim, Modise Sekgothe, The Brother Moves On and Morena Leraba. Gourmet food and drink is on sale from local vendors at the classy Epicurean Emporium. Events at Nirox usually sell out fast, so book your tickets now.
Tickets R330 online (R360 at the gate, kids under 12 free.) Book your tickets online here.

Sat Feb 16
Love Fest at Walter Sisulu Botanical Gardens
Pack a picnic and enjoy a romantic day outdoors while lounging on the beautifully tended lawns of one of Joburg's most loved green spaces, the Walter Sisulu Botanical Gardens. At the start of the day (from 08:00) the gardens hosts an outdoor market with a range of local food and drink vendors, as well as artisanal crafts and gift item purveyors. Pick up some snacks at the market to add to your picnic basket, relax on the lawn and enjoy the evening's entertainment (from 18:30) a live concert under the stars headlined by Johan Anker.
Tickets R100 (pensioners and students R50). Buy tickets online here.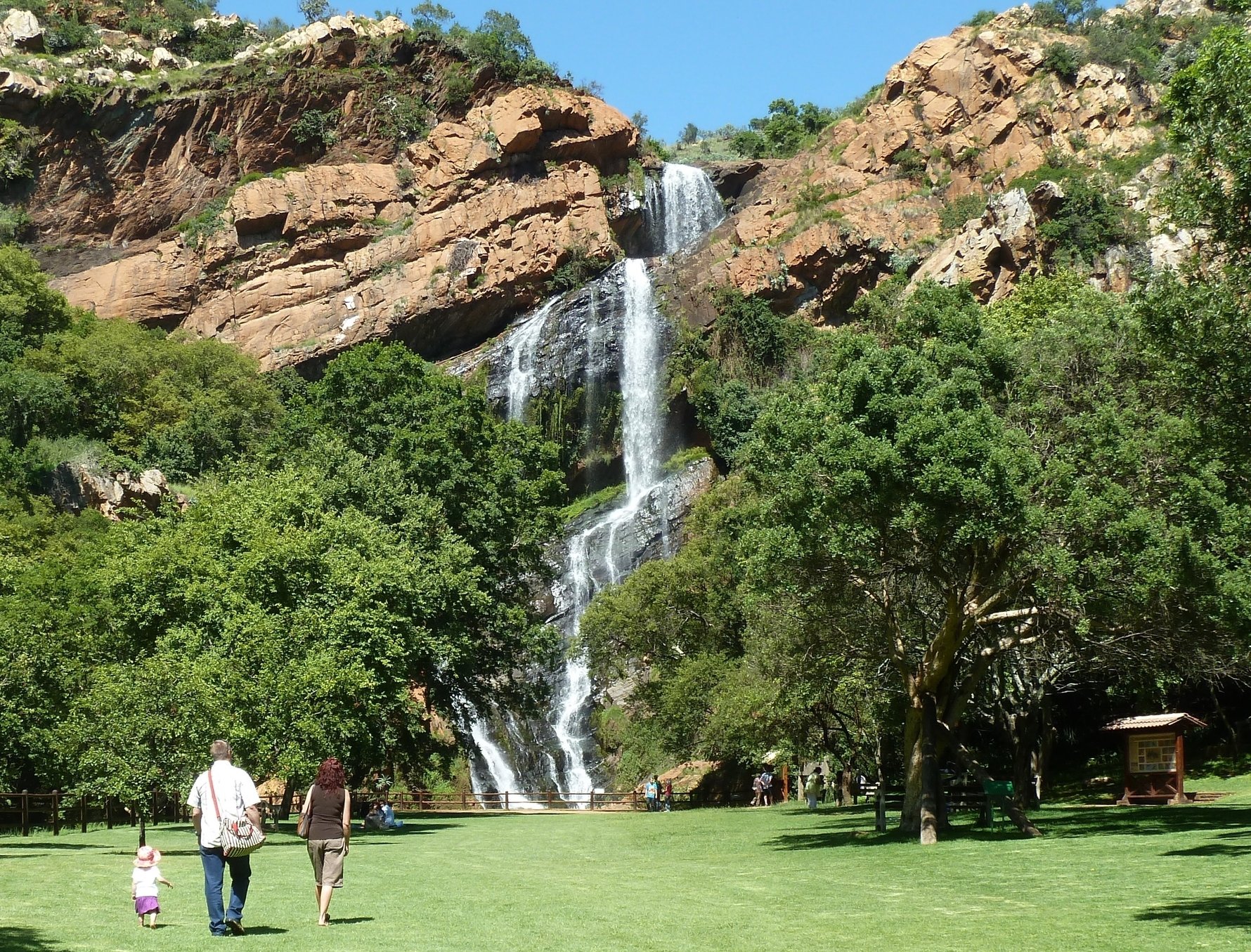 QUIRKY TOURS AND OUTDOOR THRILLS
Sun Feb 17 at 11:00 
Picnic in the Sky with MainStreetWalks
The Maboneng-based walking tour company MainStreetWalks presents a picnic on top of the city to celebrate your love in a uniquely Jozi way. At 11:00, you meet up at the weekly Market on Main in Maboneng where you'll be handed a picnic basket to fill up with treats from the overflowing food stalls, before hopping on a shuttle bus to be whisked away to the iconic Carlton Centre and a 50th floor private viewing deck. There you can spread out your picnic blankets, dig into your basket of mouth-watering winnings (and perhaps pop a bottle of your own bubbly), and enjoy a quirky urban picnic with a view of the city skyline. MainStreetWalks guides will present an entertaining talk on the city's history while you enjoy your brunch. The event concludes at approximately 13:30.
The Picnic in the Sky costs R300 per person (kids aged 5-12 R100). To book email info@mainstreetwalks.co.za.

Book a private hot air balloon flight over the Cradle of Humankind
For a totally unique Valentine's Day date that will get both your hearts racing, book a hot air balloon flight over the UNESCO World Heritage Site the Cradle of Humankind with Air Ventures. For the ultimate in romance, book one of the private, one hour flight options for two passengers only. The Exclusive Classic Flight for Two takes you and your love up into the skies while you sip on champagne and watch the sun rise with panoramic views of the Cradle, while the Exclusive Safari Flight for Two soars over several game reserves within the Cradle with the hope of wildlife sightings below. Browse Air Ventures' selection of flights here.
The Exclusive Classic Flight for Two costs R7767 and the Exclusive Safari Flight for Two costs R8171. Make your booking online here.


OVERNIGHT STAYCATIONS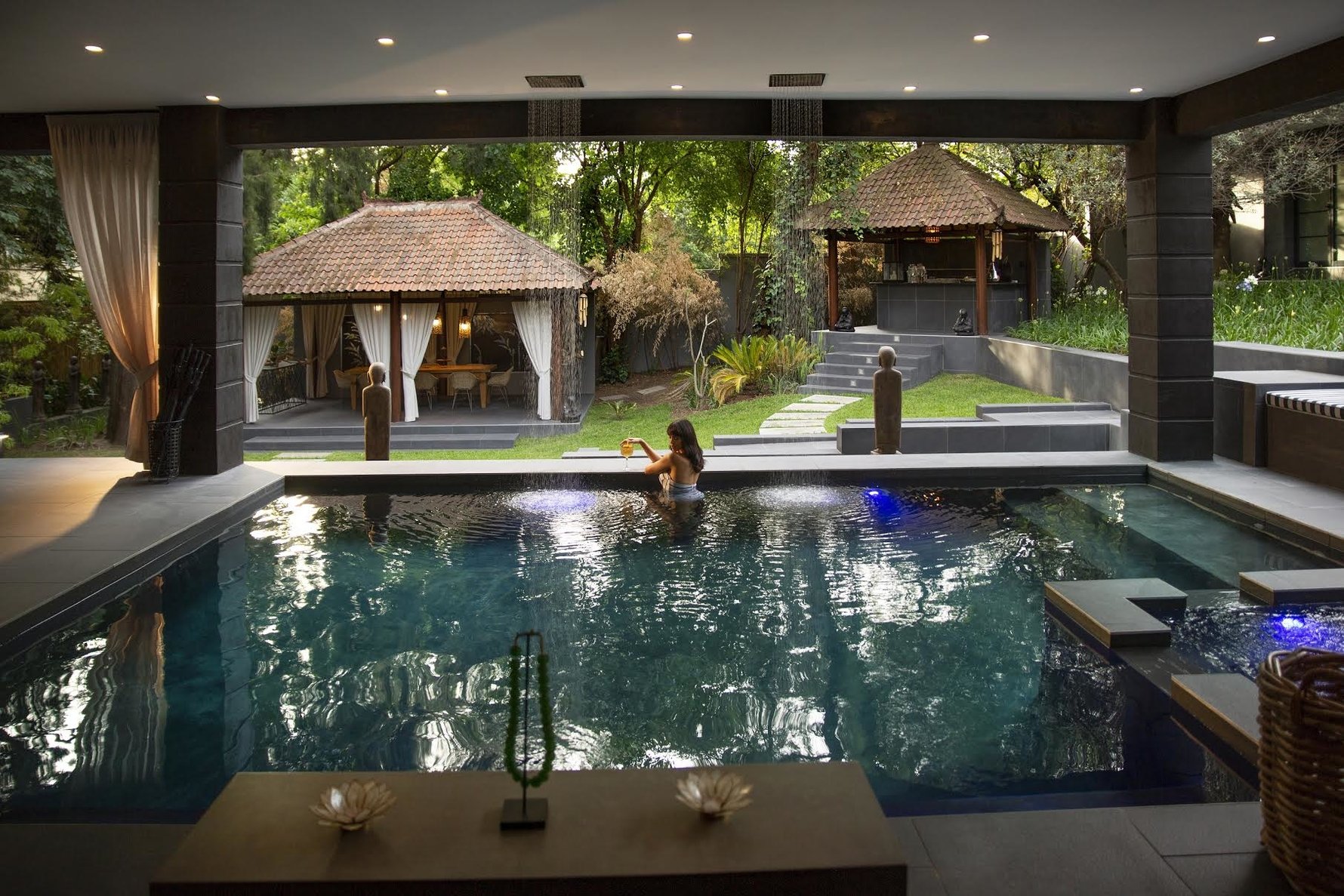 Thurs 14 Feb
Couples spa session and overnight at The Fairlawns Boutique Hotel & Spa
Spend an indulgent evening and overnight secluded in your own private Courtyard Suite on the sumptuous grounds of The Fairlawns Boutique Hotel & Spa, recently renovated (Nov 2018) to replicate the exotic and calming atmosphere of a Balinese luxury oasis. The evening package begins with a 30-minute back, neck and shoulder massage for two, followed by a six-course dinner in your suite with a complimentary bottle of bubbles. Breakfast the next morning is also included.
Cost is R5900 per couple per night. Booking is essential. To book contact +27 11 808 7300 or reservations3@fairlawns.co.za.

Thurs 14 Feb Sat 16 Feb 
Valentine's weekend escape at Lebo's Soweto Backpackers
Book a uniquely Jozi 'staycation' for Valentine's weekend at Lebo's Soweto Backpackers, where you can unwind while Lebo's team takes the reins. The all-inclusive overnight starts when you check into your private accomodation at Lebo's 22-bed backpackers hostel. As the sun starts to set, you will meet up with other couples to cruise around the lively township Soweto on an informal guided tour for approximately one hour. When you pull back into Lebo's you can freshen up, before rejoining the group for dinner and dessert at Lebo's Open Air Restaurant. Breakfast the next morning is also included. Book one overnight any day from Thursday 14 Feb to Sat 16 Feb.
Cost is R950 per couple. To book email lebo@sowetobackpackers.com.