With its amazing cultural diversity, traditional South African cuisine is a mix of flavours and influences and great fun to explore. From township shisa nyama hangouts to inner-city streetside braai stands, South Africans love their grilled meats. Then of course there are the iconic South African street foods like the bunny chow or the kota, sweet treats like milk tart and koeksisters and the unique tastes of traditional Cape Malay cuisine which mixes African and Asian spices.

While you'll find typical South African dishes on menus at any number of restaurants in Joburg, here's a look at some of our favourite Joburg restaurants and cafes where there's a particular focus on serving the most delicious and authentic South African dishes.

LEBO'S OPEN AIR RESTAURANT
Where once there was a dumping ground, township tourism pioneer Lebo, of the eponymous Lebo's Soweto Backpackers, envisaged a park - a quiet, green space where local children could play and visitors could relax with a plate of home-cooked food, fresh from the potjie. Today tourists, Sowetans and intrepid foodies all find their space under the shade of palm trees and a lapa in this cleverly-transformed space. Lunch is simple, wholesome South African, much of it made with ingredients sourced from local community farms. Every day the central fire is stoked and a set of potjies (South African cast iron pots) are filled with a selection of delicious freshly prepared curries (chicken, beef or vegetarian). Fluffy fresh loaves arrive from a nearby bakery and guests are invited to help themselves to some of the tastiest kotas around. 
Find it at 10823A Pooe St (cnr Ramushu St), Orlando West, Soweto

BLAQUE BISTRO
Chef and owner Sizo Henna's laidback jazz-infused bistro is hidden away in a far-flung corner of the sprawling northern suburb of Bryanston but is worth the journey for delicious classic South African home-style cooking. While you'll find plenty of typical salads and steaks on the menu the 'Ekhaya' section (which roughly translates as 'home away from home') is where you need to focus your attentions. The 'ehkaya' dishes include oxtail potjie (stew cooked in a cast-iron pot), ulushu (tender home-cooked tripe) and umleqwa or 'roadrunner' chicken (a home-reared and slaughtered chicken that is notoriously difficult to tenderise), all of which come served with a choice of traditional sides including steamed bread and creamy samp (slow-cooked crushed corn kernels).
Find it at Naturally Yours Health Centre, 453 Main Rd, Bryanston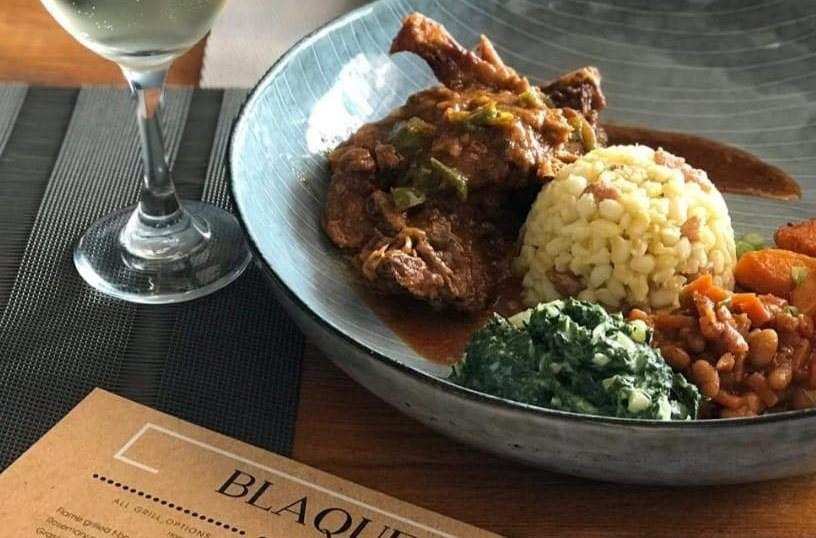 THE ROVING BANTU KITCHEN
A 'centre for friendship and memory', the Roving Bantu Kitchen is not a restaurant in the strictest sense of the word. It is more a meeting place, an events venue, an afro-soul food kitchen serving homemade dishes that are influenced by a variety of local cuisines and ingredients. The menu changes regularly and is largerly based on what the owners feel like cooking on that day, but will typically include classic dishes such as amagwinya (a kind of savoury doughnut) stuffed with spiced mince meat, braised cow heels, grilled chicken feet, samoosas, tripe and South African-style curries. The venue itself is a bright little spot on a Brixton corner filled with quirky items of African memorabilia that speak to the jumbled narrative of history and memory in South Africa. Look out for the excellent live music events where you can also book a dinner plus concert ticket.
Find it at 125 Caroline St, Brixton.

CHAF POZI
Grilling meat over hot coals is as typically South African a dining experience as you can get. Sprawling in the shadow of the Orlando Towers, Chaf Pozi is a local institution, where Sowetans and Joburgers come in big numbers to enjoy a beer and some shisa nyama; a typical township style of grilling meat whereby you choose your own meat from the butcher to be flame-grilled to perfection by the resident braai master. The meats come served with traditional sides like pap (a stiff maize porridge) and chakalaka (a spiced bean stew) and complemented by DJ sets on weekends. 
Orlando Towers, cnr Kingsley Sithole St and Nicholas St, Orlando East, Soweto​​​​​​​.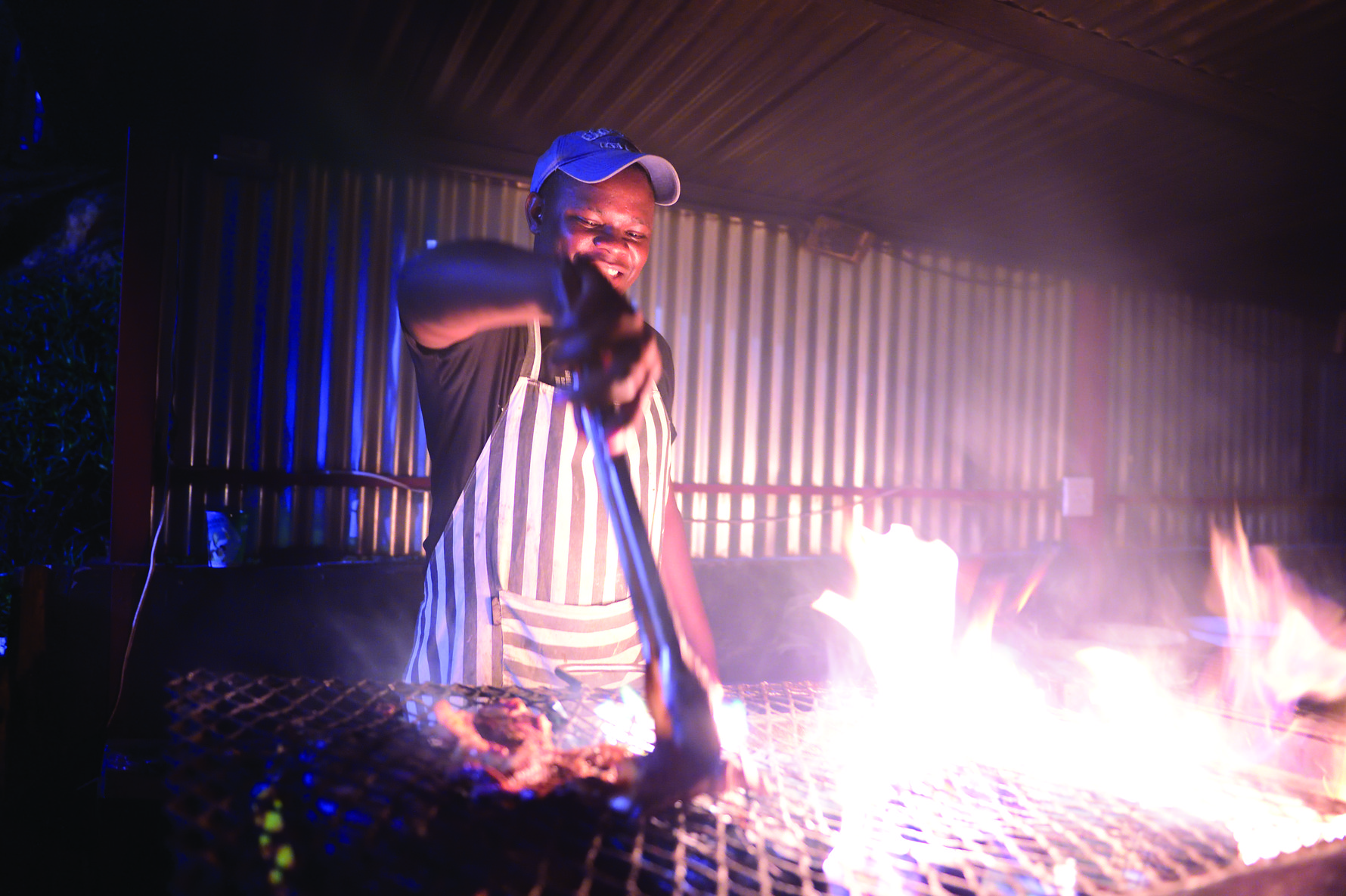 BERGBRON PLAASKOMBUIS
Come to this homely Afrikaans 'plaaskombuis' or 'farm kitchen' in west Joburg for bulging plates of traditional tuisgebakte (homemade) Boerekos. The Bergbron Plaaskombuis pays homage to the South African flavours of chef and owner Johan Smith's childhood, particularly the hearty dishes that his Grandmother used to cook. Everything on the menu has been home-made that day according to time-honoured recipes handed down through Johan's family. There's Tannie (Auntie) Una's deeply flavoursome lamb stew, Tannie Bessie's filling chicken pie and Oupa (Grandpa) Andries' sausages spiced with cayenne pepper. If you arrive at the right time you may even be treated to the sight of trays of fluffy fresh scones emerging from the old-fashioned coal-fired oven which sits on the veranda. Wash it all down with a glass of the refreshing homemade gemmerbier (ginger beer).
Find it at 268 Weltevreden Rd, Blackheath​​​​​​​.

URBAN MOYO
Urban Moyo is an offshoot and contemporary take on the original Africa-themed family restaurant brand Moyo and while more dedicated to showcasing cuisines from across the continent, South African classics of course feature promimently. This Sandton restaurant has a chic interior, slick finishes and a cosmopolitan menu that covers the broadest range of cuisines from Mozambican prawns to Moroccan tagines. Among the South African dishes you'll find springbok shank with creamy pap, oxtail potjies and an fancy take on a classic lamb curry bunny chow. 
Find it at 24 Central, 6 Gwen Ln, Sandton Central​​​​​​​