Last Updated @ 19:08 (CET) on 24/02/2021
Is Coronavirus in Katowice?
Yes, there have been 185,878 reported cases of the Coronavirus in Katowice and the voivodship of Śląsk (ENG: Silesia) since the beginning of the pandemic. The capital Warsaw and it's surrounding voivodship has the highest number of cases (read more).

As of now, there are a reported 226,320 active cases of Coronavirus in the whole of Poland. There have been a total of 1,661,109 people infected in Poland since March 4 2020. 42,808 people have died from Coronavirus in Poland.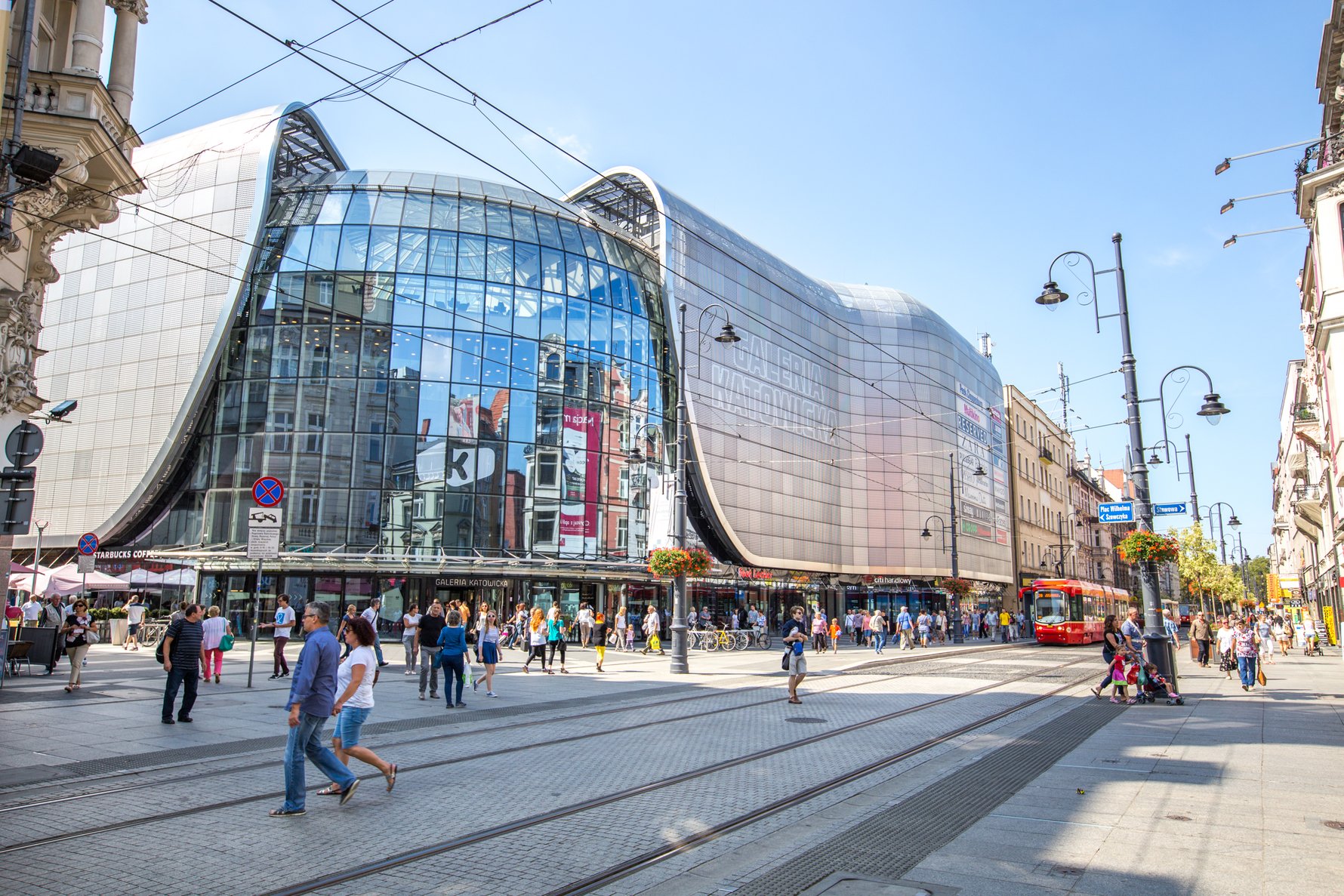 NOTE: Since 24 November 2020, the Polish Ministry of Health has changed the format of available information for current COVID-19 cases, focusing on daily new cases. For this reason, it is incredibly difficult to provide an accurate number for current COVID-19 cases per voivod. In addition, since mid-October 2020, the Polish Ministry of Health has purposefully been testing less (there is even less on weekends) to bring down their daily averages. For this reason, it is even more difficult to assess the rate of new Coronavirus cases in Poland.

Obviously, given the rapid exponential spread of the virus, the exact number of cases is difficult to calculate and constantly being updated. Check this live updated global map by John Hopkins University or follow the Polish Ministry of Health on Twitter @MZ_GOV_PL.

Read more on the latest on Coronavirus in Warsaw.
Read more on the latest on Coronavirus in Kraków.
Read more on the latest on Coronavirus in Łódż.
Read more on the latest on Coronavirus in Gdańsk, Sopot and Gdynia.
Read more on the latest on Coronavirus in Wrocław.
Read more on the latest on Coronavirus in Poznań. ​ 

Restrictions announced on 07 November 2020, initially to last until 29 November have repeatedly been extended; as of 01 February 2021, some restrictions were lifted, however, the majority remain in place until 14 February...
On Saturday 21 November, Polish Prime Minister Mateusz Morawiecki announced during a press conference that the previously announced restrictions will be extended until 27 December. This was followed by further announcements over the next month to extend restrictions. As of 01 February 2021, most restrictions and the sanitary regime remain in place, however, there are a few essential updates which you need to know...

✅ Cultural institutes, such as museums and art galleries are now open, however, with a restriction of 1 person per 15m2.
✅ Shopping malls have now reopened.
✅ Shopping hours for seniors (10:00-12:00) have now been lifted.
✅ Gastronomy points  remain closed and are only permitted to provide #takeaway with #delivery options.
✅ Bars and nightclubs remain closed.
✅ Hotels, gyms/fitness centres and ski resorts remain closed.
✅ Elementary/Primary Schools, ​​High Schools (and Universities) will continue with online/remote learning with the exception os Elementary years 1-3 who returned to school as normal on Monday 18 January 2021.
✅ All new arrivals to Poland must undergo a 10-day quarantine. As of 23 January, those who do a COVID-19 test 48 hours before arrival, and the result will be negative, are permitted to enter as normal.
As of Saturday 07 November 2020, more Business Restrictions came into place across Poland!
On Wednesday 04 November the Polish Prime Minister, Mateusz Morawiecki, announced yet more restrictions that would come into effect on Saturday 07 and initially last until at least the 29 November. The Ministry of Health has determined that, if Poland reaches 70 cases per 100 000, then the country will go into a lockdown, similar to that of March 2020. The updated restrictions include:

✅ All cultural institutes, such as museums, art galleries, theatres and and cinemas will close.
✅ Hotels will be open only for essential workers only.
✅ Churches will also have attendance limited; 1 person per 15m2. The restrictions below, in effect since 24 October, remain in place...
As of Saturday 24 October, all of Poland is now a RED ZONE!
What does this mean if you're in a red zone?

✅ Although not prohibited to go outdoors, it is strongly advised to stay indoors (especially senior citizens), going out only for essential shopping.
✅ Covering mouth and nose in public/outdoors is mandatory. Failing this, you can be fined!
✅ Maintain social distancing of 1.5m.
✅ Public gatherings of no more than 5 people are permitted.
✅ Use provided hand sanitiser when entering shops/stores/venues.
✅ 

Capacity in public transport will be capped at 30%, with only half the available number of seats permitted for use.


✅ Gastro

points (cafes/restaurants/bars) will now not be able to permit the public, although they remain open, providing only takeaway/delivery.


✅ Nightclubs activities, both indoors and outdoors, are banned.
✅ Shops will only be allowed to admit 1 person per till/cash register for shops/stores up to 100m2 - for larger spaces, the rule is 1 person per 15m2.
✅ 'Senior Shopping Hours' have been introduced for senior citizens (60+) only, Mon-Fri 10:00-12:00.
✅ Weddings are no longer permitted to go ahead.
✅ Gyms, cinemas, health resorts and some public recreational spaces are closed.
✅ 

Sporting events will go ahead, but will no longer admit a live audience.
A quick word from us before you read on...
As a travel company that relies on the steady financial support of our local partners in the tourism, gastronomy, nightlife, hospitality, culture and events sectors, Poland In Your Pocket is essentially a microcosm of the industries suffering most right now. We therefore encourage you to think about how you can help more broadly. Read our article on How to Help Local Industries & Causes During Coronavirus Crisis
 
Is the spread of COVID-19 in Silesia currently Increasing or Decreasing?
The answer to this question is the same for every city and voivodship - Yes, Increasing! just like everywhere else in Poland! When stay-at-home lockdown restrictions were imposed on Polish society in mid-March, the number of new cases of COVID-19 in Poland increased gradually before plateauing at about 300 new cases per day at the end of March. Throughout April and May the rate of the virus' spread was stable at about this rate. Since the easing of restrictions in late May and early June, allowing people to gather and businesses to reopen, and particularly since the start of 'Wakacja' - the July/August holiday time, cases in Poland have been steadily on the rise. Since cases began to spike in early August, Poland began experiencing its 'second wave.' New positive cases increased from 750+ daily to 900+ from mid to late August. Since the start of October, the numbers have been increasing exponentially by thousands every day.

-------------------------------------------------------------------------------------------------------------------------------------------------------
PREVIOUS UPDATES (MARCH - OCTOBER 2020)
Lockdown restrictions in Poland have now been lifted.
From March 20, Poland was officially in an EPIDEMIC STATE. In order to contain the spread of Coronavirus, many public institutions and businesses - including schools, universities, restaurants, bars, shops, hotels, museums, cultural attractions - were closed, with many others under restricted operations and open hours. The individual movements of private citizens were restricted, with people expected to remain in their homes unless they have a valid reason to be out.

On May 30th, gastro points, entertainment venues and educational institutes were allowed to reopen under new guidelines for keeping the public 'safe' (see above regarding yellow/red zones).
 
Is Silesia open for Travel? Are there tourists in Silesia again?
Poland's borders with the country's EU neighbours reopened to foreign travellers on June 12. Those entering the country from within the EU will NO longer have to go through a 2-week quarantine period. If you arrive in Poland from a non-EU country, you may be required to self-isolate for 14 days, unless you are transiting to your place of residence.

The Schengen Zone is now open to outside travellers however, restrictions remain at the Polish borders with Ukraine, Belarus and the Russian exclave of Kaliningrad. As of 01 July EU borders reopened to citizens from 15 non-EU countries, which are: Algeria, Australia, Canada, Georgia, Japan, Montenegro, Morocco, New Zealand, Rwanda, Serbia, South Korea, Thailand, Tunisia and Uruguay. The list does not include The U.S., Brazil and Russia.

International flights within the EU were permitted to resume on June 16th, however, flights to/from the United Kingdom, Sweden and Portugal were initially banned until 30 June but have now been permitted as of 01 July. National carrier LOT Polish Airlines has resumed domestic and international flights (where possible) and Ryanair has resumed international connections to/from Poland.

High speed Pendolino trains have resumed service within Poland. International PKP Intercity trains with connections within the EU (to Prague, Berlin and Vienna for example) resumed on June 22.

Hotels in Poland have been allowed to reopen; all cultural institutions, attractions, restaurants, cafes, and bars are slowly reopening, and city authorities are eager to welcome tourists back to Silesia!
_____________________________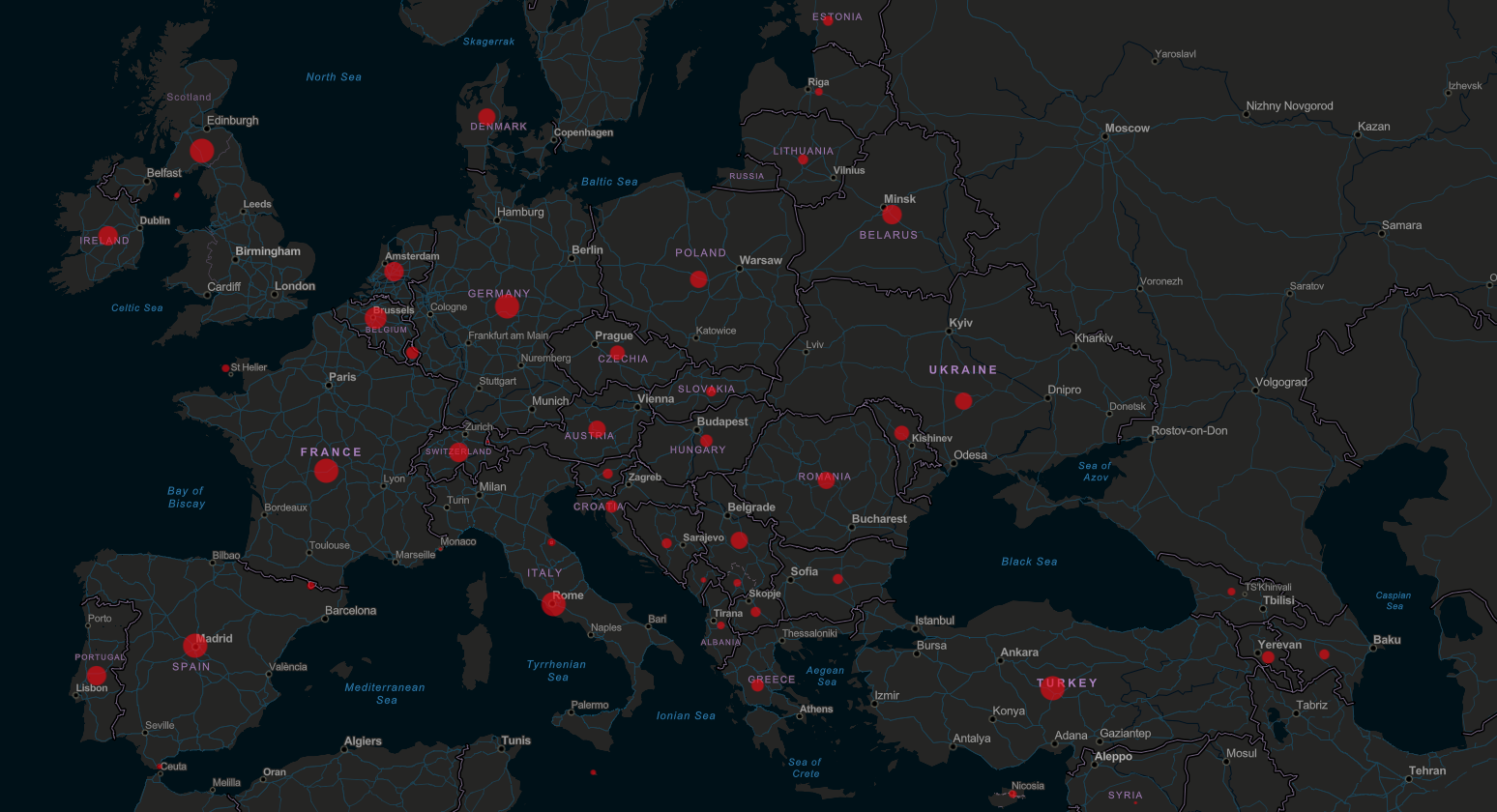 How Are Locals in Silesia Behaving Now?
How did they Behave During the Pandemic Lockdown?
In early March, when it became clear that Coronavirus was inside Poland and spreading quickly, the government acted relatively swiftly, and in line with the rest of Europe, to close borders, schools, cultural institutions, restaurants, etc, and impose restrictions on individuals gathering in groups. Poles took the stay-at-home orders to heart and treated them seriously for the rest of March, April and most of May.

Since restrictions were lifted in late-May, businesses have been reopening and the weather has warmed, Silesians are back on the streets, gathering with friends and family in the cafes and gardens, parks and boulevards. Although it is no longer required to cover your nose and mouth with a mask (except on public transport and in shops), many citizens are still doing so, as well as practising social distancing. There is a visible differentiation, however, between the seriousness (or lack thereof) with which the pandemic is still being taken by Silesia's teenagers and students, versus essentially the rest of the population.
Museums & Tourist Attractions in Silesia are NOW OPEN
Closed by the government on March 11th, museums and galleries were allowed to reopen in mid-May, and most cultural institutions in Silesia have now reopened. Certain restrictions are in place regarding the flow and volume of people allowed, in order to ensure public safety. Hand sanitiser is provided outside almost all public places, and it is required that visitors use it before entering. Visit our Museums page for updated information about individual museums in Silesia.

On June 6th, the last wave of closed businesses were allowed to reopen. This included cinemas, theatres, operas and amusement parks. In cinemas and theatres special seating restrictions will ensure social distancing and facial coverings should be worn.

During the lockdown many cultural institutions were prompted to improve their online programmes and offerings. If you're unable to, or uncomfortable visiting Silesia in person. Read our feature on VIRTUAL TOURS & ONLINE SIGHTSEEING IN SILESIA.

Small-Scale Events have resumed in Poland
In early March authorities banned all public gatherings and ordered people to stay in their homes. At this time many annual festivals, concerts, conferences and other cultural events were postponed or cancelled; others were able to successfully move online. Now restrictions have been lightened and some smaller scale events are moving forward. For the latest updated info about specific events in Silesia, visit our Events section.
Restaurants, Bars & Cafes in Silesia are NOW OPEN
Closed on March 15th, restaurants, cafes and bars in Silesia have been permitted to reopen, but under certain restrictions on the number of people allowed inside at one time, as well as the proximity of tables in order to maintain safe social distancing practices.

Businesses need to ensure:
all staff wear gloves and masks.
ensure a safe distance between clients.
disinfect tables after every use and declare it.
check all standard hygiene procedures are being followed.
During the spring lockdown, restaurants were permitted to provide takeaway and food delivery services. Read our list of the Best Restaurants in Silesia offering Delivery & Takeaway during Coronavirus.

Many restaurants and local businesses are also playing their part to combat COVID-19 by participating in charitable causes and initiatives; learn about Four Polish Gastro Initiatives Worth Supporting here.
Shopping Malls were also closed on March 15th, but were reopened on May 4th. Most smaller shops were allowed to remain open with restrictions on the number of guests inside at one time. These restrictions largely remain in place now, and visitors are asked to use hand sanitiser (provided by the businesses) before entering. For older generations of Poles, the sometimes long queues created as a result of limiting the number customers inside shops is surely reminiscent of the situation during the communist era in Poland. (Read our humourous feature on Queueing in Poland.)

Click here for a list of Online Grocery Shops around Poland if you feel uncomfortable food shopping during a pandemic.

___________________________________________________________________________________________________
__________________________________________________________________

EARLIER UPDATES ON CORONAVIRUS IN POLAND


Is there a Travel Ban to and from Poland?
On March 13, the Polish Prime Minister declared a 'State of Epidemic Threat' and since Midnight on March 14/15, Polish borders are closed to people entering Poland, with some exceptions (see below). This closure was for a period of 10 days with the possibility of a 20-day extension, however, this has repeatedly been extended. During the Prime Minister's press conference on 13 May, it was announced that the borders will remain closed until 12 June.

On March 13, International flights and trains have been suspended.
On March 15, it was announced that all domestic flights have also been suspended.

On March 17, the European Union is set to shut down all Schengen Area Borders, as an extreme measure to prevent the Coronavirus from further spreading in the borderless area. The European countries have discussed today the idea of introducing a ban on entry to the 26-state Schengen passport-free travel zone, which would cover all non-essential visits from third countries, with exemptions including for citizens of the Schengen area, people familiar with the work.

Polish Border Control has officially listed exceptions for people entering Poland:

1) Citizens of the Republic of Poland,
2) Foreigners who are spouses or children of the citizens of the Republic of Poland or remain under their constant care,
3) Foreigners holding a Pole's Card,
4) Heads of diplomatic missions and members of the mission's diplomatic and consular staff, i.e. persons with a diplomatic rank and members of their families,
5) Foreigners who have the right of permanent or temporary residence in the territory of the Republic of Poland,
6) Foreigners who have the right to work in the territory of the Republic of Poland, i.e. foreigners entitled to work under the same conditions as Polish citizens, holding a work permit, seasonal work permit, a declaration of entrusting work to a foreigner on the territory of the Republic of Poland,
7) In particularly justified cases, not included above, the commander of the Border Guard post, after obtaining the consent of the Commander-in-Chief of the Border Guard, may allow a foreigner to enter the territory of the Republic of Poland in accordance with the procedure specified in the Act of 12 December 2013 on foreigners (Journal of Laws from 2020 item 35);
8) Foreigners who run a means of transport used to transport goods.

Each person crossing the Polish border will be subject to sanitary control and medical services will measure the individual's temperature. Each person crossing the border is obliged to undergo a mandatory 14-day quarantine, with the following exceptions:

     • People living in Poland who work in a neighbouring country and regularly cross the border;
     • Foreigners living in a neighbouring country who work in Poland and cross the border regularly;
     • Drivers engaged in the professional transport of goods and passengers.

On March 19th it was reported that queues stretching as long as 60km have formed at Poland's borders with Germany and Czech Republic. Due to cancelled flights, Polish residents are attempting to return home via car. It is reportedly taking entire day to get through the queue. 
What should I do if I suspect I have Coronavirus?
If you are in Poland and suspect that you may have been infected with Coronavirus, please call Centrum Wielokulturowe on 800-190-590 and press '6' to be assisted in English.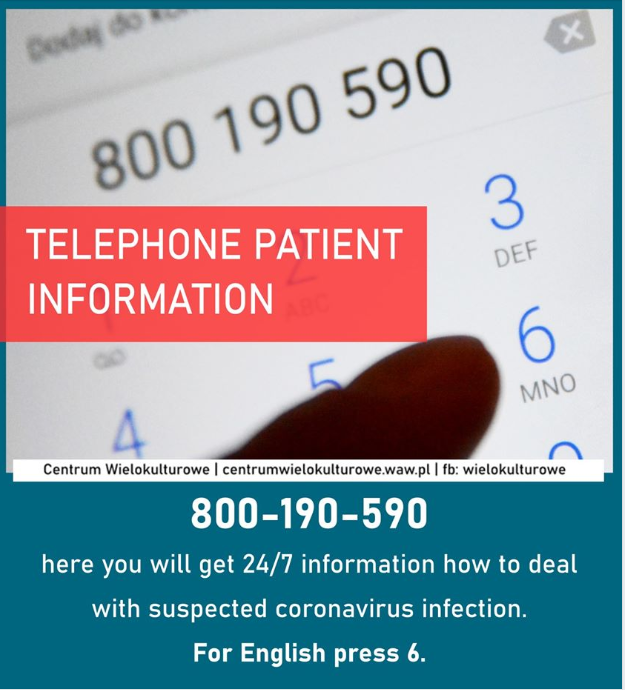 Coronavirus (COVID-19) symptoms include:
     • runny nose
     • sore throat
     • cough
     • fever
     • difficulty breathing (severe cases)

To prevent infection, the Polish Ministry of Health advises everyone to:
     • Wash your hands regularly with soap and water
     • Cover your nose and mouth when coughing and sneezing
     • Keep at least one-metre distance between yourself and others who are coughing and sneezing.
INDIVIDUALS IN QUARANTINE
If you have been placed in quarantine, due to suspicion of being infected with Coronavirus, authorities have introduced a new quarantine mobile app, which allows quick contact between the Police and the person in quarantine. The penalty for breaking 'quarantine' is 30,000zł. 

What are Polish Authorities doing to control the spread of Coronavirus?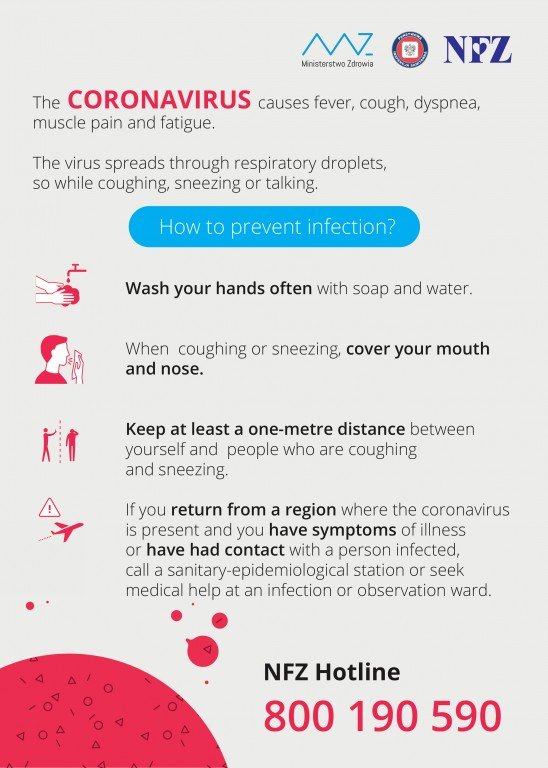 Before the first confirmed case of Coronavirus in Poland, authorities were not doing much aside from propagating the idea that Poland would somehow not be affected by the virus as much as other countries.

Since the outbreak began in China, there's not a single local who hasn't learned the history of the bubonic plague, or 'Black Death,' and how it somehow affected Poland on a much smaller scale than the rest of Europe in the 14th century (sadly, this balance would be paid during WWII). Will history repeat itself 700 years later? As should have been obvious, no, it will not. Since the first case in Poland was officially announced on March 6 (it is speculated that the virus was in PL much earlier), the virus has spread rapidly and authorities have been acting quickly to counteract it.

Read our article Did Poland really escape the Black Death?

On March 11, the Polish Prime Minister, Mateusz Morawiecki, announced the closure of all schools in Poland, beginning on Friday the 13th (Jason masks do not protect you from the spread of Coronavirus) until at least March 25.

At this point, the pace of information is moving so fast that your best bet is to follow the live information feeds from the the Polish Ministry of Health @MZ_GOV_PL on Twitter. Follow the hashtag #koronawiruswpolsce on social media for more updates.

We will keep this article updated and add more links as the situation with the Coronavirus in Poland evolves!