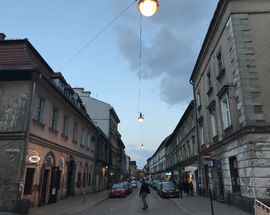 Kazimierz – the district south of the Old Town between ul. Dietla to the north and the Wisła River to the south - was the centre of Jewish life in Kraków for over 500 years, before Jewish culture in Kraków was systematically destroyed during World War II. During the communist era, Kazimierz fell into disrepair, becoming one of Kraków's dodgiest districts. Rediscovered in the 1990s, thanks to the fall of the regime and worldwide exposure via the critically-acclaimed 1993 film Schindler's List, Kazimierz has rebound to become arguably Kraków's most exciting district today – a bustling bohemian neighbourhood packed with historical sites, atmospheric cafes, shops and galleries.

Well-known for its associations with Spielberg and Schindler, traces of Kazimierz's Jewish history have not only survived, but literally abound in the form of the district's numerous synagogues and Jewish cemeteries. In fact, no other place in Europe conveys a sense of pre-war Jewish culture better than Kazimierz. As a result, the district has become a major tourist draw and pilgrimage site for Jews, and contemporary Jewish culture has gradually awakened, proving that there's more to Kazimierz than just sepia photographs and old synagogues.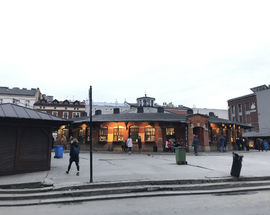 In addition to Jewish culture, however, here you'll find the heart of Kraków's artistic, bohemian character behind the wooden shutters of dozens of art galleries and antique shops. Peeling façades and obscure courtyards hide dozens of bars and cafes, many affecting an air of pre-war timelessness. Centred around the former Jewish square now known as Plac Nowy, Kazimierz has emerged as the city's best destination for café culture, street food and nightlife. Alternative, edgy and packed with oddities, Kazimierz is an essential point of interest to any visitor.
Walking Tour
IYP's Kazimierz Walking Tour weaves you through all the district's major points of interest, beginning at the 'Stradom' tram stop and ending at Plac Wolnica, from which point you're well-positioned to carry on into Podgórze across the river (p.48). The trail is exactly 1.5km and can be done in as little as 30 minutes if you refuse to take more than a passing interest in anything; for those that have the time to spend we reckon it will comfortably occupy a few hours. A less than ten-minute walk from Wawel Castle, or a trip on trams 6, 8, 10, 13, 18 or 73, will deposit you at the threshold of Kazimierz at the stop 'Stradom;' though the north and southbound stops are a full block apart, if you've come from the north by simply disembarking the tram and crossing over ul. Dietla you have officially entered Kazimierz.

Follow the linked venues listed below in exact order to replicate the tour on your own on your mobile device or tablet, or use the embedded pdf at the top of the page. For a tangible copy of the embedded tour, order the current edition of our full print guide, which also includes regularly updated walking tours of the Old Town, Podgórze (the area of the former Jewish Ghetto), and Nowa Huta, plus tonnes of other invaluable info.
 
BOOK A TOUR