The last scheduled passenger flights to leave Ljubljana's Brnik Airport before international air travel ground to a halt on account of the Coronavirus pandemic were on the evening of 16 March 2020. After nearly two months of nothing but cargo, medical and the odd repatriation flights (the latter of which led to some interesting discussions/arguments on expat Facebook groups when they involved the merits of returning to muppet-run England), Slovenia's primary international airport officially reopened on 12 May 2020. Yay!

However, "reopened" should probably be put in quotation marks, as scheduled passenger flights have yet to resume. This is at least partially a result of the unclear situation regarding what's allowed and not allowed when it comes to international travel these days, especially regarding the dreaded 14-day mandatory quarantine, even within the EU. The continent of Europe hasn't come to be known as a global centre of efficient bureaucracy for no reason though, so we're sure all the details will be sorted out posthaste. Below you can find an airline by airline summary of when those magical carbon-belching metal birds will once again be soaring through their natural habitat.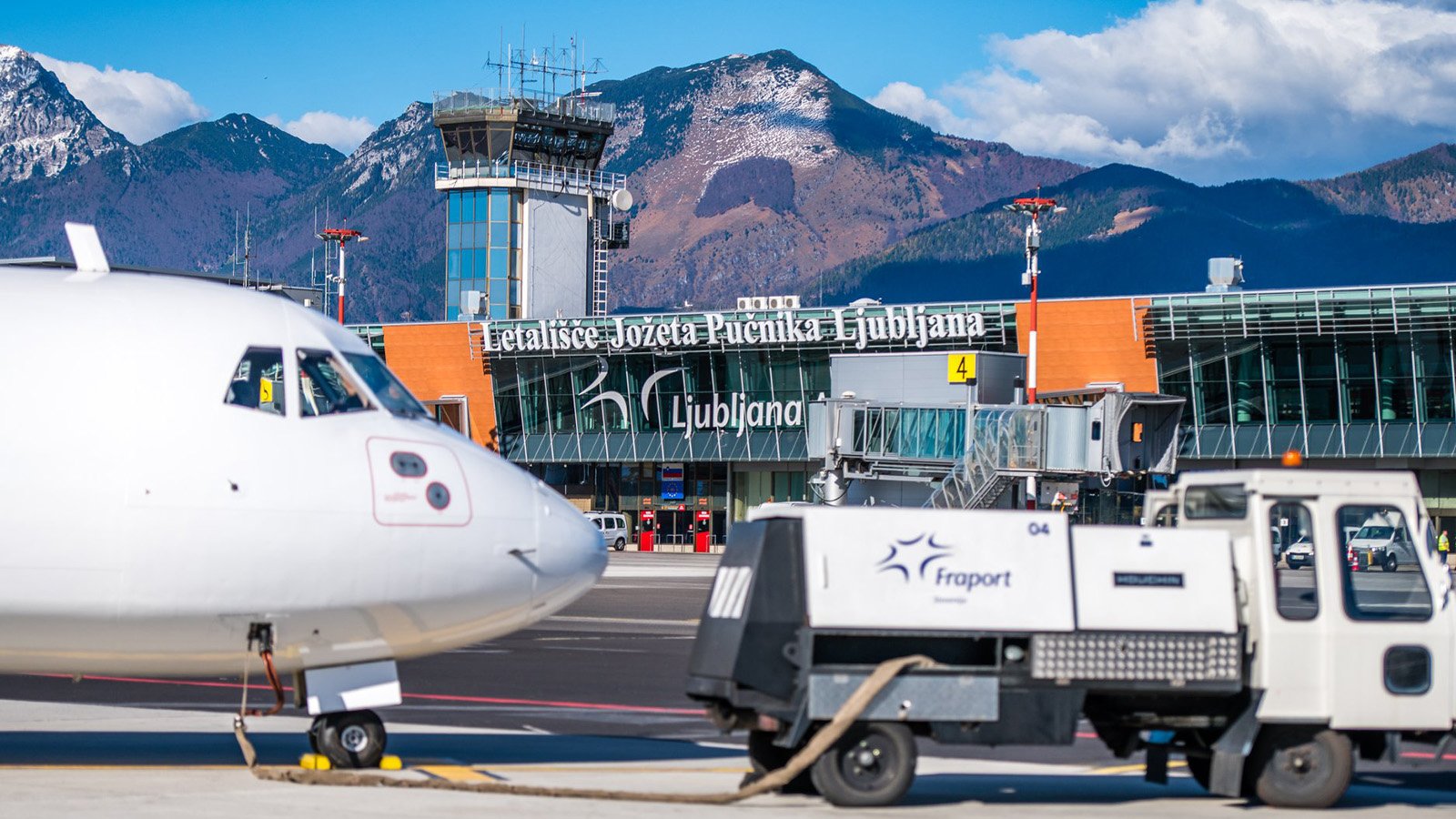 With the collapse of scandal-plagued Adria Airways in 2019, Air Serbia stepped into the breach and greatly increased its capacity to the capital of Slovenia, so it should come as no surprise that the Serbian national carrier will be the first to officially resume flights between Belgrade and Ljubljana on 29 May 2020. No word yet if they'll be greeted with a celebratory 'water salute', but we think it'd be fitting and have already suggested it to some people we know at the airport. [Update: Apparently our great suggestion didn't reach the right ears, as there was in fact no water salute or other fanfare upon the plane's arrival]. This vanilla budget carrier will resume thrice weekly flights between Ljubljana and the Belgian capital starting 29 June 2020. The airline named for the home of the European Commission is expectedly boring and nondescript, but we do appreciate the fact that it gave us an excuse to use the word 'thrice' in the previous sentence.
Wizz Air
This sexy hot pink bus of the European skies was our favourite budget carrier for years, until it started changing its policies every 15 minutes, which made us go running back to our first love Easyjet. But if you've got lower standards or just really need to get to Charleroi (which is about as far away from Brussels as you can get and still be in Belgium), then Wizz Air will get you there from Ljubljana three times a week starting 16 June 2020. The French national airline was originally planning to increase its frequency to twice daily in the summer of 2020, but will now settle for twice weekly flight to Paris starting on 24 June 2020. Slovenia's largest carrier in terms of passengers (by far!), is not expected to resume flights to London Gatwick and London Stansted until 1 July 2020, while plans to launch a Ljubljana-Luton route have been shelved indefinitely. Meanwhile our trusty Ljubljana-Berlin route sadly won't relaunch till the winter schedule kicks in at the end of October.  Nothing is officially announced yet, but expected to resume flights to Frankfurt and Munich in the second half of June.
Turkish Airlines
Also nothing officially announced yet, but the airline we personally rack up most of our frequent flyer miles on (how else are we supposed to get from Ljubljana to Dushanbe, Tashkent or Kuala Lumpur??) is rumoured to be rumbling back into service from its beautiful new mega airport outside Istanbul in the second half of June too.
Trade Air
This Croatian charter company is expected to provide frequent summer services to Dubrovnik and some 10 Greek islands, with the former starting on 28 June 2020, and the latter in early July. We always prefer driving to the Croatian coast - even all the way to Dubrovnik - but a few weeks on a Greek island this summer sounds like a great idea to us!
Last we checked, these stragglers either haven't announced anything or have announced that they'll be thinking about flying back to Slovenia sometime in the autumn or maybe 2021 or never.
Swiss
They used to fly a few times a week to Zurich, but we (almost) always prefer taking the night train, which can cost as little as €29 one way. What it loses in speed it makes up for in romance and lack of planet destroying carbon emissions.
LOT
Poland is a total mess these days, run by a bunch of [technically democratically elected people], so your guess on when flights to Warsaw on the national carrier will resume is as good as ours.
Montenegrin Airlines
Montenegro is an incredible country and Kotor Bay is one of the most beautiful corners of the entire world, but if you want to visit this year you'll have to either get a connection flight on Air Serbia, or partake in the joys of a Balkan road trip.
Finnair
According to Google Translate, 'Nähdään 2021 kaverissa!' is how you say 'See you in 2021, guys!'. So, nähdään 2021 kaverissa! Until then, you can check out our online guides to Helsinki and Turku. One of the oft forgotten budget airlines, despite rocking a neon green livery, there's no word on when Transavia will restart shuttling partygoers to the Netherlands, but aside from the Van Goghs you can more or less find everything that Amsterdam is famous for right here in Ljubljana.
Aeroflot
As much as we'd love to tell a joke or two about Russia and its shirtless bear riding president for life, it's probably better for everyone if we just go with a disappointing Sopranos style faux ending and fade to black......
 

Already in Slovenia and looking to explore? You can find complete online guides to destinations like Bled, Maribor, Kamnik, Kranj, Piran and Portorož here.

In Your Pocket in no way endorses or is responsible for the views and opinions expressed herein, which are solely those of In Your Pocket's former editor-in-chief and current editor-at-large Yuri Barron. These days he can be found on the 30th floor of a condominium in Kuala Lumpur, where he was planning to ride out the global quarantine by finishing his memoirs, Thirty-Cent Life: A Decade of Moderately Irresponsible Travel in Dodgy Countries, but hasn't managed to get round to starting yet. More of his somewhat travel-related work can be found here.