It goes without saying that everyone in Bulgaria is horrified by the war in the Ukraine and the devastating toll it is taking on ordinary Ukrainians. Whilst some of us have spent the last few weeks not really knowing what to do and how we can help, others have meanwhile sprung into action and are helping to organise everything from border pick ups to accommodation, children's daycare and employment opportunities.
What we have tried to do here is put together some sources of information for both those fleeing the Ukraine as well as those in Bulgaria who would like to help in some way.  

If you are fleeing the war in Ukraine and coming to the European Union, you will find key information here about your rights with regard to crossing the border into an EU country, eligibility for temporary protection and applying for international protection, as well as the rights of travel inside the European Union.
The EU has just published a new leaflet containing all the practical information for people fleeing the war in Ukraine, what to expect when they enter the EU and what they need to do.
If you are working with refugees or volunteering in support of people fleeing the war, you can download, print and distribute the leaflet at will.
Accessible in EN → europa.eu/!cthpFj
Accessible in UA → europa.eu/!yrn7PP
Accessible in RU → europa.eu/!CM6HYj

Bulgaria for Ukraine
This platform has been built and maintained by thousands of volunteers who work with the Bulgarian government to provide evacuation, transport, accommodation, medical and humanitarian assistance, legal aid and a road map for establishment in Bulgaria, including job and education available in large numbers. It is in Bulgarian, Ukrainian, Russian and English and includes a section where you can offer help from accommodation to jobs or just volunteering.

United with Ukraine
The U.S. Embassy in Sofia and the America for Bulgaria Foundation (ABF) are coordinating efforts with their partners; the American Chamber of Commerce in Bulgaria (AmCham), Nu Boyana Film Studios, the American University in Bulgaria (AUBG), the American College of Sofia (ACS), Muzeiko and other organizations, to assist displaced persons by arranging transport from the border, assisting to secure accommodation, childcare, education and employment opportunities. The website is in 3 languages; English, Bulgarian and Ukrainian.
Nu Boyana Film Studios  launched a jobfair on Saturday 12th March, in a bid to assist displaced people from the film industry and/or people interested in film production. 
Want to help?
If you can help by offering accommodation or employment you can register this on the Bulgaria for Ukraine platform. 

For the people of Ukraine - The Friend in Need Foundation
If you want to help by donating NEEDED items please take a look at our friends initiative at Time Heroes
At the moment they are collecting any of the following items;
Food products with a long shelf life e.g.rice, pasta, flour, oil, sauces, canned food, instant soups etc
Personal Hygiene products e.g. toothbrushes and toothpaste, shampoo, soap, sanitary napkins, cosmetics, baby creams, diapers, combs, deodorants etc 
School supplies - backpacks, notebooks, pencils, pens, markers, rulers, travel bags, educational books and games in Russian, Bulgarian and English, calculators, erasers, sharpeners etc;
Clothes - any suitable new or nearly new clothes for the season; socks, hats, new underwear (women's and children's), tights, gloves, scarves etc
Bed linen - new or as good as new bedding sets, blankets, towels, sheets etc
For Pets - cat and dog food, pet beds, treats
This list may change as times change - at the moment the focus is trying to set up as many places for the children to learn and play. Art materials, Lego sets and other creative toys will be welcome.

Olga Varesen - United with Ukraine
Free childrens books in Ukrainian to give away and share and a charity art auction (26th July) are just a couple of initiatives by Olga & Joff from the USA, with Ukranian roots - living in BG. For more information check out the website. 

Networking Premium Co - working 
A great initiative started by a local coworking space at the beginning of March, recognising the need for young children to have a safe space to play and learn, with Ukranian teachers and volunteers entertaining them during the day, while their parents work in their office spaces. Many people have donated clothes and toys to date.
To find out more check their facebook page or their business listing below.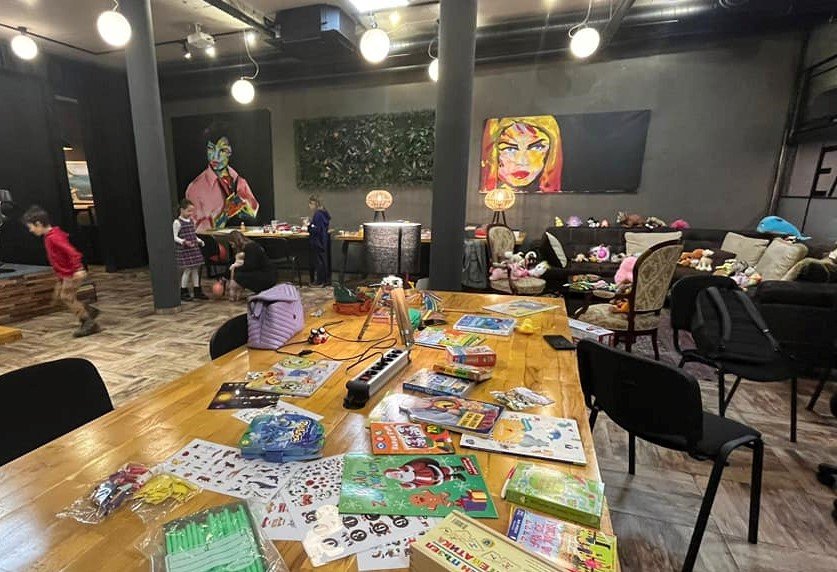 These are just a few of the great gestures of support during these hard times that have come to our attention and we applaud each and everyone of them. 
#endthewar #stopthebloodshed #givepeaceachance