Due to the COVID-19 pandemic, last summer was one of the most difficult in memory, and similar anxieties still haunt summer 2021 as we cautiously try to return to the pre-pandemic norms we've sorely missed. Although Poland has endured the same scary infection rates and societal lockdowns as much of the globe over the past 18 months, one positive has been that major urban development projects have continued with only minor delays, if any, during that time. Much like its residents, Warsaw needed a shot in the arm to bring this summer some energy and excitement, and that's just what we got with the recent opening of the Browary Warszawskie (Warsaw Breweries) complex. With plenty planned for catching the summertime buzz we all crave, the rebirth of the Warsaw Breweries is giving us all cause to celebrate, and the perfect place to do it.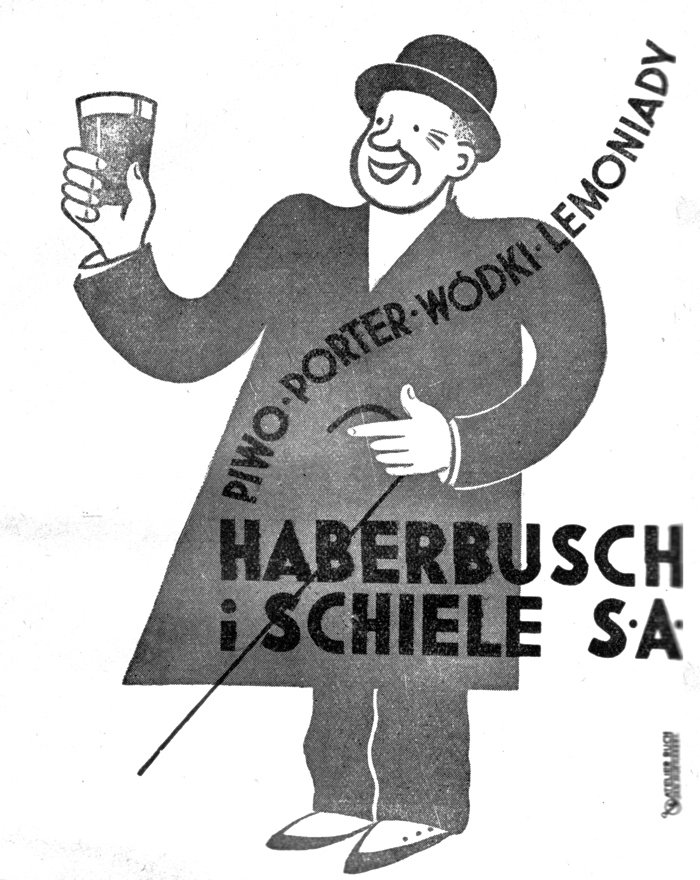 150+ years of history
Originally established as the 'Haberbusch & Schiele Brewery' in 1846, this brewing complex was soon the largest in the Kingdom of Poland and famous across Europe, producing 8 million bottles of beer (take one down, pass it around) a year in 1907. Devastated during WWII, the brewery managed to continue operating during the period of communist nationalisation that followed, but never with much success. Fun fact from those dreary times: Coca-Cola was actually bottled here under American license in the 1970s. The post-communist era saw the ownership of the complex change hands a few times as its economic viability was tested, but ultimately it shut down in 2004.
A flagship for urban renewal
The huge 4.5-hectare area was derelict and forgotten in 2014, when it was purchased by the Echo Investment group with the aim of bringing this once-proud property back into prominence as a vibrant urban space at the centre of the city's cultural life. After seven years of planning and development, the well-thought-out area is now welcoming guests to discover how the expansive space has been revitalised into today's modern Warsaw Breweries, and we think we can say they've succeeded in their mission. Beautifully mixing bold new architecture with restored historical buildings, post-industrial design with green public spaces and commercial areas with residential ones, Browary Warszawskie is a flagship for urban renewal.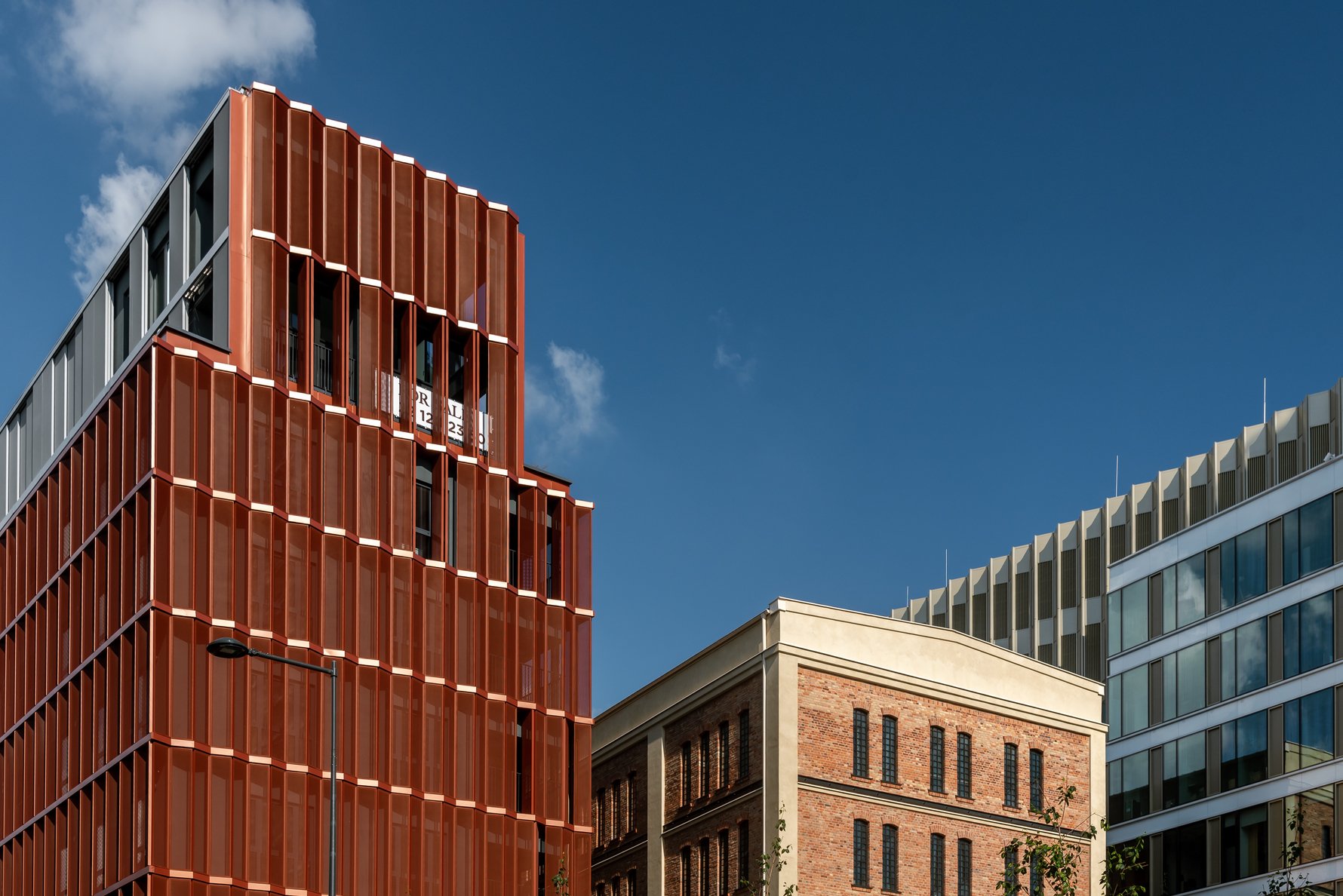 Specifically, the area features several revitalised buildings belonging to its past as a brewery: the historic Malthouse, Fabricant's Villa, Research Laboratory and Beer Cellars. As for the modern, the development includes five new residential buildings and three office buildings. Between them all you'll find five public squares: the Malthouse Market, featuring a fountain; Brewery Gate Square, welcoming guests entering from ul. Grzybowska; the large Central Garden above the beer cellars; the quiet Laboratory Courtyard; and the Breakfast Square tucked into the residential area off ul. Krochmalna. As part of the project a new street was developed and named by local residents: Haberbusch & Schiele Street is the capital's first 'woonerf' or 'living street' - a Scandinavian urban planning solution that puts the needs of local residents above all else to increase the quality of city life.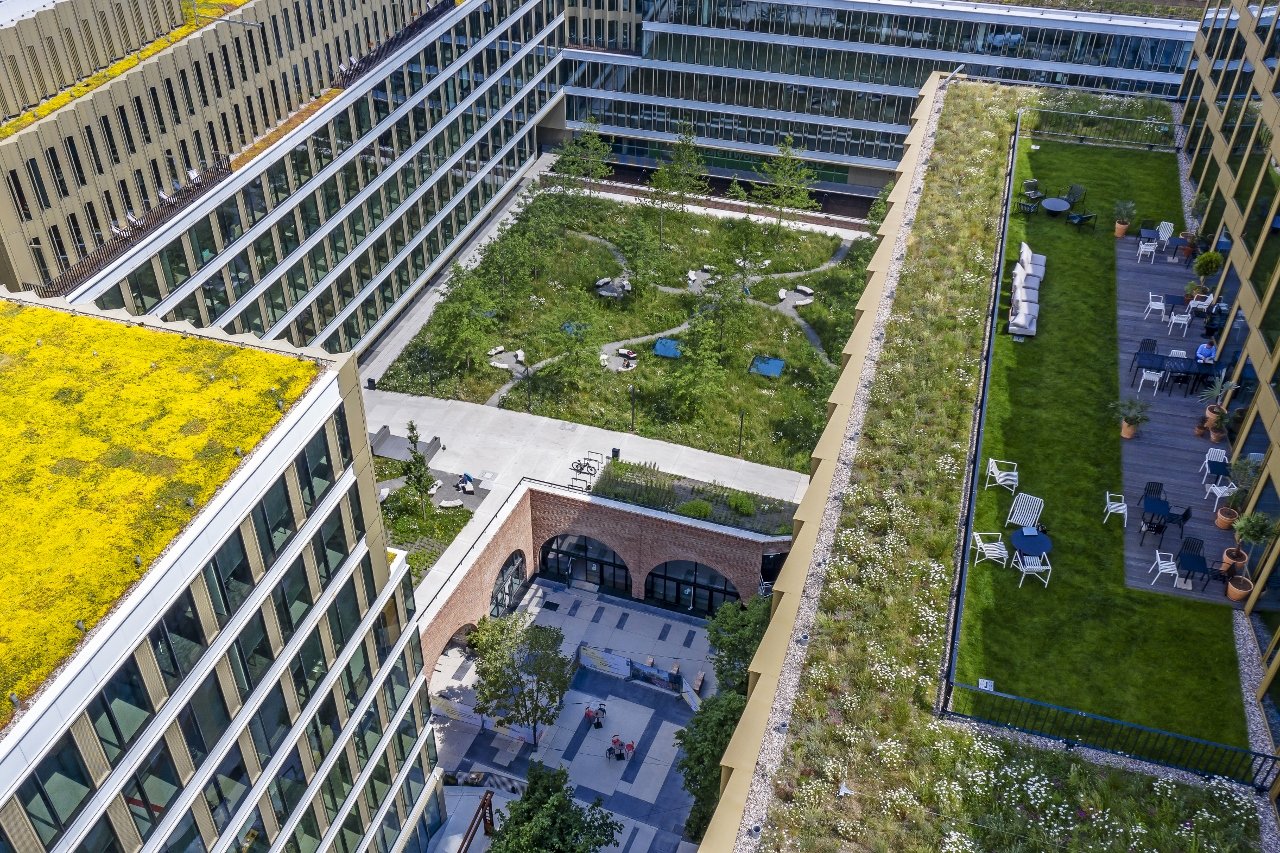 Dining destination
Undoubtedly, one of the biggest, most consistent crowd-pullers to Browary Warszawskie will be the cafes and gastronomic offerings. You can already enjoy some top-notch tastes in inspiring interiors from some of the capital's most creative culinary influencers, and more are yet to come. Enjoy great coffee in Etno Cafe (ul. Grzybowska 60) or Dobro & Dobro (ul. Żelazna 59A), and don't miss Deseo Patisserie & Chocolaterie for ice cream, sweet treats and to-die-for desserts (ul. Krochmalna 59). One place that really distinguishes itself is the Browary Warszawskie Bakery (ul. Grzybowska 56), where you can see the delicious no-additive breads being made before your eyes. Order them in a range of sandwiches, or spoil your sweet tooth with their pastries and 'cruffins' - yes, that's a cross between a croissant and muffin, and the pistachio-cream is killer.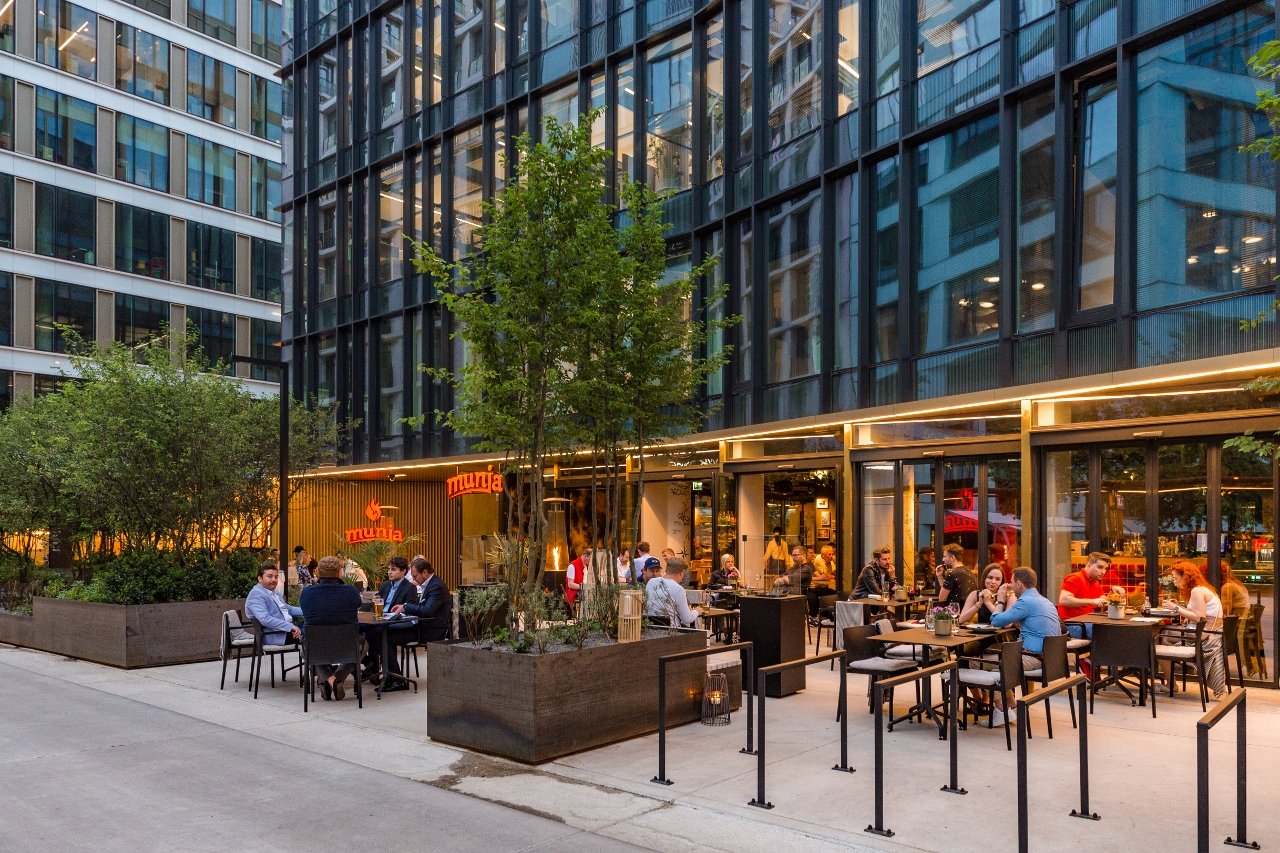 For more substantial eats visit the Balkans in the buzzy, much-loved Munja restaurant (ul. Grzybowska 60). Prefer Spanish cuisine? Sobremesa's Tapas Bar (ul. Grzybowska 56) serves up brilliant dishes and also offers guests live cooking sessions for you to salivate over. The international flavours continue with Japonki, which can make a legit claim to the city's best sushi, while Azjatka Asian delicatessen and the Piccola Italia & Mediterraneo delicatessen (all three located at ul. Krochmalna 61) offer imported foods, drinks and products from Asia and the Mediterranean, respectively. The complex is now home to Food Hall Browary, hosting twelve diverse food concepts inside the 170-year-old beer cellars, and even more venues are on the horizon, with Olivos continuing the casual and social Mediterranean vibes, the Gastronomja meat-lovers bar, and French wine bar/shop Le Paradox. In terms of anticipation, however, the buzziest are certainly famed Polish footballer Robert Lewandowski's restaurant, which will lure lovers of sports and great food to the Malthouse, and the much-awaited Browar Warszawski (Warsaw Brewery), which will return the entire complex to its roots by offering 18 different types of craft beer brewed on-site!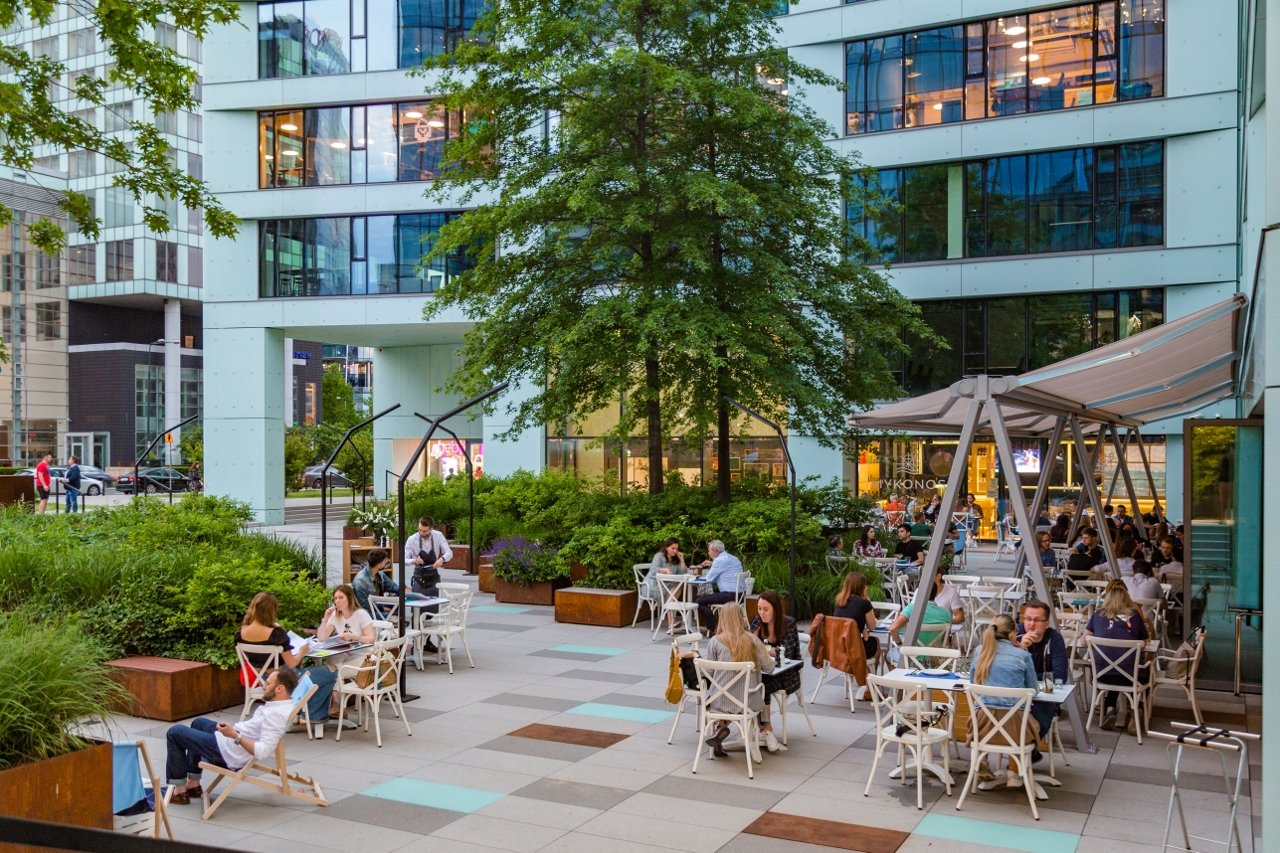 Summer 2021 at the Breweries
Whether you prefer to lounge around, move to the rhythm, or tickle your taste buds, Browary Warszawskie has a full ongoing calendar of happenings to integrate itself, and you along with it, into the social and cultural fabric of the capital. Eager to dispel the notion that such places are primarily for monied hipsters, Brewery events are aimed at all ages and interests. For example, every Saturday and Sunday in August the squares around the Malthouse will host activities and events aimed at children. Take your youngest to music mornings, or turn them loose to play in the 'sensory scenery' made of natural materials and fabrics. For older kids, an oversized boardgame zone will be available, and outdoor games with entertainers are planned. In the evenings, the Breweries will host free outdoor film screenings every Wednesday and Sunday at 21:00 throughout the summer, as a series of Polish and international movies (with subtitles) will be shown in the squares and courtyards around the complex. Note that COVID-19 sanitary measures will be in place to keep everyone safe and comfortable, and head online for full details on these events and more that are being planned all the time: browarywarszawskie.com.pl
Getting to the Warsaw Breweries
Browary Warszawskie can be found in the heart of Warsaw's Wola district, between Grzybowska, Wronia and Krochmalna streets. The official address is ul. Grzybowska 58.

The best way to get there is either by car (parking available), taxi, or public transport. Hop on bus 106 to the 'Wronia' stop or bus 157 to 'Mennica'. Rolling in on trams 1, 9, 14, 22, 24 or 25, hop off at 'Muzeum Powstania Warszawskiego' (Warsaw Rising Museum). Alternatively, you can take the M2 Metro line to the stop 'Ronda Dazyńskiego' ('Księcia Janusza' westward direction), exiting onto Towarowa Street and turning left towards Grzybowska Street. Whichever option you use, you're within 5mins walking distance.​ Use warszawa.jakdojade.pl to check current transport times and routes.