Last Updated @ 4:27pm (CET) on 28/03/2020
Is the Coronavirus in Wrocław?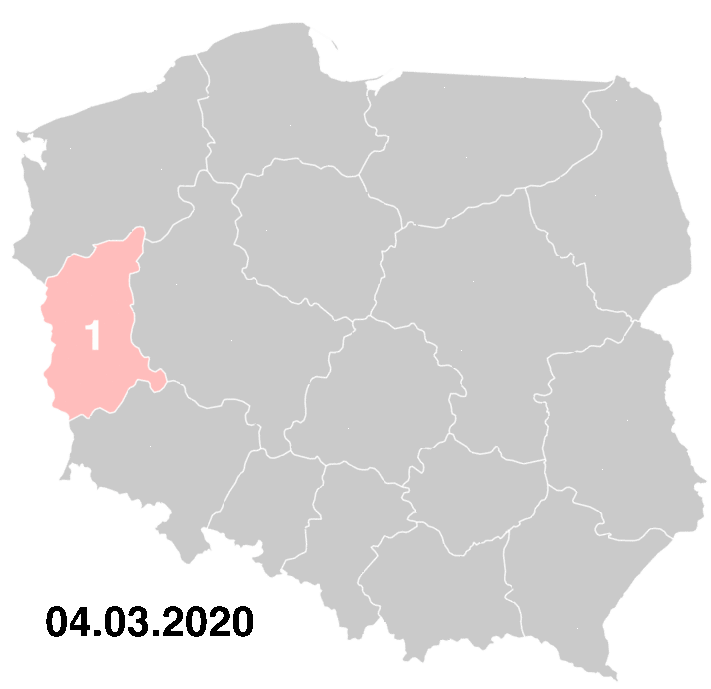 Yes, so far there are 199 confirmed cases of Coronavirus in Wrocław and the voivodeship of Dolny Śląsk (ENG: Lower Silesia). One of those infected is the Vice President of Bank Credit Agricole, who is a resident of the city.

The voivodeship of Masowia (ENG: Masovia), where the capital Warsaw is located, has the highest number of confirmed cases - a total of 318. Wrocław and the voivodeship of Lower Silesia has the 2nd-highest number of cases.

There are currently 1481​​​​​​​​​​​​​​​​​​​​​ confirmed cases in the whole of Poland. Of this number, 17 people have died.

Obviously, given the rapid exponential spread of the virus, the exact number of cases is difficult to calculate and constantly being updated. Check this live updated global map by John Hopkins University or follow the Polish Ministry of Health on Twitter @MZ_GOV_PL.
 
Read more on the latest on Coronavirus in Warsaw.
Read more on the latest on Coronavirus in Kraków.
Read more on the latest on Coronavirus in Łódż.
Read more on the latest on Coronavirus in Gdańsk, Sopot and Gdynia.
Read more on the latest on Coronavirus in Katowice.
Read more on the latest on Coronavirus in Poznań.
Latest News from Wrocław...
March 25 - @8:57am (CET) A 41-year-old and a 71-year-old man with Coronavirus have died in Wrocław. These are the 11th and 12 deaths recorded nationally. @1:30pm (CET) another 71-year-old man with Coronavirus died at a hospital in Bolesławiec, making the national death-toll 13.

March 24 - PANDEMIC LOCKDOWN
The Polish Government has announced "Until April 11 inclusive, you will not be able to move freely outside your living, health and professional responsibilities."

THE RESTRICTIONS DO NOT APPLY TO:
| | | |
| --- | --- | --- |
| Travel to work. If you are an employee, run your own business or farm, you have the right to get to your job. You also have the right to buy goods and services related to your professional activity. | Volunteering. If you work to fight the coronavirus and help those in need quarantined or who should not leave your home, you can move around as part of this activity. | * Dealing with matters necessary for everyday life. You will be able to move around to do the necessary shopping, buy medicines, see a doctor, look after relatives and walk the dog. |


Regarding the above points, you will be able to move only in a group of up to two people. This restriction does not apply to families.

* - In order to meet your 'necessary daily needs', the Polish Government has stated you can leave the house once a day for 'sports purposes' ie. Excersise!
 
  
• Public transport continues to operate. However, only half of the seats can be occupied on a bus, tram or train. Eg. If there are 70 seats in the vehicle, it can have a maximum of 35 people onboard.

• The new regulations also ban any gatherings, events or meetings. However, you will be able to meet your loved ones.

• Restrictions on movement also do not apply to people who want to participate in religious events. Here, however, we have introduced another important principle: More than 5 people will not be able to participate in the mass or other religious rite at the same time - excluding those who exercise the ministry.

• Restrictions on the number of people do not apply to workplaces. However, they should apply particularly strict recommendations of the Chief Sanitary Inspector in the field of maintaining the distance of employees, disinfectants etc.


March 20 - Reuters reports that nearly half a million litres of confiscated vodka and rectified spirits will be sent to Polish public institutions in need of disinfectant amid the coronavirus outbreak. The alcohol, which was initially meant to be destroyed, will be used to disinfect transport services and indoor spaces.

March 20 - Poland is officially in an epidemic state. For a week prior to this, the country was in a 'State of Epidemic Threat'. The main difference is the introduction of ground zero, meaning that certain areas which already have several cases will be in lockdown. However, for the time being, this will not apply to entire city areas.
There is re now higher fine for breaking quarantine: It was previously 5000zł; it is now 30,000zł. In addition, authorities have introduced a new quarantine mobile app, which allows quick contact between the Police and the person in quarantine. Schools will not reopen until the Easter holidays. In the meantime, classes will be taught online. However, the dates of national exams have not been postponed.

Gazeta Wyborcza has reported that paramedics in Lower Silesia have asked companies to help donate vital medical equipment. Piotr Roman, the Mayor of Bolesławiec, says that their city hospital needs 300 protective suits a day. A local factory is currently researching how to manufacture the suits. Paramedics in Legnica have also asked for masks with FFP3 filters and P3 filters, as well as disposable coveralls and disinfectant liquids.

Lower Silesian mining company, KGHM, have donated 10,000 anti-dust masks to hospitals in the region. Although the masks do not protect doctors treating coronavirus patients, they can still be used by patients with a normal flu or cold.
 
Are Museums & Tourist Attractions in Wrocław still open?
On March 11, the Polish Prime Minister announced the closure of all cultural venues and institutions, including museums and cinemas, across all of Poland. With this announcement, Wrocław's tourist industry and services have basically been shut down for a minimum of two weeks beginning on March 12.

Are scheduled events in Wrocław still happening?
On March 10, the Polish Prime Minister announced the cancellation of all outdoor events of over 1000 people, and all indoor events of 500+ people, across all of Poland. Three days later on March 13, all gatherings of 50+ people were banned, and all restaurants and bars were ordered to close indefinitely beginning March 15. That's how fast things are moving.

In recent days, following cancelled gigs, local Wrocław bands have been live-streaming performances to their Facebook fans – despite the fact the gigs were not open to the public. Although the streams were meant to be a one-off, venues have not ruled out repeating the idea again if the restrictions last a long time.​​​​​​

On March 12, Wrocław's District Court announced it would be suspending 'almost all court hearings' until the end of March.

Are Bars & Restaurants in Polands open? Shops?
Bars, casinos and other places of entertainment will be closed from Sunday March 15. Restaurants and cafés are also closed, however they are allowed to provide takeaway and food delivery services. Shopping Malls will be closed as well, except for any supermarkets and pharmacies inside, which will be open with limited hours. Other shops remain open for now. Trams and buses are still functioning.
Click here for a list of Online Grocery Shops around Poland.

Rummours were circulating that Wrocław was facing a Wuhan-style lockdown, a reference to recent events in China. However, Mayor Jacek Sutryk took to social media on March 12 to denounce the claims as 'fake news'.
Due to shops introducing a restriction in customers entering their premises, long queues can be seen dragging out onto streets all over Poland. For older generations, this surely brings back memories of Communist Era Poland!
Read our feature on Queueing in Poland

National postal service Poczta Polska has announced it will stop sending and receiving international shipments from 16 March until further notice. Working hours on business days will be reduced to six hours (14:00-20:00) and for three hours on Saturday. Their 24-hour branches will also be reduced - they will operate 7 days a week, 8:00-20:00. However, customer service points in Shopping Malls will be closed.

Wrocław's iconic Swiebodzki Flea Market was closed on March 15. As an ongoing Sunday event, it is unlikely it will be open in the following weeks. Młyn Sułkowice, another popular flea market, is also closed.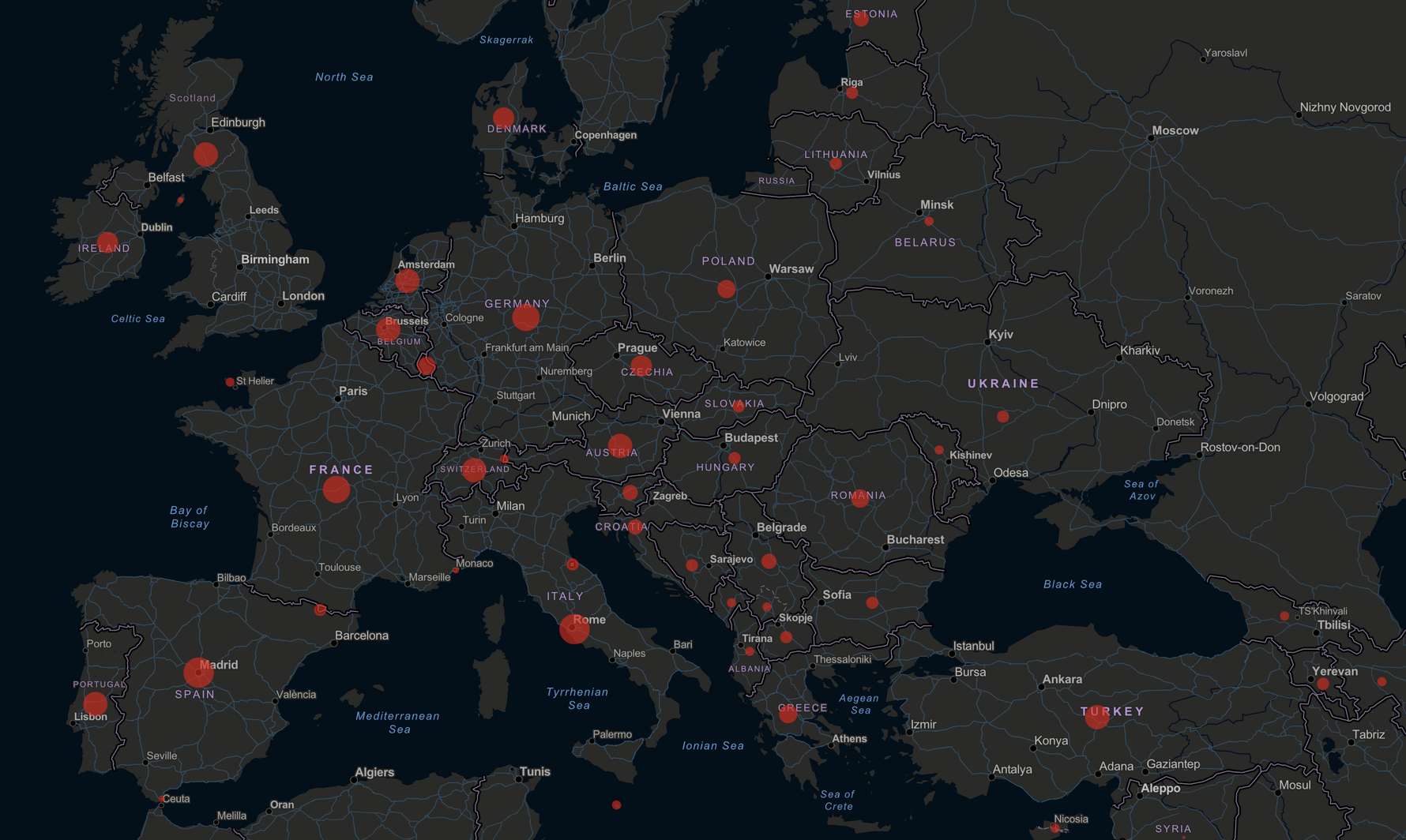 Is there a Travel Ban to and from Poland?
On March 13, the Polish Prime Minister declared a 'State of Epidemic Threat' and since Midnight on March 14/15, Polish borders are closed to people entering Poland, with some exceptions (see below). This closure is for a period of 10 days with the possibility of a 20-day extension. 

On March 13, International flights and trains have been suspended.
On March 15, it was announced that all domestic flights have also been suspended.

On March 17, the European Union is set to shut down all Schengen Area Borders, as an extreme measure to prevent the Coronavirus from further spreading in the borderless area. The European countries have discussed today the idea of introducing a ban on entry to the 26-state Schengen passport-free travel zone, which would cover all non-essential visits from third countries, with exemptions including for citizens of the Schengen area, people familiar with the work.

Polish Border Control has officially listed exceptions for people entering Poland:

1) Citizens of the Republic of Poland,
2) Foreigners who are spouses or children of the citizens of the Republic of Poland or remain under their constant care,
3) Foreigners holding a Pole's Card,
4) Heads of diplomatic missions and members of the mission's diplomatic and consular staff, i.e. persons with a diplomatic rank and members of their families,
5) Foreigners who have the right of permanent or temporary residence in the territory of the Republic of Poland,
6) Foreigners who have the right to work in the territory of the Republic of Poland, i.e. foreigners entitled to work under the same conditions as Polish citizens, holding a work permit, seasonal work permit, a declaration of entrusting work to a foreigner on the territory of the Republic of Poland,
7) In particularly justified cases, not included above, the commander of the Border Guard post, after obtaining the consent of the Commander-in-Chief of the Border Guard, may allow a foreigner to enter the territory of the Republic of Poland in accordance with the procedure specified in the Act of 12 December 2013 on foreigners (Journal of Laws from 2020 item 35);
8) Foreigners who run a means of transport used to transport goods.

Each person crossing the Polish border will be subject to sanitary control and medical services will measure the individual's temperature. Each person crossing the border is obliged to undergo a mandatory 14-day quarantine, with the following exceptions:

     • People living in Poland who work in a neighbouring country and regularly cross the border;
     • Foreigners living in a neighbouring country who work in Poland and cross the border regularly;
     • Drivers engaged in the professional transport of goods and passengers.

On March 19th it was reported that queues stretching as long as 60km have formed at Poland's borders with Germany and Czech Republic. Due to cancelled flights, Polish residents are attempting to return home via car. It is reportedly taking entire day to get through the queue. 
What should I do if I suspect I have Coronavirus?
If you are in Poland and suspect that you may have been infected with Coronavirus, please call Centrum Wielokulturowe on 800-190-590 and press '6' to be assisted in English.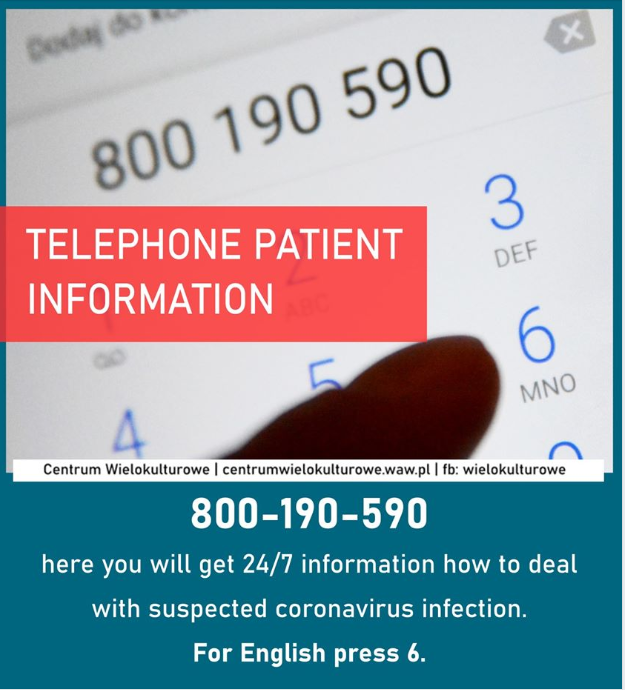 Coronavirus (COVID-19) symptoms include:
     • runny nose
     • sore throat
     • cough
     • fever
     • difficulty breathing (severe cases)

To prevent infection, the Polish Ministry of Health advises everyone to:
     • Wash your hands regularly with soap and water
     • Cover your nose and mouth when coughing and sneezing
     • Keep at least one-metre distance between yourself and others who are coughing and sneezing.


What are Polish Authorities doing to control the spread of Coronavirus?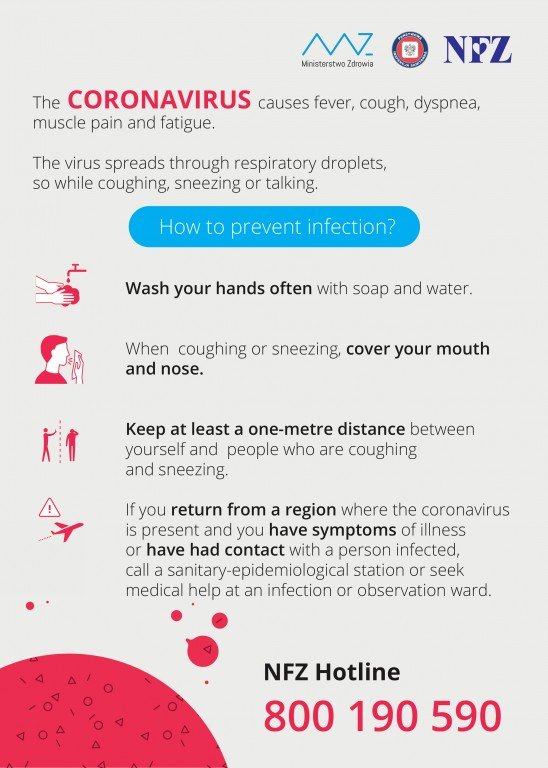 Before the first confirmed case of Coronavirus in Poland, authorities were not doing much aside from propagating the idea that Poland would somehow not be affected by the virus as much as other countries.

Since the outbreak began in China, there's not a single local who hasn't learned the history of the bubonic plague, or 'Black Death,' and how it somehow affected Poland on a much smaller scale than the rest of Europe in the 14th century (sadly, this balance would be paid during WWII). Will history repeat itself 700 years later? 

As should have been obvious, no, it will not. Since the first case in Poland was officially announced on March 6 (it is speculated that the virus was in PL much earlier), the virus has spread rapidly and authorities have been acting quickly to counteract it.

Read our article Did Poland really escape the Black Death?

On March 11, the Polish Prime Minister, Mateusz Morawiecki, announced the closure of all schools in Poland, beginning on Friday the 13th (Jason masks do not protect you from the spread of Coronavirus) until at least March 25.

Poland is currently not on the Foreign Office list of restricted travel. You do not need to self isolate if you have recently travelled back to the UK from Poland.

At this point, the pace of information is moving so fast that your best bet is to follow the live information feeds from the the Polish Ministry of Health @MZ_GOV_PL on Twitter. Follow the hashtag #koronawiruswpolsce on social media for more updates.

We will keep this article updated and add more links as the situation with the Coronavirus in Poland evolves!