DOWNLOAD YOUR FREE ZAGREB IN YOUR POCKET GUIDE HERE!

Zagreb's slow transition from winter through spring and on into the early summer is a wonderful thing to behold. While there is no such thing as a dull month in the Croatian capital, one is nevertheless obliged to admit that it's in April, May and June that the city is at its most vivacious. It's not just a question of the greening of the streets and the sudden emergence of abundant blossoms, or the sight of the café terraces filling up as social life moves decidedly out of doors. It's also about savouring the more discreet signs of the changing seasons: the gradual, personality changing shedding of dark sartorial tones, the increasingly
large swarms of cyclists that swoop past pedestrians like swallows, and the sight of the city's parks filling up with kids who at last have a reason to stay out well after teatime. Spring and early summer are undoubtedly the best times to be in the city if you want to get to grips with Croatian cultural life. Zagreb's live music programme is at its busiest, with a healthy influx of international acts filling the city's rock and pop venues; while the seasonal flurry of arts festivals comes to something of a climax in early June. Also, many of the big-hitting art exhibitions are opening up in spring in order to get the best out of a Zagreb public that tends to desert the city for the coast in high summer.

Here's a sneak peek at our latest print magazine. For the full picture download your free pdf copy of our 68-page Spring 2019 issue here! 

FIND OUT WHICH TOP 10 SPRING EVENTS YOU MUSTN'T MISS
Your guide through best Spring events. The warmth in the city air turns up a notch with a large number of concerts and exhibitions up for grabs.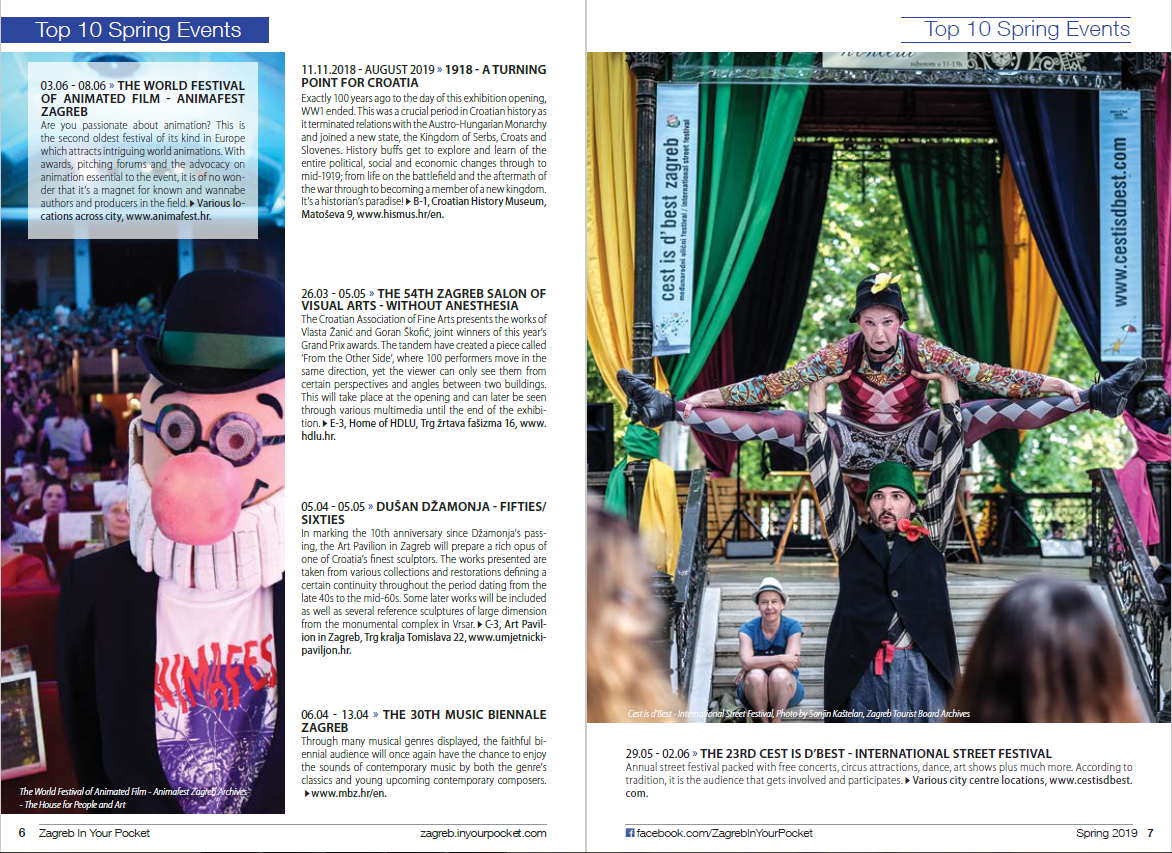 ZAGREB AT NIGHT LIKE A LOCAL 
Meet four interesting ladies who are intimately acquainted with Zagreb by night and who offer their unique perspective, plus a few tips.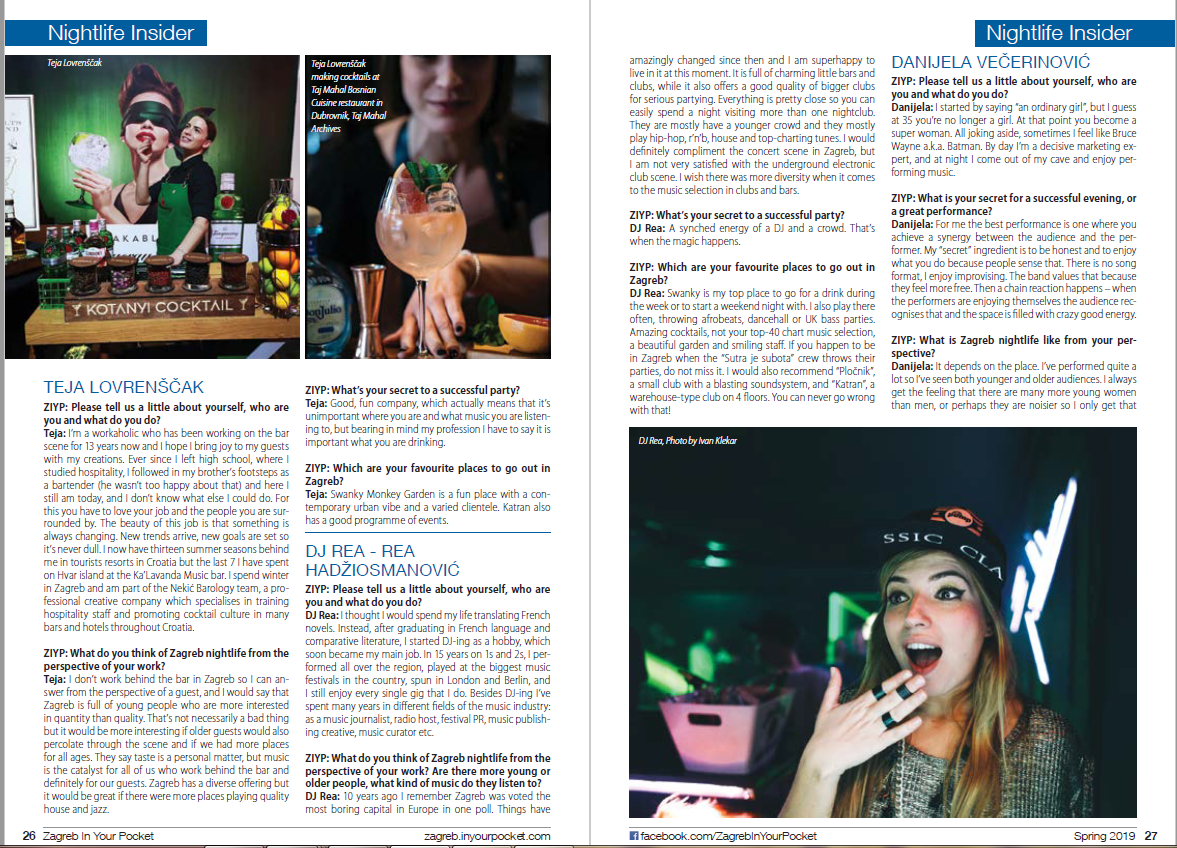 EXPLORE THE GREAT OUTDOORS
If you cross the ridge of Mount Medvednica to the north of Zagreb, the vistas change from the Pannonian plain stretching endlessly eastwards, to waves of green mountain ridges rolling northwards, covered with forests and vineyards, towns and villages nestled here and there. Welcome at Hrvatsko zagorje!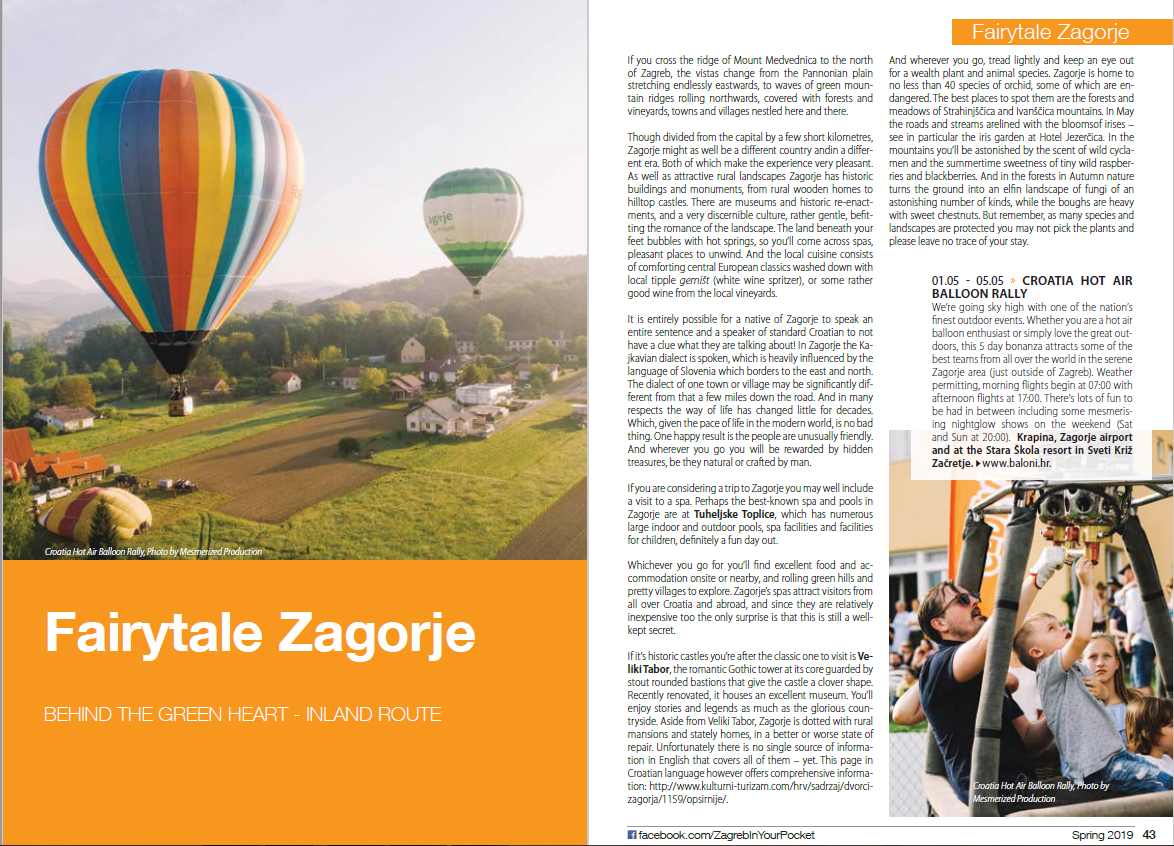 SUPPORT LOCAL DESIGNER
Marija Kulušić is a womenswear fashion designer based in Zagreb. She aims for juxtaposition in design, exploring the difference between modern and traditional to achieve timeless pieces.