Heralded as the ecclesiastical capital of Ireland and City of St. Patrick, Armagh is Ireland's oldest city with records showing inhabitants as far back as 4500BC. Armagh was granted official City Status by Queen Elizabeth ll in 1995. The Archbishops of the Catholic Church and Church of Ireland are based here, and both Church's Cathedrals share St. Patrick's name.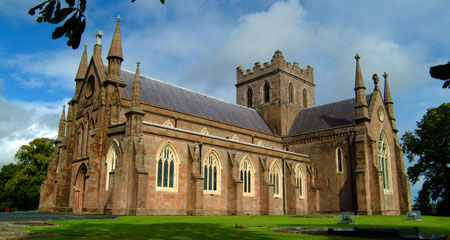 The Saint's links with Armagh began at St. Patrick's Church of Ireland Cathedral where Patrick built his first church in 445 and decreed Armagh the home of Christianity in Ireland, a position the city holds to this day. Remnants of the current building date back to 1261 and today's Cathedral stands testament to centuries of wars, fires, erosion and painstaking restoration.

A plaque on the Cathedral's exterior marks the 1014 burial place of Brian Boru, High King of Ireland, and inside the building is crammed with Celtic and historic artefacts. Its south transept houses the Regimental Chapel of the Royal Irish Fusiliers.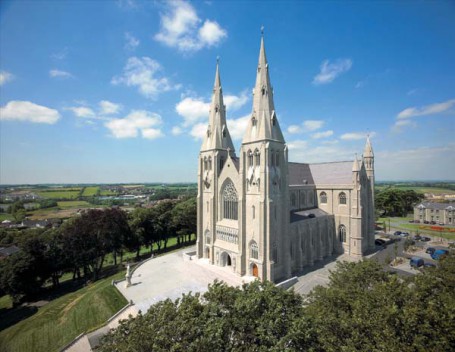 The hilltop setting and twin Gothic spires of St. Patrick's Catholic Cathedral make it a particularly prominent city landmark. Inside its renovated interior a series of stained glass windows depict important moments in St. Patrick's life.

Two statues straddle the imposing door; on the right is local boy made good St. Malachy and on the left our hero St. Patrick. Legend has it that the Cathedral's site was prophetically 'chosen' 1400 years before its construction when St. Patrick saved a fawn from capture and carried it to safety on the hill. Construction work began on St. Patrick's Day 1840, but was suspended during the Great Famine. The final consecration ceremony took place in 1904.

Both Cathedrals are free to visit, though donations are very welcome. For more info on both, visit www.stpatricks-cathedral.org and www.armagharchdiocese.org.