The rolling hills of The Cradle of Humankind region are an ideal destination for lazy long strolls and hikes. Easily reached with a short drive from Sandton and Joburg's northern suburbs, you'll be there in as little as 40 minutes. If you are a novice hiker this area is the perfect place to find your passion for the trail with few steep or technical inclines and plenty of hikes that can even be tackled with young children in tow.

Here's a look at five of our favourites walks and hikes in the Cradle of Humankind.
Avianto Walking Trails
Length: 2.5km or 5km
One of the few dog-friendly walking venues in the Cradle of Humankind, the Avianto Walking Trails snake their way around fields that surround the upmarket Avianto lifestyle complex in Muldersdrift, starting from Avianto's upmarket boutique hotel and clubhouse. Ideal for kids, both the 2.5km and 5km trails are easy going and relatively flat, passing through grasslands and alongside a shady stream. Given the complex's relative exclusivity, you'll find Avianto much less crowded than many similar-sized Joburg trail areas, and an extra bonus of a visit is the chance to dine at one of two dining venues, The Clubhouse or Cafe Cielo, where you can also order a picnic box to enjoy on the lawns.

Need to know: Follow the signs for the Avianto Hotel (not the Avianto school) and at the entrance prepare for a pretty involved process of checking in with security at the gate. Then follow the signs for the Reception centre where you can get a map and pay for the hike. Alternatively, you can book and pay for your visit online here. Entrance to the walking trails costs R40. Dogs are permitted (on a leash).

Where: Plot 69, R114 Driefontein Road, Muldersdrift, avianto.co.za.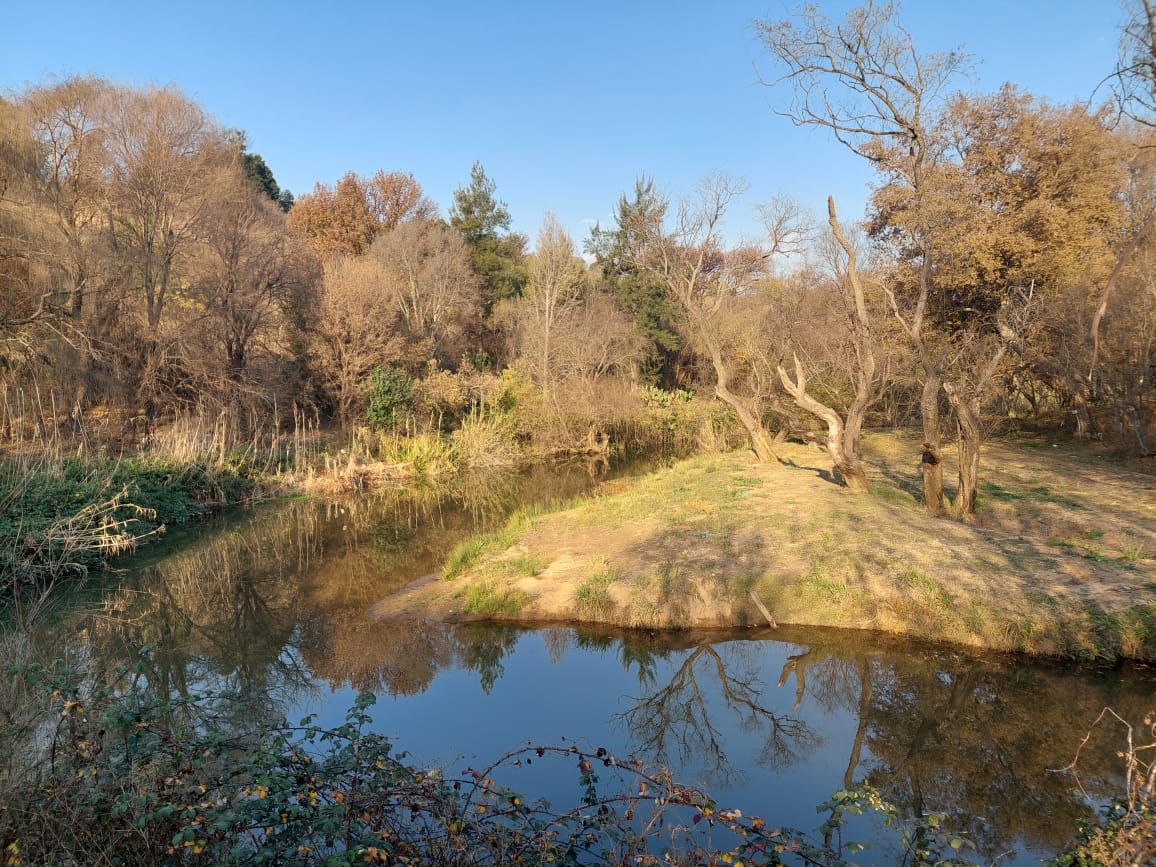 Cradle Moon Lakeside Game Lodge
Length: 10km
If our record of our website traffic is anything to go by, this 10km trail might just be the one that kicked off Joburg's hiking obsession during the first months of the 2020 lockdown. Almost everybody in the city seems to own a selfie standing in front of the water cascading over the Cradle Moon dam wall. Still one of the most popular hikes near Joburg, the trail can get very busy, especially on weekends, so try arrive extra early in the morning or visit during the week.

Cradle Moon is a 160-hectare conservancy that offers accommodation as well as lots of outdoor activities including mountain biking, trail running and open water swimming (you can follow the buoys in the dam for a 1km lap). The Cradle Moon hike is an easy and very scenic 10km route that follows a path right around the dam. The reserve has abundant game and along the way you are likely to spot zebras, springboks and even giraffe.

Need to know: Head to the activities centre next to the car park to pick up maps and pay for activities (you will need to show proof of payment to exit the reserve afterwards). The hike costs R70. For a cold drink or snacks after your walk there is a restaurant overlooking the dam that adjoins a small human-made beach (arrive early if you want a spot on the sun loungers!). No dogs allowed.

Where: Plot 59 Beyers Naude Drive, Muldersdrift, cradlemoon.co.za. Open daily, there is no need to book.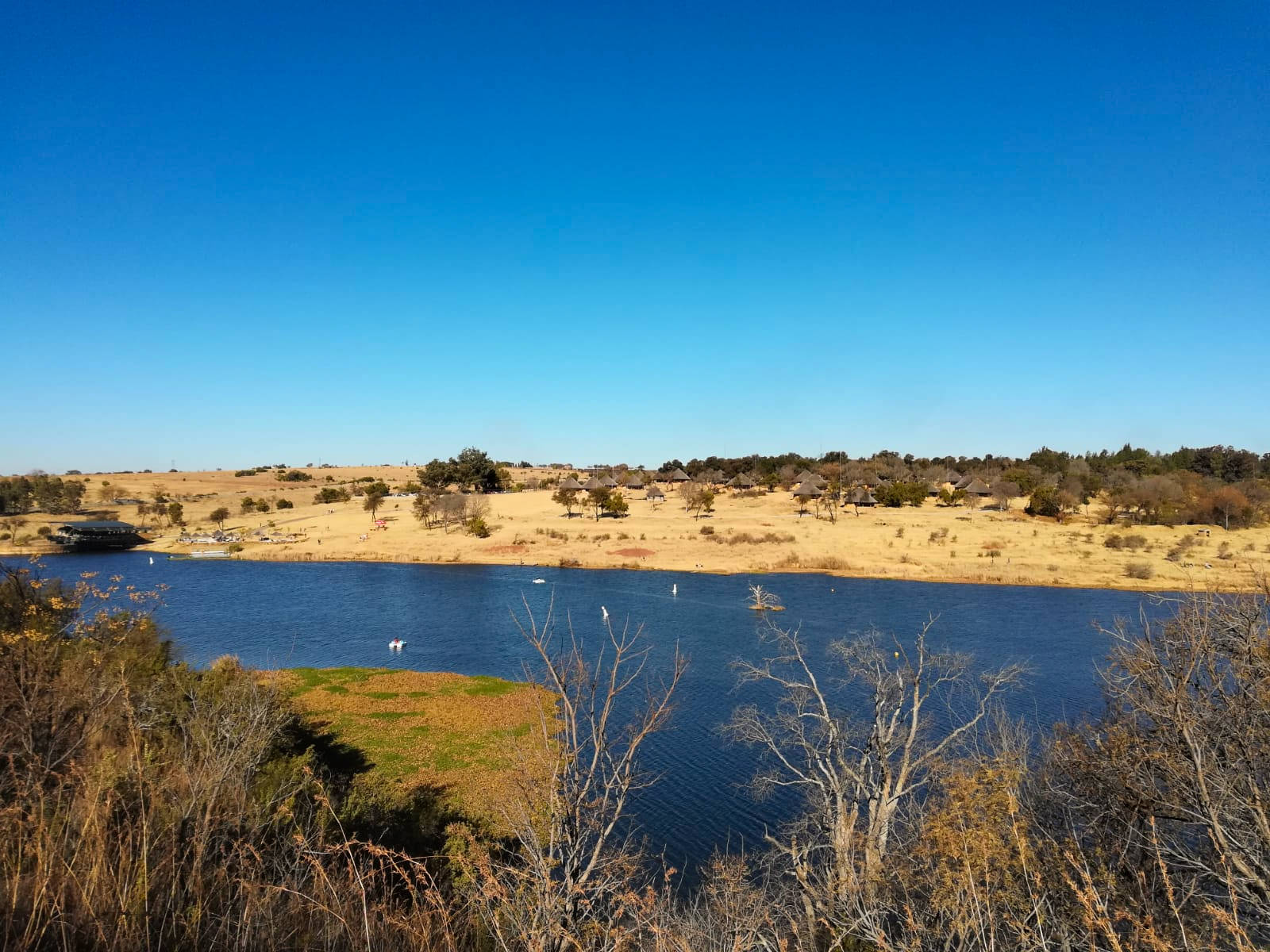 Kings Kloof Trails
Length: 7km, 12km or 21km
The setting here is wonderful with trails meandering across the hills of the Laurentia Farm near Krugersdorp, before swooping down to follow a river through a wooded valley towards a waterfall at the foot of the kloof.

There are six well-marked and maintained trails to choose from, ranging from super easy to relatively technical. The most popular is the 7km Yellow Route (around 75 minutes to complete) which follows a stream up to the waterfall and back again. The 12km Blue Route takes about two and a half hours, adding in extra distance by looping around in a butterfly-like shape and switching back on itself to pass through protea groves, before redirecting towards the treed river valley and up to the waterfall. There's also the 21km Black Route (advertised as 'difficult') that follows the Blue Route before taking a steep turn to climb up to the rocky outcrops on the top of the ridge to take in the views. You can 'chicken run' the Black Route and make it a little shorter by initially following the direct Yellow Route straight to the waterfall and then veering off to follow the Black Route from there. 

Need to know: Back at the entrance to the trails and next to the car park is a small tuckshop-type cafe overlooking a small dam where you can get simple snacks and light meals, and a coffee truck. Note both close just after lunchtime. Kings Kloof Trails are only open on weekends and public holidays (from 05:30) and the trails close at 15:00. Entrance costs R40 and there is no need to book in advance. Large groups are strictly discouraged to prevent overcrowding. No dogs allowed.

Where: N14 (extension of Hendrik Potigieter 18.40 km), Muldersdrift, kingskloofvenue.co.za.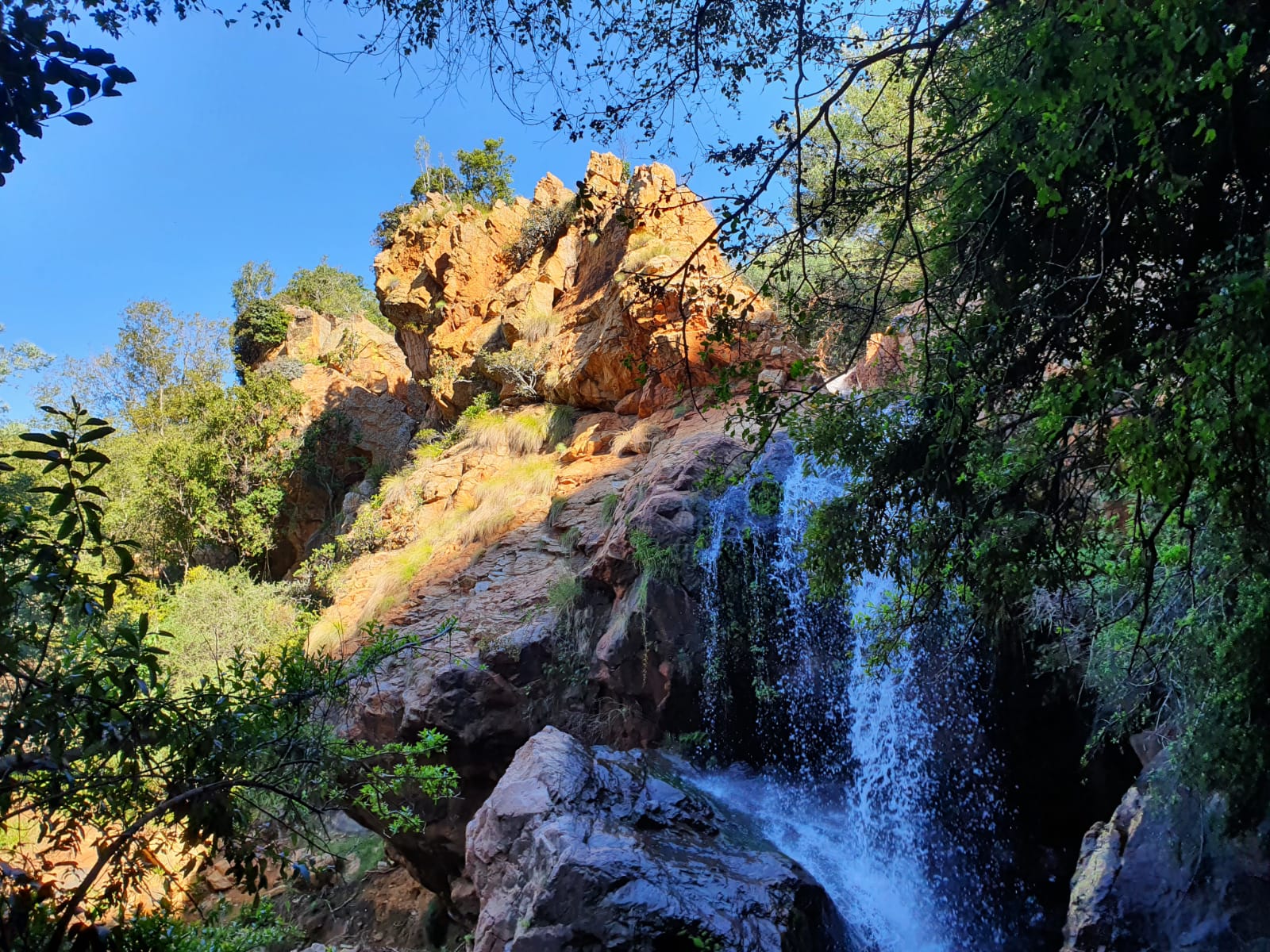 Ground
Length: 3km or 9km
Ground Cafe is a popular events venue located on a Muldersdrift farm that has a stylish cafe, as well as a variety of gentle hiking trails. There are five marked trails ranging from 3km to 9km in length that crisscross the farm in search of the prettiest views over the valley. A special treat is the opportunity to combine your hike with a gourmet breakfast roll and an excellent barista-made coffee from the cafe or a gourmet burger and a beer. Halfway along the trail at the 'big cactus' landmark on weekends there's also an "ápres hike" area where you can take a breather and enjoy the view from a deck chair with a cocktail when permitted (open Sat and Sun 07:00-13:00). 

Need to know: Booking is essential and once confirmed you will need to pay your hiking fees in advance too (R60 for hiking, kids under 5 free, R130 for hiking with breakfast roll and coffee). It is also possible to book for a special picnic to enjoy on the lawns after your hike, picnic boxes cost from R470 for two. The venue is open for hiking Wednesday to Sunday from 07:00 until 13:00, and on Friday's you can hike until 16:00. No dogs allowed.

Where: 19 Driefontein Road, Muldersdrift. Book online at groundthevenue.com.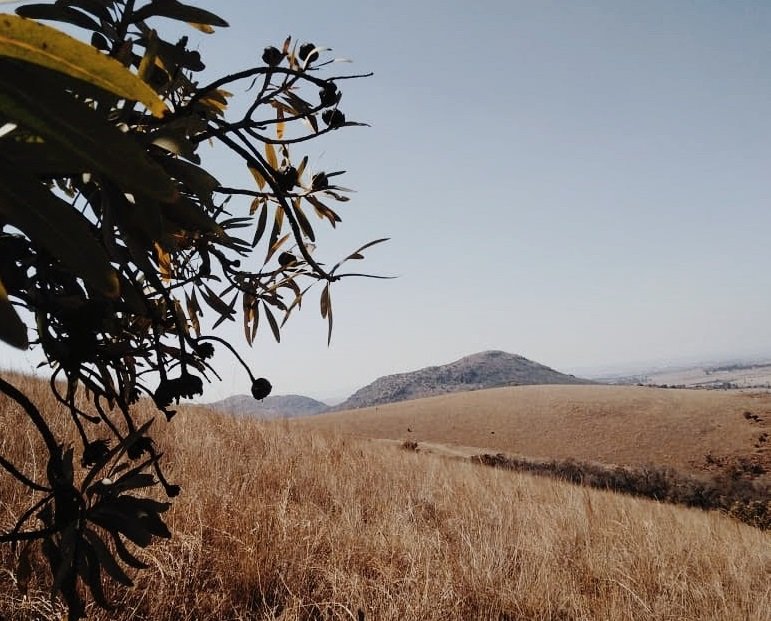 Nirox Sculpture Park and 58 Farmhouse
Length: Hiking trails for overnight guests at Fifty Eight range from 5km to 10km
This meticulously landscaped 15-hectare park is filled with contemporary sculptures created by local and international artists that are scattered throughout the park, popping up beneath willow trees and among shady groves, lying in wait amid the rolling lawns and emerging from the wetlands that meander through the space. Less a hiking venue and more a space for gentle walks with lots of art, this is one of the most upmarket attractions in the Cradle of Humankind, especially when you take into account the excellent indoor-outdoor restaurant And then there was fire. 

In the farmland adjoining the sculpture park, Nirox has launched a chic boutique hotel called Fifty Eight where in addition to a range of exclusive stayover options, guests can also join hikes and nature trails across the sprawling property to visit some fantastic spots, including caves and waterfalls, that are not usually accessible to the public. Note that only overnight guests can access the 58 Cradle hiking areas.
 
Need to know: The sculpture park is open on weekends and public holidays from 10:00-16:00 and occasionally hosts ticketed events so make sure to check in advance what's on. The restaurant is open Thu-Sun from 11:00-17:00 (kitchen closes 16:30) and with a restaurant reservation you also get access to the park. Entrance costs R120 (R70 with restaurant reservations), kids R60. Park at the parking marked Gate 1 and from there follow the signs for the ticketing entrance. No dogs allowed.

Where: 24 Kromdraai Rd, Cradle of Humankind, book visits online at niroxarts.com. Enquire about booking a stayover and hike at 58 Cradle at 58.life.