Vienna Christmas markets and events
 
Vienna's tourist season is in full swing during Christmas time, and to help you make the most of it, we've put together an ultimate Vienna Insider Christmas Markets Guide. We update this guide each year with fresh information, and while the offerings at the markets are generally similar from year to year, prices tend to increase, but well…  

Despite this, we love the markets for their lively, festive atmosphere and the smell of cinnamon and punch in the air. The decorative lights and overall atmosphere make it feel like you're part of a festive fairytale. December is all about street food, and what better way to warm up with friends than by enjoying a glass of punch or mulled wine and some decadent treats at the markets? (discover our favorite treats in a separate post here). 

There are many many Christmas markets all over Vienna. Listed here are the ones we like and visit the most (they are, however, not ranked, so make sure to read each section). We update this guide frequently, so you can check back and have a look every now and then. If you are staying in Vienna for just a few days, it might not be possible (nor necessary, to be honest) to visit all of the markets. But we hope this guide will help you find the right ones. Enjoy this post, and look out for our Vienna Christmas market reports on Instagram. We'll show you the markets through videos and Insta stories that we saved in our highlights, so you can check them out anytime!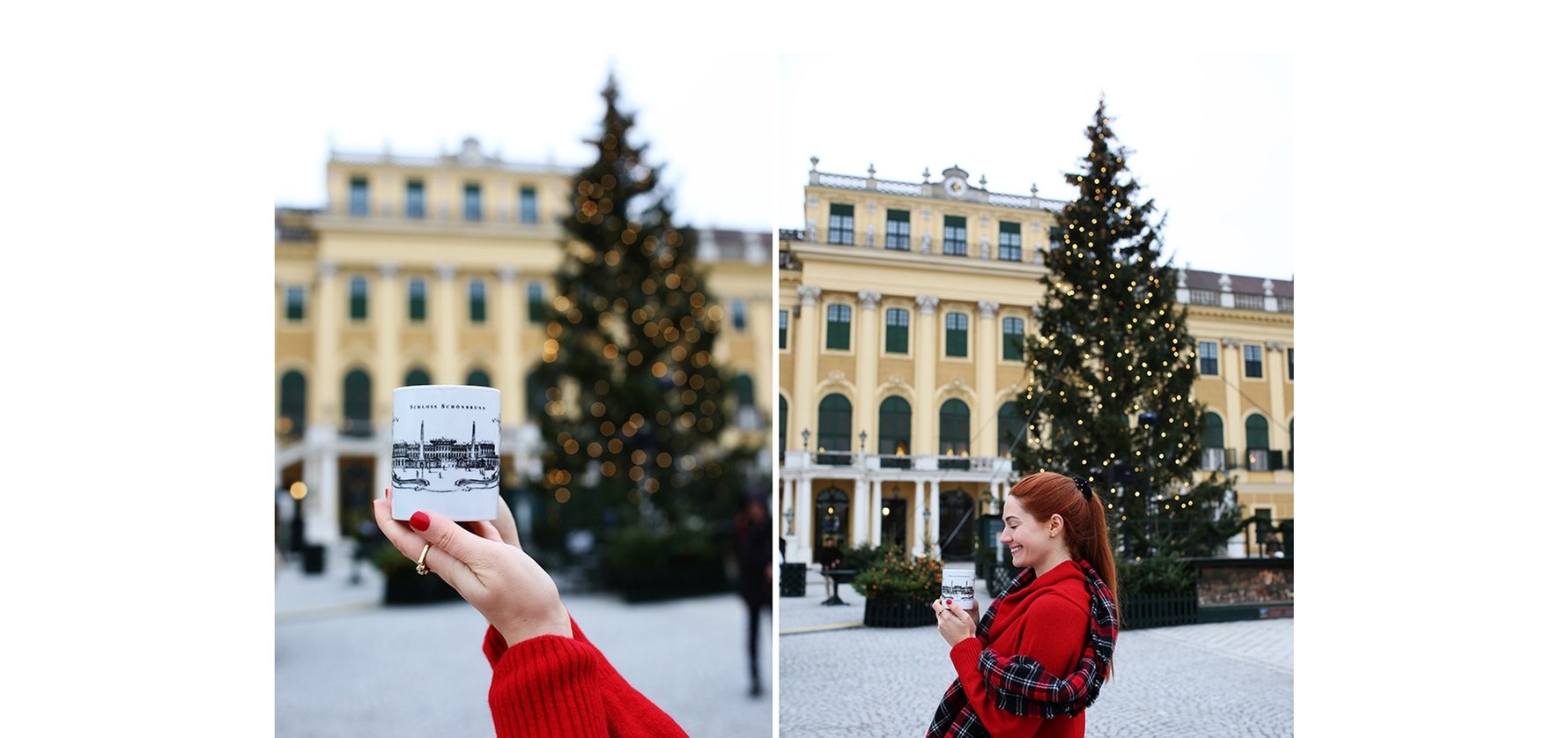 Christmas Market & New Year's Market Schloss Schönbrunn
This is probably our favourite Christmas market, so we had to mention it first. It's very spacious, so you won't get run over by the crowd. This market is a great choice if you want to purchase some nice souvenirs or delicacies, and it also has a major imperial vibe! For more information, check our post about the Christmas market at Schoenbrunn here. One of the great things about this market is that it's open after Christmas as well, so if you're spending New Year's in Vienna, you can still enjoy the festive vibe. Also, don't miss exploring the gardens behind the palace. If you're visiting as a tourist, going inside the palace is a must!

November 19 – December 26, 2022
Daily from 10.00 am – 9.00 pm
December 24, 10.00 am – 4.00 pm,
December 25+26, 10.00 am – 6.00 pm
Schönbrunn Palace, 1130 Vienna
www.weihnachtsmarkt.co.at
New Years' Market:
December 27, 2022 – January 4, 2023, 10.00 am – 6.00 pm
Website Xmas Market Schoenbrunn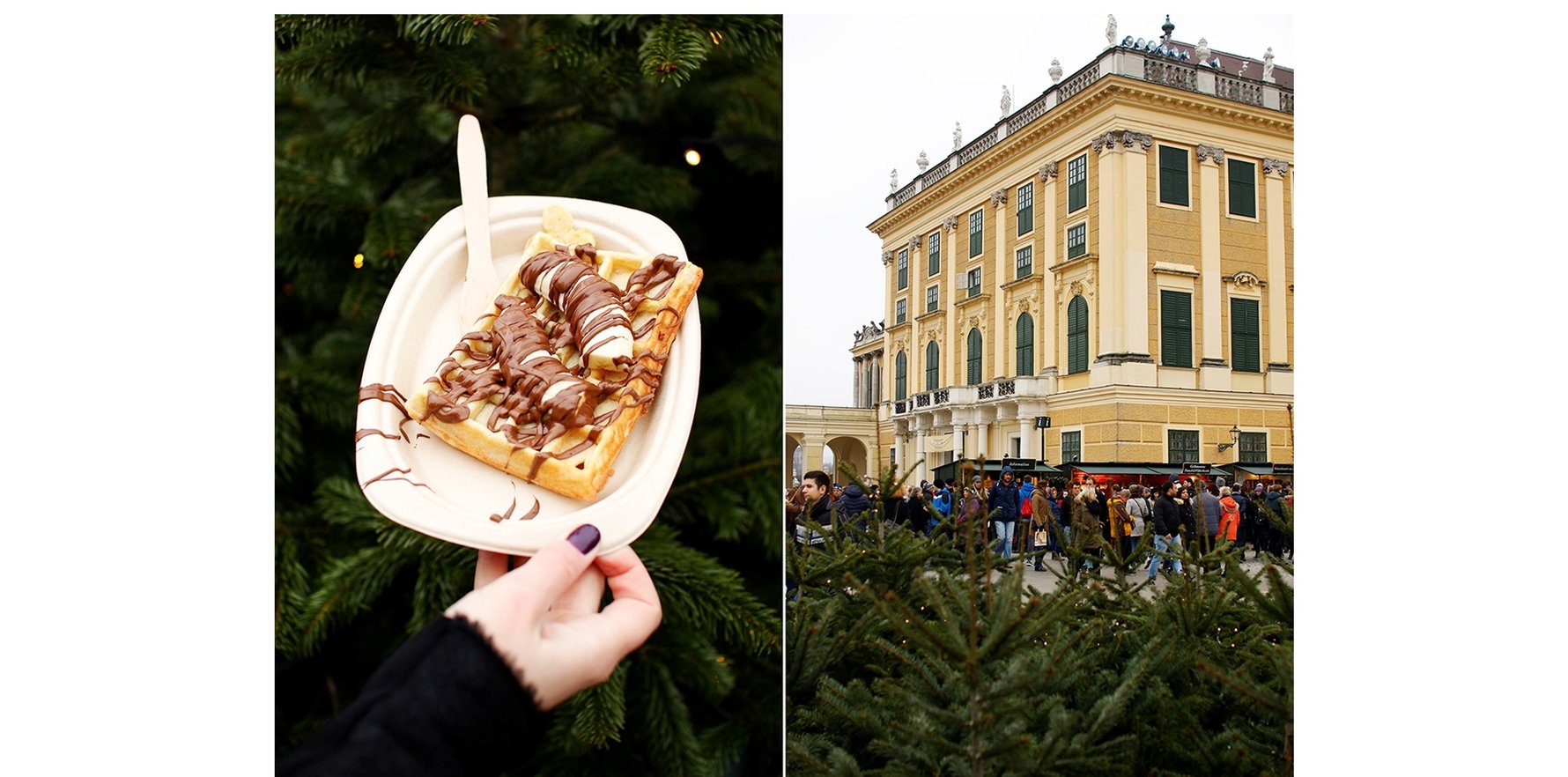 Christmas Market am Hof
This market is located in the first district, just a few streets away from the main tourist zones of Graben and Kaertner Street. It's a smaller market where you can buy lots of souvenirs and try a great selection of food, like huge donuts called Bauern Krapfen with jam or a type of garlic bread called Langos. They also have a good selection of edible gifts, such as gingerbread cookies from the Austrian region of Bad Ischl (which are really good!). For more information click here for a post with more information about this market.
November 11 – December 23, 2022
Mo-Th 11.00 am – 9.00 pm, Fr-Su & hols. 10.00 am – 9.00 pm, food until 10.00 pm
Am Hof, 1010 Vienna
www.weihnachtsmarkt-hof.at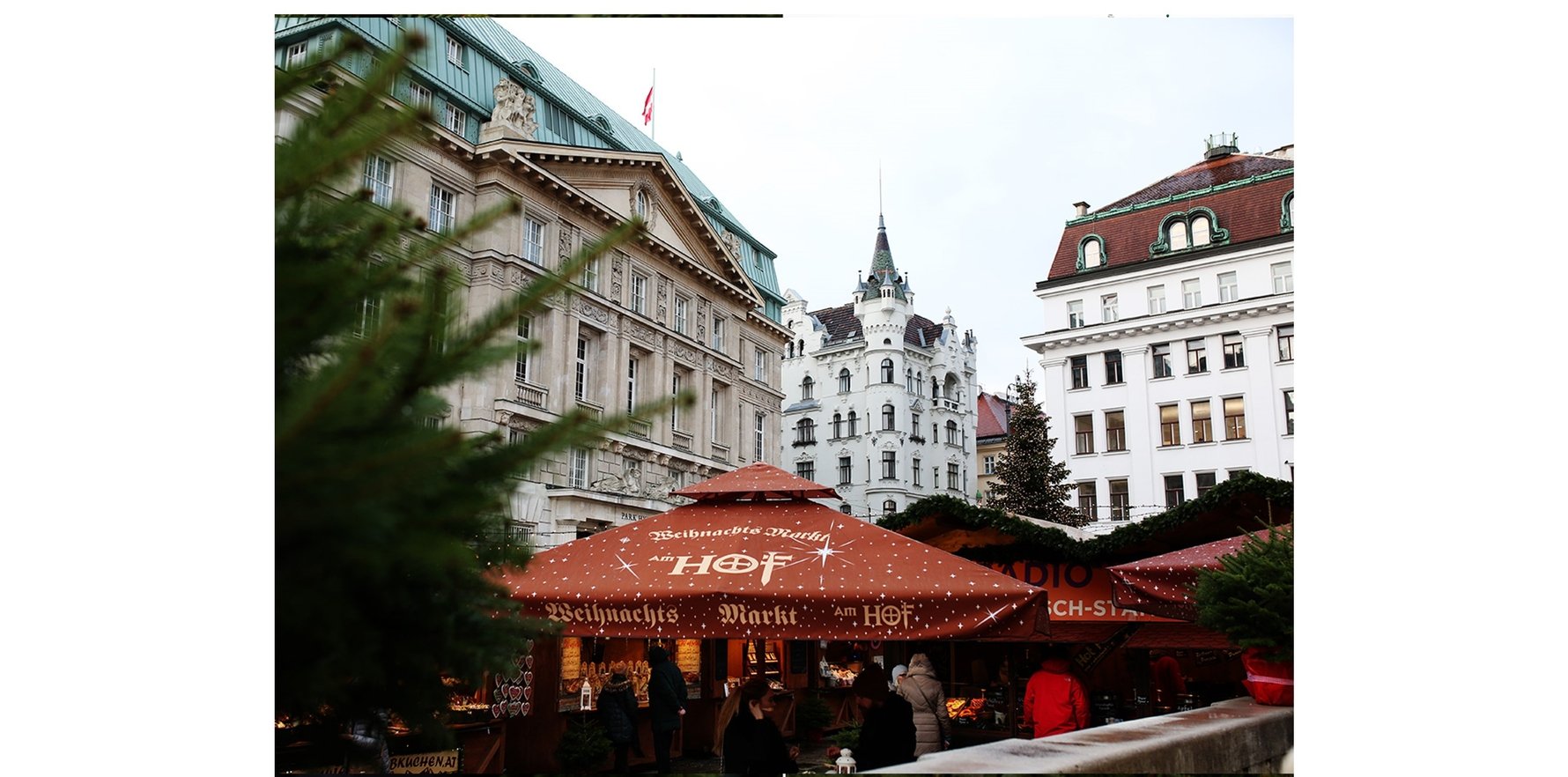 Old Viennese Christmas Market on Freyung
Just a few metres away from the market Am Hof, you'll find the old Viennese Christmas market Freyung. Freyung market is the oldest Christmas market in Vienna, held there since 1772! It has a bit of a vintage vibe, it is cosy and nice. If you like shopping for souvenirs, this market is quite a good option, and if you want to try the Viennese oldest punch recipe (as the sellers claim), then Freyung is the place to go! We like this market because of its surroundings and it's generally not that crowded, making it feel more like an insider spot.

November 18 – December 23, 2022
Daily from 10.00 am – 9.00 pm
Freyung, 1010 Vienna
www.altwiener-markt.at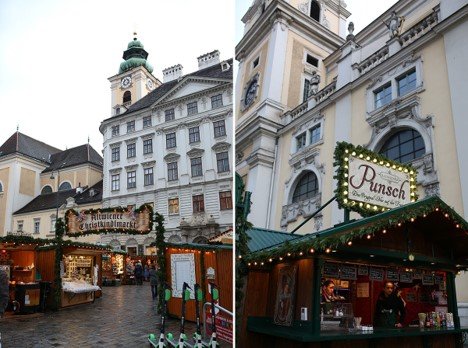 Christmas Market on Spittelberg
Spittelberg is the favourite market of most of our local Viennese friends. Well hidden from tourists in the seventh district, close to the Museums Quartier, this market has a unique atmosphere. The cobbled narrow streets and small wooden stands will make you feel as if you were in some other city, far away from imperial Vienna. So, if you are into off-the-beaten-path places and eager to see where the local Viennese people meet for a punch, Spittelberg is the place for you. There are many food and drink stands here which differ from the usual ones on Christmas markets (like the one with gnocchi, for example), as well as some nice souvenirs.
 
November 11 – December 23, 2022
Mo-Th 2.00 pm – 9.00 pm, Fr 2.00 pm – 9.30 pm
Sa 10.00 am – 9.30 pm, Su & hols. 10.00 am – 9.00 pm
Spittelberggasse, Stiftgasse, Schrankgasse, Gutenberggasse, 1070 Vienna
www.spittelberg.at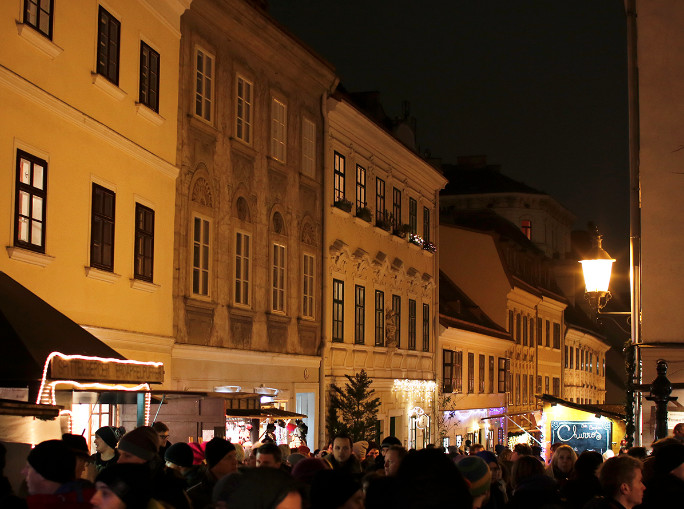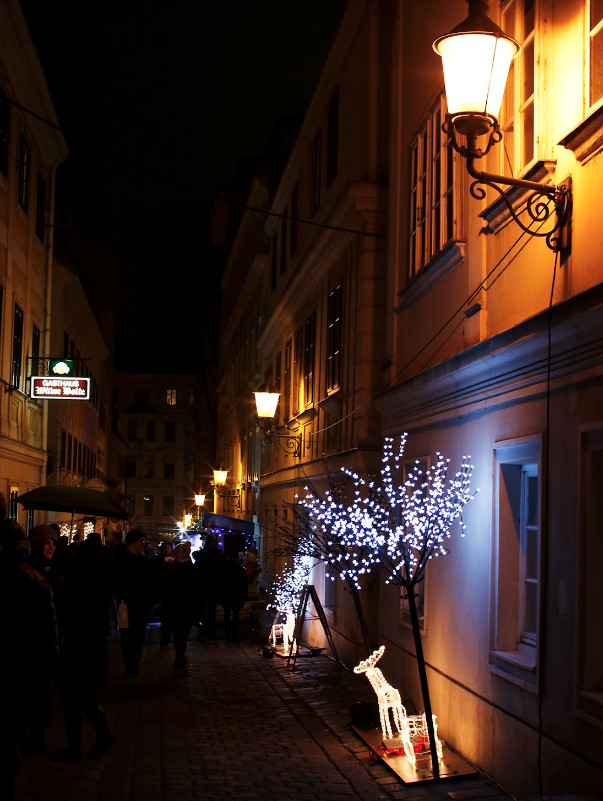 Viennese Christmas Market on Rathausplatz
The Christmas Market in front of the Rathaus, the Viennese city hall, is surely the most popular and colourful of all the markets around the city. Everywhere you look, you'll see bling! And so are the people… In general, we must admit that we aren't big fans of this market, because it is super crowded and somewhat over-decorated, but tastes differ.
 
Despite the crowd, we go to this market quite often since this is where we get our favourite treat of all times – the massive stuffed Potato Jim! We've tried stuffed potatoes at several other markets, but Jim is always the best. You'll find it in the first row, in front of the Rathaus building. Our favourite combination of toppings is garlic sauce, ham, cheese and corn. It is sooooo delicious, true comfort food. Another 'must try' at this Christmas market is the berry punch. You'll find it at the stand which is also in the first row next to the building, in the very left corner.

As for other stuff, you can find a bunch of souvenirs ranging from ornaments, toys, clothes, candles, sweets, everything you can think of. The largest Christmas tree in the city is also here and so is an ice rink! And the picture you can take of the Rathaus and the market is a classical Christmas postcard from Vienna - must-snap!
Tip: If you want to walk around this market in peace, you should avoid weekends and maybe even go during daytime.
 
November 19 – December 26, 2022
10.00 am – 9.30 pm
December 24-26, 10.00 am – 6.30 pm
Rathausplatz, 1010 Vienna
www.christkindlmarkt.at
 
Vienna Ice World at the Christmas Market:
November 19, 2022 – January 8, 2023, daily from 10.00 am – 10.00 pm
December 24, 10.00 am – 6.30 pm; December 31, closed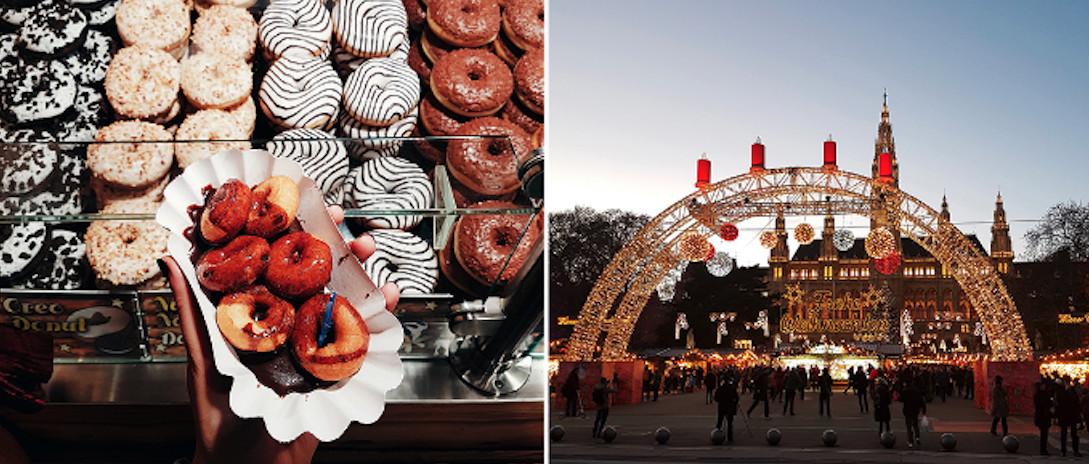 Art Advent – Art & Crafts on Karlsplatz
The Christmas Market at Karlsplatz is the place to go if you like handmade, artistic souvenirs. It's also perfect for kids because there are many stands where artists sell their crafts and artworks, as well as a playground with hay and farm animals. You'll find more photos and information in a separate article we wrote here.
For us, the best thing about this market is that all of the food offered is organically certified! The treat that we always get here is called Bauernkrapfen – Austrian style doughnut with jam. It is really delicious! There are also some stands with meat dishes that we haven't seen elsewhere. Just in case you're a carnivore. 
Last year, it was at this Christmas market, at a stand called Zum Franz, where we had the best white mulled wine!

November 18 – December 23, 2022
Daily from 12.00 noon – 8.00 pm, food until 9.00 pm
Karlsplatz, 1040 Vienna
www.artadvent.at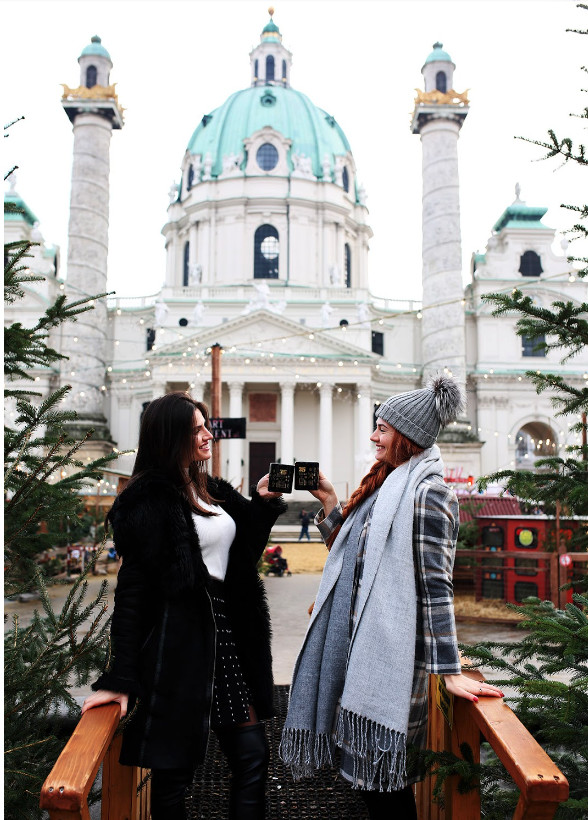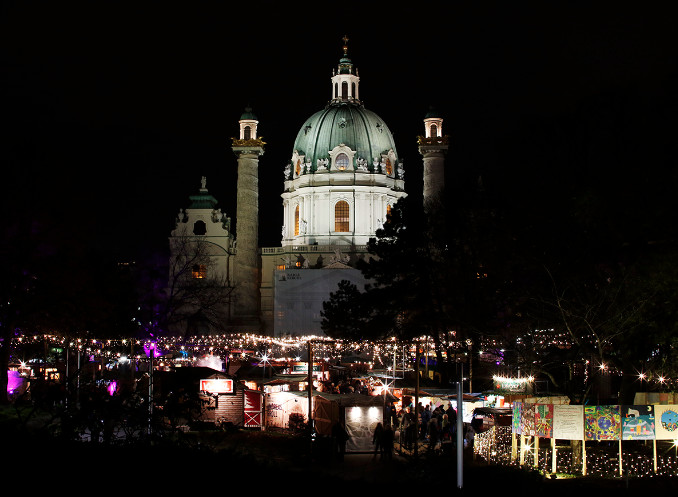 Christmas Village on the University Campus
Since last year, this market has been one of our top favourites! What makes it different is the theme – "Experience Austria!" Awaiting you are many adorable stands with treats from different regions of Austria, as well as arts and crafts. This market is ideal if you like to taste and snack (some things are even for free, but be moderate :D), as one of the wooden cabins is full of stands where you can try and buy all sorts of spreads, spices, cheese, cured meat and delicacies.
This market is very insider, and also great if you come with kids. There are several attractions where they can have a ride.
TIP: This market is the perfect choice if it is very cold outside, as some lodges are closed, so you can go in and warm up with a punch.
 
November 11 – December 23, 2022
Mo-We 2.00 pm – 10.00 pm, Th-Fr 2.00 pm – 11.00 pm
Sa 11.00 am – 11.00 pm, Su 11.00 am – 8.00 pm
Alserstrasse/Spitalgasse, Hof 1, 1090 Vienna
www.weihnachtsdorf.at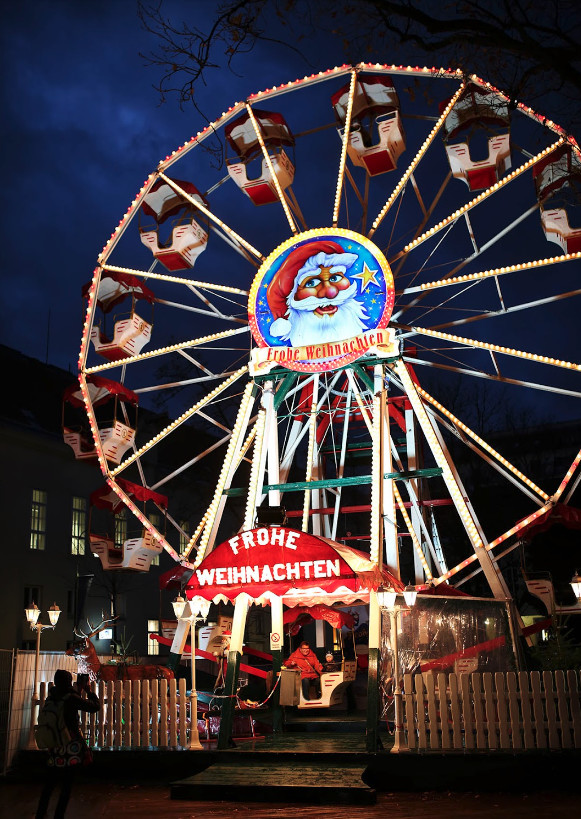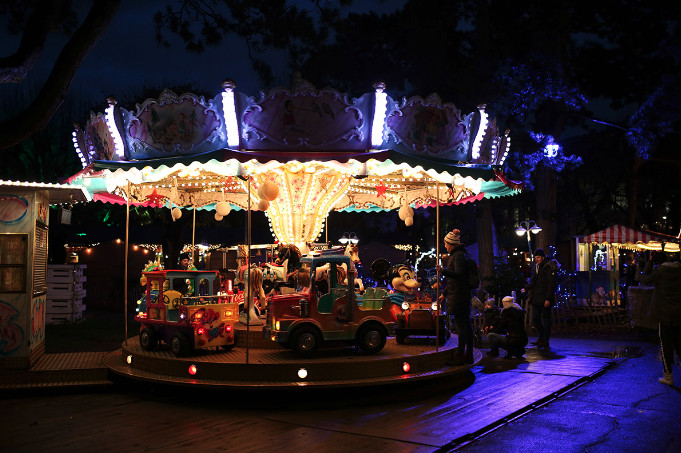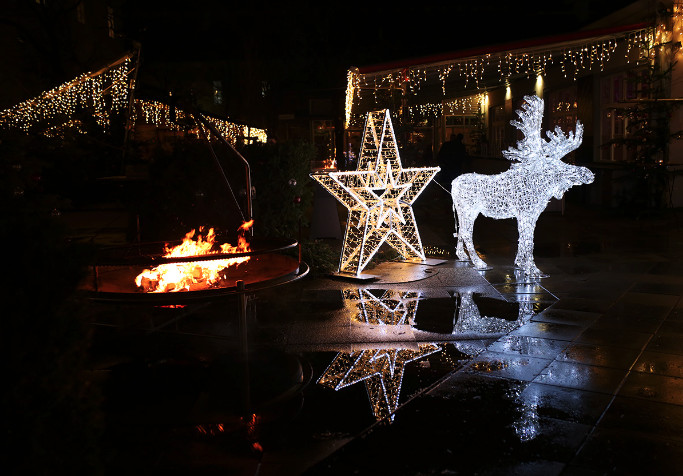 Christmas Village at Belvedere Palace
Just like at Schoenbrunn, there's a Christmas market in front of Belvedere Palace too. It is not too big, but the stands are very elegant and nicely decorated.
Our favourite treat at this market is potato with melted raclette, served with pickles and Austrian cured ham. Belvedere is always gorgeous and if you are into the imperial vibes, you will love the atmosphere of this market.
November 18 – December 26, 2022
Mo-Fr 11.00 am – 9.00 pm, 10.00 am – 9.00 pm
December 24, 11.00 am – 4.00 pm
December 25+26, 11.00 am – 7.00 pm
Prinz-Eugen-Strasse 27, 1030 Vienna
www.weihnachtsdorf.at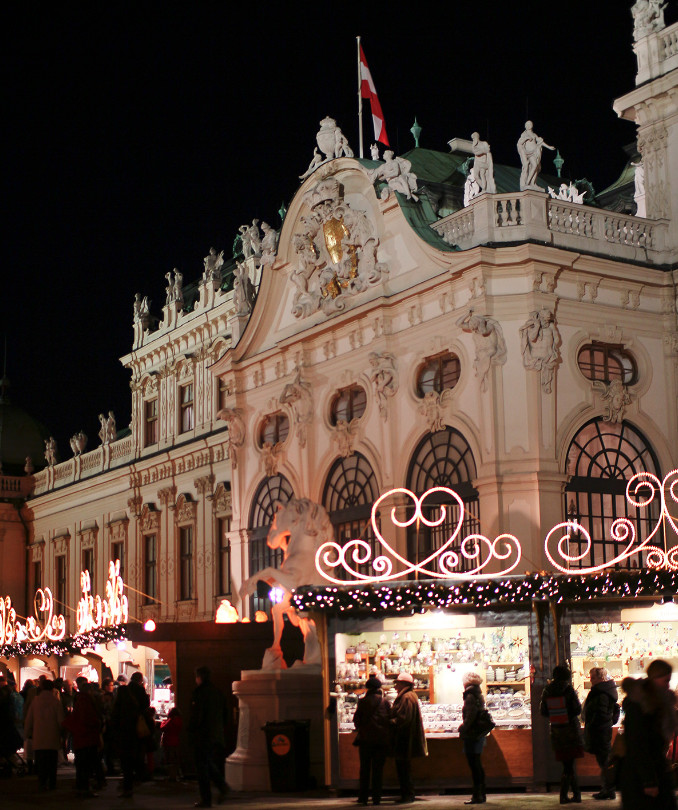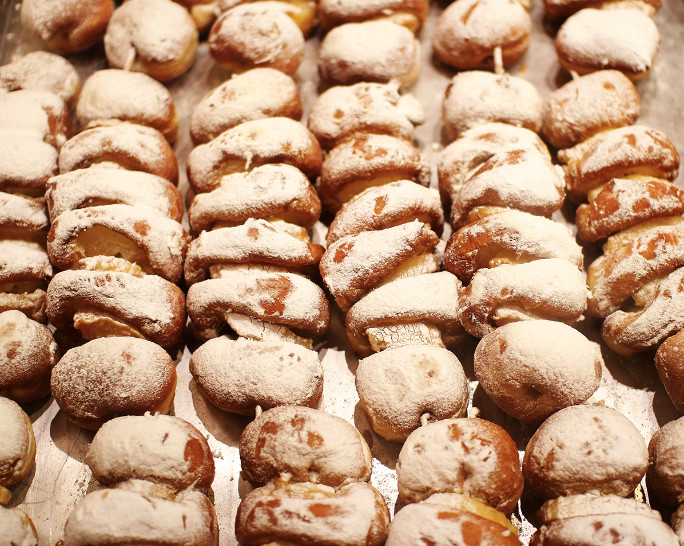 Christmas Village on Maria-Theresien-Platz
This Christmas village on Maria-Theresien-Platz is located between two most popular, twin museums in Vienna – the Art History and the Natural History Museum. Similar to the one at Rathaus in terms of gifts and souvenirs, but food wise it is different. We love having the soups served in bread here.
You'll notice that there are several markets called Christmas Village, which are run by the same company. As a result, you can expect many things about them may be quite similar, i.e you may find the same brands that make souvenirs and sell food. These markets are located at Maria-Theresien-Platz, Stephansdom, Belvedere, and University Campus Altes AKH. You can inquire about them here.
This market is just a few minutes' walking distance from another market at the Museums Quartier, which is very popular among young people. You can read more about this market in a separate post here.

November 16 – December 26, 2022
Su-Th 11.00 am – 9.00 pm, Fr & Sa 11.00 am – 10.00 pm
December 24, 11.00 am – 4.00 pm
December 25+26, 11.00 am – 7.00 pm
Maria-Theresien-Platz, 1010 Vienna
www.weihnachtsdorf.at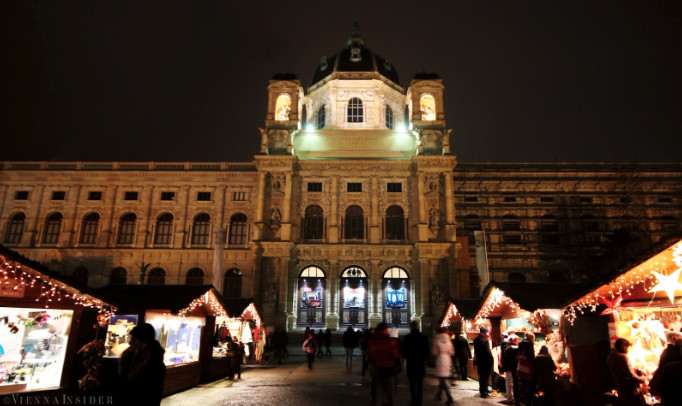 Christmas Market on Stephansplatz
Surrounding Stephansdom, in a touristy beehive is guess what – another Christmas market! Perfect for a little punch break, before you continue with a shopping spree or sightseeing. If you are hungry, we recommend you warm up with a goulash soup served in a bread bun.
Did you know that snow-globes were invented in Vienna? As such, you'll find them on many Christmas markets. Also, here in front of Stephansplatz, you can get the ones made at the original, traditional Viennese snow-globes factory.

November 11 – December 12, 2022
Daily from 11.00 am – 9.00 pm
December 24, 11.00 am – 4.00 pm, December 25+26, 11.00 am – 7.00 pm
Stephansplatz, 1010 Vienna
www.weihnachtsdorf.at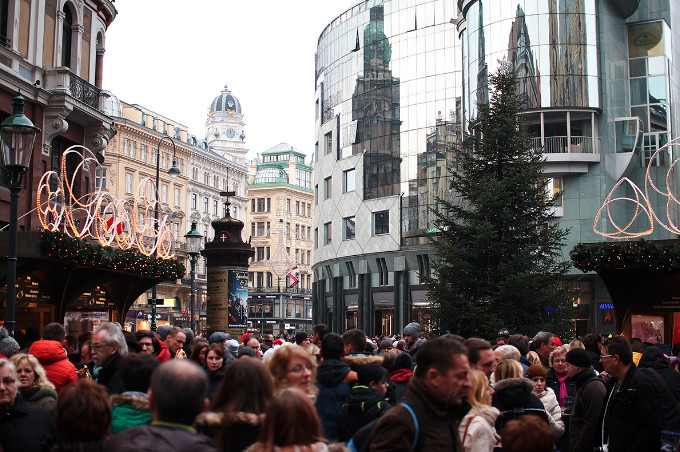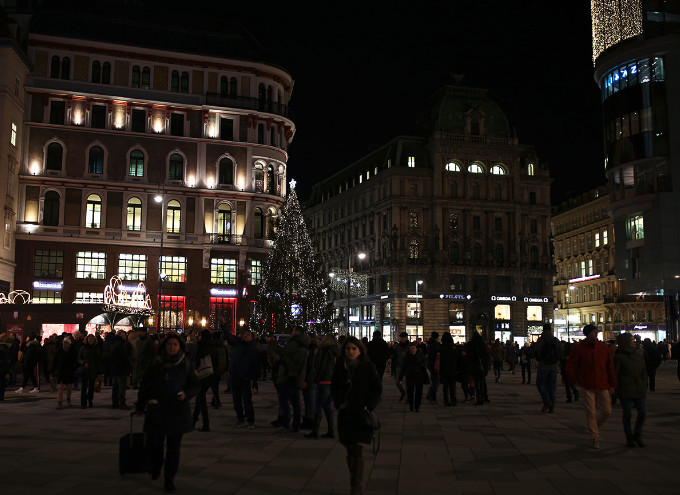 Advent pleasure market at the Opera House
If it is raining or snowing, you can escape the weather by visiting the small semi-covered market facing the Opera house. The main focus of this market is food, so you'll find many delicacies and specialties from Austria and Italy to indulge in.

November 11 – December 31, 2022
Daily from 11.00 am – 9.00 pm
December 24 closed, 31 December 11.00 am – 2.00 am
Mahlerstrasse 6, 1010 Vienna
www.adventgenussmarkt.at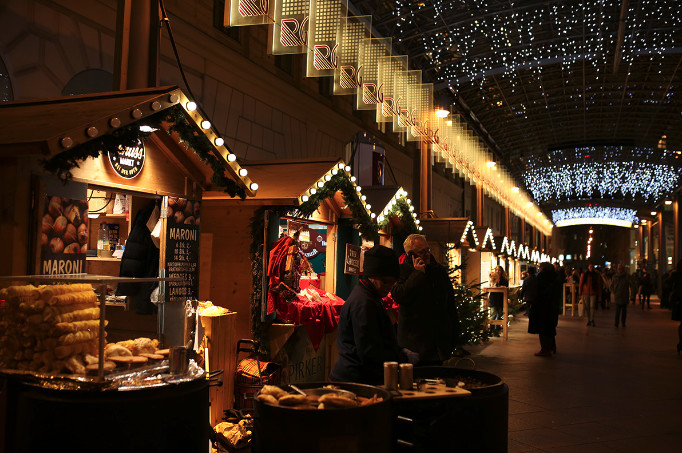 Ljubljana Christmas Markets and events 
 
What to do, what to see, where to go at Christmas time in Ljubljana?
During the advent season, a lot is going on in Ljubljana. The city is known for having one of the most original lights displays, and its vibrant Christmas markets, set up in the historical city centre, are accompanied by free open-air events. 
 

In the Advent season, Ljubljana's artistically designed Christmas lights display makes the city's unique beauty really stand out. Ljubljana Castle turns into a fairytale-like setting, and the historical city centre's public squares, churches, bridges, and creations by the famous architect Jože Plečnik come to shine in a whole new light. The city's universe-themed Christmas lights display, developed in new directions year after year, is an ongoing project by the locally-based artist Zmago Modic.

Treat yourself to Christmas shopping in Ljubljana

The Christmas markets, which include numerous food and drink stalls, become the centre of the city's social life in December, while its nearby town squares turn into venues for countless free music concerts and other events for young and old.
 
Even without its festive fairs, Ljubljana affords perfect opportunities for Christmas shopping. Interesting gifts can be found at the BTC City Ljubljana shopping centre, one of the biggest shopping centres in Europe, as well as in numerous city centre shops offering fashion clothing and accessories, Slovenian arts and crafts and designer products, and local culinary delights.

December is a month of festive open-air events

In Ljubljana, December is considered to be a month of events, and despite the cold, the city's streets are vibrant throughout the month. All the festive events held in public spaces are free. Music concerts and other entertainment for the whole family take place in most of the city centre's public squares. If you start feeling cold, you can always warm yourself up with a cup of mulled wine or fragrant tea at the nearest Christmas stall. The festivities culminate with the New Year's Eve celebrations held in Ljubljana's centrally-located public squares.

Experience festive Ljubljana

Apart from open-air events, festive Ljubljana also offers a whole lot of other Christmas attractions, from tourist boat cruises along the river Ljubljanica, which you should definitely make sure not to miss.
The ceremonial lighting of the Christmas lights transforms Ljubljana into a fairytale winter scene. The switch-on of the lights marks the beginning of the season's festivities – learn more about the city's rich cultural programme of the 2022/23 stated below.
Ljubljana Christmas events 2022/2023 – program: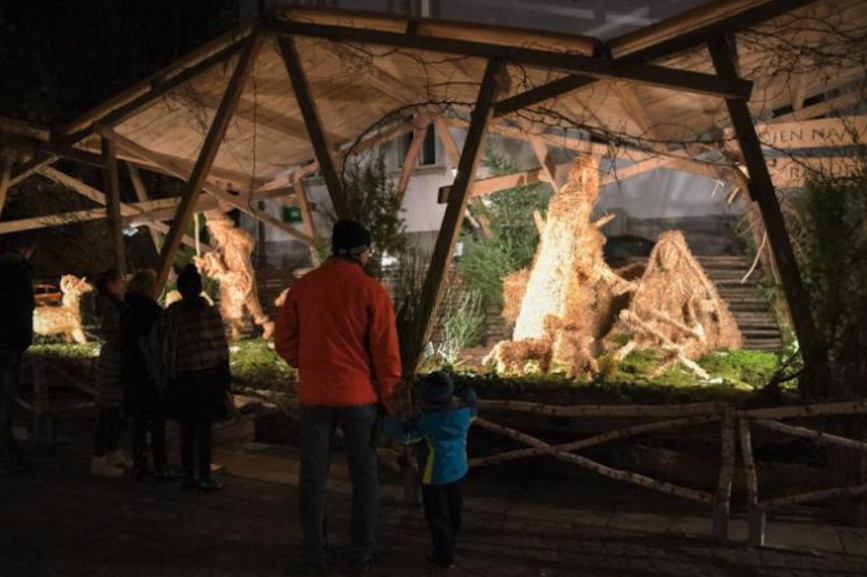 25 Nov 2022 – 8 Jan 2023

STRAW CHRISTMAS CRIB A unique hand-made straw Christmas crib is displayed in front of Ljubljana's Zois Palace.Free admission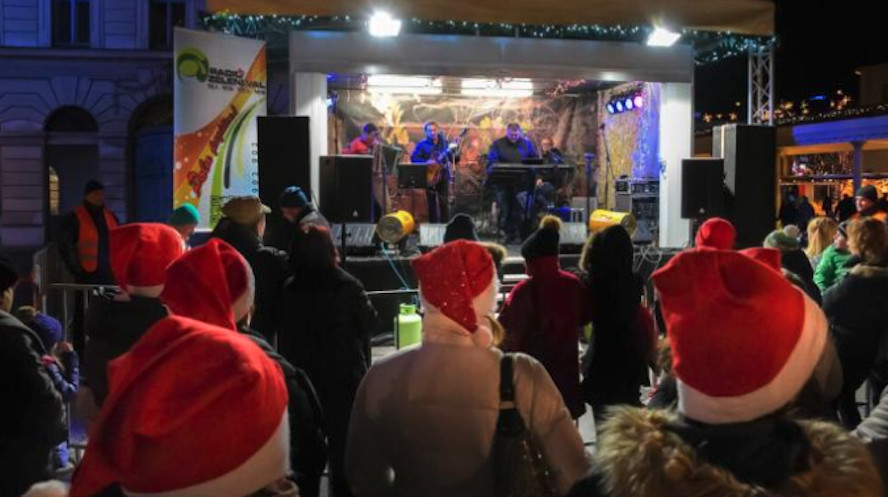 25 Nov – 30 Dec 2022, 19:30-21:30

CONCERTS AT POGAČARJEV TRG The season's program at Pogačarjev trg Square will feature modern pop and popular folk music concerts. Free admission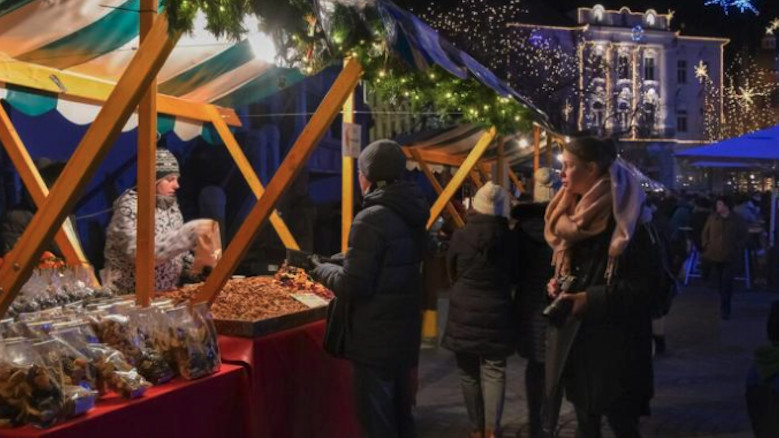 3 Dec – 6 Dec 2022, 10:00-20:00

PREŠERNOV TRG SQUAREST. NICHOLAS FAIR The festively decorated stalls at St. Nicholas Market will be offering various goods suitable for traditional St. Nicholas gifts. Free admission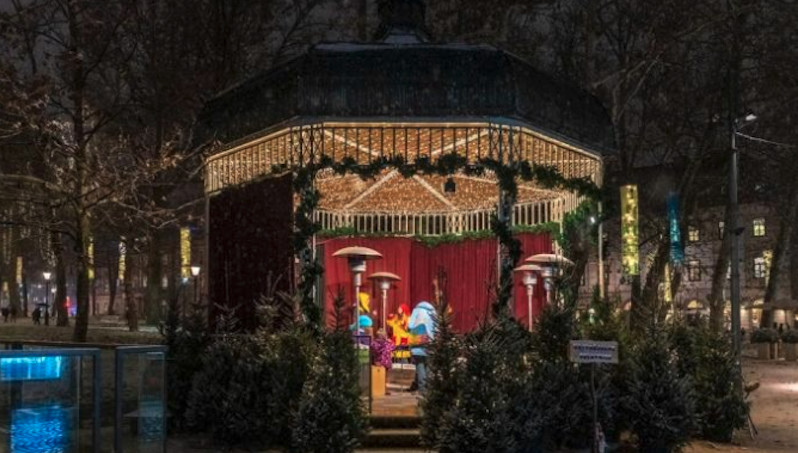 3 Dec – 23 Nov 2022, 17:00-19:00


KONGRESNI TRG SQUARE MAGICAL FOREST The Magic Forest is a series of creative workshops where children can explore science, make musical instruments and paint. Free admission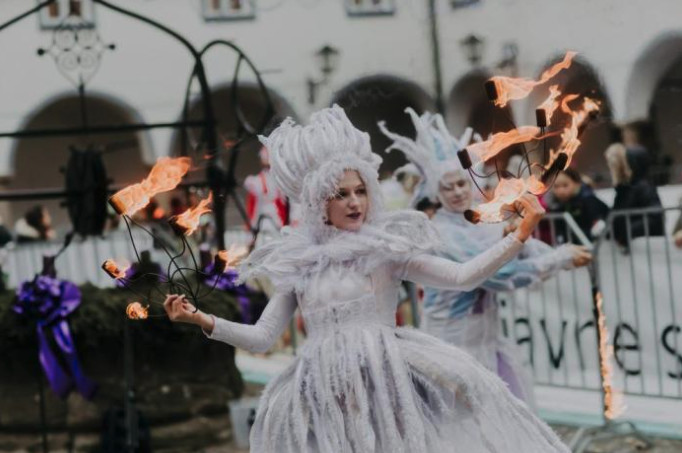 4 Dec – 30 Dec 2022, 17:00-18:30

THE ICE QUEEN The Ice Queen, accompanied by ice artists, will bring a fairy tale come true to the town. Free admission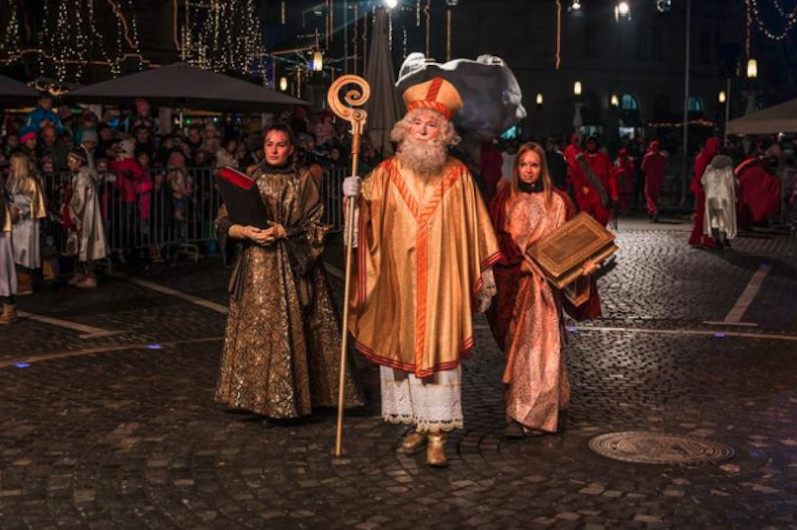 5 Dec 2022, 17:00-18:30

ST. NICHOLAS PROCESSION St Nicholas will descend into the town via the funicular and arrive in Krekov trg Square, where his entourage awaits. Free admission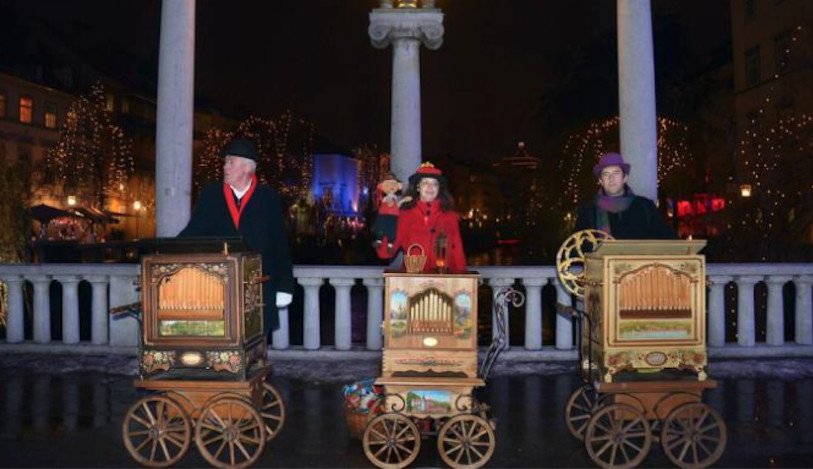 12 Dec – 26 Dec 2022, 16:00-19:00

ORGAN-GRINDERS IN THE OLD TOWN CENTRE In the streets of Ljubljana, organ grinders dressed in historical clothing will be conjuring up an atmosphere of times long gone. Free admission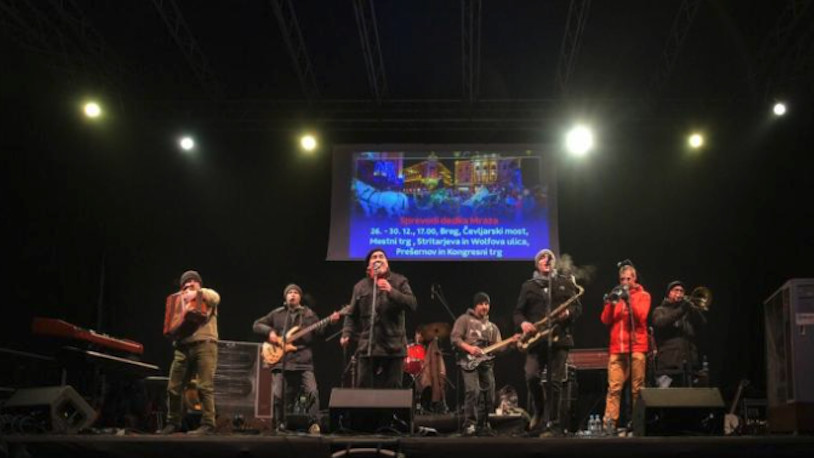 16 Dec – 25 Dec 2022, 19:00-21:00

CONCERTS AT NOVI TRG The concert program in Novi trg Square can be enjoyed by all visitors to the festive fair on the Breg. Free admission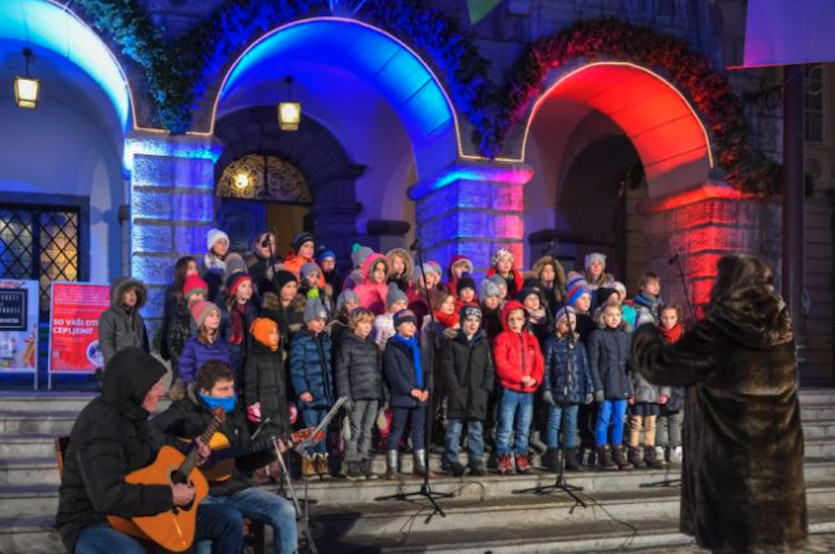 19 Dec – 21 Dec 2022, 17:00-18:00

TOWN HALLCONCERTS BY PRIMARY SCHOOL CHOIRS The festive atmosphere in the old town centre will feel extra special with children from Ljubljana's primary schools performing. Free admission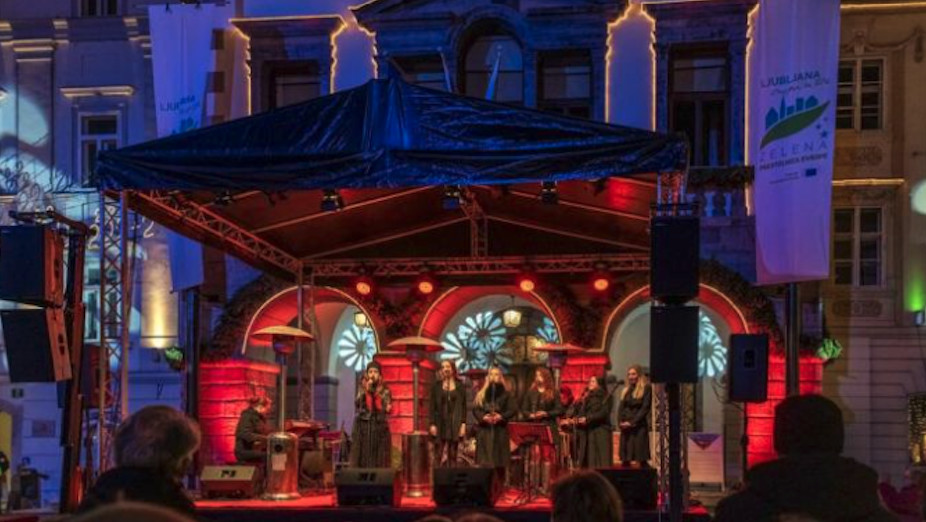 24 Dec 2022, 17:00-18:00

TOWN HALLCHRISTMAS CONCERT IN FRONT OF THE TOWN HALL  Free admission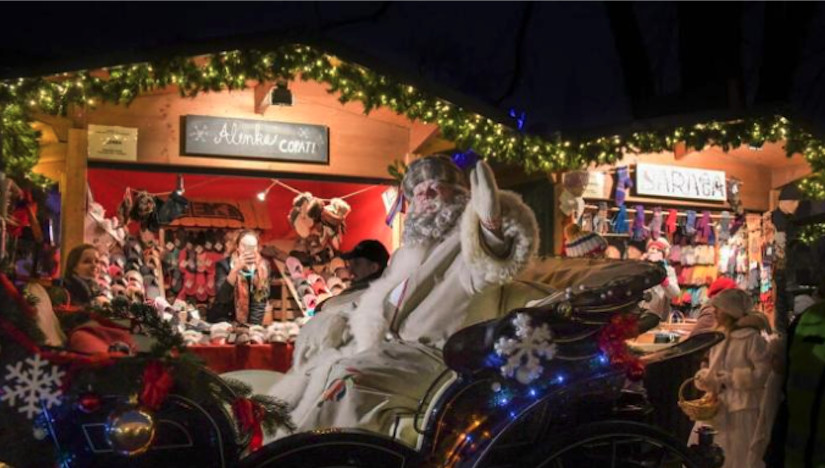 26 Dec – 30 Nov 2022, 17:00-18:30

GRANDPA FROST PROCESSIONS A few days before New Year, Grandpa Frost, the Slovenian counterpart of Santa Claus, will arrive in Ljubljana. Free admission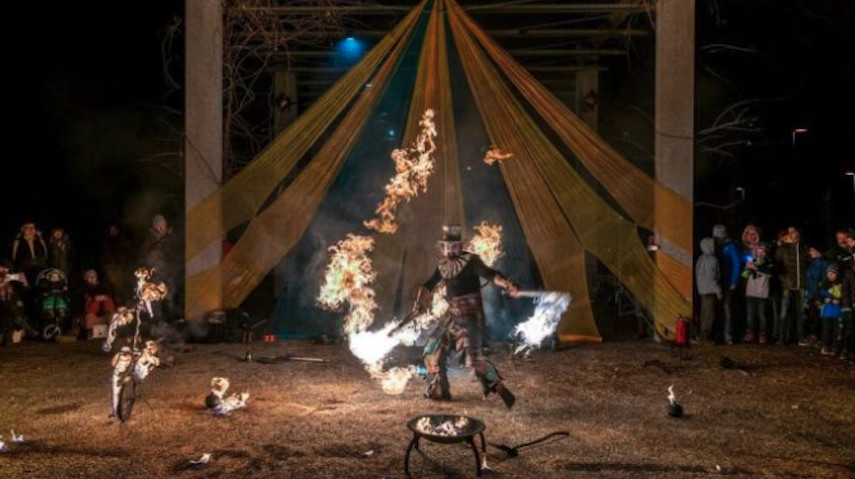 26 Dec – 30 Dec 2022, 17:00-19:30

ANA MRAZ Street theatre performances. Young and old alike will be able to enjoy performances by street theatre troupes, circus performers and other artistes. Free admission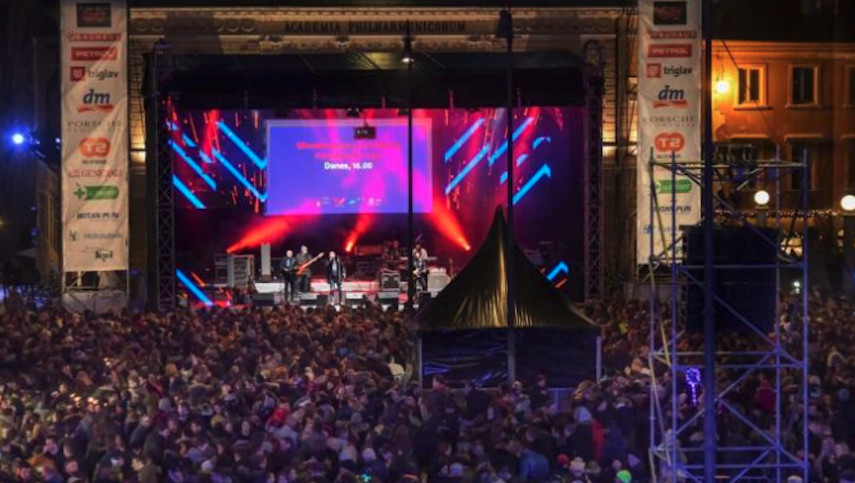 26 Dec 2022 – 1 Jan 2023, 19:00-22:00

SQUARECONCERTS AT KONGRESNI TRG In the days leading up to New Year's Eve, Kongresni trg Square will feature concerts given by various popular music groups. Free admission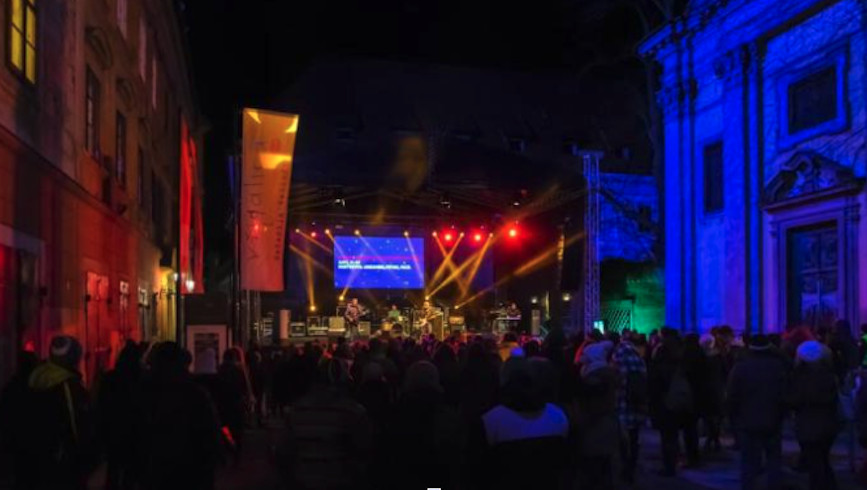 30 Dec 2022 at 19:00

SQUARE CONCERT AT TRG FRANCOSKE REVOLUCIJE  The festive concert program at Trg francoske revolucije square will host alternative and rock music performers. Free admission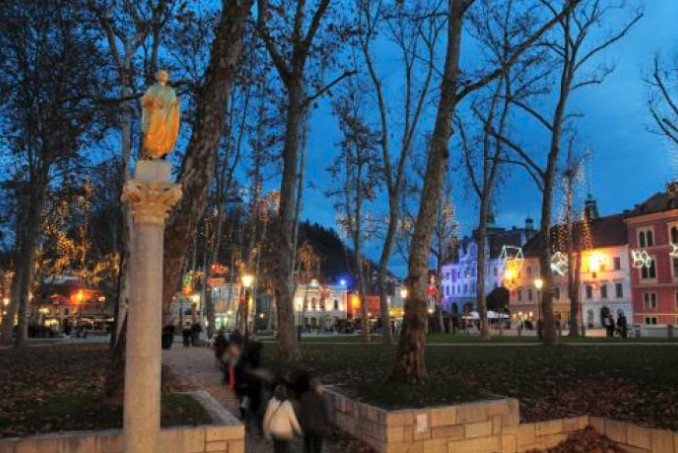 31 Dec 2022 at 16:00

KONGRESNI TRG SQUARE CHILDREN'S NEW YEAR'S EVE CELEBRATION In order to create a magical and unforgettable New Year's Eve experience for children, the celebration will feature popular festive activities. Free admission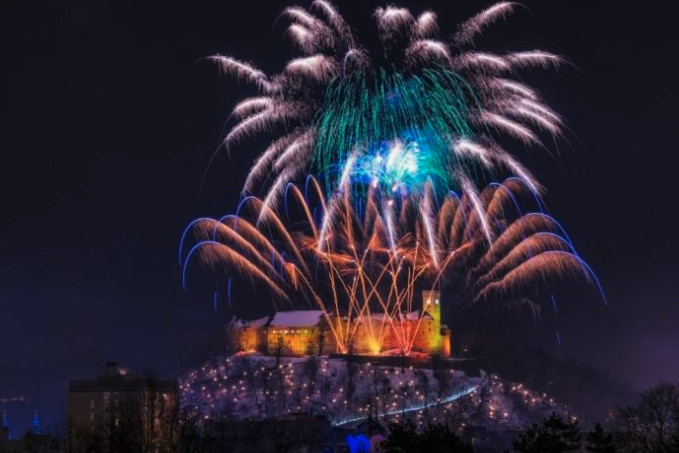 31 Dec 2022 – 1 Jan 2023, 21:00-02:30

NEW YEAR'S EVE CELEBRATIONS The programme of New Year's Eve celebrations held in city centre squares is intended for people of all ages and tastes. Free admission

Zagreb Christmas Markets and events 
 
'Tis the season to be jolly, and Advent in Zagreb is all about that! As you stroll through the city, you'll be delightfully overwhelmed by the scent of grilled sausages, hot jam donuts, traditional Croatian delicacies, plus hot chocolate, mulled wine and more. You'll find that at most Advent locations you can pretty much eat, mingle, and buy authentic souvenirs. Rest assured as we have provided you with all the finer details for you to pick and choose what to do and where to go around town.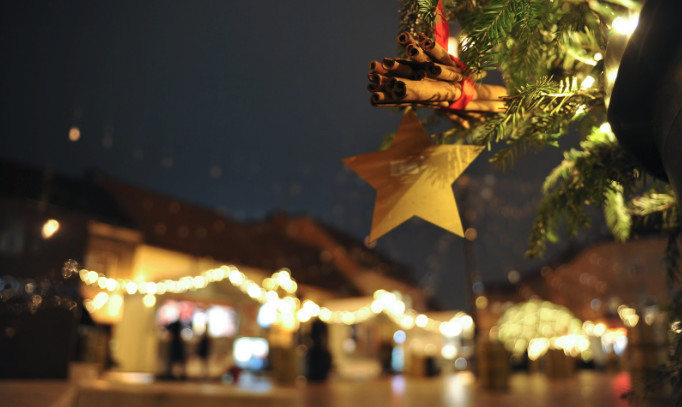 CHRISTMAS MARKETS
Terrace of the Oleander Hotel Esplanade: 'Fuliranje' Fooling Around,
November 26 - January 7
Action packed activities running day and night with restaurants serving specialities, not to mention stages with live acts and DJs, and that is just the beginning.Ul. Antuna Mihanovića 1. Find all the details on their Facebook page
 
Advent on Zrinjevac - November 26  - January 7
Brings 13 concerts by famous Croatian performers every Friday, Saturday and Sunday.
 
Europski trg: November 26 - January 7
The walkway of the square transforms into a mini promenade of wooden houses serving liquors, brandies, and other throat warming remedies amongst a rich offer of concerts and alternative urban attractions.
 
Strossmayer Promenade: November 26 - January 7
Get the funicular up to the promenade where you can discover age old Zagreb with charming coffee houses, street food, dancers, bands, comedians, and thrilling views overlooking the city amidst shiny lights and joyful music. Friday, Saturday and Sunday at 20:00
 
CHRISTMAS CONCERTS
Advent In Lantern Light: November 30 - December 23
Gornji Grad
The street lights of the Upper Town of Zagreb are lit up by night using a classical old method by lamplighters. Hop along for the ride with Christmas carols being sung in this one of a kind experience which ought to spark a light within you!
 
Advent Classic Fest: December 4
CH Vatroslav Lisinski at 20:00
With so much going on around town, you can wind down with some of the nation's finest musicians playing classical tunes to warm your hearts.
 
Advent Concert program of the Zagreb Soloists: December 11
Zagreb City Museum at 11:00
A one-of-a-kind concert with the Zagreb Soloists resonating some amazing tunes from virtuoso waltzes to polkas, as well as some of the best Croatian and international Christmas tunes that we have all known to love and share.
 
ART
Dagmar Meneghello Collection December 2 - January 7
Dagmar Meneghello has decided to open up her extensive art collection to those lucky enough to attend. This is an experience for a Zagreb audience, and one not to be missed.
 
CHRISTMAS FOR CHILDREN
Mini Train Museum - Backo Mini Express: November 27  - January 7
With a kilometre and a half of tracks winding from underfoot to overhead, this miniature world is a favourite for small children, while at the same time just as interesting for discerning adults of all ages. Enthusiasts of the genre will be mesmerised by the over 150 model train compositions that travel along 1.5kms of long railroad.Gundulićeva 4.
 
Advent in Obrtnički prolaz: November 26 - January 1
Obrtnički prolaz
Old children's films preserve timeless values. Croatian children's classics are on the program.
 
Advent at Mala Scena: December 1
Mala Scena Theatre, Medveščak 2 at 17:00
Theatre shows the play Snow Fairy Tale for children of all ages after which St. Nicholas or Santa Claus will arrive with their sleighs and bring plentiful cheer and gifts. 
 
Advent in Zoo: November 26 - January 8
Zagreb Zoo. Maksimirski perivoj bb.
The program is inspired by the fairy tales of Ivana Brlić-Mažuranić, a writer who is also called the Croatian Andersen. The program will be held on the following dates: November 26 & 27, December 2, 4, 9, 11, 16, 18, 23, 26, 30 and January 2 to 8, 2023.
 
LIVE NATIVITY SCENE
Kaptol: December 17, 18, 21, 22, 23, 25, 26, 29, 30 & January 1, 6
Bethlehem is at our very doorstep with members from the Cenacolo Community re-enacting the nativity scene of Jesus' birth along with farm animals too. Perfect picture moments!  
 
ADVENT RUN
The Westin Zagreb: Zagreb Advent Run 2022, December 11 at 12:00
Come dressed as Santa, an elf, or anything Christmassy at this fun run marathon that you can join. Choose from the 5km or 10km distance with all proceeds going to raising awareness for diabetes.
The Most 'Instagrammable' Spots at Zagreb Christmas Market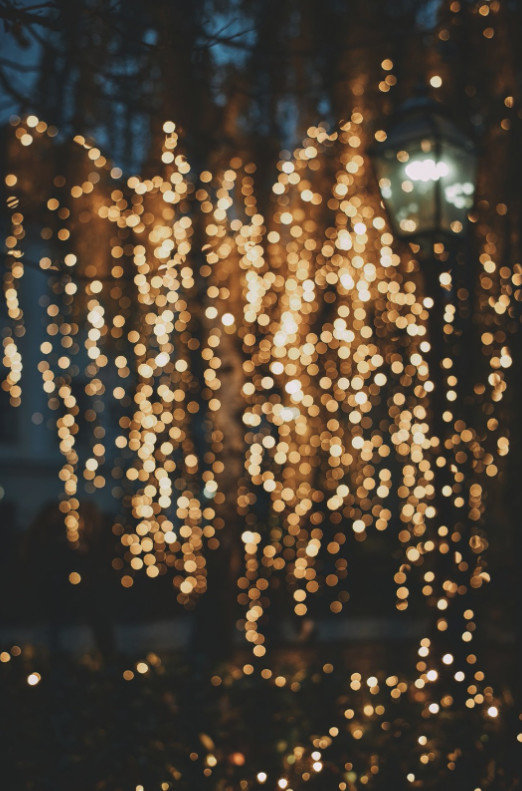 Moon Garden - Mjesečev vrt, Gornji grad
Park Bela IV. transformed into the Moon Garden. A light installation of moon flowers by the artist Jelena Petrić and a crescent moon sculpture by the sculptors Tomislav Hršak and Matej Vuković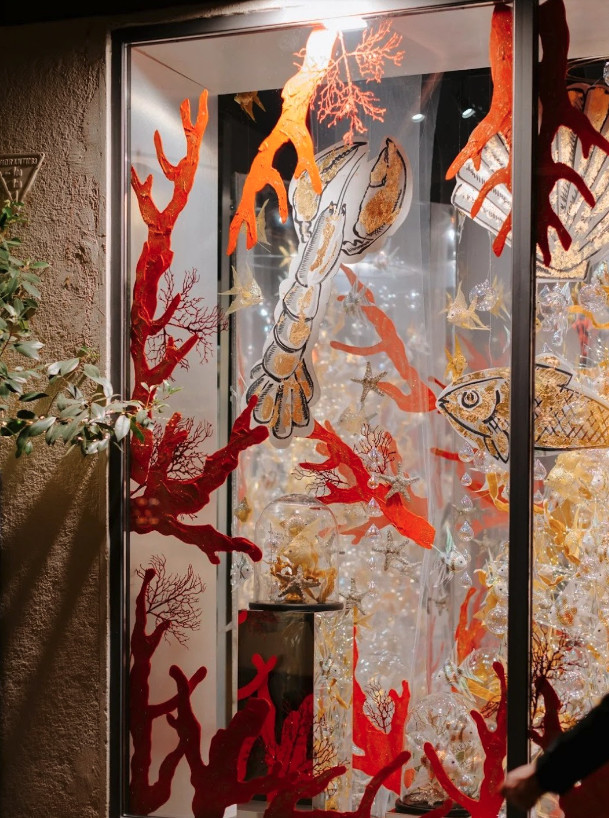 Saša Šekoranja Gallery, Dežmanov prolaz
Famous flower sculptor has a floral gallery in Dežmanova Street which will host works, exhibitions, and more.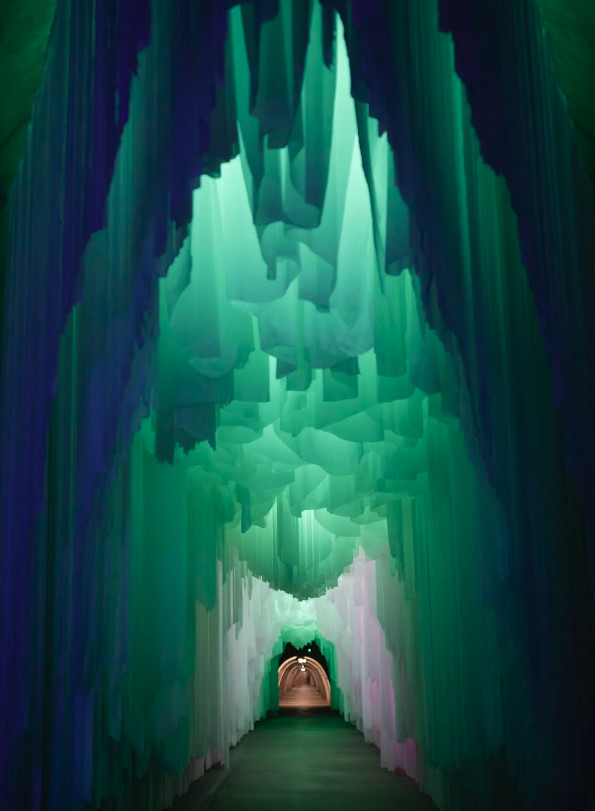 Tunel Grič, Mesnička ulica
The Polar Dream installation can be viewed every day from 9 a.m. to 10 p.m. The entrance to the tunnel is from Mesnička Street, and movement is one-way - from Mesnička to Radićeva Street.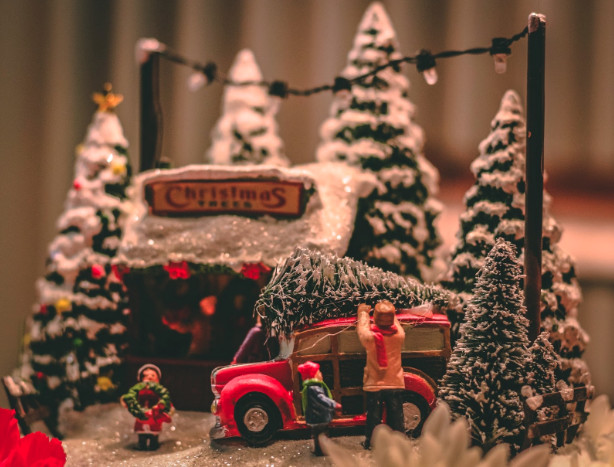 We hope you enjoyed our Christmas Market choice! Stay tuned for some updates and enjoy this festive season.
 
Let us know in the comments, what is your favourite Christmas market!