Here are some helpful tips, contacts and useful information on how best to avoid some embarrassing situations while spending your time in Tbilisi.
Jump to:
Crime & Safety
Tbilisi is arguably as safe as many European cities. There are pickpockets and theft does occur, but it is not a common happening. Just be streetwise, don't carry lots of cash and don't be too obvious with the money you do have on you. In essence, the locals are usually friendly and welcoming. Georgians can be impulsive and loud and you may encounter passionate arguments. Usually they are just barking at each other, but be sensible, and stay clear. Generally, foreigners are seen as a valuable asset and you are unlikely to encounter any problems. If you do have any encounter with crime, the police are usually friendly and helpful. Police corruption in Georgia is incredibly rare. 



Customs
You can bring 400 cigarettes, or 50 cigars or 50 cigarillos or 250 grams of other tobacco products as well as 4 litters of alcoholic beverages into Georgia without declaring it at customs. There are allowances for importing without declaration up to 30kg of food, not exceeding 500 Lari, once in a calendar day. Import or export of money up to 30000 Lari or equivalent in other currencies is exempted from duty.
Exporting antiques and old works of arts is subject to licensing and permission from the Ministry of Culture.
Cats and dogs must be accompanied by veterinarian health certificate. 
All international regulations on narcotics, guns and explosives apply.



Driving
For some visitors, driving in Tbilisi can be a daunting experience. On the face of it, Georgians don't seem the most disciplined motorists. Driving speeds are often fast and lane changes can be erratic. At rush-hour the experience is further intensified by heavy city traffic.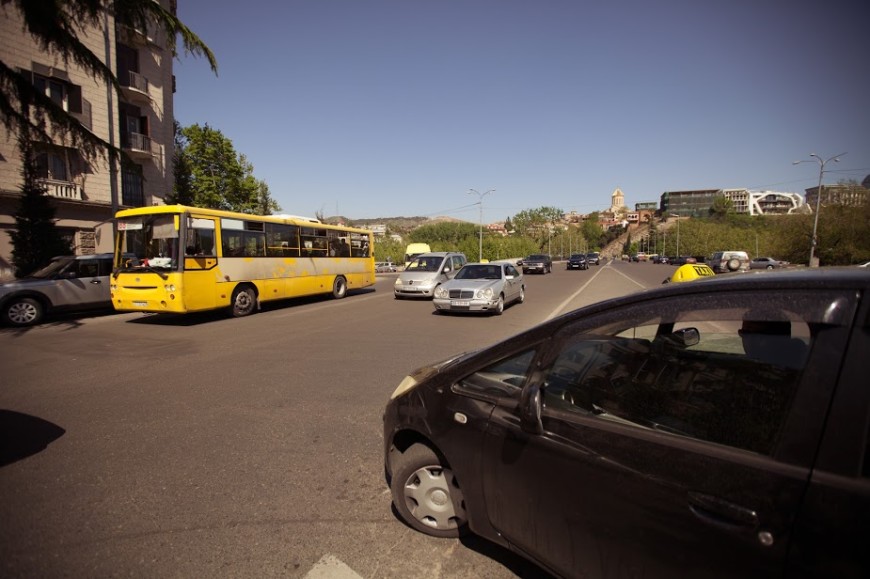 Electricity
Georgia supplies its residents and visitors alike with electrical current of 220 volts AC, 50Hz. All sockets require two round pins. Adapters for more foreign electrical societies are not easy to find in Tbilisi, so bring your own.
Facts & Figures
Population Georgia 4469200 Tbilisi 1225000
Ethnic composition Georgians 84%, Azerbaijanis 6.5%, Armenians 5.7%, Russians 1.5%, Ossetians 0.9%, others including Greeks, Ukrainians, Kists, Yezids - 1.4%.
Territory 69,700 sq km
Borders Black Sea 330km, The Greater Caucasus Mountain Range forms the 723 km northern border with Russia, Armenia 164km, Azerbaijan 322 km and Turkey 252 km.
Longest river Mtkvari 1515 km
Largest lake Paravani 37.5 sq km
Highest point  Shkhara 5,193 m (17,040 ft)
Local time Together with all countries of the Caucasus region and Russia, Georgia is in the UTC+4 time zone.
Internet
Tbilisi Loves You WiFi network works in some city areas. It is free and doesn't require any registration, but is rather slow. Almost every café/restaurant/bar has free WiFi. To be sure look for W symbol in our guide. There are a number of internet clubs around Rustaveli avenue. Our favourite is at Magti mobile office at Rustaveli Av. 22. Apple computers are located on two floors and cost 1 Lari per hour. Open 10:00 - 18:00.   
Language
The country's official language is Georgian. But English is also widely used. Russian is also used by most of Georgians. The following is a list of some of the most common words and phrases a person is likely to need.


| | |
| --- | --- |
| Hello | gamarjoba |
| Goodbye | nakhvamdis, kargad |
| Please | tu sheidzleba |
| You're welcome | arapris |
| Thank you | madlobt |
| Excuse me | ukatsravad |
| Yes | diakh, ki |
| No | ara |
| Enjoy your meal | gemrielad miirtvit |
| Cheers! | gaumarjos! |
| I don't understand | ar mesmis |
| I don't know | ar vici |
| Help! | mishvelet! damekhmaret! |
| Hospital | saavdmkofo |
| Ambulance | sastsrafo |
| Where is…? | sad aris...? |
| Right, left | marjvniv, martskhniv |
| Do you speak English? | inglisurad laparakobt? |
| How much does … cost? | ra ghirs? |
| What's your name? | ra gqviat? |
| One | erti |
| Two | ori |
| Three | sami |
| Four | otkhi |
| Five | khuti |
| Six | ekvsi |
| Seven | shvidi |
| Eight | rva |
| Nine | tskhra |
| Ten | ati |
| Hundred | asi |
| Thousand | atasi |
| Push (on a door) | miatsekit |
| Pull (on a door) | gamoaghet |
| Open | ghiaa |
| Closed | daketilia |
Market values
How do costs compare to back home? Here's a handy list of local prices to give you an idea:

McDonald's Big Mac - 4.95 Lari
​Loaf of white bread - 0.80 Lari
​Snickers bar - 1 Lari
Litre of vodka - 17 Lari
​Bottle of local beer - 1.80 Lari
​Bottle of local wine - from 7 Lari
20 Malboros - 3.80 Lari
​Public transport ticket - 0.50 Lari
​1 litre of petrol - 2.10 Lari
Mobile & Phones
Fixed line
Tbilisi telephone code is (+995) 32. In our guide all telephone numbers are written including this code. To call from a landline within Tbilisi to another number in the city just dial last 7 digits of the telephone number we list. If the number starts with 3 digits (e.g. 559, etc.), dial 0 and then full 9 digits number. The are no payphones around Tbilisi.

Mobile
You can get a Georgian SIM-card (sometimes even for free) at the offices listed below. You'll need to show your passport. Calling from a mobile to a fixed line phone, dial 0, then the city code (32) then the 7 last digits. Calling to other mobiles is tricky. Sometimes it is enough just to dial the last 9 digits of the number. If that doesn't work, just dial the full number starting 995. 

Roaming 
To call a fixed line or mobile in Georgia you should always dial +995 instead of 00995. 
Money
The Georgian national currency is the Lari (GEL) divided into 100 tetri. It was introduced in 1995, replacing the kupon lari, a transitional currency used after Georgia declared independence from the Soviet Union. The lari is a relatively stable currency. Paper bills are in denominations of 5, 10, 20, 50, 100, 200 and 500. Bills for 1 and 2 lari were replaced by coins. Coins are in 1, 2, 5, 10, 20, 50 tetri and 1 and 2 lari denominations. ATMs are plentiful and the vast majority will accept foreign cards. As always, if you can, try and use ATMs associated with a reputable high street bank. Card fraud is an international problem and taking precautions is as advisable in Tbilisi as any other city. Try and carry small denomination cash as taxi drivers and small shops might not be able to change high value notes. You can also use debit and credit cards in many shops, bars, restaurants and hotels in Tbilisi.

National holidays
January 1 New Year's Day
January 7 Orthodox Christmas
January 19 Baptism Day of Jesus Christ
March 3 Mother's Day
March 8 International Women's Day
April 9 Day of National Unity
May 1 (2016) Eastern Orthodox Sunday
May 2 (2016) Eastern Orthodox Monday
May 9 Day of Victory over Fascism
May 12 Saint Andrea the First Day
May 26 Independence Day
August 28 Saint Mary's Day
October 14 Day of Svetitskhoveli Cathedral (in Mtskheta)
November 23 Saint George's Day
Post offices
Georgian post is expensive and slow, and seems like dying. To send a postcard you might have to go to one of the Tbilisi post offices, which are located away from the main tourist routs. Today there are couple mail boxes in the city, including one on Freedom Square, but we have also stumbled on a broken one. Post stamps also can be bought only at the post offices.
A regular post card to Europe will cost you 4 Lari, to the USA 4.80Lari.
An ordinary letter up to 100g costs 13.20/15.20 Lari accordingly.
A parcel up to 500 g - 49,90 Lari/66.05 Lari.
Exact rates to you country are available at www.gpost.ge
Express mail
Religion
Since early centuries, different nations and religions were coming to and going from Tbilisi area, and all of them left their traces in numerous churches and religions. The absolutely dominant religion  in Georgia is Eastern Orthodox. Georgia is among the first Christian countries in the world as it's regions officially became Christian in the 4th century. Georgians take their religion very seriously. Try to cross yourself when seeing every single church, driving on the mountain road at the speed around 100 km/h as most of Georgian marshrutka drivers do... not easy, but to do that is almost a must. However centuries of Persian and Turkish invasions left a deep Muslim mark. Armenians are the second biggest religious minority (3.9%) in Georgia after Muslims (9.9%). Catholics – 0.8 %, Yezids - 0.4%, Jews -  0,1% are presented in the city too. Tbilisi is open to minorities' historical churches, but try to ask a random Georgian what he thinks about building a new Mosque, for the Muslim population of the country, in the Muslim village… Tolerance and cosmopolitanism might evaporate somewhere if you rub the surface a little bit.

Tipping
Usually 10-15% will be included in the bill as service charge. But this isn't a tip and wages aren't good so if you pleased with the service give a tip too.