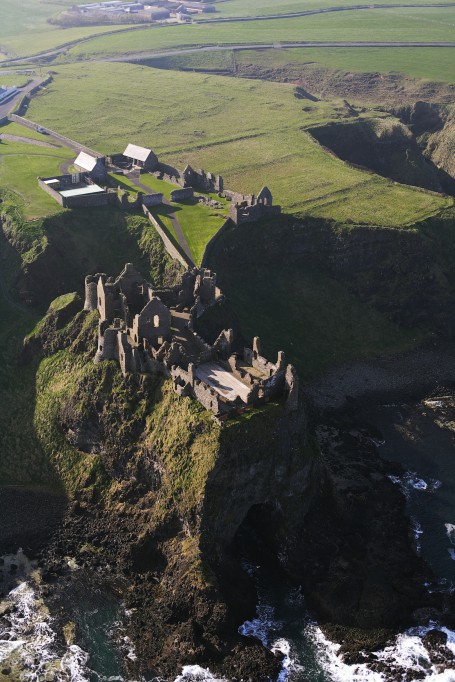 Perched dramatically on a headland plunging straight into the sea, this medieval castle ruin is one of the North Antrim coast's most historic architectural gems. Parts of the castle date back to the 14th century, while its first record dates from 1513 when it belonged to the MacQuillans.

Dunluce fell into ownership of the MacDonnell Clan in the 16th century. And in 1588, the Girona ship from the Spanish Armada fleet sank during a storm off the coast. Its cannon was taken to the castle and much of its treasures sold to maintain the fortification.

The castle eventually succumbed to the power of nature when, during a stormy night in 1639,part of the building fell into the sea. It was abandoned shortly afterwards.

The 17th century mainland courtyard, containing domestic buildings, leads downhill to a narrow crossing to the rock, formerly protected by a drawbridge to the gatehouse. The buildings on the rock are 16th and 17th century. Recent archaeological evidence has revealed an incredibly well preserved merchant town built in 1608 and believed to have been destroyed by fire in 1641.

C.S. Lewis fans will be enchanted to learn that Dunluce Castle is regarded as the possible inspiration for Cair Paravel in The Chronicles of Narnia. The castle also appears in the gatefold sleeve for Led Zeppelin's album Houses of the Holy.

Find out lots more about this significant building's fascinating story by downloading the free Dunluce Castle app from the iPhone App Store and Google Play.