Bilbao is a paradise for food lovers. And not only due to the high number of Michelin stars restaurants we have in the region. But because our cuisine is one of the most delicious and most distinct in Spain. Here are some of the specialities you don't wanna miss while visiting Bilbao.
Bacalao pil-pil
Bacalao pil-pil' is one of the most iconic dishes of the Basque repertoire, which you can order at almost any restaurant in Bilbao. Bacalao -cod fish- is fried with garlic, dried guindilla chilli and olive oil until the natural oils of the fish and the olive oil forms an emulsion-like sauce (a sometimes tricky emulsion!), by turning the pan in circular mode. *Some other cod dishes are also available in the menu, such us Club Ranero (with onions, green peppers, tomatoes and bell peppers) and Vizcaina (consist of a sauce made of pimiento choricero, a type of red pepper).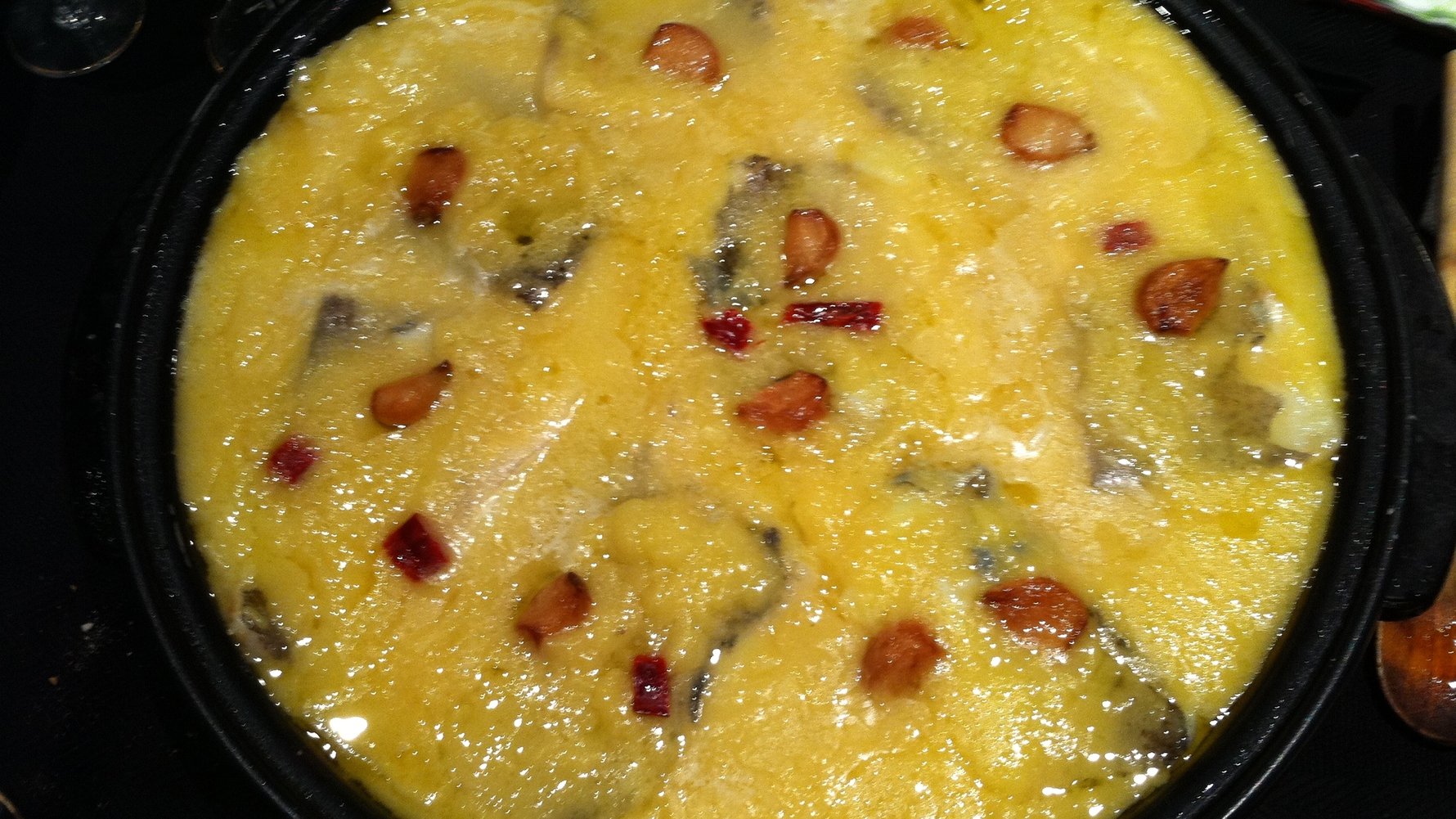 Carolina
Carolina is the sweet pastry you will find in nearly every patisserie in Bilbao and Bizkaia at large. This puff pastry filled with meringue, sat on an egg custard and drizzled with melted chocolate that looks stunning, as well as tasty. They are on the top list of most of our childhood food memories and one of our favourite old time cakes. 'Pastel de arroz' (Rice cake) and 'Bollo de mantequilla' (Butter sweet rolls) are other sweet specialties we like to show off with those who visit us.
Txipirones
Txipirones are just baby squid prepared in their own ink. The black sauce is just a delicious sweet onion and squid ink mixture. They may look rare to you but at a first sight but wait 'till you taste them -trust us.
Txuleton
We call it Txuleton, you call it a very thick bone-in ribeye steak. Famous for its top quality meat, it is slowly cooked on a wood-fire grill and the result is juicy, tender steak with a wonderful intense flavour. Then, txuleton steak arrives, smoking over charcoal on a small grill brought to the table and sliced to reveal a bright red interior.
Pintxos (Basque tapas)
Gastronomically speaking, pintxos are Bilbao's main attraction and you can find them in almost any bar. These mini-gastronomic bite-sized treats are seriously creative. They come in all shapes and sizes (no rules on that) but the classic ones to try are gildas (guindilla pepper, anchovy and olive), txangurro (stuffed crab) and Tortilla, among many others.