Mircea Struțeanu has been making wood lamps since 2018, when he created Glōm. His mission is to make GLŌM be that light underneath which one feels home.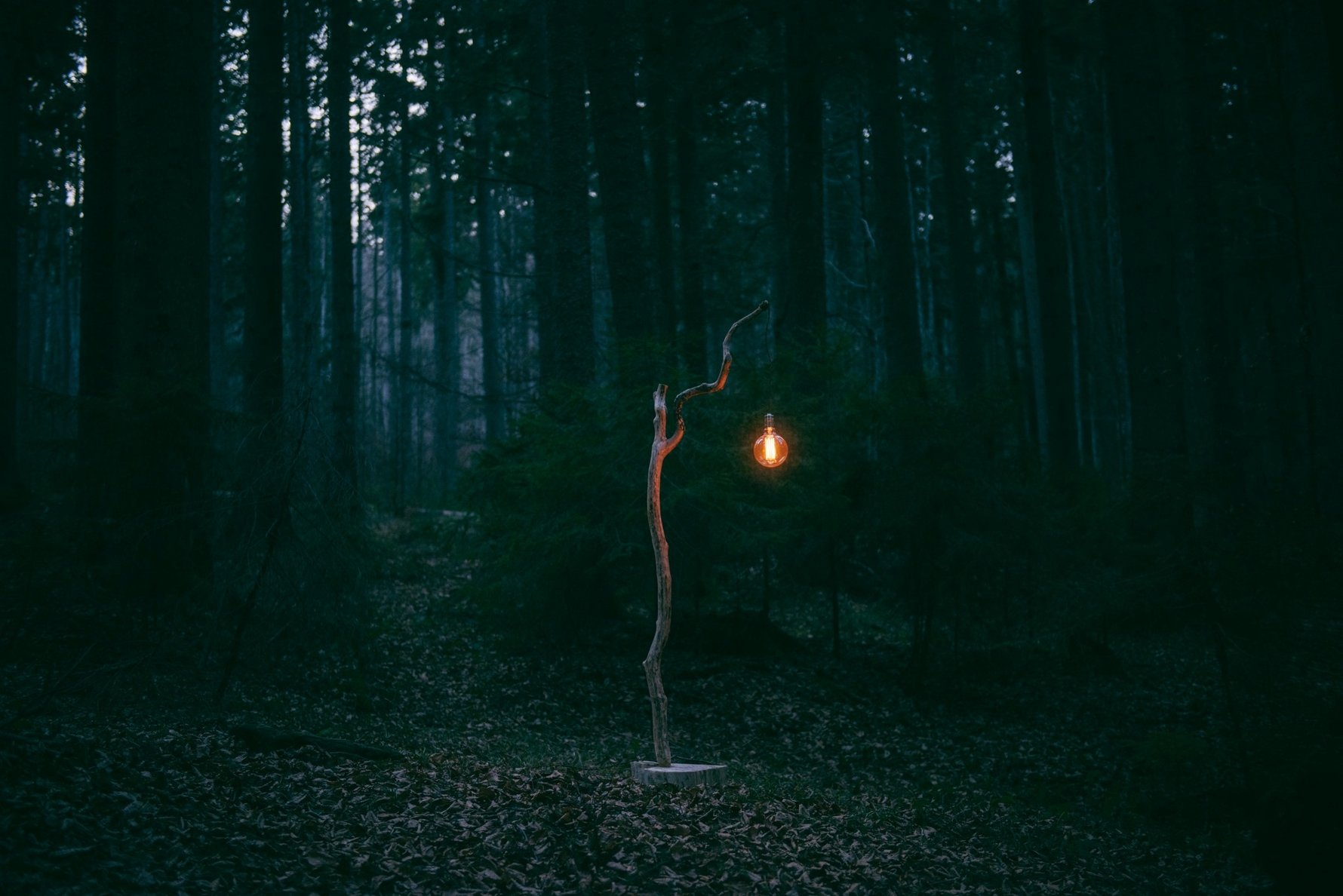 Tell us a little about Glōm.
Glōm is where my passion for nature meets my passion for light. I took this name from an old Scottish dialect, where it means "the last glare of sunset light" – that mysterious orange-pink glow which remains in the sky or on the clouds for a short period of time after the sun has set. Glōm also represents my love for wood, my favourite material, and my interest in one-of-a-kind objects. I believe that, as all people are essentially the same, but still different and unique through their experiences and development, so are my one-of-a-kind lamps, each designed differently. Out of respect for nature, no piece of wood is cut off of a living tree. All of the pieces are found already dry through forests throughout Romania.
How did Glōm​​​​​​​'s story begin?
The story of Glōm started long before I made my first lamp. As a child, I admired an extraordinary man who lived in Sinaia, where my family also had an old house. He was a true mountain man and a free spirit, who, among other passions, also did all kinds of wooden things, including furniture and lamps. It all seemed very interesting to me, but as I grew older I began to see more and more into the future. So, 25 years later, I came up with new models and techniques and a more environmentally friendly vision of making lamps.

I have been practicing Rock Climbing and Bouldering for 21 years, and I've been teaching Rock Climbing for the last 11 years at a Climbing Gym in Bucharest. I am a big fan of nature and mountains, and I spend a lot of time in the forest. However, the attraction to wood was the one that set everything in motion.
Which lamp are you most proud of?
It's not easy for me to choose a favorite. I just finished working on lamp number 99, while lamp number 100 is fast approaching (since the Glōm launch in December 2018), as I plan to offer it as a gift in a giveaway.

I will dare to say that my favorite lamp is Janus, but I don't promise to keep my answer forever :). Here I would like to mention that every lamp of mine, unique as it is, receives its own name inspired by the universal mythology. The names belong to deities, magical artifacts and legendary creatures, which I associated with the wood from which the respective lamps were made.

The wood that belongs to the Janus lamp was found on the Babei Valley, in Bucegi Mountains. It is one of the wildest valleys of the steep Prahovean, hardly accessible and full of vegetation. The wood had been buried and stung by a stream of water near a spring, right in the main valley, possibly during a flood. I had stopped there to take some spring water, when I had the surprise of seeing a piece of wood so special coming out from under the stones. I immediately pulled out the saw that I always carry in my backpack, and I cut it. I continued carrying it for 8 hours, as long as my walk lasted, but it was totally worth it. It is a beech wood with a very special knot, which makes me think of a large handle that could belong to an enchanted door.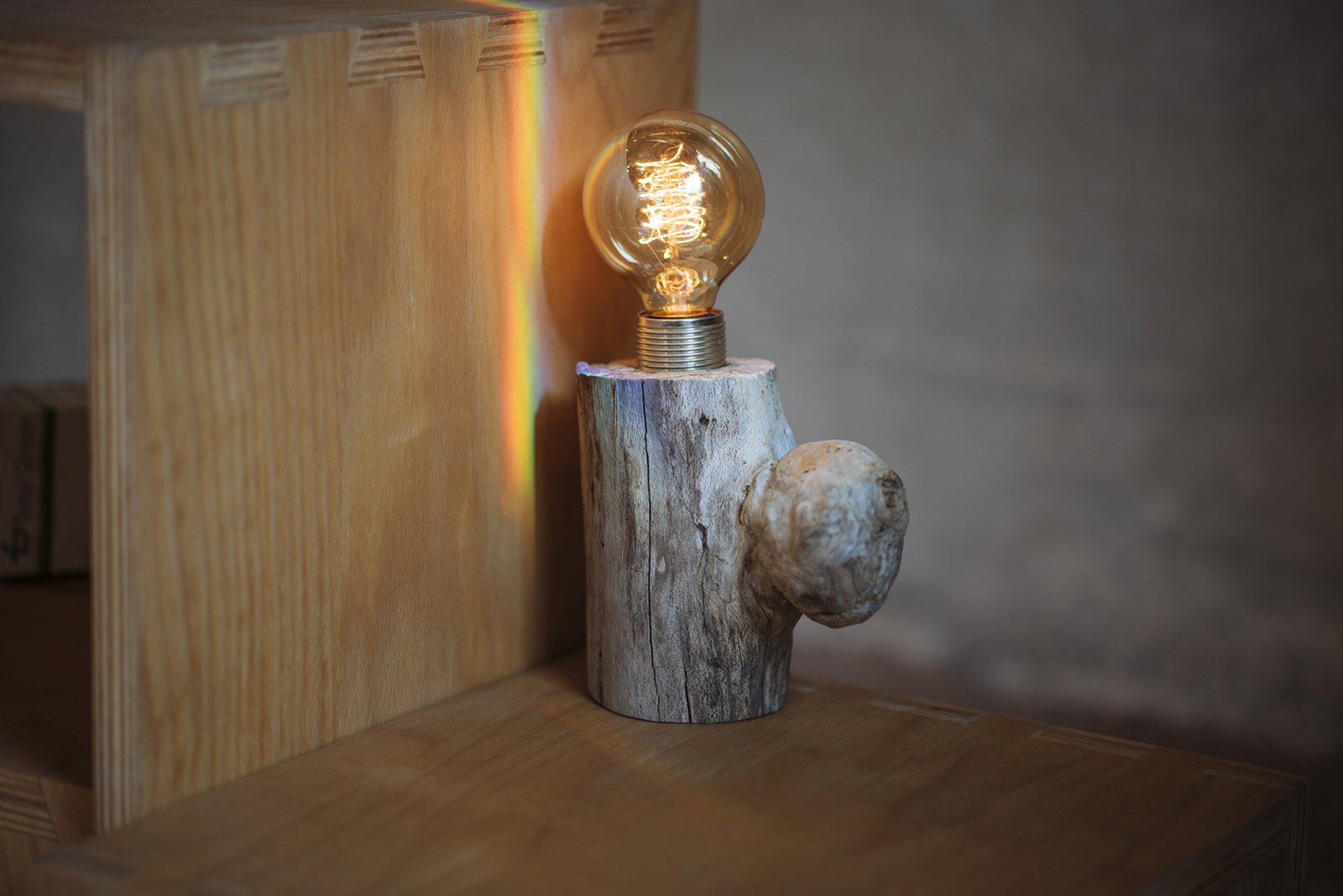 Where do you find the inspiration for the lamps you create? What is your creative process?
Besides my passion for nature, the mountains, forests and wood, there's one more essential ingredient that built my whole creative ensemble:  I've also been a professional photographer for the last 14 years. I had all kinds of jobs in all kinds of places, but I mostly enjoy photographing in nature. So, to all the passions listed above, I can add the one for light and atmosphere, things so well brought in context by photography.

The creative process begins with finding the wood, which happens during a forest trip. I usually prefer forests as wild as possible, where there won't be any human in sight. Encountering wild animals is my reason for great joy.
How does quarantine affect your work? What it's like to make lamps during this hard period?
Theoretically, quarantine doesn't affect my work too much. Only indirectly, regarding my state of mind that is more delicate and fluctuating since the isolation. Otherwise, to my surprise, I cannot say that sales have dropped significantly. Probably, people, seeing themselves so much in their homes, began to put a higher price on interior design, harmony and feng shui in their spaces. One thing is for sure, I don't promote myself more now, than I did before this situation.

The actual work is carried out in much greater peace and with a pleasant rhythm. I no longer have deadlines and I don't have to rush to do anything. Because I am kind of a hoarder and an enthusiastic man, now I have countless working materials and different woods. This would allow me to stay inside for a much longer time. I can't complain, but I hope with all my heart that this story will end as soon as possible, especially for the sake of those who are not well.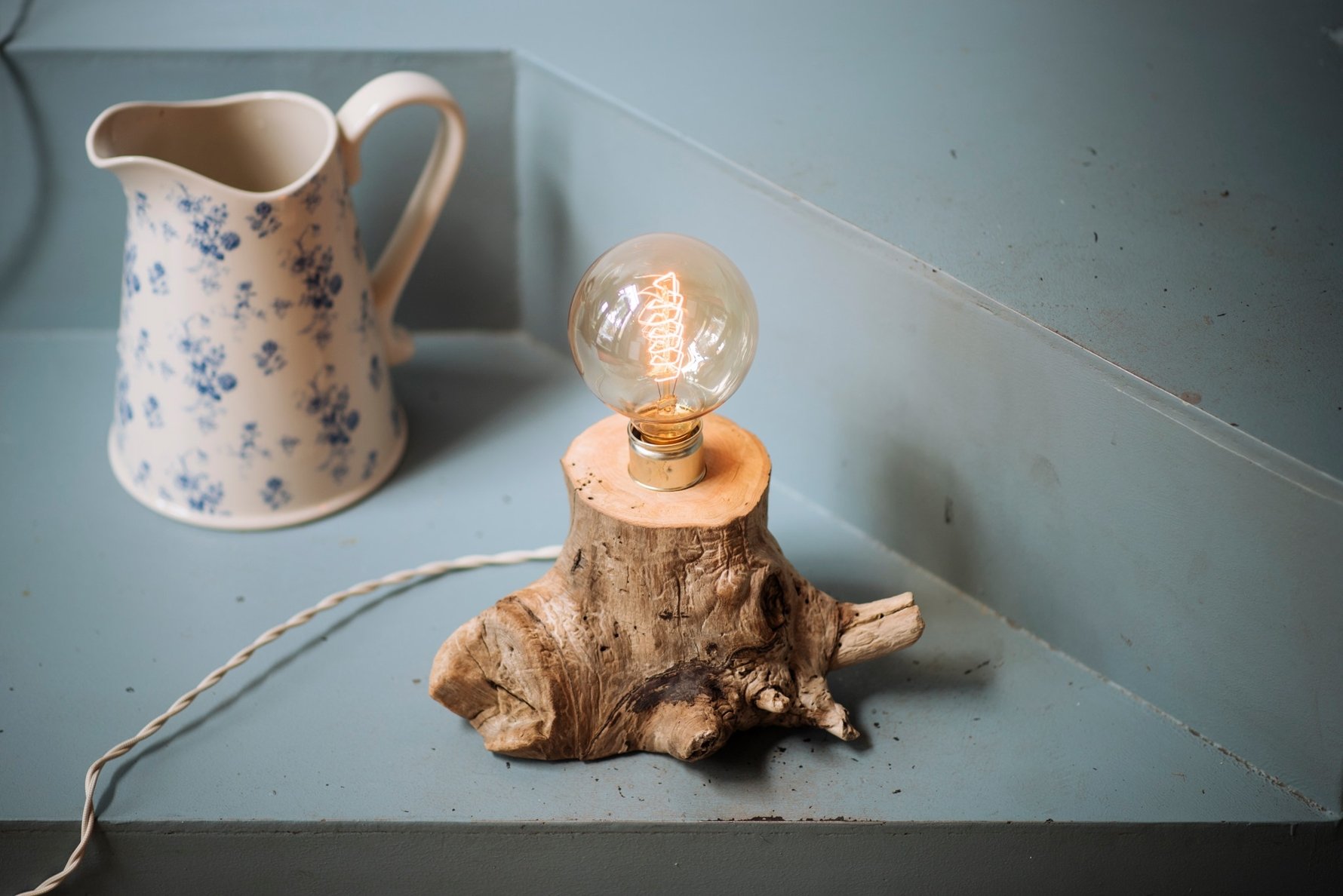 What does the future look like for Glōm​​​​​​​?
I want to answer with a little joke, that I also believe it's the truth :). The future looks bright! Because I count myself among the happy people who started a business without the pressure of earning a living from it, I decided not to impose an accelerated growth rate, but rather to let things happen organically. At the moment, I don't want to give up my job as a photographer and climbing instructor at the Carpatic Gym in Bucharest, but I treat Glōm as my youngest child that needs the most attention and care.
Any advice for young makers that are just getting started?
I will give in to the temptation to start my answer with a set of clichés, because I've come to believe strongly in them.

Here are 3 tips, as they offer in stories.

The first would be that anyone who has a passion should stop overthinking and start their journey as soon as possible. This also applies to those who, like me, have more than one passion. I would recommend writing all your passions on paper and thinking about them until you can choose one that is most appropriate for dedication. I couldn't choose one, so I chose 3. I don't know if I'm a good example to follow, but rather an exception, but exceptions can work too!

The second tip would be to rush more. I spent a lot of time thinking, consumed by dilemmas and plans and questions. That was totally a waste of time. Use what you have and see what works and what doesn't.

And finally, the last tip is directly addressed to perfectionists. I warmly recommend them to not be afraid to launch a product, concept or project that they think is not perfect yet. I don't think it will ever be perfect! I think once a project is launched, it will take on a life of its own and will have every chance to evolve as quickly and beautifully as possible. If it remains unreleased, built only in the mind and imagination, it will tangle in threads and strings until it becomes a knot.

The world is big and it's waiting for you!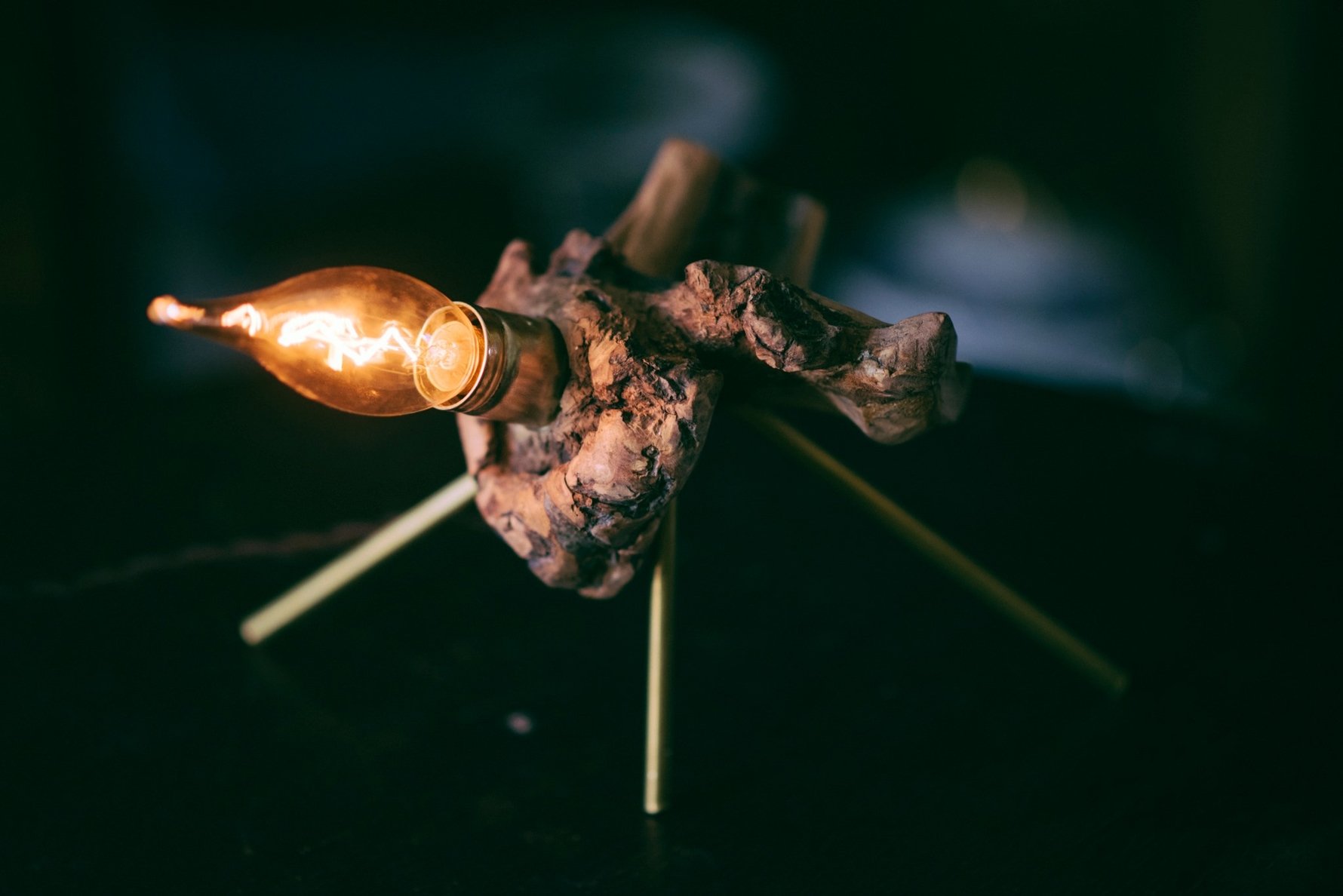 You can find the magic Glōm lamps here.