Winters in Bucharest are cold and have plenty of snow, but they're also filled with joy, Christmas lights, cheerful events and lots of cosy places to go.  If you want to make the best of your trip this cold season, these are the best things to do in Bucharest this winter.
Check out the Bucharest Christmas Markets
People of Bucharest love Christmas Markets, so this is for sure one of the first things you have to check out this winter. There are several Christmas Markets in town every year, but the one that turns the city center into a winter wonderland is the official Christmas Fair of the Capital, happening between 28th November – 26th December 2019 in Constituției Square. This is one of the most visited markets during winter, with special concerts, a gastronomic area with hot traditional food and the magical House of Santa Clause, children's favourite destination. There will also be creative workshops, a carousel for kids, a large outdoor ice skating rink, a Bethlehem manger and a stunning 30 meters high Christmas tree, plus the entry is free!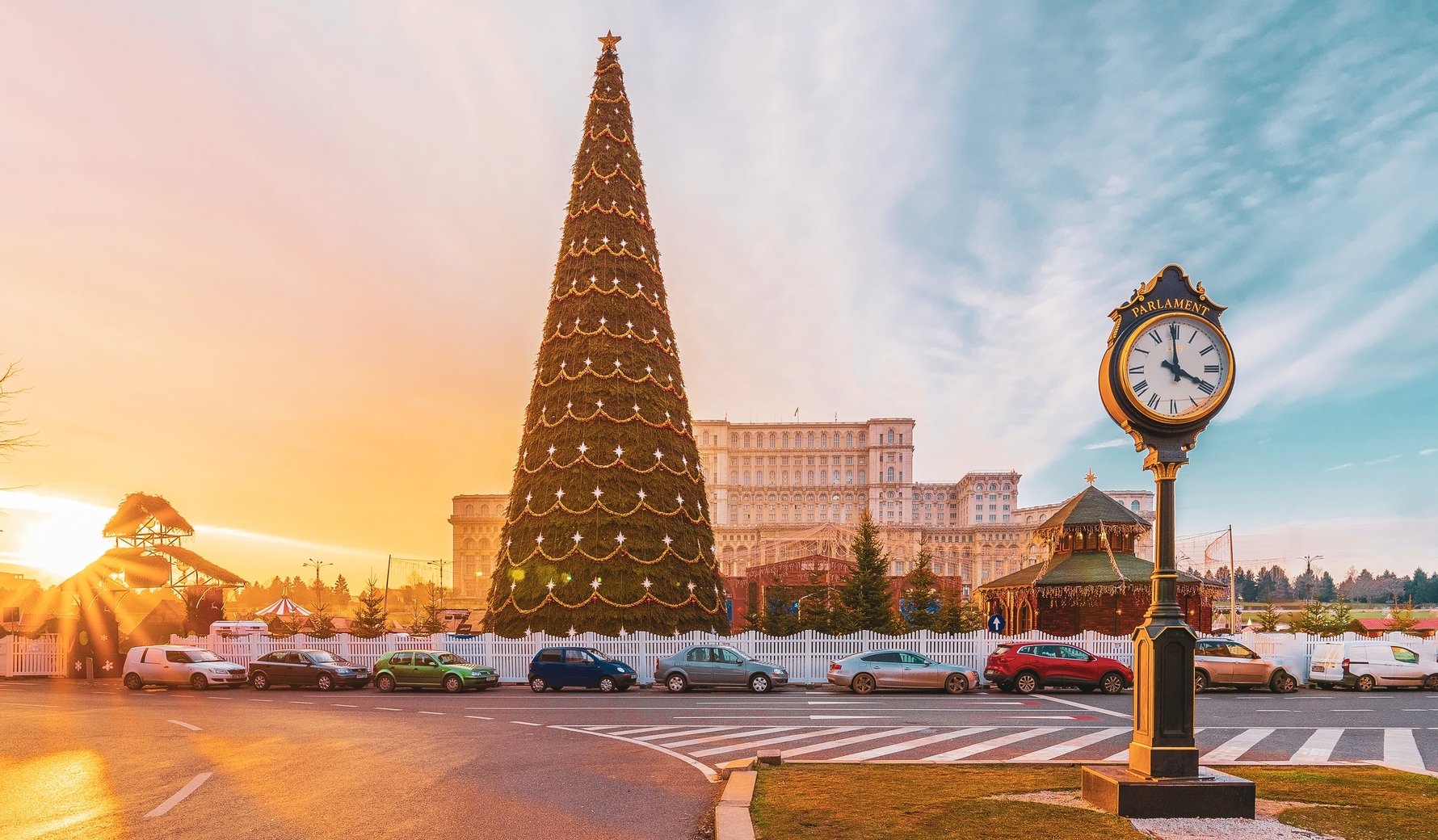 Enjoy Bucharest's Ice Rinks
If you're looking for the most fun activity you can do during the cold season, ice skating has to be the first on your list. Our first recommendation when it comes to ice skating in Bucharest is the Cismigiu Park, with one of the biggest and most popular ice rinks in the city. Situated in the oldest park in Bucharest, the fairytale-like rink can be found where the lake used to be and Romanians absolutely love it. Other popular outdoor ice skating rinks are open in the Alexandru Ioan Cuza Park (IOR Park) and the Drumul Taberei Park, but also at some shopping mall such as ParkLake, Promenada Mall and Veranda Mall. If you can't wait to put your ice skates on, AFI Palace Cotroceni has an indoor skating rink open all year round, so you can practice skating even before the weather is cold enough.
Admire the Christmas Lights
Christmas lights are a big part of the holiday season in Bucharest! Every year, people from all over town come to the city center to witness the moment the Christmas lights are lit, which usually happens on Romania's National Day (December 1st) or at the opening of the Bucharest Christmas Market. The main boulevards of the city come to life with big and colorful light decorations, while the parks have their own charming sparkling lights that look like they come straight out of fairy tales.
Try some Mulled Wine and Traditional Romanian Food
Winter is the perfect season to indulge yourself in some tasty traditional Romanian dishes at the food cottages found at the Christmas Markets, where you'll find everything from traditional pork dishes to Kurtos Kolac, a spit cake specific to Transylvania. When it's time to warm yourself up, try some of the delicious hot beverages that everyone loves, like the popular mulled wine, hot beer or boiled țuică. If you're eating at a restaurant, this is the perfect occasion to try the local soups, like the tripe sour soup or the traditional sour soup with meatballs.
Warm up in a cosy Tea House
There's no better time to enjoy a hot cup of tea than winter time, and lucky for you, Bucharest has some lovely Tea Houses that will keep you warm and make you feel cozier than ever. Our first pick is Infinitea, a magical tea house with a dream-like atmosphere that's also one of the most romantic spots in the city. Bohemia Tea House is the place to go if you're looking for a relaxed atmosphere in a bohemian house and Camera din Fata is the perfect small intimate tea house filled with rare teas and lots of personality.