Few locations in Poland are as synonymous with the beach as Gdynia! While it is often considered the more serious of the 3 cities that make up Trójmiasto (Tri-city: Gdańsk, Sopot, Gdynia) the best spots to take a dip or enjoy a barbeque are found right here, and not far from Gdynia's city centre!
 

GDYNIA ORŁOWO BEACH
Gdynia Orłowo (get off at Gdynia Orłowo train station and head straight down ul. Orłowska) is the quieter, with an eroding cliff that proves popular with paragliders, and the scenic forest trails that lead to the top come populated with families of wild boar. This is a gorgeous spot and the renovation work of recent years have seen the pier and the surrounding gardens restored to the inter-war period glory. In summer, theatre performances take place on the beachfront open-air stage, courtesy of the Municipal Theatre. A great vantage point, Klif Orłowski, is at the top end of the beach. There are also some other curiosities, including a half-built abandoned hotel that is off limits to the public (that doesn't seem to stop people going in you can see people on the top floor instagramming at any hour of the day!) You will find no shortage of mobile cafés peddling an espresso machine on the back of their bike, as well as ice cream and waffle vendors. There are some decent restaurants in the neighbourhood, such as the beachside Taverna Orłowska and the fancy-yet-fast-serving Bistro Serwus up on Aleja Zwycięstwa.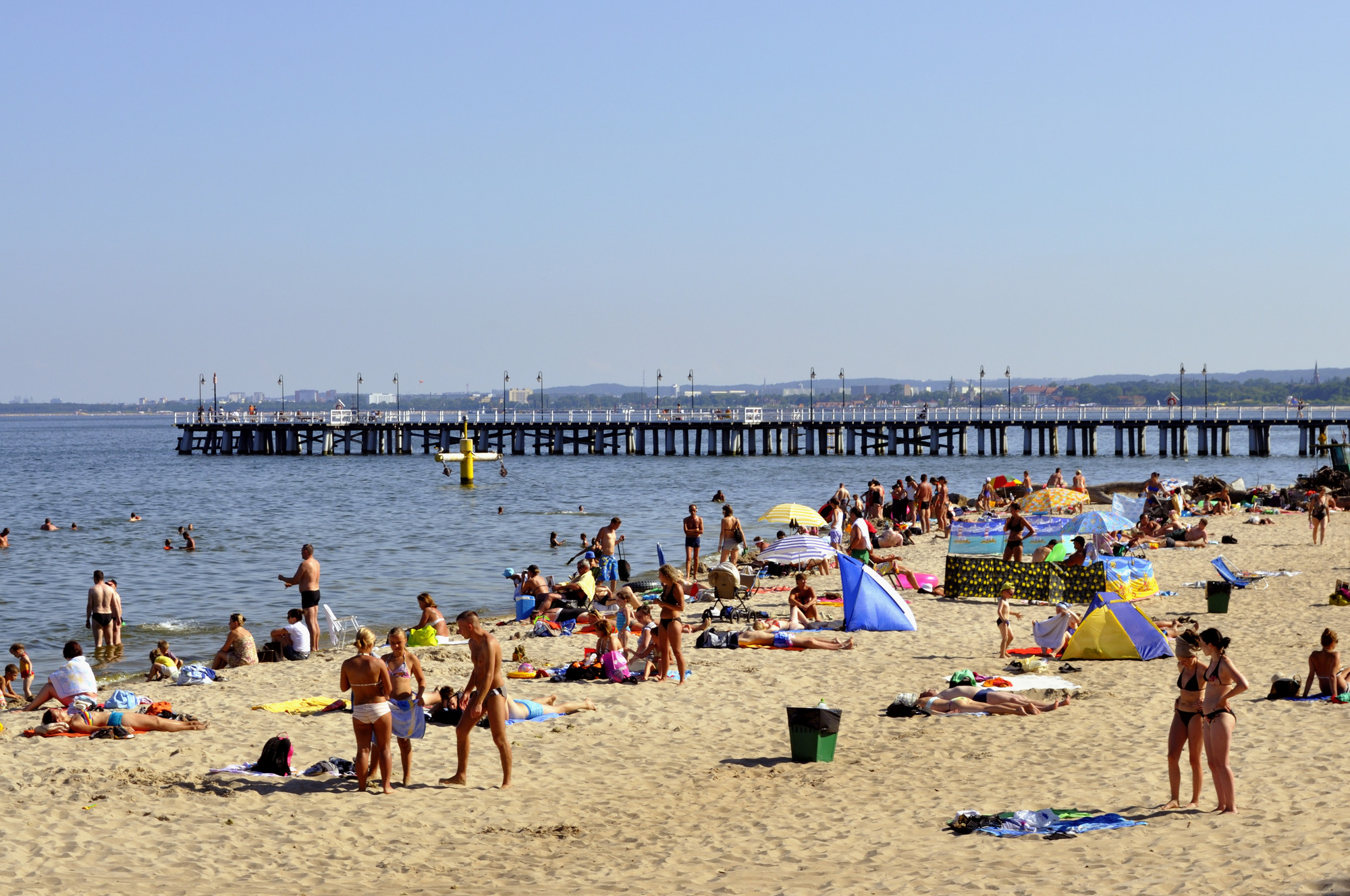 GDYNIA REDŁOWO BEACH
Gdynia Redłowo Beach AKA "Redłowska Beach" is further up and is a similar setting to its southern neighbour, except there's more forest. On that note, the 30-minute walk from Gdynia Redłowo station is rather pleasant and at least half of that is through the green. You can find forest trails leading down to the beach near Szpital Redłowo (ENG: Redłowo Hospital). This, the southern end of the Redłowo coastline, is more popular with youngens who want to drink and start up a disposable grill on the beach. There is also a fantastic tree swing made of ropes and a plank, which are a popular spot for instagrammers and wedding photo shoots. Further up the coast, closer to the Bulwar in Gdynia centrum, you'll find lifeguards patrolling, toilets and changerooms, all things to consider if you have kids with you. That being said, the water isn't incredibly deep and the area is clearly marked with buoys. Closer to this end are some bars and food options, which you won't find further south.

GDYNIA MAIN BEACH
The city centre beach to the north is found right by Skwer Unii Europejski, and its 200-metre length is often packed to bursting point. The quality of the beach here is arguably better than its more illustrious neighbours and the development of modern shower and toilet facilities as well as the new bars and restaurants housed in brand new city built buildings make this a far more civilised place to come. There is also a great children's play area right on the beach in front of the Del Mar restaurant, which allows mums and dads to relax over a coffee or beer while the little ones burn themselves out on the sand. You may be interested to know that the first ever ice-cream on a stick was created on the nearby Świętojańska street back in 1932!