Silesia has long been associated with Poland's rawest and most pure expressions in music, and Katowice's status as a UNESCO City of Music has further pushed the region's cultural happenings into the stratosphere. Needless to say, the best music festivals in Poland take place right here and, while the Tauron New Music Festival and the OFF Festival have been hogging the limelight for over a decade now, there's a new raucous kid on this block: FEST Festival (or as we like to say: the festival so good they named it twice!). Jokes aside, this music event packs a real punch, with hundreds of Polish and international artists taking over Silesia Park (Park Śląski) from 11th till 14th August 2021. Grace those fields with a few high-powered sound systems and stages, a caravan of festive market stalls, and some 20,000 attendees to fill in the gaps on a daily basis. However, it's important to emphasise that FEST goes beyond celebrating live music. There is a great emphasis on artistic performances, social campaigns, workshops, dedicated chillout zones, meetings, and true mindfulness on the idea of entertainment and spending time in good company. So far, FEST has received nominations for prestigious European awards in the music industry: European Festival Awards and ILMC.

FOR TICKETS TO FEST FESTIVAL 2021, CLICK HERE TO FIND OUT MORE!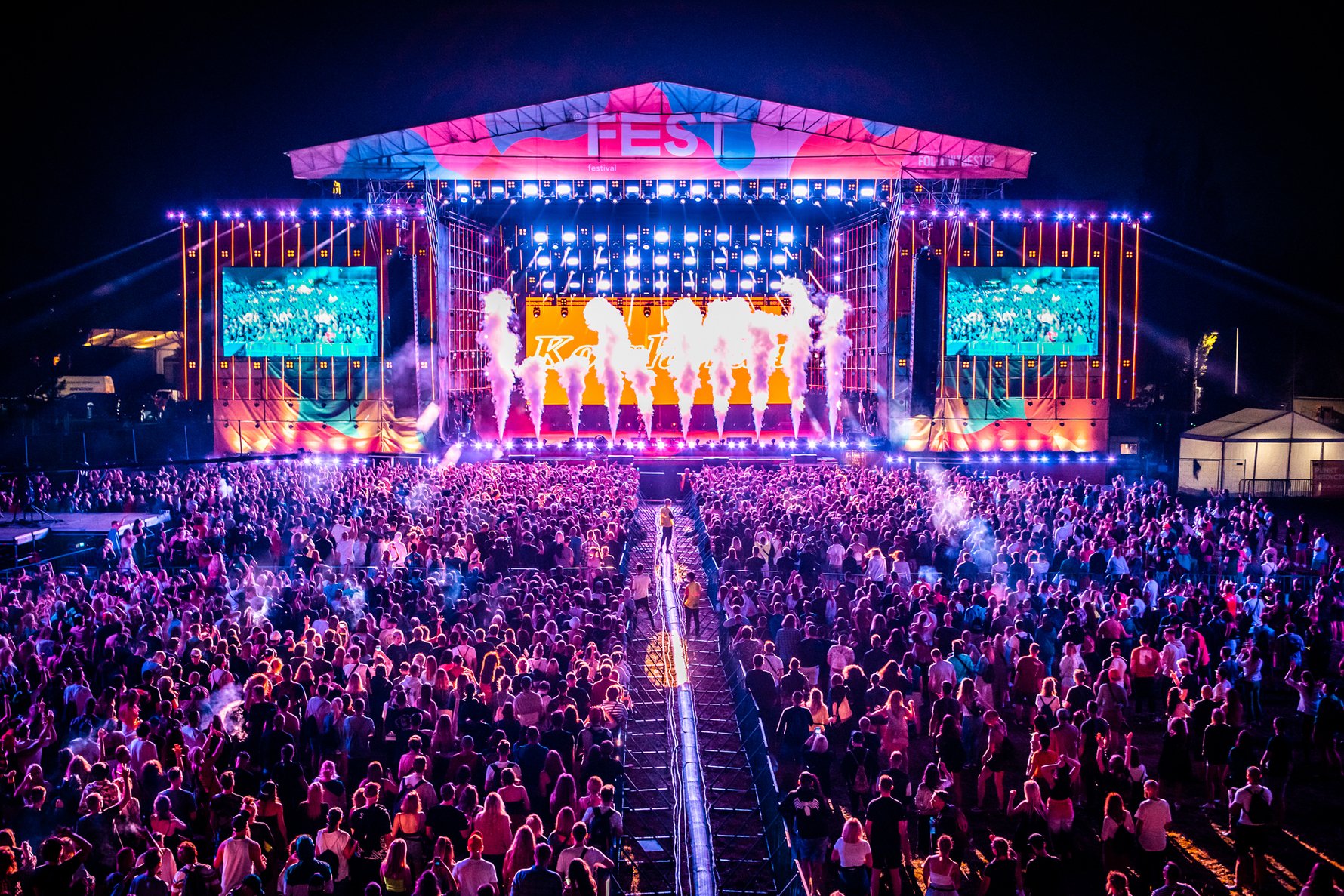 It hasn't been all smooth sailing for the promoters. After a very successful first round in 2019, which featured the likes of Alan Walker and Disclosure, the worldwide Coronavirus pandemic forced the organisers to call off the event in 2020. However, the inconvenience has only served to arouse enthusiasm amongst all involved, ensuring that this year's congregation will be the most memorable event in the European festival calendar and the ground tremors will be felt in KYGO's hometown of Bergen, Norway!
   

FEST Festival 2021 line-up
The star-studded line-up of FEST in 2019 was, quite frankly, too good to be true, and the bar has been quite high ever since. Despite these times of uncertainty, especially since Coronavirus spoiled the party in 2020, the highly-anticipated announcements for FEST Festival 2021 have been far from a disappointment, and there are so many artists playing that it's gone from a two-day to a four-day festival to accommodate for diversity. So who's playing at FEST Festival 2021?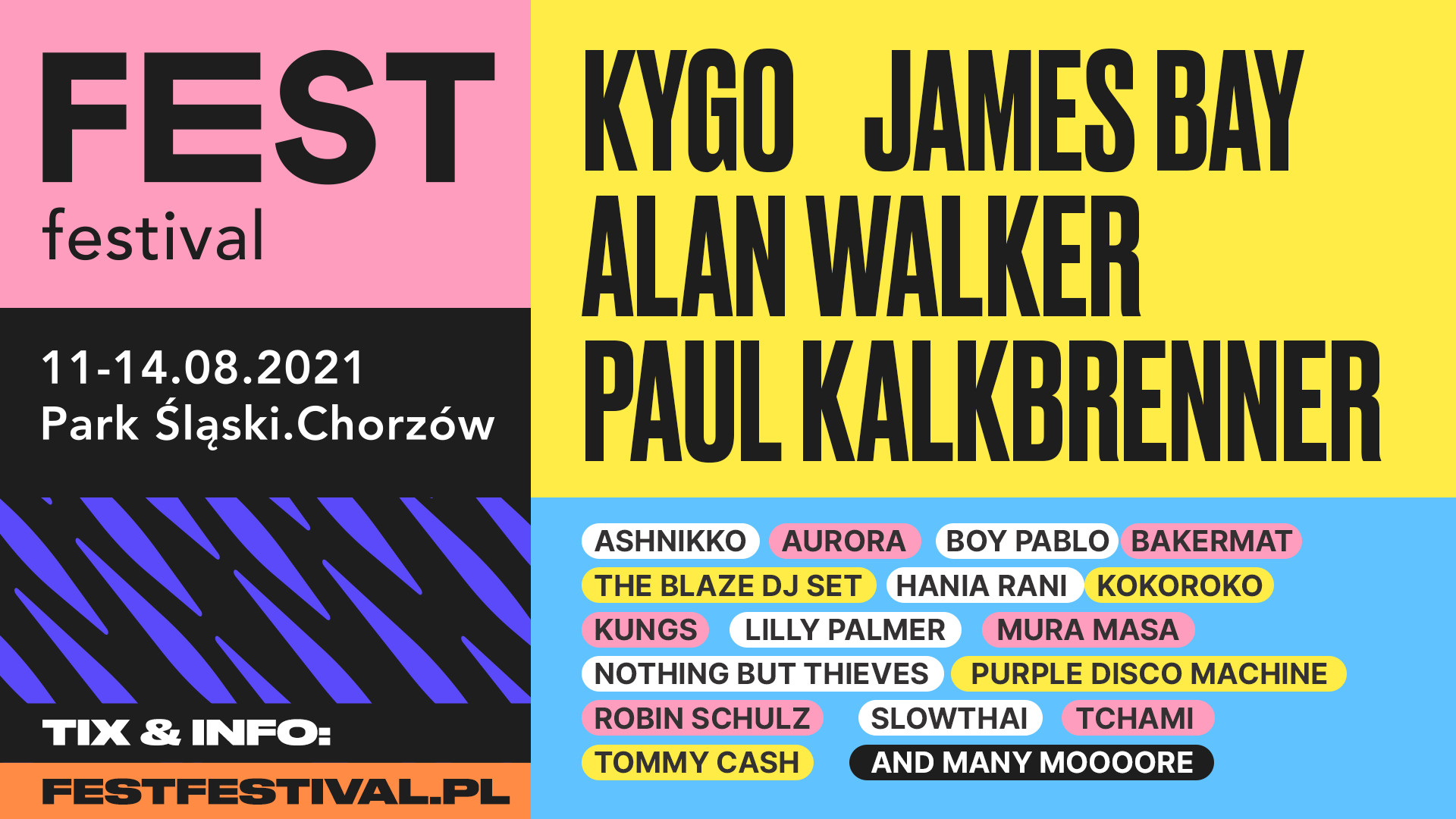 Tipped by Billboard Magazine as the 'the next EDM superstar', Kyrre Gørvell-Dahll, a.k.a KYGO, has gone from bedroom producer to one of the most hyped electronic artists on the planet in unprecedented time. Having established himself as a household name thanks to his widely popular remixes, sell out shows in North America and Europe as well as headline performances at festivals including TomorrowWorld and Findings, KYGO has now amassed over 7 million plays across SoundCloud and YouTube and over 40 million plays on Spotify, peaking at #4 in the worldwide Spotify chart. 

Described as 'an old head on young shoulders', James Bay is a singular modern talent - a damn good guitar player and an even better songwriter. A true soul singer, chasing 'that goose bumps moment' by channeling artists such as Miles Davis, Bruce Springsteen and James Blake, his music is intensely personal. Growing up in Hitchin in the UK, he moved to Brighton to study guitar at the age of 18 and then onto the big city, London, where he continued to build on his already-solid live reputation. Bay caught the attention of Republic Records A&R after a fan uploaded a video to YouTube of him performing at an open mic night, and within a week, he signed to the label. His first EP, The Dark of the Morning, was released in 2013. Within a year, he was selling out his first UK headline tour. Over the last 8 years, the voice of British indie folk has circled the globe and frequented many a summer festival circuit, on top of numerous awards and accolades, including three Grammy nominations in 2016. We are eagerly awaiting the release of his third studio album, which has been in production in Nashville during the COVID live music drought! James Bay will be playing on day four, 14th August, of FEST Festival 2021.

Hailing from Southend-on-Sea in Essex, England, Nothing But Thieves make passionate guitar-based rock that balances indie rock artfulness with a pop sensibility. Formed in 2012, the last 9 years has been quite a ride for the UK quintet. Their 2017 acclaimed album, Broken Machine, charted at #2 in the UK album chart and they have since amassed over 700,000 album sales and 750 million streams so far. But of course, the proof is in the pudding, and their loyal following has been built up through a track record of impactful live performances, cementing themselves as one of the best rock bands in the world today. The kids just can't seem to get enough of these guys, and their global success has even been tangible here in Poland, where their memorable sets at Warsaw's Rock In Summer 2018 and the Woodstock Festival in 2017 certainly tickled the fancy of (at least) a few thousand local convertees (or should we say 'thieves'). Nothing But Thieves will be playing on day four, 14th August, of FEST Festival 2021.

Rockin' a mask before Coronavirus was even a thing, English-Norwegian DJ Alan Walker has been continuously delivering thumping beats and hypnotic records since 2012, and is yet another bedroom-producer-to-festival-headliner success story. With over 115 million followers across his social platforms, 8.7 billion YouTube views, and a staggering 50 billion audio and video streams, it is a understatement to say that 'AW' is a big deal in the world of EDM...and he's only just turned 23! We've all heard his track Faded, which by the way has garnered over a 1.3 billion Spotify streams and a massive 2,9 billion YouTube video views, not to mention a bunch of awards and nominations. He's collaborated with artists like Ava Max, Noah Cyrus, Sia, Bruno Mars and Coldplay. The chart-topping debut album Different World arrived in late 2018, amassing over 3.2 billion streams on Spotify. While holding a pristine track record, Alan has played over 600 headlining shows and festivals to date, including Coachella and Tomorrowland, in addition to selling out his worldwide arena tours Aviation Tour. In 2021 Alan is upping the ante with astonishing new music and visuals, so buckle up, cause he's just getting started...not to mention that he played FEST in 2019 and he loved it so much that he's coming back again! Alan Walker will be playing on day two, 12th August, of FEST Festival 2021.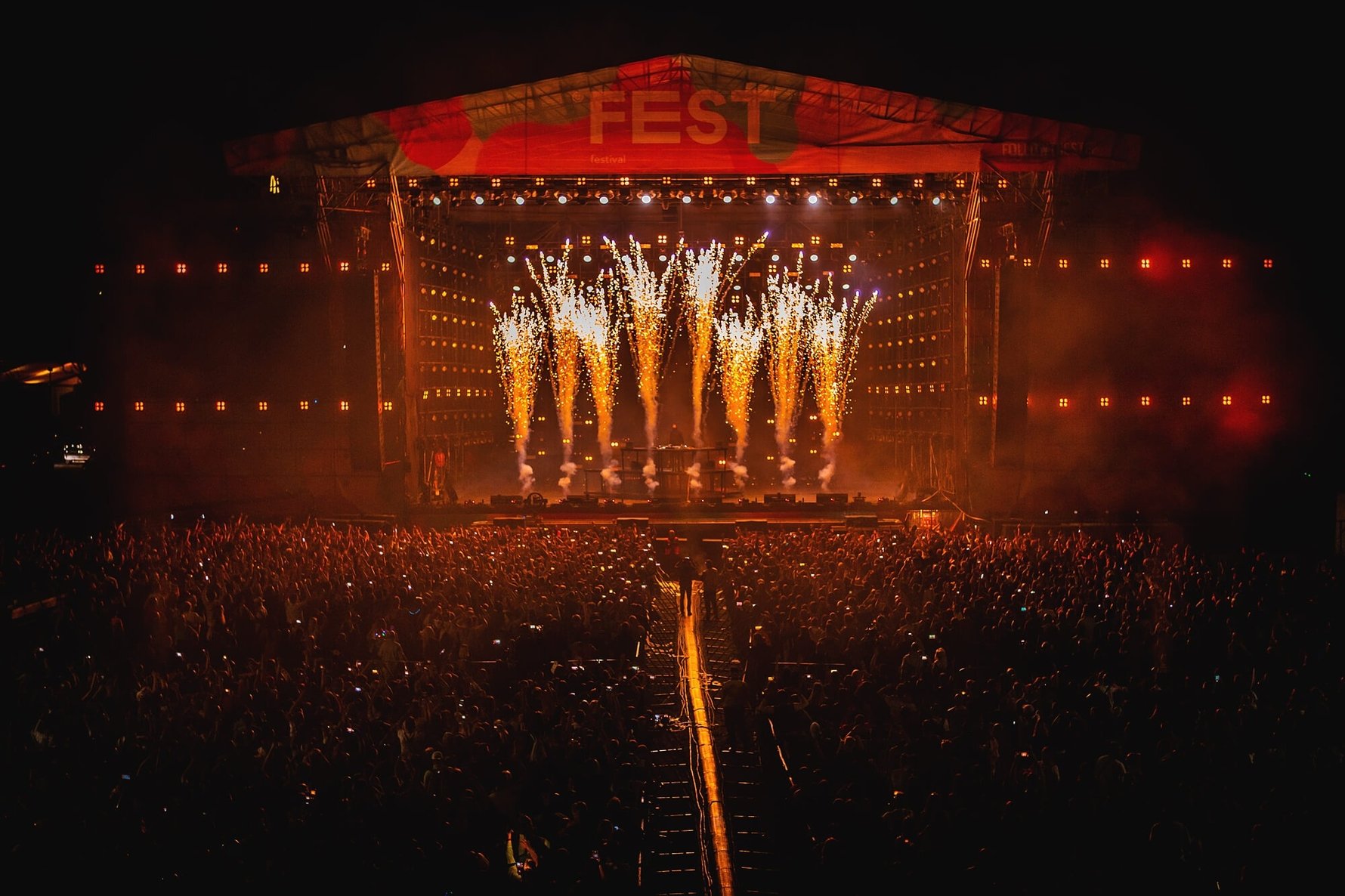 Don't worry, we've just gotten started the name dropping extravaganza. On DAY ONE, the charge will be led by two acts from across the pond: Nordic-Folk popstress Aurora and the always-outrageous Estonian rapper Tomm¥ €a$h will be doing what they do best - making waves! Bringing the heart-rate up to an optimum level are two local contingents: Lublin hip-hop crew Rasmentalism and Koszalin rock princess Daria Zawiałow.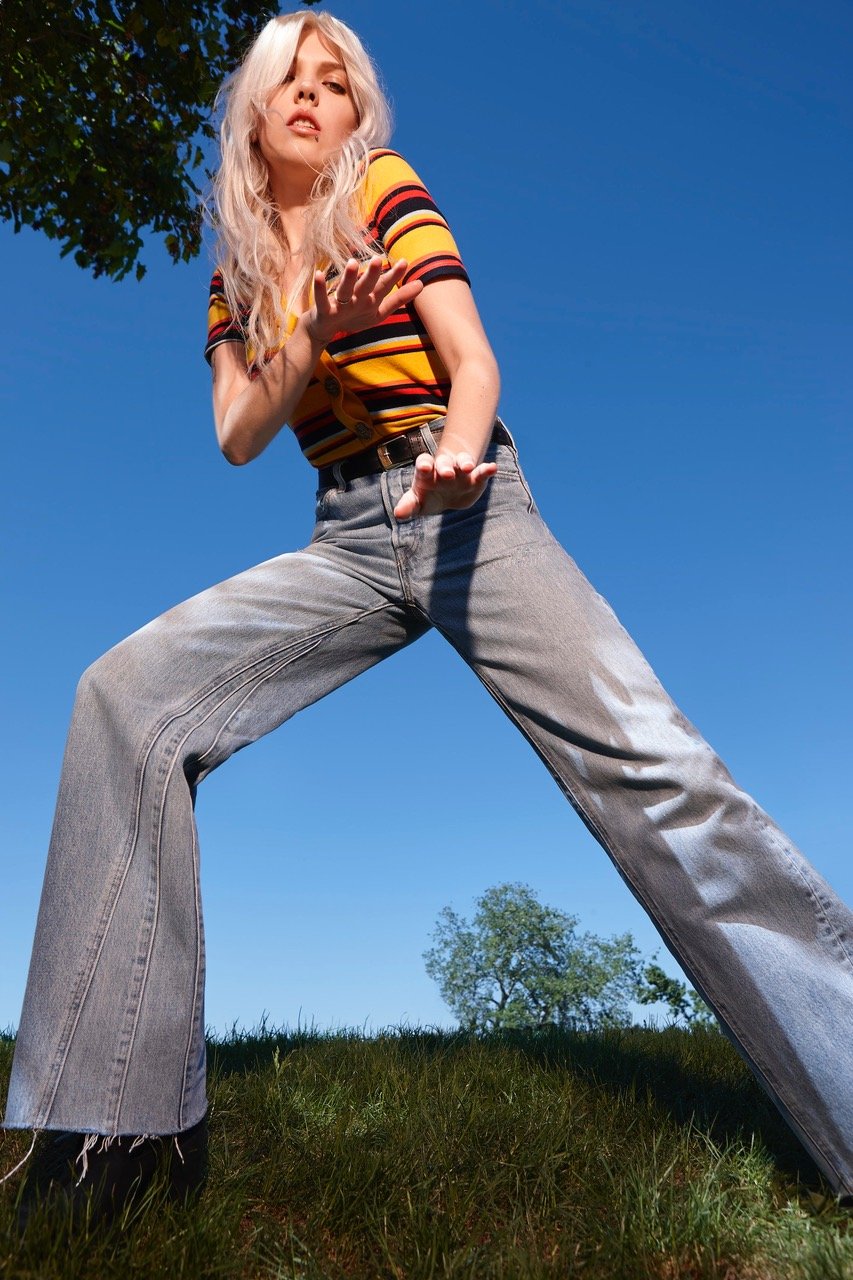 DAY TWO is a mixed bag of star power, eccentrics and hooligans. Prestigious German moustache Purple Disco Machine will be turning some knobs on his party machine, while Dutch DJ Sam Feldt takes the stage with his hype-man brass section. Politically-charged underpants man Slowthai will be bringing the heat of the street to the big stage and, hopefully, Silesia is ready for it. Just in case, we have Warsaw rapper Pezet to thank for taking the edge off the situation. Known for their experimental pursuits into electro, Faroese-Iceland duo Kiasmos will be adding some extra dimensions to the proceedings, performing a DJ set like to other. Poland Idol guy Krzysztof Zalewski plans on stealing the show over if art-rock pianista Sanah hasn't already you won over.

DAY THREE casts the net nice and wide and hauls in some big fish for the beat banquet. Dutch jazz-nerd DJ Bakermat has been cooking up jam to drop hot and on the main slot. The next boarding parties are French DJs Kungs and The Blaze, the latter of which we can expect a rather freaky multimedia show to complement their set. Wrocław hip-hop weirdo Mata has been let out of the cage for the day and sure has a thing or two to say. Singer/songwriter Sohn is on hand to calm the musical landscape with one of his many fantastic compositions. One of the more anticipated appearances at FEST this year is Polish singer Kayah, who has renewed her collaboration with Balkan music man Goran Bregović, resurrecting the ethno-pop sounds of their 1999 album Kayah i Bregović. If that's not exotic enough for you, London-based Afrobeat group Kokoroko will take the stage shortly after and plan on raising a storm! 

DAY FOUR is a big one (although to be fair, they're all big ones) and the force is strong in this one. On top of the star-power of Kygo and Nothing But Thieves, French DJ duo Ofenbach are in talks with the authorities about starting a revolution in Chorzów. German DJ/producer lad Robin Schulz is also planning on stirring things up if Swedish emoto-pop drama queens Smith & Thell don't have the crowd singing at the top of their lungs. However, there may be a Pro8l3m hip hop crew coming in on the KSL 11:10 from Warsaw! In the same carriage, we expect party guys Oio to keep the spirits high. 
What facilities will be available at FEST Festival 2021?
While the artist line-up at FEST 2021 is first-class and rarely topped anywhere else on the continent, it's important to remember that this festival goes beyond just celebrating live music. As tens of thousands of attendees roll into Silesia Park (Park Śląski) between the 11th and the 14th of August in 2021, the festival site becomes a unique community of different cultural events: artistic performances, social campaigns, workshops, dedicated chillout zones, meetings, and true mindfulness on the idea of entertainment and spending time in good company.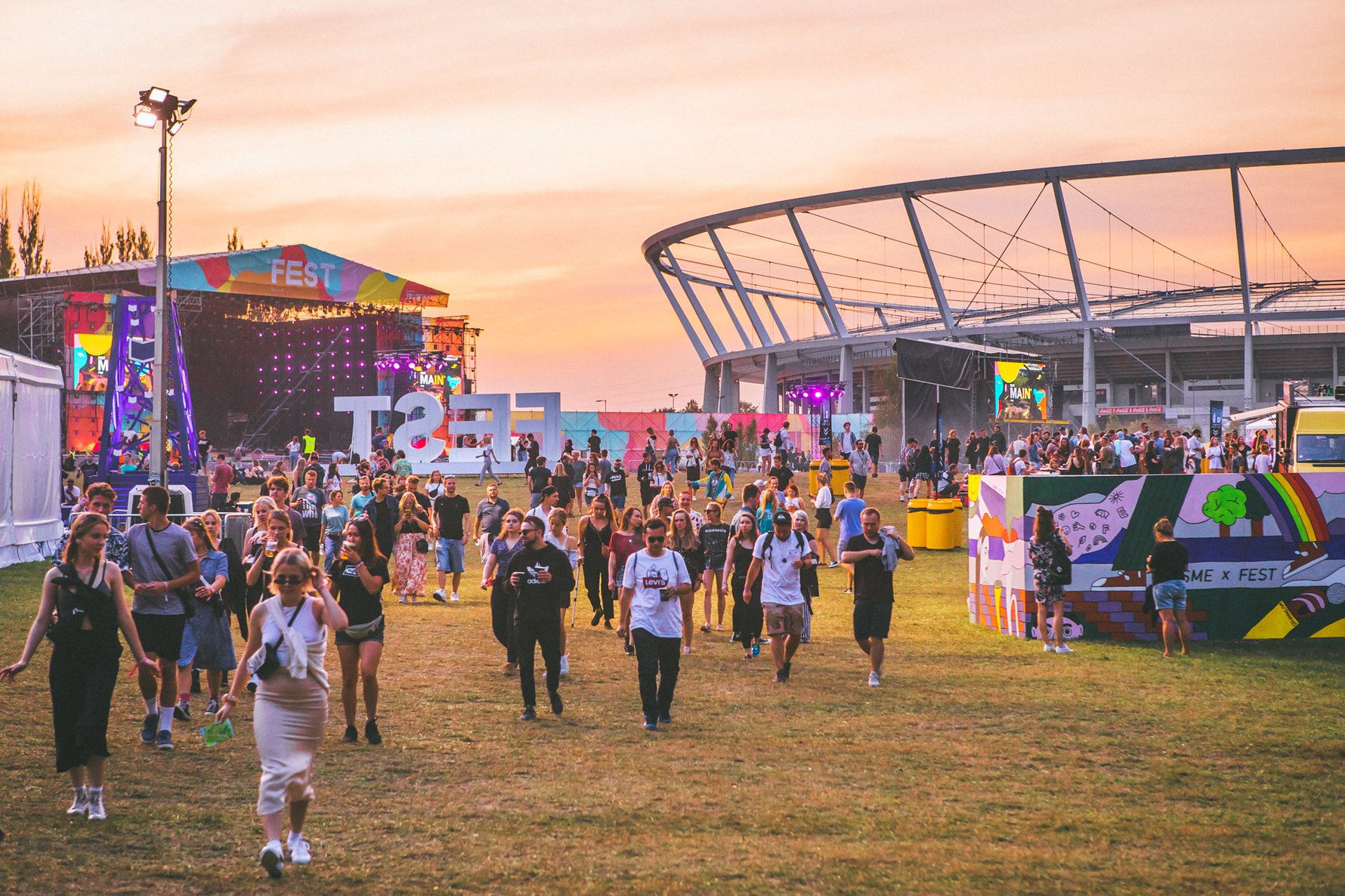 CAMPING
Of course! It's a four day event and some of you are in it for the long haul! The FEST Camping grounds are located in the most beautiful area of the park and contains all the facilities needed.

FOOD TRUCKS
A community has to eat in order to survive, and a great community has a diverse range of delicious (and high-quality) food options available to all! Of course, FEST attendees fit into the latter category and the organisers have ensured that there is something for everyone. There are vegetarian, vegan and gluten free options available in most of the food trucks on site: American Grilled Cheese, Viet on tour – food truck, Falafel Bejrut, Arizona Pastrami, Francuska Robota, Frytka Truck, Fabryka Churros, PASTA Mobile, gofreak, SweetGang, Frytruck, Fragola, Sowia Zwija.

NEW STAGE
New Stage is one of the leading performance areas of Fest Festival 2019, where you can discover newcomers, taking their first steps in the music industry. We are sure that we'll see them soon performing on the Main Stage! 

CLUB STAGE
Club Stage powered by Pringles is a performance area for electronic sounds. Here, you'll find leading Polish DJs hitting the decks with end to end live sets. Trap, hip-hop, various electronics and legendary dance bangers - you'll find it all here... ale po polsku!

DANCE CIRCLES
3 different stages with a common denominator of electronics: Dance Circle by Smolna, Astral Stage by Goadupa Festival, Raban Stage by 175 BPM. Each of them represents a separate, unique sound. The Dance Circle is responsible for techno, in Astral Stage bits dominate at a rate above 175 beats per minute, and on the Astral stage the best drum'n'bass.

FASHION ZONE
This is a place for those who value independence in fashion. Fashion Zone is the most fashionable space of the Fest Festival, it's where you can find collections of the most talented, independent, Polish designers.

WINE VILLAGE
A zone created for all lovers of this drink. There will be a full repertoire of wines as well as great tapas. To choose a color: pink, red, white. Dry, semi-dry, sweet. Depending on your mood and preferences.

CHILL ZONE
And for those who like to chill out during the festival, we have prepared several zones dedicated to relaxation. Among the green areas of Park Śląski there will be romantic garlands, comfortable poufs, hammocks and sunbeds. Chillout FEST!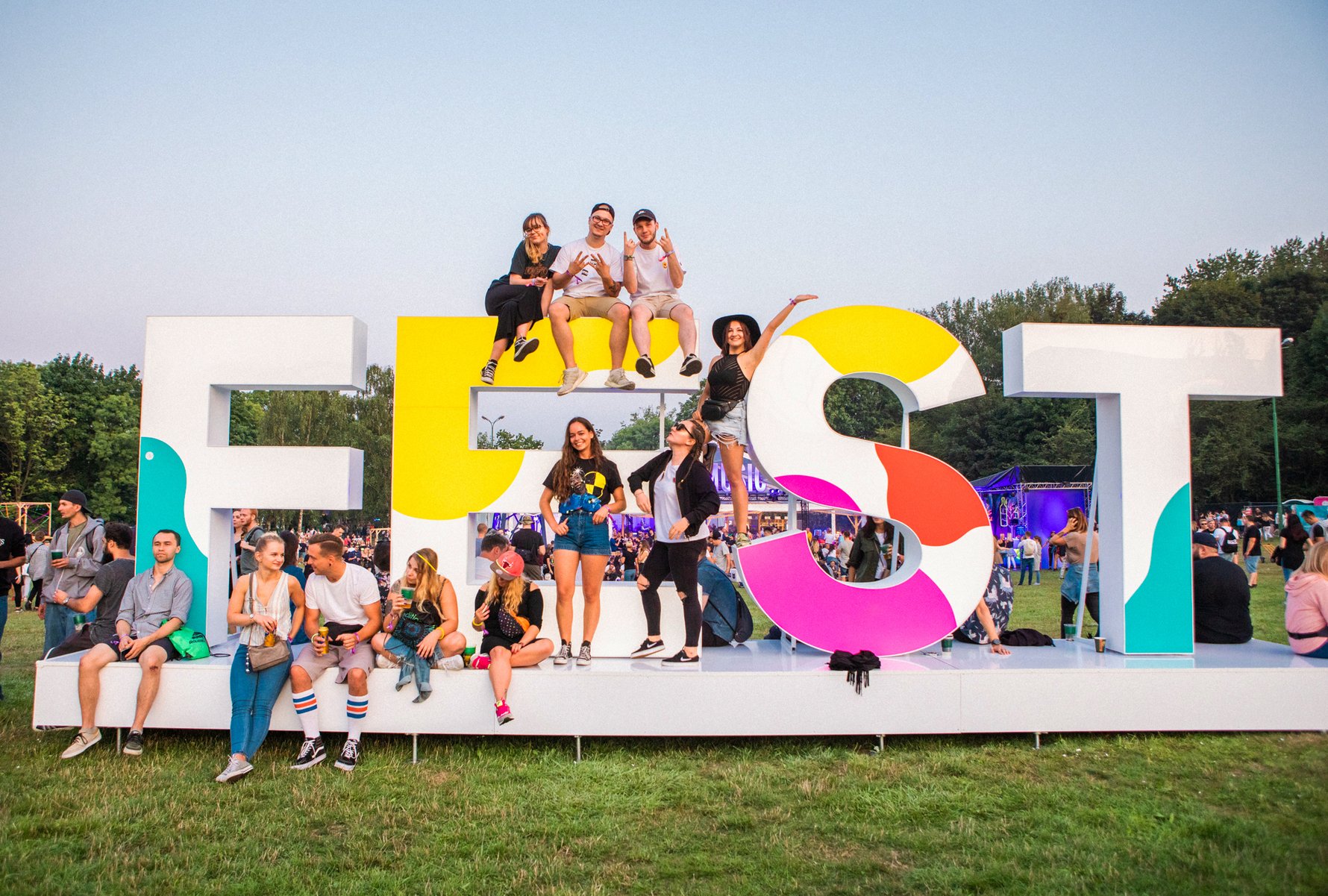 What do I have to provide to be allowed into FEST festival?
Regarding COVID-19 and safety measures – international guests will be required to provide EU Digital Covid Certificate in order to enter the festival grounds. So, you may be asking "How do I get the EU Digital Covid Certificate?" National authorities are in charge of issuing the certificate. Please click here for more information. Fest Festival is located in the lush grounds of Silesia Park (Park Śląski) in the centre of Chorzów, 7km northwest of Katowice, Poland. You may be asking yourself "How do I get from Katowice to Chorzów?" There are a number of options:

ARRIVING BY BUS
The easiest way to get to Fest Festival is by one of following bus lines:
23, 51, 138, 673, 674 – stop: Osiedle Tysiąclecia Ułańska
6, 98, 883, 803N, 840N – stop: Chorzów AKS

ARRIVING BY TRAM
The easiest way to get to Fest Festival is by one of following tram lines:
T6, T11, T19 – stop: Chorzów Stadion Śląski
T23, T10, T11 – stop: Chorzów Stadion Śląski Pętla Zach.

ARRIVING BY TRAIN
The nearest major station to the festival site is Katowice Train Station. From that point, you have a choice of using one of the above-mentioned tram or bus lines to get to the festival site.
However, there are also three train stations in Chorzów, all with super easy access to festival site:
Chorzów City Train Station (15mins)
Get to the tram on Chorzów Miasto Dworzec PKP stop located right by the train station entrance. Take one of following trams:  T6, T11, T19 and get off at Chorzów Stadion Śląski stop. You have arrived!
Chorzów Batory Train Station (20mins)
Get to the tram on Chorzów Batory Dworzec PKP stop and take a bus (22, 48, 74, 139, 144) or a tram (T20). Get off at Chorzów Rynek stop and take T9 or T11 tram. Get off at Chorzów Stadion Śląski stop.
You can also take a direct bus no. 23 from Chorzów Batory Dworzec PKP stop. Get off at Osiedle Tysiąclecia Ułańska stop.
Old Chorzów Train Station (20mins)
Take a T6 or T19 tram from a Chorzów Stary Dworzec PKP stop. Get off at Chorzów Stadion Śląski stop.

ARRIVING BY PLANE
The nearest airport to Chorzów is Katowice Airport in Pyrzowice, 28km north of Katowice. By public transport, it takes around 1.5hrs to get to Park Śląski.
First, you need to get to Katowice city centre. The best way to do so is by taking one of following buses: AP2 or AP3.
AP2 – get off at Katowice Sokolska stop and take a bus no. 820 (Katowice Piotra Skargi stop). Get off at Park Śląski Ogród Zoologiczny stop and take T6, T11 ot T19 trams. You can also take a short walk from there!
AP3 –  get off at Katowice Dworzec (Katowice Train Station) and take T11 tram from Katowice Plac Miarki stop. Get off at Chorzów Stadion Śląski stop.
How much is a ticket for FEST Festival 2021?
For more information on tickets to FEST Festival 2021, CLICK HERE TO FIND OUT MORE!