One of the most unique attractions in the Gorenjska region is the WWII-era tunnel complex that runs for 1.3km under the heart of Kranj's old town and was built to serve as a bomb shelter. Construction commenced in the late-1930s in anticipation of he conflict, but most of what exists today was carried out by occupying forces in 1944, as they feared Kranj would be targeted by Allied bombing due to its strategic location and strong industrial output. The complex cross directly under the old town with a western entrance at Jelenov Klanec, an east entrance in Kokra Canyon and a southern entrance below Pungert - there is also a 'secret' entrance above ground behind Prešeren Theatre.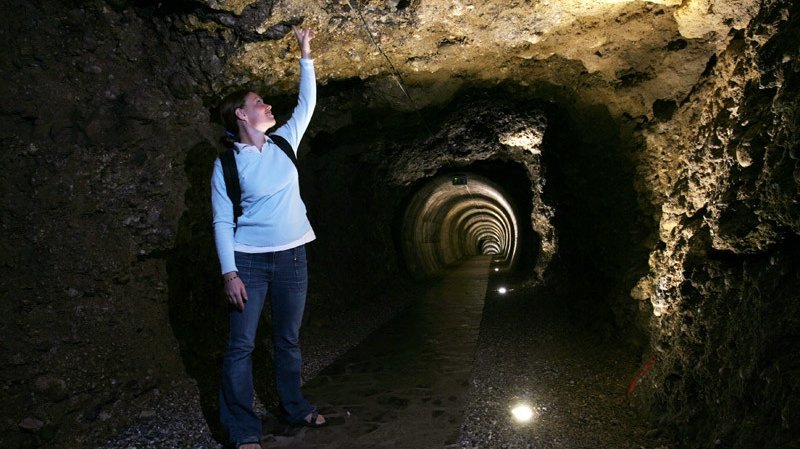 Following the war the tunnels were largely forgotten about and fell into a state of disuse, although during the 1980s one enterprising local restaurateur used a large section of them to grow his own supply of mushrooms. Due to the waste produced by this subterranean agriculture as well as the more than half a century of general neglect, the tunnels were in rather poor condition at the end of the 20th century. Recognising that they are an important piece of the country's historical and technological heritage, in 2003 the Caving Society of Kranj decided to take the initiative of cleaning them up, and were later joined by the city and other organisations, with the extensive restoration works finally completed and the tunnels opened to the public in 2008.

In the years since their reopening the tunnels have become one of Kranj's main tourist attractions, even winning the national tourism board's so-called Silver Sower award in 2009, given for especially creative and innovative achievements in Slovenian tourism. In addition to a small permanent exhibition of minerals and fossils, and a reconstructed bomb shelter that includes a simulated air raid, the tunnels now host several well-attended annual events such as the Kranj Wine Route, a nativity production during Christmas time, a children's entertainment programme featuring Kranček the Dwarf and various other cultural events (concerts, literary reading, film nights, etc).