Plac Po Farze (ENG: Square along the parish) is a square in the Lublin Old Town, created after the demolition of the Parish Church of St. Michael the Archangel. The area is associated with a key legend of the city, dating back to the mid 13th century, during the time of Krakowian ruler Prince Leszek II the Black. The inhabitants of Lublin, suffering from frequents attacks from pagan tribes, appealed to Leszek to bring his army and submit their enemies. When Leszek and his forces arrived in Lublin, the pagans had retreated from the city upon hearing news of his arrival. Leszek halted the march and decided to nap in the shade of an oak tree. In his dream, Saint Michael the Archangel descended from heaven and ordered the prince to continue pursuing the pagans. He did so and his army defeated them without issue. Leszek returned to Lublin and ordered that the place where he had been visited by Saint Michael. It is here that the church was built and the oak tree was used to make the altar.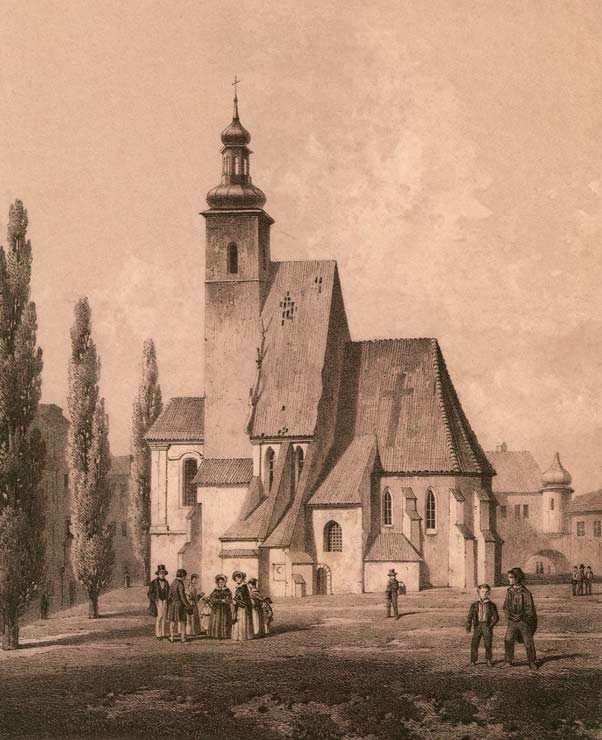 Whether there's any truth to the legend or not, the church is believed to have been built either at the end of the 13th century or at the beginning of the 14th century. In the 15th century, on the side of ul. Grodzka, a huge tower was erected, which was the dominant part of the sky line for a number of centuries. The church burnt down a total of three times between 1575 and 1846. After the third incident, the decision to rebuild was abandoned. After the remaining structure was demolished, the baptismal font, the Michał bell from the tower and a historic plaque were relocated in Lublin Archcathedral. The painting of Leszek the Black's Dream was sent to the Capuchin church. According to local news reports, an oak trunk was found under the naive of the great altar, which had been carefully bricked around.

The foundations of the church were allegedly too difficult to demolish, some say because of the holiness of the site and Saint Michael's influence, however, that wouldn't explain why the church burnt down so many times! In the end, the ruins simply covered over with earth and remained untouched for almost a century. Then, between 1936 and 1938, the site was excavated and the foundations were uncovered. However, it didn't become a properly established public space until 2002. In the 21st century, Po Farze Square is frequently used for events, such as concerts and cultural meetings.