Sa Sartiglia at Oristano is like a well-drawn glass of Guinness. Merry froth on the top hiding serious redolent depths. Or to misquote Shakespeare: a world, a place, a day, full of sound and furious movement signifying... a very great deal. Wrongly but plausibly billed as a carnival, the Sartiglia is held each year on the last Sunday before Lent and on Shrove Tuesday.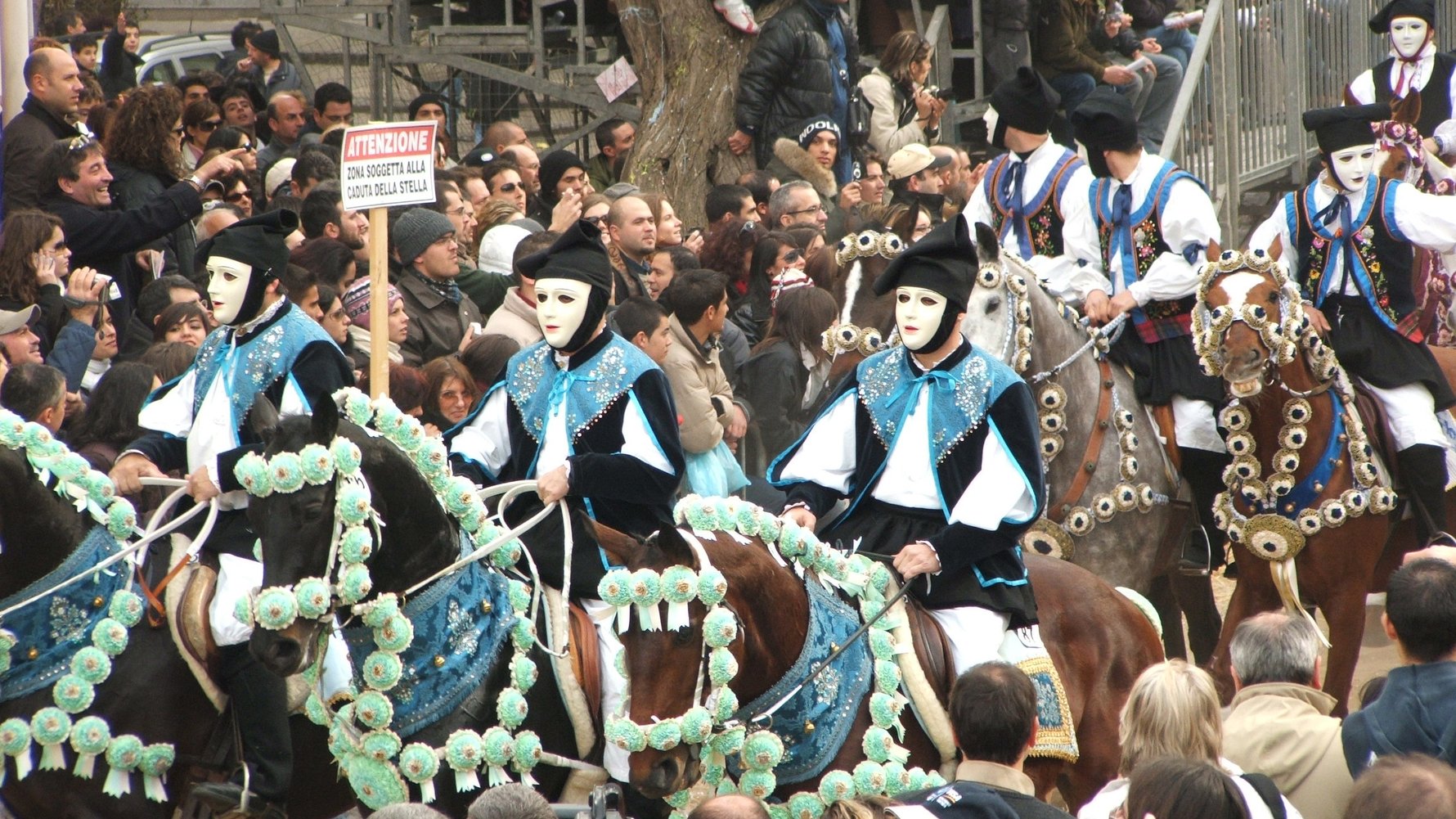 Two hectic days of superb horsemanship - those fearless equestrian acrobats! -, the thunderous rhythms of galloping hooves reinforced by the rolling of drums and blare of trumpets; the roars of applause from the hundreds, the thousands, of local people and visitors who have poured into the usually sleepy town centre of Oristano; but also these same crowds' sudden silences - reverential, enraptured; the flower-strewn, sanded streets lined with protective bales of hay and straw: the sumptuous array of traditional costumes - red, white, black, gold filigree, peerless embroidery, immaculately starched cuffs, ruffs and collars - which exemplify all the vivacious sartorial aplomb anyone who knows or knows about Sardinia will be familiar with; and the faces, figures and deportment of participants and spectators alike are joys to behold: this is an island whose inhabitants are possessed of a rare beauty, poise and vigour.

But what is all this about? What actually happens? Why are all these people here? Sounds like a particularly jolly street party with everyone in fancy dress and horses charging around.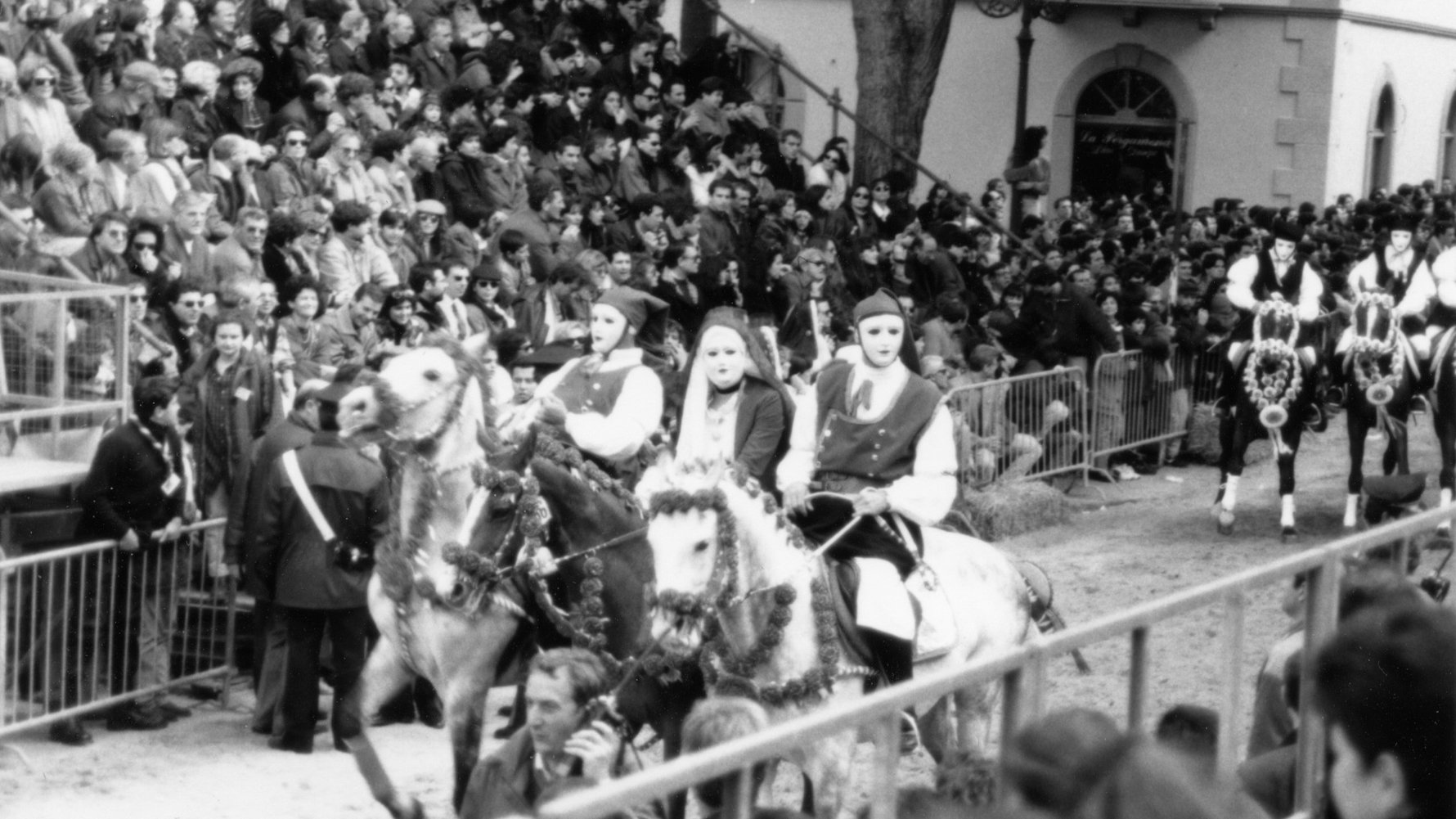 Many of Sardinia's manifestations of Christianity have in one way or another decidedly pagan origins. "Into an already millennial bedrock of religiosity, Christianity sank its own roots and let its tendrils grow, absorbing and transforming but never perhaps completely supplanting the Gods of Rock, Air, Seed and Water. Churches and sanctuaries were built on the sites of sacred wells; valleys and hills with Bronze Age names were rededicated to Maria: Mater Sardorum; Saint Lawrence was given custody over the shooting stars of August". And so too Oristano's Sartiglia.

What has the aura of an Hispanic medieval tournament [whose history is beautifully recounted in great and intriguing detail by Rossana Copez in her Folk Festivals in Sardinia] began in all reasonable probability as a pre-Christian Rite of Spring. Its leading protagonist, Su Componidori (the Champion, in Sardinian) represents the Prince of May, the King of Spring, a personified augury of new growth, fertility, a satisfactory harvest: the Seed God. A canny deity, he only appears in disguise, concealed behind the implacable white mask of an eternally dethroned monarch - the King of Fools. A master of both ambiguity and universality, "a woman's mantilla covers his head; a red camelia is pinned to his breast; [he wears] a black top hat, white gloves and [carries] two swords and a sword stick. He is both man and woman, servant and nobleman, citizen and villager, urchin and heir, ancient and modern, pagan and Christian, serious and farcical".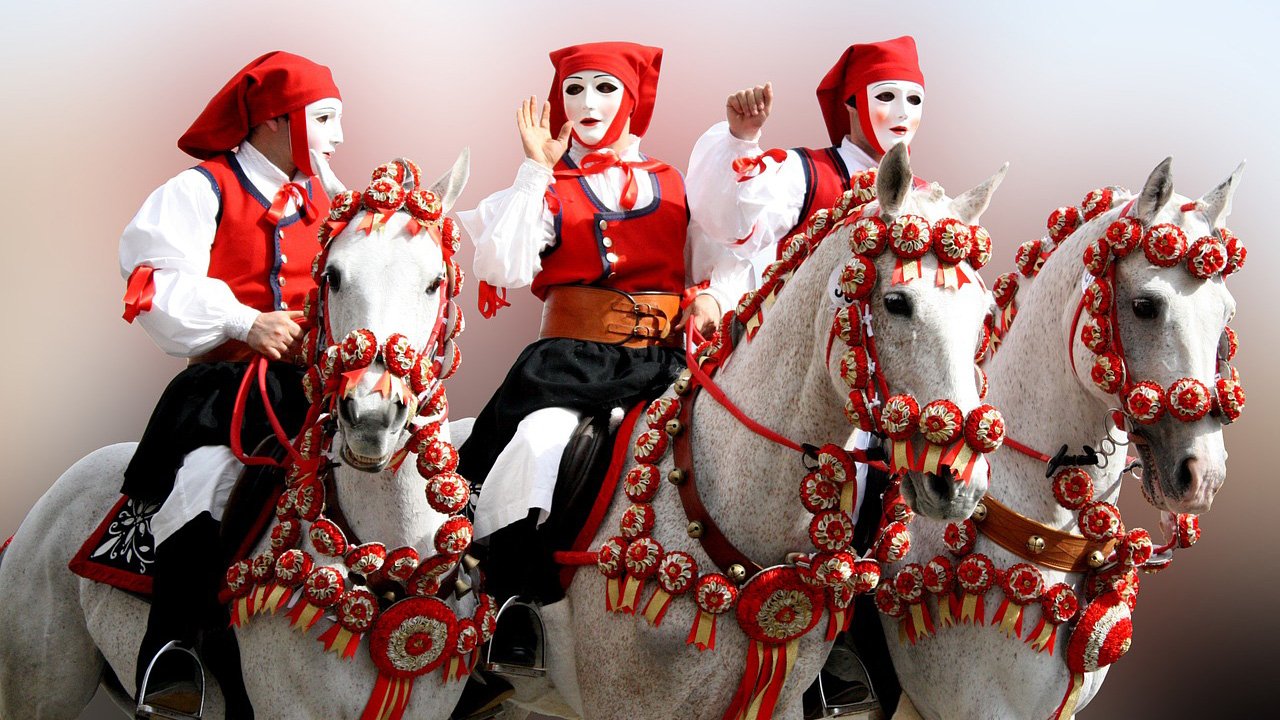 Over the centuries, Su Componidori has assumed and absorbed the ethos of Christendom. Indeed some scholars maintain that the celebrations he embodies and presides over were learnt in Palestine and brought back to Europe after the Second Crusade (1145-49). Other historians prefer pointing out that Sardinia already boasted its own equestrian traditions and culture - the Tirso Valley alone (to the north-east of Oristano) regularly provided a thousand cavalry for several of the wars against the Saracen. Both schools of thought don't necessarily have to be seen as contradictory.

What we do know is that the title Su Componidori derives from the Spanish compendor which signified Captain-at-Arms, Master of the Field, when manifestations such as the present-day Sartiglia were principally competitions of horsemanship between members of élite cavalry regiments. But a millennium later what does Su Componidori actually get up to during those two dazzling late mornings and early afternoons? In as few words as the seconds which pass for him to achieve it, he careers at full gallop along a city street turned race course and tries, with raised sword-stick to pierce a silver star hanging - hauntingly, mystically, coyly - between two spangled, be-ribboned posts.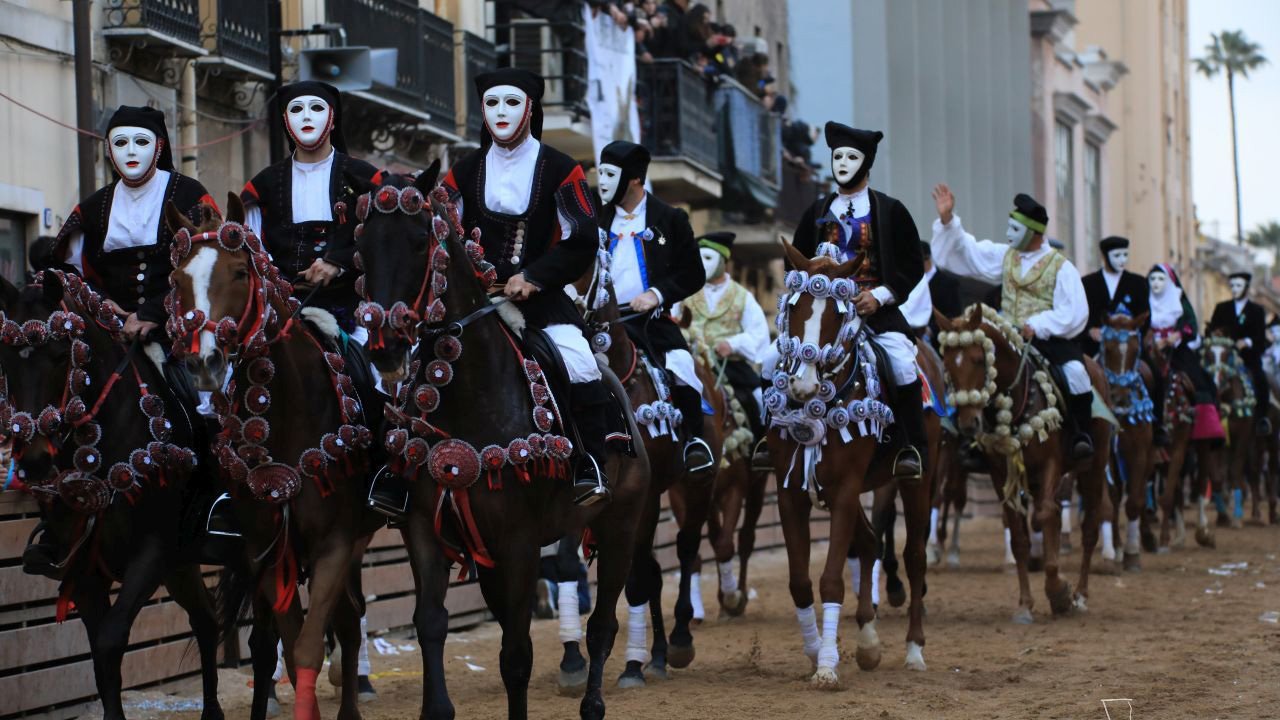 If he succeeds, the crowds roar. For by piercing the star, nature is propitiated: the earth will give of its fruits, the harvest is assured. He then lies face up on his galloping horse and traces in the fizzing air the sign of the Cross. Only then does the field open to as many as a hundred other riders led by the Componidori's squire and squire-aspirant, who hope to repeat the feat achieved by their Champion.

In a flicker of cheering minutes - or so it seems; in reality two or three hours have zoomed by - and the Sartiglia proper is over for another year. Shortly afterwards (postquam celer cenati sunt) the riders, musicians and the accompanying processions in costume re-form under the archway of St Sebastian whence, along the now crowded via Mazzini, what is known as the Pariglia is about to begin - shirt tails are being tucked in, bits are being champed at -, and will last for most of the all too short, happy afternoon. This is a wondrous helter-skelter display of equestrian acrobatics which, quite rightly, now has 'global' appeal. Last year there, we met a hoary Australian rancher - "came to suss out the horses" he drawled "but didn't reckon I'd have to buy their f***ing riders too: couldn't afford both". Quite.

However, to conclude on a less dizzy note. The preparations for the Great Day can begin as many as eight weeks earlier, depending upon when Easter falls. Because it is at Candlemas, on 2 February (a rather dim sort of date perhaps and often a damp, lost-feeling sort of day), when the Church celebrates the Purification of the Virgin Mary, and when as the result of deliberations that have for centuries remained a cherished secret the new Su Componidori is selected.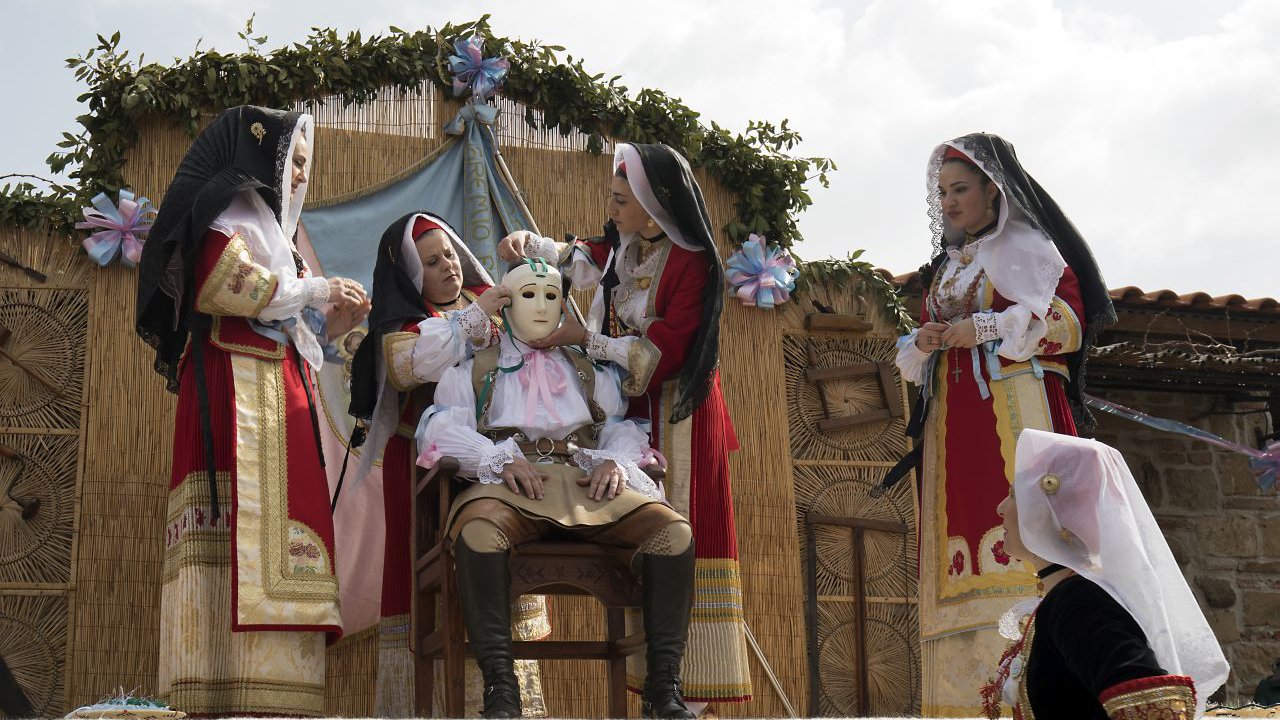 Once chosen, the Componidori is presented with the Guild's most splendidly decorated candle by its Senior Member who invokes the age-old blessing "May Saint John Help and Love You!" Su Componidori makes his confession and receives the Sacrament. He is then vested by Is Massaieddas (the Guild Women) led by Sa Massaia Manna (the Grand Matron) who by tradition is the wife of the Guild President. The culmination of this vestition ceremony occurs when Su Componidori is handed sa pippia de maiu (the Child of May). This is an exquisitely composed bunch of periwinkles and violets wrapped in a cloth of green linen.
The weeks go by and Sardinia's short winter will soon pass until once again there is a star to be pierced and a harvest to be won.

Sa Sartiglia 2020 will take place on Sunday 23 and Tuesday 25 February. Find out more and book your tickets at www.sartiglia.info. P.S.: Whatever anyone else tells you, and whether or not you have a ticket, get to Oristano a good two hours before the appointed time.